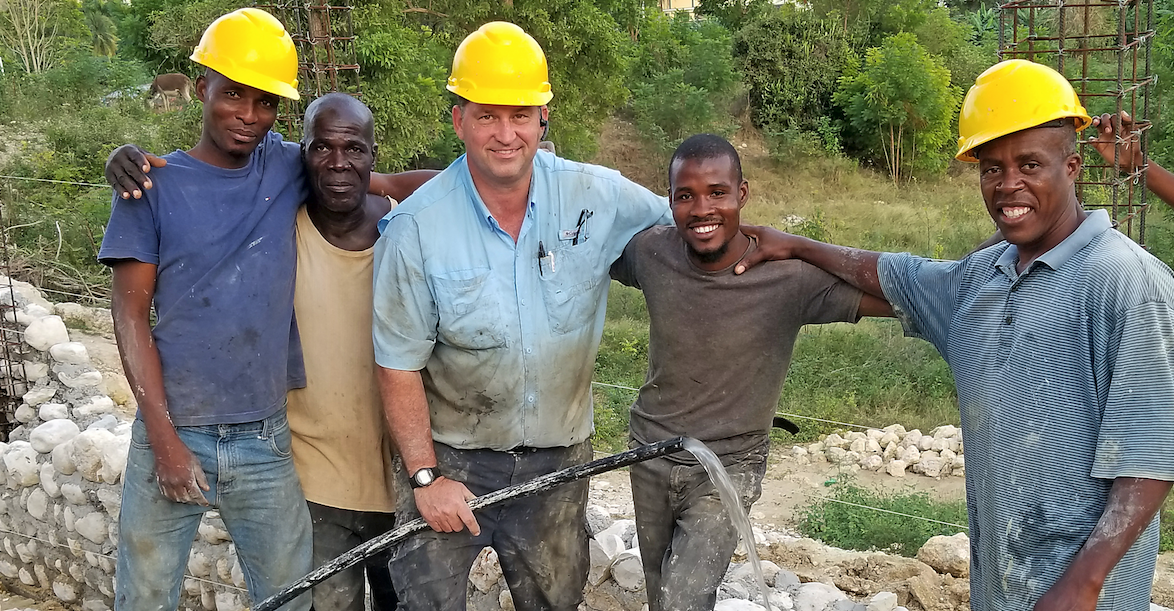 Helping Haiti
The list of what's wrong in Haiti is a lengthy and discouraging one. It's been eight years since Haiti was hit with a major earthquake. And over one year since Hurricane Matthew took hundreds of lives and devastated much of the country, especially the southern portion.

Yet almost 1 million people are still in need of some form of aid. And it wasn't like Haiti was in all that great of a shape before the earthquake and hurricane arrived.

In 2018, the challenges in Haiti continue: food insecurity, water shortages, poor or non-existent living conditions, cholera, unmet human needs in a variety of categories — and let's not forget the need to prepare for possible natural disasters as another hurricane season approaches this June.

As Haiti struggles to survive, some people from right here in northern Michigan are doing what they can to reach out and help.
The Berg Family and Stephen Fulton
Doyle Berg Sr., owner of Berg Drilling in Traverse City, has traveled multiple times to Haiti, along with his son, Doyle Berg Jr., grandson Doyle Berg III, and full-time employee Stephen Fulton.

"We got involved in Haiti back in 1998," Berg Sr. said. "I went there for the first time 20 years ago on a mission trip, to go assist in drilling wells for people."

Doyle Berg Jr., a pastor at Christ Community Church in Traverse City, also goes to Haiti once or twice a year, taking a team from his church to "preach and teach," right along with the Bergs' trips to drill wells.

In addition to those ongoing efforts, one of the Bergs' most recent Haiti assists was bringing over an 18,000-pound, 30-foot-long derrick to dig water wells; the rig was driven to Florida on a lowboy trailer, and then taken by ship from Miami, Florida, to Haiti.

Stephen Fulton headed to Haiti after the rig was well underway.

"The rig clearing customs can take anywhere from two weeks to six months, so it makes no sense for me to go early," Fulton explained. "But we already have a strategic area chosen where we're going to drill. I'm also trying to teach and train some gentlemen there in Haiti, so they can take the rig out and drill their own wells — it's the 'teach a man to fish' scenario."

When asked how tricky it is to get permits to dig wells in Haiti, Fulton laughed ruefully. "We don't have to get permits," he said. "It's a third world country; we just go find areas that don't have water."

The Bergs and Fulton also bring over solar panels and a solar pump to power the wells.

"You can't really use electrical generators where there's little or no electricity, and hand pumps often break, while on a sunny day, the solar pump will pump out water all day long. And they get lots of sunshine there," Fulton said.

To pinpoint the places that are in dire need of water, they turn to Haitian Pastor Robinson Louis. Louis was one of three boys who helped the Bergs when they first started working Haiti. Later, the Bergs assisted Louis in getting a passport and a work visa so he could travel to Michigan and get well-drilling training. Louis, who had frequently helped at his uncle's church in Haiti, returned to Haiti with his newfound knowledge and joined a seminary for four years to become a pastor there himself.

"He's our eyes and ears on the ground," Fulton said.

"And he's got a big heart," Berg Jr. added.

Louis, who speaks Haitian Creole — the Bergs and Fulton do not — also helps translate the needs of the locals to the Americans. He oversees a church on property that the Bergs purchased in Haiti, near the city of Saint-Marc.

"We also drilled a well there, and that property ended up being basically a water distribution center for between 4,000 and 5,000 people," Berg Jr. said. "It's amazing what fresh water can do. In spite of the epidemic, we had no cases of cholera during the earthquake."

So far, the Bergs, Fulton, and others of their crew have dug two major water distribution wells and about 10 additional smaller wells; the property they bought hosts the well, the church, and an orphanage that is currently housing nine kids.

"It's all run by the locals though," Berg Jr. said. "We go set everything up, and they run it. We also plan to build a larger orphanage and an actual church — the current one is just in a large tent."

"And all of this is donated," Berg Sr. added. "We fly there and stay there on our own budget. We go there to give back to needy people. We're fortunate here in America, so our goal is to get the Gospel over there, and to help them with things they don't have, starting with water, care for the orphans, and education. We also donate funds to help with food during extreme events."

In America, Berg Sr. pointed out, we might not have a perfect system, but we do have organizations like the Salvation Army, Goodwill, and various food programs; in Haiti, it takes a lot of effort by caring individuals to fill that massive gap, because those kinds of programs simply don't exist.

"In Haiti, it's a desperate situation. There is no safety net," Berg Sr said. "If you fall there, you just fall."
Carla Windover and Ann Konczal
Longtime friends Carla Windover and Ann Konczal are co-leaders of the Grand Traverse District United Methodist Church Volunteer and Mission Haiti Team, which has been in action since 2000. They first got inspired years ago by a United Methodist magazine article about the situation in Haiti.

"I think both of us wanted to do something outside of the U.S. along the lines of a mission trip," Windover said.

In 1998, they were discussing the situation with a group of friends, who all agreed they'd like to go to Haiti and help. They enlisted the help of Charles Stanley, a pastor from Kalkaska, and brought together 23 people, most of them folks from the Methodist churches here in northern Michigan, to make the trek.

"We let Pastor Stanley take the lead," said Konczal. "He put together the team, and we all trained together to get a better understanding of the Haitian culture."

The group learned they had to be culturally sensitive in ways they wouldn't even think of in America. "You don't say 'We'll see you next year' or 'We can't wait for you to visit us,'" Konczal said. "It's one of the world's poorest countries; you don't lead expectations that way. You also don't comment on the bad things you see. You don't take photos of people without asking, and when you walk by people, you make sure you greet them — that's just basic etiquette there. You don't just walk by and say nothing."

The group went over and helped start a building that would be used as both a school and a church, digging the foundation with pickaxes and removing rocks by hand.

"Haitians are very good at manual labor and construction techniques, so we learned from them," Windover said.

They returned to that same site year after year to help complete the building — something that they explained doesn't always happen, even when people have the best of "helping Haiti" intentions.

"The locals call the unfinished projects 'Methodist ruins,' said Windover. "But we felt we'd made a commitment to them."

The toughest part of honoring that commitment was that both women are also "regular working people," as Konczal put it, "so we couldn't just pick up and travel there several times a year. We got good-sized donations from the church at first, and then we put on fundraisers at Christmas time — we made and sold wreaths — and held church dinners and took donations to fund the trips."

That building — which was damaged during the earthquake and subsequently repaired — now hosts a primary and secondary school as well as the church.
"It's considered a 'mother church' in Haiti, a central hub for the community, so it definitely had to be fixed," Konczal said.

The building, known as the Thomas Methodist Church (in Arcahaie, Haiti) was also one of the first in the country to have a computer lab for their students, plus community gardens, solar panels, and a water purifier. And a boy who was 15 years old when Konczal and Windover started traveling to Haiti is now a director of the Thomas Church project.
"It's been so gratifying to see the community grow," Konczal said.

Their current project is working with a community village called Musac, in the mountains north and west of Jachel. They're collaborating with a group of next-generation 20- and 30-somethings called La Ballee de Demain ("valley of tomorrow") to help educate local farmers on how to better use the land and resources in their growing of vegetables and of the region's main crop, mandarin oranges.

"These kids are college-educated in things like management and botany and have come back home to help," Konczal said. "We've been helping them build grain storage buildings to give the farmers more leverage over their own grain, and are also putting on seminars for the farmers."

The seminars are teaching the farmers how to expand what they do with the fruits that they grow, most notably turning it into jelly/jam, and into an alcoholic sipping beverage called kremas.

"It will help them have new things they can sell," explained Windover.

For Konczal and Windover, all of these projects have turned into basically helping friends.

"The most rewarding thing about this are the wonderful relationships with the farmers and the young people we work with," Windover agreed. "They want to spend time with us, just hanging out or playing cards, and we've really gotten to know them as friends."

"It's wonderful to work with these young people, and it's exciting to see what they're going to do," Konczal added. "This whole experience has also fulfilled a dream I had as a child to do mission work; I had to wait a long time to do it, but it's never too late, right?"
Onlee Bowden
Bowden's involvement with Haiti began with mission trips directly after the 2010 earthquake, in the village of Pignon.

"I fell in love with the people there," she explained. "To help initially, we focused on one area in Haiti — the central plateau — where most of the poorest of the poor are, out in the country away from the cities."

Many mission trips later, Bowden and her United NEST Foundation (NEST stands for nourish, empower, strengthen, and transform, the four pillars of her charitable helping Haiti organization) are focusing on Hinche, which she called a "hub" of Haiti, and the most centralized place to choose as a base for any charitable operations.

"Basically, there are two main roads in Haiti — one runs north-south, and the other runs east-west, and they both go through Hinche," she said. "Hinche is much, much smaller than Port-au-Prince (Haiti's capital), but it still functions just like a port, even though it's landlocked, just because it's always so busy and has grown in population because of its location."

Once you get away from Hinche, she explained, resources become very limited. "One of the towns we stayed in farther out only got electricity six years ago," she said. "It's like the 1800s there."

Originally, Bowden worked on a variety of programs with the mission group. But she soon found that she wanted to spend more time immersed in the Haitian culture than a week-long trip or a "drop-in" mission trip would allow.

"I started going there by myself in 2012, staying with people I'd gotten to know in Haiti," she said.

Eventually, she met a Haitian gentleman named Ephraim Lucien, who became a friend and was eventually named the executive director of NEST (Bowden is NEST's president.)

"Ephraim got a soccer scholarship to go to a university in the U.S., and it changed the trajectory of his life," Bowden explained. "After the earthquake, he made a commitment to return to his home area and to bring soccer back with him."

And there entered NEST's next charity endeavor; they started building an interscholastic soccer team in the central plateau of Haiti, to create scholarship and schooling opportunities for the local kids.

"We have sport coaches for them, so they train in soccer and study English," said Bowden. "We have 12 schools committed to the interscholastic team, and we have an 'elite' team chosen from those 12 schools. We've met with colleges to seek scholarships for those kids, so they can potentially go to college in the U.S. Haiti doesn't offer anything to offset tuition costs, so the sports scholarships are of major importance. We hope after their schooling, they'll then come back to the village and help. Haitians are, by and large, very committed to their homes."

In addition to working with NEST and the soccer program, Lucien and his wife, Nandy, also run a consignment shop in Hinche, and provide food on Saturdays to the elderly. NEST and Bowden are also just opening a guest house in Hinche to both provide a destination for additional mission workers, and to generate more income for their Haitian causes.

"The funds raised through the guest house — which will be only the third one in Hinche — will go to pay the people who run the guest house, as well as to pay for the soccer program. We want to be a completely sustainable nonprofit in four years," Bowden said.

"It's a heart journey, coming here. It's hard to explain. If you've ever talked to anyone who's done work in Haiti, they'll tell you, you just fall in love with these people. I go there to help them, but I also go there to get reminders of what matters in this world."
Bill Donberg
Donberg has been going to Haiti for 30 years. He started traveling there with the Methodist Church in Midland, Michigan. After he and his family moved to Elk Rapids in 2001, he began working with the Central Methodist Church in Traverse City to reach out and help.

"The majority of the work I helped with over there supported the building of schools, utilizing the mission budget of the church," he said. "Once we moved to Elk Rapids, I joined the Elk Rapids Rotary Club , which is very involved in global mission projects."
The Traverse City Rotary Club, he explained, was working with the non-profit Pure Water for the World (PWW) in Haiti. PWW partners with rural and underserved communities to establish safe water solutions to help avoid waterborne diseases (like the cholera that's become a major issue in Haiti), and they invited the Elk Rapids Rotary Club to get involved.
"I went to Haiti to see a PWW project in action, and I was very, very impressed," Donberg said. "It can be tough for an NGO (non-governmental organizations) to function in Haiti, but their model — a comprehensive solution to waterborne illnesses like cholera — is having so much success."
Donberg initially worked with PWW to help supply biosand water filters to households and schools, but he said they soon found out that the solution needed to be broader.
"The biosand filters are a critical tool — don't get me wrong," he explained. "But it's even more about education — sanitation, handwashing, proper toilet systems, and the way they collect and store water."
The goals then became not only to install the water filter systems and teach the Haitians how to maintain them but also to teach proper hygiene and sanitation and to then continue monitoring to see how effectively the program was working.
"All of my projects in Haiti now are working with the PWW system," Donberg said. "We've done another half dozen or so projects since that initial one, and through fundraising and the Rotary matching funds, we've raised $300,000 for those projects and have implemented the filter systems in 2,000 homes and 200 schools."
Donberg also joined the board of Pure Water for the World, and takes five to 10 people over to Haiti regularly to show them the ongoing situation there.
"I want to make people aware of what Haiti's needs are, and I want those same people to then come home to America and become ambassadors for all of this, so people can understand what's going on, and so Haiti can get more support."
"It's an amazing thing to be providing people with solutions to these waterborne illnesses," Donberg said. "I used to look at ten kids and know the statistic — that three out of those 10 would die before they reached the age of five years old. In communities where Pure Water for the World has brought in the filter program, those kind of issues are close to being eliminated. Thinking about how many lives you've saved — it doesn't get much more rewarding than that."

Trending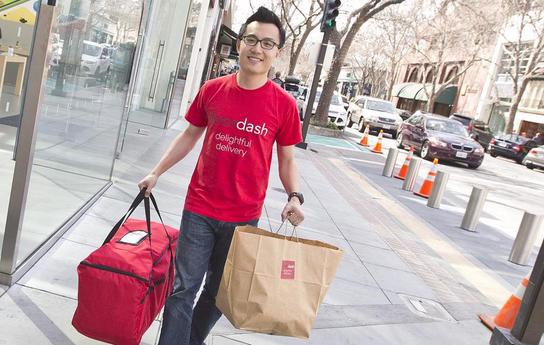 Could Delivery Save NoMi Eateries?
What was once the exclusive province of pizza and sandwich joints has become a means for some restaurants to thrive. But e...
Read More >>
What You Are Voting For?
After voting straight Republican for 36 years, from 1971 through 2007, I have been an Independent since 2008, studying and...
Read More >>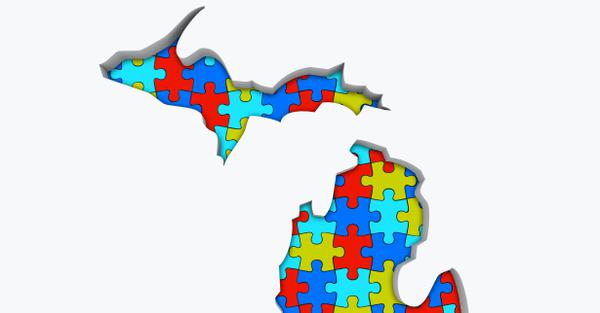 The Democracy Lottery
Mary Burget, a retired Northwest Michigan College math instructor, thought her math skills might be useful in redrawing Mi...
Read More >>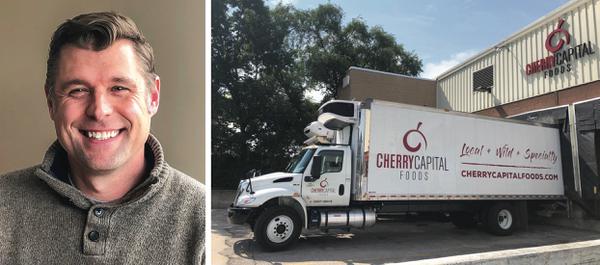 Forged In Fire
As the new managing director for Traverse City's Tamarack Holdings, Michael Lahti is helping to lead a company that ...
Read More >>
↑