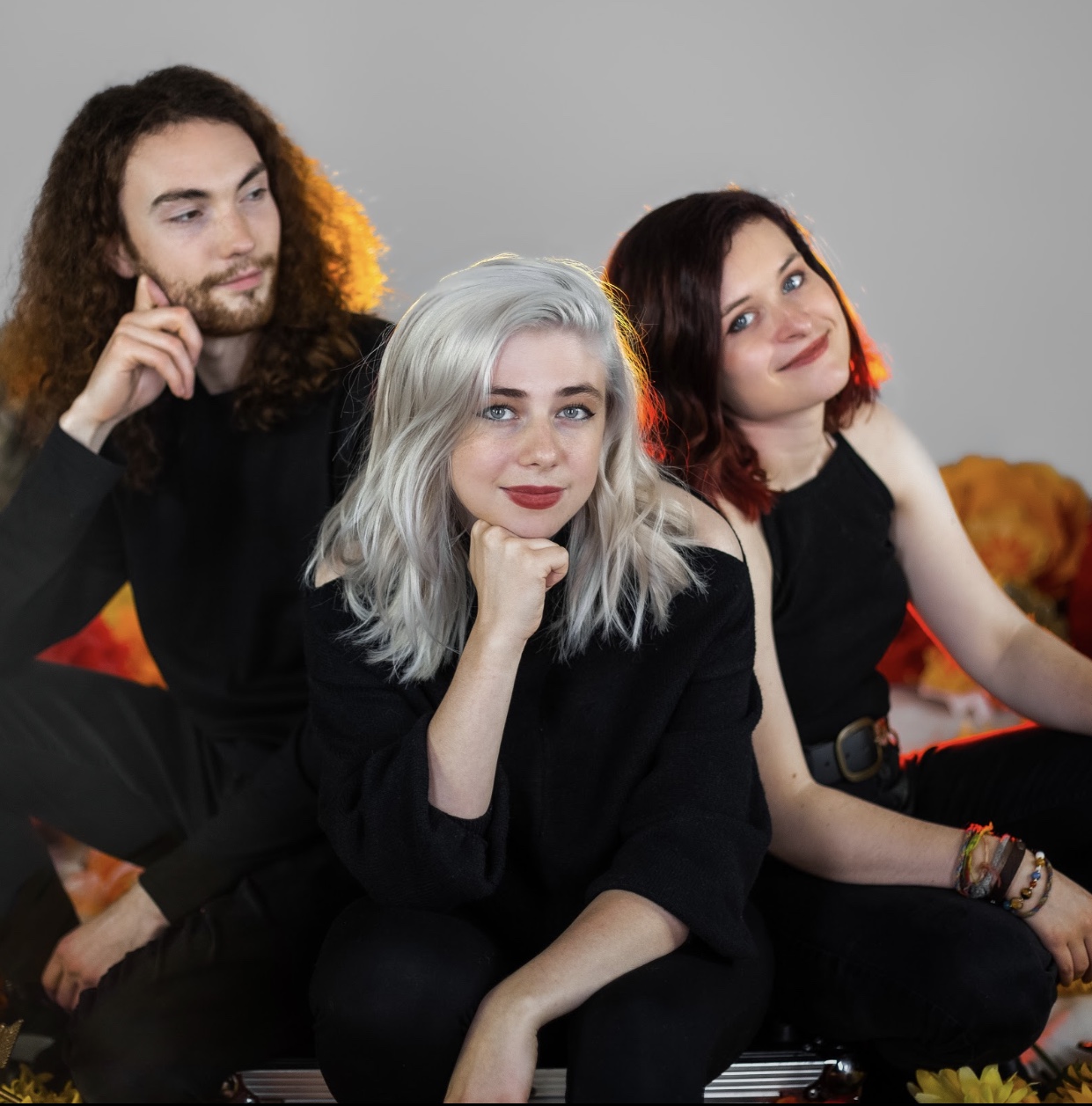 Home Stage Advantage
Days before launching their upcoming album and tour, the North's hottest musical trio will play two shows in Traverse City
In music theory, an "accidental" is a music note that is foreign to the given scale or key in which a piece of music is written. By raising or lowering a musical pitch outside of the normal melodic pattern of a scale or key, an accidental can create unexpected deviations or striking tensions within a musical composition. You might think of accidentals as little bits of seemingly random beauty floating out there in your favorite songs, making everything a little more interesting.
For a variety of reasons, then, "The Accidentals" is an apt name for Traverse City's most beloved indie-folk trio.
HAPPY ACCIDENTS
Take the band's origin story: 10 years ago, two of the three members of The Accidentals, Sav Buist and Katie Larson, met because they both happened to be members of the Traverse City West Senior High orchestra program. Buist was a concertmaster — another term for the first-chair violinist in an orchestra. Larson was a cellist. They teamed up for a class project, which in turn led to a fast friendship.
The thought of pursuing music professionally came later, when Michigan-based world music duo The Moxie Strings visited Traverse City West for an educational clinic. The women in The Moxie Strings — Diana Ladio and Alison Lynn — both have music degrees and perform on five-string violin and electric cello, respectively. Buist has gone on record saying that, without that clinic, she and Larson probably never would have come together as a band or pursued professional music careers.
"We didn't see many other girls playing popular music on violin and cello in sustainable careers," Buist has said in the past. "We didn't even know that career path existed until those two women walked through the door."
That clinic, ultimately, led both Buist and Larson to audition for spots in the then-brand-new singer-songwriter program at Interlochen Center for the Arts. It was at Interlochen that The Accidentals officially came to be.
Grounded in classical music and brought together by chance: Those factors, collectively, made "The Accidentals" the perfect name for Buist and Larson's band back then.
It's still the perfect name now.
You might call it an accident, for instance, that Buist and Larson happened to meet drummer/percussionist Michael Dause at the Blissfest music festival in 2013 — the encounter that ultimately resulted in the duo becoming a trio.
You might also call it an accident that The Accidentals are about to release their most assured and unique album yet — a product of the forced solitude and independence under which the music was recorded.
Accidents; chance; little random bits of beauty. These were and continue to be the ingredients that define The Accidentals.
AFTER SOME TIME OUT
Like so many other bands and musicians, The Accidentals had their plans knocked sideways by COVID-19.
The last time the group played a concert in northern Michigan was an "album preview show" in Leland in February 2020. According to Buist, the big goal of that show was to premiere a bunch of new songs, gauge crowd reactions, and use those opinions on the new material to decide which songs would make the tracklist of the band's then-untitled fourth album.
"We even printed out ballots for the audience, and everyone voted on what their favorite songs were," Buist laughed.
As the band tells the story, those ballots did in fact inform the decisions that shaped the 14-song tracklist of their new album, called Vessel and out Oct. 1.
Most of the other plans the band had in mind for actually making the album, though, crumbled due to COVID-19.
"We recorded some of the album with two of our dream producers: John Congleton and Tucker Martine," Buist said. "And the plan was originally to go record the rest of the album with Tucker in Portland, Oregon. But then COVID happened. So, we had to make the decision: Were we going to wait until the pandemic passed? Or, were we just going to get to work?"
The band opted to get to work. Only now, instead of recording in a professional music studio with a seasoned record producer, they were laying down tracks in a makeshift studio in the attic of their shared Traverse City home, with blankets and unsold CD boxes serving as partitions and soundproofing material.
One big upside to recording at home instead of in a West Coast studio? The cost of studio time wasn't a factor, which meant The Accidentals could take their time on Vessel. And they had a lot of time: As a band that built its following largely on the back of constant touring — Larson says the group would typically play 250 shows per year prior to COVID — The Accidentals suddenly had a near-infinite number of hours to spend on new music.
All that time not only meant more music (Vessel comes hot on the tails of TIME OUT, an EP recorded in the same sessions and released in May), but also more fleshed-out music. Vessel is packed with the biggest, boldest, lushest music The Accidentals have ever made, stacked with tracks of violin, cello, guitar, bass, viola, mandolin, banjo, and more — all of which Buist and Larson played — plus vocals and Dause's foundation of drums and percussion. Buist and Larson also took on co-producer roles, while Dause handled much of the mixing.
"We've had a busy year," Buist says. "But we're really excited about this music. It's independent and it's very representative of what we do, I think." (That return to independence comes after a stint with Sony Masterworks — the classical music label of Sony Music Entertainment — for the band's 2017 LP, Odyssey.)
P(L)AYING IT FORWARD
2020's sparse calendar also gave The Accidentals time to focus on another major project: launching their own nonprofit organization.
For years, the band has been paying forward the gift that The Moxie Strings gave them years ago, by doing workshops at schools all over the country. That educational piece — and the idea of giving talented kids the push they need to chase their dreams in the world of music — is a huge point of passion for the group.
"Sometimes you write songs with a class," Larson says of the workshops. "Sometimes, [the format] can be 'alternative strings,' where we show students that just because you play a classical instrument doesn't mean you need to play classical music. Or we can talk about the music business, and how you can take your music anywhere, but also become a tour manager for a living, or be a sound engineer for a living. So [our educational piece] really is all across the board. And we even learned how to do it virtually, so now we're ready for anything."
In the course of visiting schools for those workshops, Buist says the band members began to see how fortunate they'd been to go to schools with terrific music programs. Buist and Larson, as noted above, were shaped by their experiences at Traverse City West and later at Interlochen. Dause, meanwhile, says he was also the product of a robust high school music program, participating in "four different choirs, and marching band, and jazz band, and theater."
"It's a pretty interesting thing to reconcile as a privilege that you just grow up with, and don't realize it's something that doesn't exist everywhere," Buist says of strong music education. "It was kind of a shock for us when we would go to different schools around the nation because it's about 50/50, honestly. There are some places that just have these incredible, thriving music programs and everybody's really into it. And then there's some schools that are cutting back [on music] because there's not as much enthusiasm, or kids are just tired of trying to chase after that dream. It feels like they don't really recognize music as a feasible occupation they can do later on in life. So that's something that we try to encourage, by saying, 'Hey, this is how you can take your unsuspecting orchestral instrument and make a living off of it; this is how you can navigate the world doing something you love.'"
She continued: "We were really lucky to have had an orchestra program and an orchestra teacher who was incredibly passionate about making sure that music got into the hands of people who needed it to express themselves — to shine through their introversion and be able to speak in a way that's honest. So we started a nonprofit to try to continue that, and it's called Play It Forward Again and Again."
Larson adds that she, Buist, and Dause are just in the process of launching the organization – whose name is a play on an Accidentals song from 2016, called "Michigan Again and Again."
"The nonprofit is set up to get instruments to students, but also to pair them with local mentorship," Larson said. "So, it's not just about throwing an instrument in someone's hands, but also being able to follow up with a local musician who can check in on [the student], and answer questions, and keep them motivated."
ON THE ROAD AGAIN
After more than a year of recording, prepping an album, teaching school workshops, and building the framework of a new nonprofit, The Accidentals are ready to do the one thing they haven't been able to do much of since March 2020: play music in front of live, in-person audiences.
This Wednesday and Thursday, Sept. 29 and 30, the band will play a pair of hometown shows at the City Opera House in Traverse City. Buist tells Northern Express that the band is planning to pull out all the stops — from lighting design, to props, to a fourth onstage member who can help flesh out the songs to match the big sound of Vessel's pandemic-recorded songs.
Those two shows will kick off a new tour that, if all goes well, will keep The Accidentals busy until November. Just in case it doesn't, though, Buist, Larson, and Dause agree that they're planning to cherish every single moment they have onstage together.
"We've kind of learned that nothing's a guarantee," Larson says. "We are seeing other artists who sadly are having to cancel or postpone dates. We've really cracked down [with COVID precautions], and we feel safer knowing that we're asking everyone to wear a mask, and that a lot of venues are following through with vaccination requirements or negative test results. So, we feel very hopeful. But at the same time, we're not going to take a single show for granted, because there's no way to predict what will come next."
Tickets to next week's City Opera House shows are available at cityoperahouse.org.
A Conversation with Sawyer Fredericks
When The Accidentals return home for their two-night stand at the City Opera House — and throughout the duration of their fall 2021 tour — they'll be accompanied by blues-folk singer Sawyer Fredericks as their co-headliner.
If Fredericks looks or sounds familiar, that's because you've probably seen him on TV. In 2015, he became both the youngest and most-buzzed-about contestant ever to win The Voice, setting iTunes sales records for the TV show en route to a Season 8 crown.
Six years later, at the age of just 22, Fredericks is trying to build a new legacy for himself that exists separate from the reality show that made him a star. Though Fredericks, like all other Voice victors, won himself a recording contract with Republic Records at the show's conclusion, he's actually been an independent artist since January 2017. But making music independently and being seen as an independent artist, he tells Northern Express, aren't quite the same thing.
"That's definitely been a huge struggle," Fredericks said of building a strong fanbase to call his own —versus a casual fanbase of Voice viewers who don't necessarily follow artists after their time on the show. "Especially because of the genre that I'm in, since I'm more folk [than pop]. It's more difficult to get into the folk industry, I think, because I'm a little discarded [by listeners]. People think, 'Oh, he's just one of those reality TV show winners.' Before anyone even listens to my music or knows my upbringing, they're just like, 'Nah, we don't want this guy.'"
The challenge is one of authenticity, as is often the case for artists in left-of-the-mainstream genres — be it folk, outlaw country, or underground hip-hop. From Star Search to American Idol to The Voice, reality TV show victors have often struggled to build strong, loyal fanbases, in part because many listeners question how "real" or "honest" they are in their art.
Fredericks is trying to take apart that barrier brick by brick. One strategy he's taken is letting the music speak for itself. His most recent album — last year's Flowers for You — sounds more like Jack White than it does something you'd hear on pop radio.
Another strategy has been surrounding himself with a community of like-minded musicians — many of whom, interestingly, hail from right here in northern Michigan.
In addition to his tour with The Accidentals, Fredericks collaborated with the band on numerous tracks for Flowers for You. He also performed a song by Traverse City's May Erlewine live on national television during his stint on The Voice ("Shine On," during Top 6 week), and competed against Traverse Citian Joshua Davis for the Voice title. In 2019, Fredericks joined all three of those artists in Lake Leelanau for an in-the-round singer-songwriter session, hosted by The Accidentals at Fountain Point Resort.
"My strategy has just been getting people to hear my voice," Fredericks says. "Because when they hear my writing style and my voice, they understand that I'm not just someone that's coming from these reality TV shows. I think they understand that I'm a genuine person. So I've been going to folk alliances, to meet people there and make connections with all these other artists. Basically, I'm just trying to get to know the people that are in the folk community, so they know me."
Trending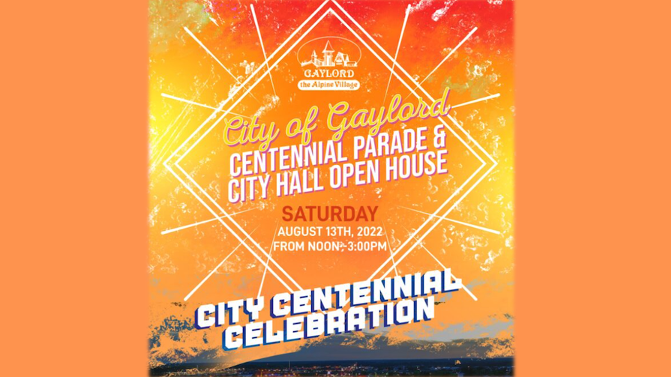 Centennial Celebration in Gaylord
The City of Gaylord is celebrating 100 years this weekend with a parade and City Hall open house. This celebration, just s...
Read More >>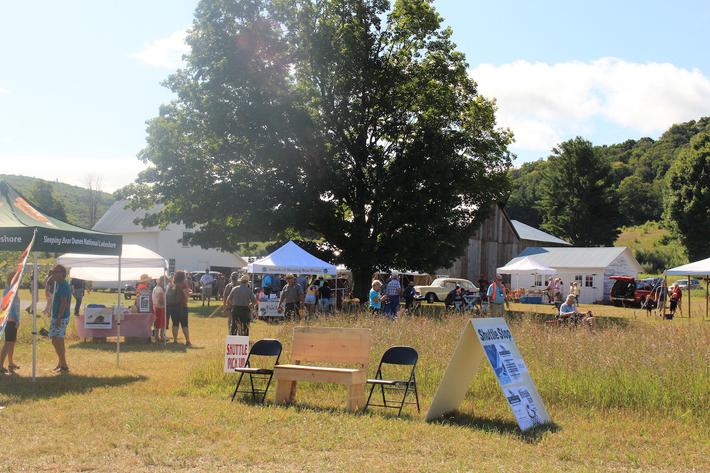 Life in the 1800s Comes Alive at Port Oneida Fair
Head to the Port Oneida Fair in the Rural Historic District of Sleeping Bear Dunes National Lakeshore to experience life a...
Read More >>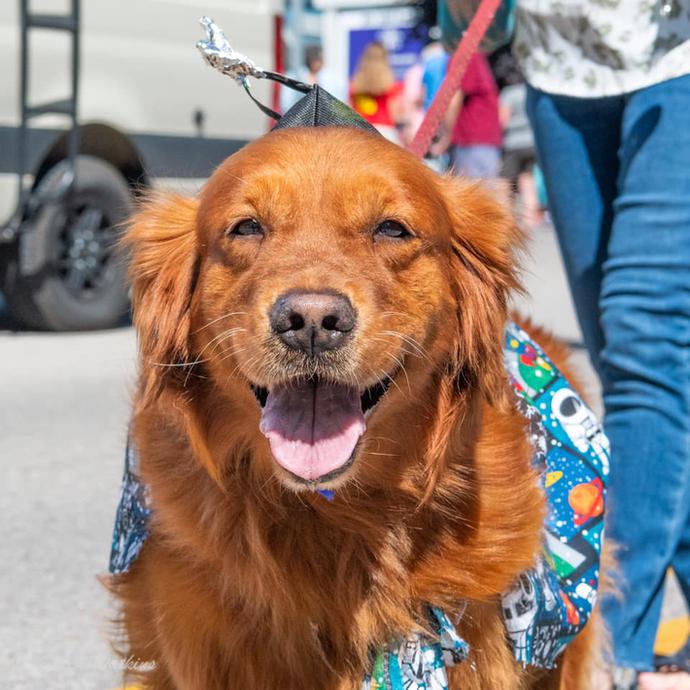 A Dog and Human Show: The Northport Dog Parade
We have three words for you: Northport Dog Parade. (If you really need more information than that, we suppose you can read...
Read More >>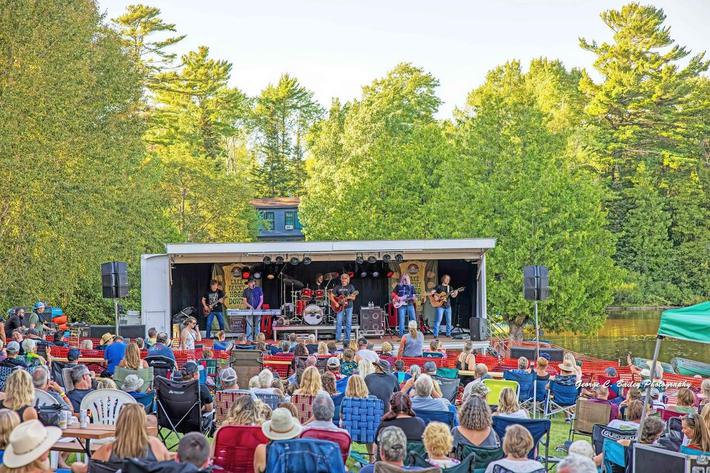 Following the Music
We wish we had infinite room in our Dates and Nitelife sections to alert you to every live music show in northern Michigan...
Read More >>