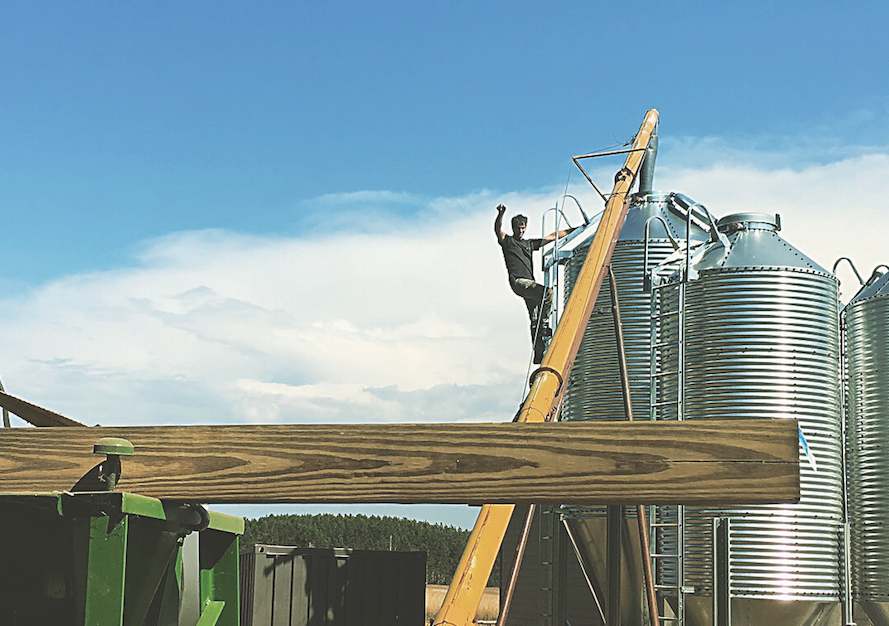 Hooch Terroir
Distillers bottling the spirits of northern Michigan
The story of what's happening in the region's young micro-spirits industry parallels the journey of an oak barrel at Thompsonville's Iron Fish Distillery. First that barrel was filled with gallons of maple syrup from Griner Family Sugar Bush in Copemish and aged, so that bourbon whiskey could be switched in and infused with maple flavor.

The empty barrel was then sent to the Filling Station in Traverse City, where it was filled with imperial stout for a bourbon-barrel beer release. Then the barrel came back to Iron Fish, to be filled with whiskey for yet another flavor trade, this time for an imperial-stout aged whiskey.

There's a scramble on among local distillers who are looking for the best and most creative ways to use local ingredients and produce signature spirits for northern Michigan.

HOME-GROWN YEAST
Richard Anderson, who started Iron Fish with his wife, Sarah, brother-in-law, and sister-in-law, said the foursome launched their distillery with the goal of using as many local ingredients as possible and to be transparent about how they make their liquor, especially when they start with spirits made by someone else.
Iron Fish, which Anderson said is Michigan's only working farm distillery that grows its own grains, makes its own vodka and gin with ingredients that are milled, mashed, and fermented on site. They've also started batches of whiskey, but because the distillery is not yet a year old, they can't sell that whiskey before it's been properly aged, so as a stopgap, they've purchased mature whiskey in bulk from an out-of-state supplier and tried to make it their own.

"I think, unlike a lot of other distilleries, we kind of showcase that [use of bulk product], Anderson said. "We always make sure that's super transparent."
Early batches of their own whiskey have been put into barrels to age, and the first of that product should be available for sale in 18 months to two years.

Meanwhile, Anderson said they are experimenting with the whiskey they've purchased and are studying up on the art of barrel aging. Anderson said they are learning "a ton about barrel influences," and everything they learn in the process of improving the taste of the bulk whiskey they hope to apply to their own in the coming years.

Anderson said Iron Fish has gone further than other distilleries to connect to local ingredients. In addition to growing their own grain on a Benzie farm that had been fallow for 15 or 18 years, they've worked with scientists at Michigan Tech to develop their own strain of yeast that they hope to begin using in about a year. They've set up yeast traps in their fields and on the banks of the Betsie River; that yeast should produce a starter that will make their products distinct and truly connected to their land.

"We're a farm distillery, and the way that the farm distilleries used to operate, especially in the 18th and 19th centuries, you'd propagate your own yeast," Anderson said.

ELK RAPIDS CALLING
When Nicholas Lefebre and his wife, Geri, moved to Elk Rapids after college to start Ethanology Distillery, they resolved to start without selling any alcohol produced by anyone else.

Lefebre was born and raised in Alden, where his family had been since the 1940s. At age 12 his family moved to the Upper Peninsula, but even while he studied business at Northern Michigan University, Antrim County was calling Lefebre home.
He made the business plan for Ethanology seven years ago, while still a student. A distillery was then something he envisioned as a retirement plan, but when the couple considered places to raise a family, the allure of Elk Rapids proved too hard to resist.

Lefebre recalled his rural childhood and decided he needed to pass that along to his own children.

"The original plan was I was going to retire in northern Michigan," he recalled. "And then we started talking about family and what really matters."

The couple moved to Elk Rapids in 2014 and got busy working on opening a distillery.

Lefebre said he and his wife saved money by taking a honeymoon-by-backpack, and as they roamed around the world they were inspired by the whisky made in Scotland, made distinctive by its use of the local peat moss. They resolved to attempt to find the signature tastes of northern Michigan.

ROCK SOLID RELATIONS
The 32-year-old said it was tough, as a guy in his late 20s, going around to farmers and telling them his plans so that he could secure supplies of local ingredients.
By the time the distillery opened June 1, however, Nicholas, who is in charge of marketing and sales, and Geri, the distiller, had made connections.

"Now we have our relationships. They are rock solid," he said. "Six years ago, not everybody took me so seriously."

Using all local ingredients has proved difficult, but they found a source of red winter wheat, from East Jordan's Valley View Farm, to make vodka and gin. Ethanology can't offer whiskey yet, because aging takes time, but they've made a concoction they call Mel Vocatus, a spirit distilled from honey sourced from Cherry Ke farm in Kewadin. The spirit is 80 proof and tastes like a Japanese single malt whisky, Lefebre said.

"Ethanology is about pushing the envelope of distillation by using local ingredients," Lefebre said. "Everyone's making a bourbon; everyone's making a vodka and a gin."
The couple wants to put their own twist on these products. The botanicals for their gin were foraged by Bear Earth Herbals in Kewadin. When they make whiskey, they will use blue corn grown in the region.

"We can craft a world class-product right here in northern Michigan, sourced from local farmers," he said.

Lefebre said one of the biggest challenges in making their whiskey was finding corn of the quality they wanted. Now that they've found it, it's a matter of crafting the spirit and letting it age; it will be years before they can sell their own whiskey.

"They are coming," he said. "The tradeoff for quality is time."

JUNIPER FROM BEAVER ISLAND
Juniper grows all over in northern Michigan, but its quality varies, and the flavor and aroma of its berries, which are used in gin-making, differ from location to location. Kyle Van Strien, co-founder and co-owner of Grand Rapids-based Long Road Distillery, said he spent years looking for a single source that would provide an ample supply of fragrant and tasty berries to make a 100-percent Michigan gin not only possible but worthwhile.

So when a cousin returned from a camping trip on Beaver Island last summer and told him there were wild berries growing all over the place, Van Strein wasted no time.

By September he recruited a group of employees to drive north, board the Beaver Island Ferry, and spend several days picking juniper berries from private land on which they'd been granted permission to pick. Though the best time for juniper picking is just before the season's first freeze, Van Strien said they decided to go before bowhunting season began in October.

"It was a great adventure," he said. "And it also served the purpose of making a really good gin."

He doesn't exaggerate. "Michigin," as it is called, won double gold and was named "The Best Gin in the World" at the 50 Best Gins competition in New York City in July.
Michigin also has been a hit closer to home. Although it's is available at liquor stores across the state, Van Strien said one of the places that sells the most bottles is Beaver Island's only grocery store, McDonough's Market.

Van Strien plans to return to the island this September and said he hopes to pick twice as many berries.

TASTE OF NORTHERN MICHIGAN
Kent Rabish prides himself on running a distillery that's truly producing spirits from scratch.

That means he uses local grains and then mills, mashes, and ferments the raw material before distillation even begins.

"The key is actually mashing," Rabish said. "The vast majority [of distillers] out there, they are skipping, literally, the first two steps."

Rabish worked with state officials several years ago on the standards required to put a "Pure Michigan" logo on a bottle of Michigan-made liquor. At the time, Rabish and the officials determined that 90 percent of the ingredients should come from Michigan, because that was what was feasible at the time.

Then the Great Lakes Malting Company opened on Cass Road in Traverse City. It supplies locally grown, malted barley and rye. That means distillers can now produce liquor from 100 percent local ingredients. Rabish has since lobbied state officials to change the standard for the Pure Michigan logo.

"I don't know if it makes any difference for customers, but I think it's kind of a cool thing," Rabish said.

Using local ingredients and starting from scratch is important, Rabish said, because it produces a unique and honest product.

He said Grand Traverse Distillery's unique products are paying off. The distillery's Old George Whiskey and True North Vodka are 100 percent locally grown — both made from locally grown rye — and have proven to be world-class.

In two of the past four years, Old George has won the "best of category" from the American Distillers Institute and True North won "best of category" last year.

Local zest can find its way into northern Michigan products in other ways. The distillery's cherry whiskey is flavored with tart cherry extract produced in Lake Leelanau; Rabish said the extract adds a nice flavor without adding sweetness — essential to making a great Manhattan.

Local ingredients aren't always the way to go, though. Rabish makes an aged rum, but after experimenting with molasses that was a byproduct from a downstate sugar producer, he determined that, to achieve the best flavor, he needed to use molasses from the Caribbean.

AN ARGUMENT FOR BRANDY
As an expression of the region's agricultural heritage, there is perhaps no local product that's more like northern Michigan in a bottle than cherry brandy.

It is, after all, made of just cherries mashed into juice, with a little yeast added to jumpstart the fermentation, and then distilled into a pure, clear 80-proof spirit.

Lee Lutes, winemaker and managing member at Black Star Farms, started distilling fruit brandies in 1998 and today oversees the team in charge of distillation at the winery. It's a small fraction of their business – Black Star sells maybe 1,000 cases of brandy a year, compare to 25,000 cases of wine — but brandy fills an important niche for people who want a complex spirit that is truly of the region.

"The distillation itself is not critical; there are a lot of things around it that are critical," Lutes said. "Everything has to be of exceptional quality, otherwise a flaw is going to show up very distinctly in a spirt like that."

That's because distillation is a process of amplifying whatever the starting product is. Starting with the best batches of fruit each for each run is vital, and then a lot of care has to go into choosing how to blend those batches to come up with the best possible end product, he said.

At Black Star, the cherry, plum, apricot, and pear brandies are bottled in glass immediately after distillation to preserve their purity. The spirits at this point are clear, like vodka or water. The apple brandy, however, is aged in oak barrels, giving it a richer taste and an amber patina.

Fruit brandies, or, as they are known in French, "eau de vie," are a staple in some European counties, but they are not as commonly consumed in the U.S. Black Star's distillery makes only brandy and uses a still manufactured in Germany that is designed especially for distilling fruits, not grains. Lutes said Black Star brandies make good aperitifs and can settle the stomach after a large meal, or they can be mixed into their own distinctive cocktails, just like vodka, gin, and whiskey. Brandy also can be incorporated into savory sauces or used as a garnish to finish deserts.

Lutes thinks it's a shame that brandy hasn't caught on in American like it has in Europe. He chalks it up to tradition.

"We could start distilling mass quantities," he said. "But the truth of the matter is that the U.S. population is not as open or as accepting of these pure fruit brandies as they are of other spirits, particularly brown sprits."

COMMITTED TO LOCAL
Mike Hall, distiller at Civilized Spirits, on Traverse City's Old Mission Peninsula, also makes spirits that tap into the essence of northern Michigan ingredients: He makes vodka and gin from peninsula-grown grapes and cherries.

Those spirits are 80 proof, but they've been distilled to a purer state than brandy, and while much of the characteristics of the fruit have been distilled away, Hall said the drinks still contain the essence of the grapes and the cherries.

"That's kind of what gives it the flavor characteristic that it has," Hall said. "It definitely has more of an earthiness to it. … (but) it's a much cleaner spirit, whereas a brandy can be pretty complex."

Hall has foraged for wild junipers for the distillery's gin, but he plans to plant some nearby in order to have as little impact on the natural environment as possible.
Civilized, the liquor arm of Northern United Brewing Company, which owns Mission Table and Jolly Pumpkin, is also committed to making all of its own spirits. Hall said use of local ingredients can be tasted in the end product.

Civilized has always used local ingredients to make its spirits because, he said, it's important when you make a local product to make that product of the area. There is an aesthetic pleasure to it, an intangible connection that people value, but there is something more — it means that the parts that go into each batch haven't travelled on trucks over long distances to reach the distillery.

"The material is hardly travelling. It basically comes off the vines and into to the fermenter. … The product doesn't leave the peninsula until it's completed," Hall said. "In our case, I can only really speak for us, we started the very first batch with local products intentionally, just because we wanted to keep it local."
Trending
FishPass: A Foul-Hooked Project
There's proper fishing, and then there's illegal "snagging," or "foul-hooking." The la...
Read More >>
Cancel This
It seems we are either part of what's being called "cancel culture" or we're claiming we must cancel cancel cu...
Read More >>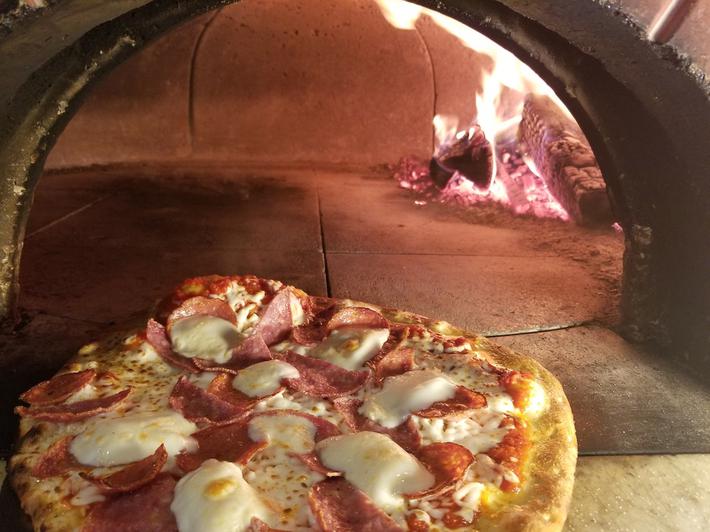 Nittolo's Napoli
You want a medium round with extra mozz, pepperoni, and canned olives? Go somewhere else for your pizza. "This ain&r...
Read More >>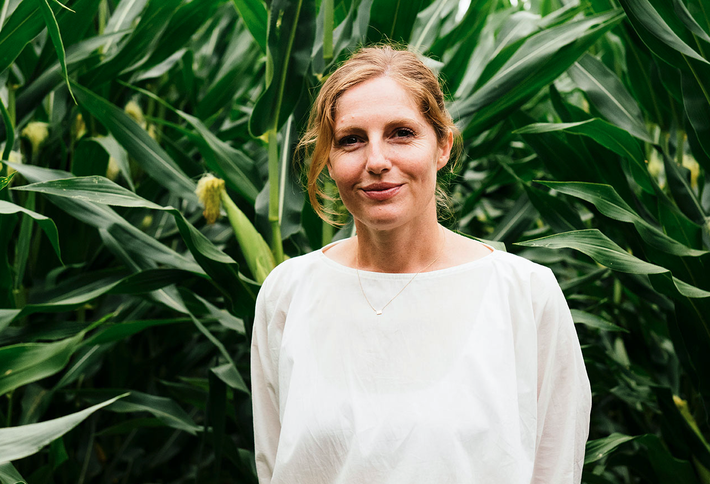 Fascinating People
Abra Berens The Bestseller Abra Berens grew up on a farm south of Holland and began cooking at Zingerman's Deli whil...
Read More >>
↑