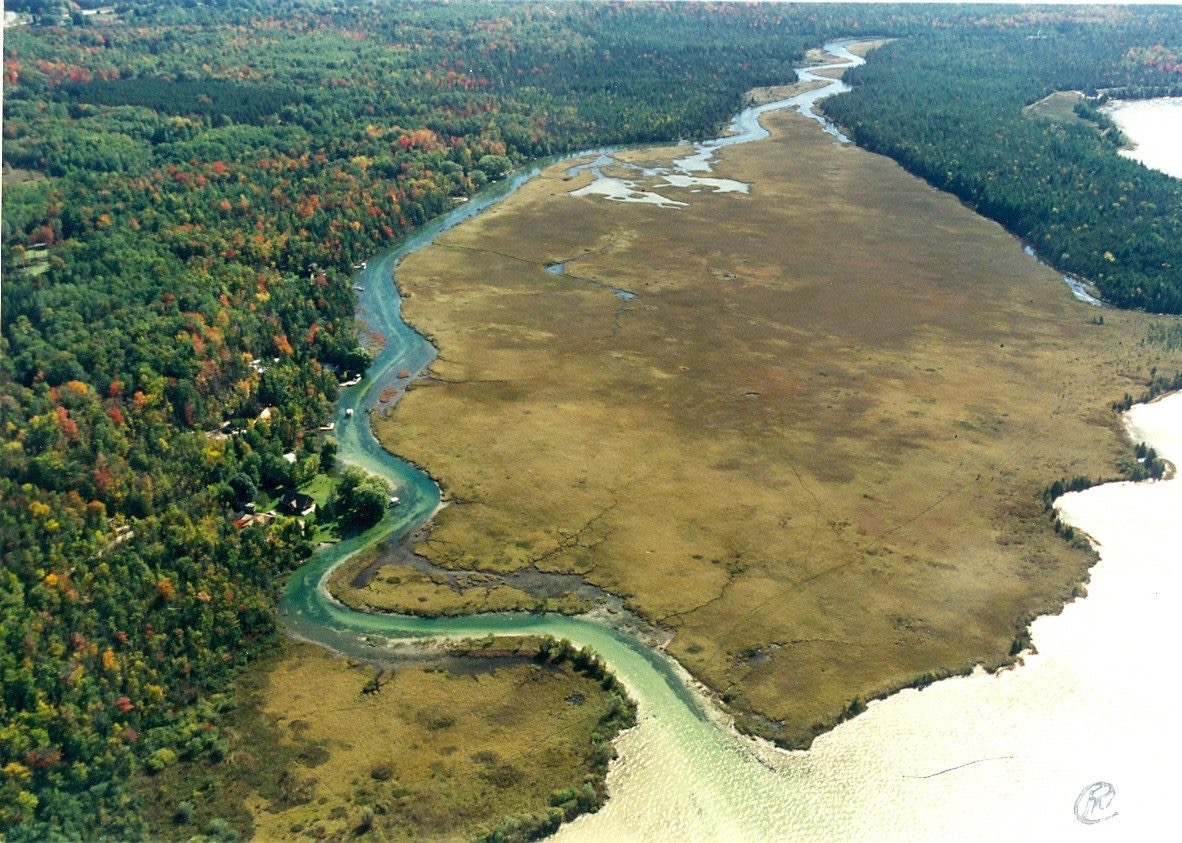 How a Near-environmental Disaster Spawned a Wetlands Laboratory.
The Grass River Natural Area at 50
Fifty years ago, the notion that a vast tract of wetlands could be preserved in its pristine state rather than be developed into lakefront lots was a novel idea. There were no land conservancies. There was no such thing as a conservation easement. The Nature Conservancy, the nonprofit established in 1951 and dedicated to preserving wildlife habitat, had never undertaken a project in Michigan.

That didn't stop a soil conservation officer in Antrim County from recognizing the environmental importance of the wetlands surrounding the Grass River, which flows from Lake Bellaire to Clam Lake, and then pursuing a dream to see that land protected.
A half-century later, Jenn Wright, who has been the executive director of the Grass River Natural Area for one year, marvels at the origin story of the nonprofit she serves. She sat down with Northern Express to talk about the dramatic events that unfolded to ensure the preservation of those critical wetlands.

Northern Express: The idea for the Grass River Natural Area came about in 1969. But there weren't examples to follow. There weren't things like natural areas or land conservancies. How did someone decide to make this happen?

Jenn Wright: So, in 1968, Dr. [Alfred] Austin, who was a property owner on the banks of Grass River, decided one day he wanted to develop his property, and in order to develop his property, he dredged Lake Bellaire. He had a sandsucker come in, and he used that sand to create a foundation. Well, Lake Bellaire is mostly marl, a type of soil that doesn't drain, basically, and so all of a sudden, he'd done this — he's cut all of the cedar trees, he's dumped all of the sand in there, and it doesn't drain. He can't build on it. He's stuck.

Express: That sounds like it would be considered an environmental crime today.

Wright: Exactly. It would. The interesting thing is, he immediately went to the conservation services office, which today would be our soil conservation district, and that's where he met Warren Studley, and he walked in and he said, "I messed up. I just did this. I feel terrible. I shouldn't have done it. What do I do?" In today's day and age, it would be fines, it would be whatever it would be, and Warren, for some reason, Warren kind of stepped back and thought, "If this happened," and he started looking at maps, "this could be a problem. Anybody could do this." People want to build on water. It's beautiful, right? So, Warren started looking at maps, and he sort of parceled together this big ecosystem of riparian lands that were adjacent to Grass River and also into Lake Bellaire and Clam Lake, and he decided he was going to start advocating for preserving and protecting them.

Express: That could not have been a simple task.

Wright: So he went to a group of citizens. He went to a public meeting, and he shared his vision. The stories that you read are that he was extremely animated and very convincing —super passionate — and people were drawn to Warren. He went to this meeting, and there happened to be a county commissioner in the room. He shared his story, and the commissioner said, "We need to do this. Let's figure out how we can make this happen." And he left. And the next day the county commissioner came and said, "I want you to present what you just said to the county commissioners on Thursday." This is literally a day away.

Express: That's interesting. I can't imagine it was like the Antrim County Commission was made up of a bunch of radical environmentalists at the time.

Wright: It wasn't. Warren could somehow paint that picture of what could happen if they didn't do this. So he went to the county commissioners — he actually didn't want to then; he didn't feel like he had the plan fully flushed out — but he did, he shared his story, and by the end of the meeting there was a conversation about some federal funding that they potentially could get, but it the application had to come from the county in order to get this. So, at the end of this commissioners' meeting, another commissioner raised his hand and basically said that he moves that the county goes forward with the application for this grant, and he wanted to write a check to Warren for $2,000 to get this project started. So, Warren walked away and thought, "This is happening."

Express: Not only is there not resistance, there is enthusiasm. Which is really surprising.

Wright: Exactly. It's so surprising. This whole story, as I read it, and I didn't know this coming in, this whole story, it was just like, this is like the epitome of grassroots, the perfect flow. Granted, there were things along the way that were bumpy — but in general, you had this ability and this interest in looking outside of the box and trying to figure out how to do it.

Express: What was it about this particular tract of land that called out to Warren Studley and the other founders and said, This is the land that should be preserved?

Wright: I think it was the amount of wetlands and that the wetlands were pristine. If you think about Michigan, Michigan is fairly disturbed, in terms of the land. Anything upland would have been cut and farmed in the late 1800s. But everything into the wetland, they couldn't do anything with that. So, it's historic. It's always been here. It's never been disturbed. And, as a soil conservation officer, as a biologist, [Studley] recognized the impact of what happens to water flowing through wetlands. It's filtered. That's what wetlands do, so I am sure recognized that aspect of it as well.

Express: What happened next?

Wright: He went to the Three Lakes Association, which still exists. It's folks from Torch, Clam and Lake Bellaire. They have a board and a newsletter, and they meet, and they do activities and projects. He pitched his story to them, and the Three Lakes Association agreed to take it on as a project. At the time they called it the Grass River Wildlife Project. So, then he needed to get the landowners on board. Their ultimate goal was to own this land, and you've got people who own this land. He had to figure out how to get them on board to either give and/or sell their property.

Express: Wow. That sounds like a hard job.

Wright: At the time, it happened to be that the taxes for people living on water were the same across the board, so if you lived on Torch Lake, you paid the same taxes as you did if you were living on Grass River, and there were several landowners that were struggling, who weren't able to maintain that. So, there was actually interest automatically from them to think about how to win-win this project — how to get rid of their land and make this happen. Warren talked them into this project, got three big landowners to sign agreements. The problem was, they were waiting for this federal funding; it was going to take a couple of years. The landowners, especially those big three, were antsy. They didn't really want to wait. So, the county stepped up and actually waived their property taxes for three years, until that federal funding could come in and they could actually pay [the landowners] for the value of their land.

Express: Was that a controversial decision at the time?

Wright: It doesn't come off as a controversial decision in our history books, and I haven't heard anybody say it, but I just think about that, and I think, in today' day and age, it would never happen, first of all, and, if it did, imagine what would come out of that. That was a huge plus for the landowners.

Express: And it secured those critical pieces.

Wright: Exactly. The first piece that we actually got — Bill and Paul DeLange, they owned 328 acres, basically in the heart of this property. They owned the cabin [that for years served as Grass River's visitors center]. That was their family's hunting cabin. It had been for years. They were having some family discord. One of the sons was having some financial problems and needed to sell his share, and they were trying to decide what to do, and they heard about this project. They actually stepped forward, and they were the first official gift of land that we received. There was a contingency that they could use it for five years, in the summer, and then it became the property of Grass River. So that was sort of the kickoff.

Express: So, Grass River and Antrim County were now in the land-conservation business.

Wright: As we started to acquire these properties, it became pretty apparent that there was no written or legal statute as to how to conserve property. There weren't conservancies. There weren't conservation easements. There was no legal process. But one of the people involved in the project happened to know the director of The Nature Conservancy. The closest office was in Minneapolis, Minnesota.

Express: Wait. They knew the national director of the Nature Conservancy?

Wright: Yes. They were friends. They lived on Torch Lake, and they had connections. So, they called John Flicker, and he came to Bellaire, and he heard their story and agreed to be part of this project, by holding the deeds to the land that was being acquired until the county could accept them back. The Nature Conservancy at the time had the processes for how to restrict the deeds and what to do. So basically, what happened was, the land was given to the county, the county gave the land to The Nature Conservancy, The Nature Conservancy put restrictions on the deeds that said it has to be used for scientific, education, and aesthetic purposes. That's the only thing the land could be used for. And once that was done, The Nature Conservancy turned around and gave it back to the county. So there was this weird, long process. We were the first project in Michigan for The Nature Conservancy. Now they have an office in the state. That alone, when I read that, I thought that's crazy.

Express: That's historic.

Wright: It's huge. And it happens all the time now. So they went through that process. In the meantime, they still needed to fundraise. They continued to grow. Think about the grassroots fundraising: They had a Mancelona teacher who collected pennies from her students. They would actually do skits on why Grass River should be saved. And they collected 10,000 pennies. They had popcorn for preservation. They sold raffle tickets. They did all the crazy things that you do to fundraise.

Express: In those early days, what was the objective of the fundraising?

Wright: Land. It was all land.

Express: You weren't trying to build a visitors' center yet.

Wright: They really were just thinking about land acquisition and preservation at the time. In the '70s, we're one of the few county-owned natural areas in the nation. We are a model. We actually had the Park Service come visit us, and they deemed us "The Grass River Model." We had people coming to learn how and why this project happened the way it did and why it was successful.

In the 1980s, focus shifted to Grass River Inc., the nonprofit end of the project. Grass River Natural Area Inc. was established in 1979, and since that time, the nonprofit has been contracted by Antrim County to manage the property. In 1980, construction began on what would become a two-mile boardwalk through the wetlands area of the preserve, and trails through the upland sections of the property were established, giving the public access to the property.

The boardwalk was completed in 1984, enabling Grass River to host school groups, and Grass River's focus shifted to developing educational programs. At first, the organization used the property's tiny, original hunting cabin for events. By 1988, Grass River saw 20,000 visitors annually. The first executive director was hired in 1992. Construction of the 3,000-square-foot visitors center was completed in 2011, and today Grass River sees over 30,000 visitors per year.

Express: What are the educational lessons that you teach at Grass River?

Wright: We know that people don't spend a lot of time in nature nowadays. We also know from some research that being outdoors in nature is really beneficial — emotionally, mentally, and physically. People who get outdoors are healthier. So, we want people to know that being outdoors is a good place to be, number one. Also, the fact that this is their backyard. The things you find here are the things you find in your backyard. It's what makes up northern Michigan. Finally, the water component — we have a million gallons of water that comes through here, and if this would have been developed, the clarity of the water in Clam Lake, or the color of Torch Lake, or the health of Grand Traverse Bay could look very different had we not had this huge two-and-a-half-mile-long filter that is able to take care of the water as it comes through.

Express: What plans do you have for Grass River's future?

Wright: Personally, I have a dream — I've said this since I started. I would love to see some sort of a nature preschool model. Nature preschool is something that in the last 10 years has grown exponentially in this country, and there is a lot of research to show that nature preschool is super impactful, because they allow kids to do what they do best, which is be kids. But you can tie in the curriculum, you can tie in the learning, and it happens in an outdoor setting. I've had some conversations with some folks in the community about what that might look like.
Also, infrastructure-wise, we have to finish [the reconstruction of] our boardwalk. Our previous executive director fundraised and raised $400,000 for a third of a mile of boardwalk. Do the math — it's really expensive. But it's an amazing boardwalk. Last summer from June to August, they ripped up the old boardwalk and put the new one in, and it was sort of a proof of concept for us to see how it went. We're finding that it is incredibly popular. People are loving it, partially because it's accessible. Last fall I was here in October on a Saturday; I had a gentleman come in, and he just couldn't tell me enough about how excited he and his wife were, because she is in a wheelchair, and they wanted to see fall colors, and they knew they could get out to the boardwalk. He sent me back a picture of her with her thumbs up, and he has since sent me money for the next sections that we do. Now that we have the momentum and can see what they can be, we really want to continue that process into the next couple years and raise the money and finish the boardwalk.

This conversation has been edited and condensed for clarity.
Trending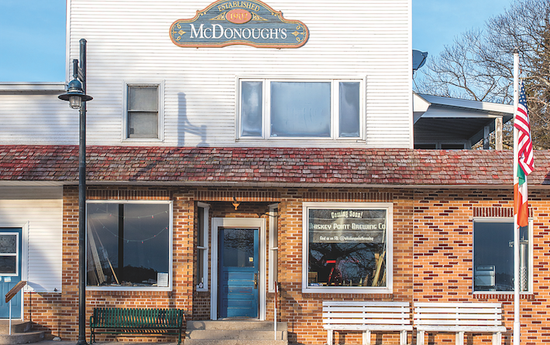 Welcome to Michigan's Most Remote Brewery
After years of planning and honing his beer-making skills, this spring, Patrick McGinnity plans to open Beaver Island&rsqu...
Read More >>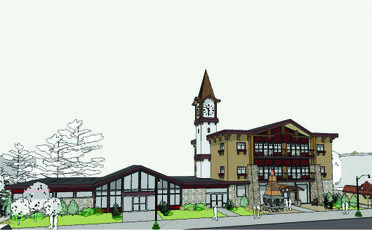 Gaylord: A boomtown Up North
Gaylord native Gary Scott had moved to Indiana, where he and some partners started a business to invest in distressed prop...
Read More >>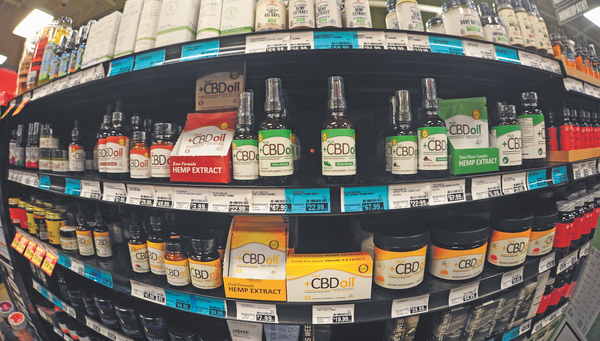 CBD Laws: Dazed and Confused
The sign outside of Family Video in Kalkaska lets drivers know the store has more than just movies. The sign reads: &...
Read More >>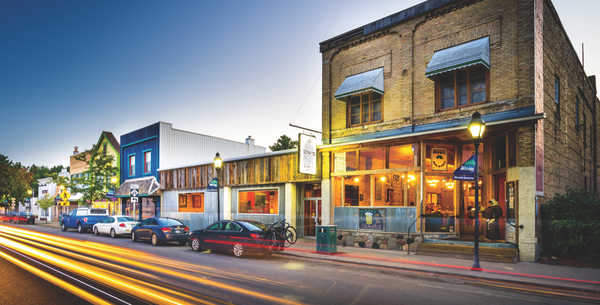 Small Up North Towns on the Rise
Spotlight on Bellaire (pictured)Seems Traverse City isn't the only place in the region making those "Best...
Read More >>
↑