How To Flip A House
The term "flipping" in real estate means something very different than pancakes or gymnastics. In the simplest of definitions, it means to purchase a house, upgrade it and sell it quickly to make a profit. Some people flip as a business while others do it more as a hobby, albeit a pricey one. Either way, house flipping isn't quite as simple as it might seem.
Chris Linsell handles marketing and digital strategy for the Flamont–Hastings Group, a real estate team that's also part of the brokerage Berkshire Hathaway HomeServices. "We have members of our real estate team who are house flippers, and we represent them," Linsell said. "We list their properties for sale, and we're always scouting around for properties that these flippers could work with [to flip.]"
Most flips, he explained, are typical single family houses; larger, more luxurious, homes don't tend to fall into the house flipping category. Smaller houses also lend themselves better to a fast flip, as Linsell said it's most beneficial for the flipper to turn the house around quickly. "We have flippers who, from time of purchase to listing for sale, only take about four weeks to do the flip," he said. "While they own the house, they are paying property taxes and utilities and such until they sell it, so it's in their interest to move fast."
Sam Flamont and Jennifer Hastings (pictured above) are friends and co–workers who collaborate on house flipping; they also work through Flamont–Hastings and have collaborated with Linsell. They both started house flipping years ago. They each approached flipping from a different direction, but these days, they're both in more of a consulting role, assisting others in learning how to find houses and flip them.
"When I started, I was living in Maryland, 21 years old, and looking for a house of my own," Hastings recollected. "I found a desolate part of Baltimore that I could just tell was on its way to becoming a trendy area soon. Baltimore City was offering one–dollar houses – really, just one dollar! – but you were required to rehab the house and live in it, and there was a threshold for when you would be allowed to put it back on the market."
At that age, Hastings was willing to take the risk. Through trial and error, she ended up with a crew of contractors who let her follow them around and learn about the processes of house flipping and construction. Subsequently, she moved to northern Michigan with her family to be near the lakes and experience living in a small town, but Baltimore was the beginning of her house flipping career. "That very first flip, I made a $37,000 profit," she said. "But the market in Baltimore is dramatically different than it is in Traverse City; we don't have those kind of abandoned properties here, so it can be difficult to find something you can flip and make a profit."
Flamont, in turn, got into house flipping as a real estate agent. At first, he was just helping other flippers find houses to flip. "I later wanted to buy my own house," he said, "so I decided I'd find one, flip it and then live in it myself for a while."
Flamont has a specific strategy for finding a flippable house. "I look at the area. Then the house. Then the resale value," he said. "Location is first – if the house is rundown but the location is awesome, you can fix the house but you can't fix the location."

Location in general is paramount for flippers. It's also one of the biggest challenges of flipping houses in northern Michigan at the moment given the small pool of available houses to choose from. That can be both bad and good news. "The housing market in TC is incredibly tight on inventory right now," Linsell said, "but because there's such a demand on property, you can buy a house for $150,000, put $10,000 into it and sell it for $200,000. I've seen that there can be a very high profit margin on doing this with the current demand for housing."
Mike Clark is another Traverse–area house flipper who's worked with Flamont. His company, Flood Aid, is primarily a water and fire restoration service for damaged houses, but he and his crew also flip houses in between restoration jobs. "The guys still need to work, and flipping keeps us all busy," Clark said. He agreed that the biggest hurdle is finding the house to flip in the first place. "There's such a lack of housing here right now, so in one way, that can be a good thing for flippers," Clark said. "But it's also bad because there's a lot of competition to buy houses."
Clark's experience so far differs from some of his peers in that he isn't as bullish on the profit margin. "We've made a profit on all our house flips so far, but overall, we've found there's really not a lot of money in it," he explained. "You have to be very careful and buy right to actually make a profit. And you have to consider that it usually takes about three months of work, then one or two more months to sell it, on average, for not a lot of return. This isn't HGTV or the California market – you're not done with the whole thing in three months and making $80,000 grand. You might make $10,000."
Which brings us back to the real estate agents' old adage: location, location, location. "I scan all the time to see if anything good is coming onto the market," Hastings said. "I have my own list of criteria, but the first thing I look for is location. I like places where people can easily access our beaches, parks and downtown. Right now I especially like Oak Heights, Oakdale Drive, Baldwin Street [all in Traverse City] – there are for sure houses up there that could be flipped."
An area at the top of Flamont's list is south of Eighth Street in Traverse City, but the current housing demand, he added, is interfering with pretty much every neighborhood in town. "I like the area south of Eighth, between Eighth and Carver," he said. "Over there, you can definitely find some flippable houses. But the thing is, the perfect house to flip is most likely already in a bidding war around here, so it's going to be tough to get."
If you're new to the house flipping game, once you do find a house, you'll quickly realize that you need to find a lot of other things, too. Mary Morrison–Collins of another local flipping company, Fix and Flip, emphasized that those new to house flipping often don't realize how much equipment and experience they're going to need to complete their mission.

For her, flipping houses is a family affair. Her husband, Jim Collins, and son, Mark Morrison, have joined her house flipping business, which she's been pursuing for about six years. "We were flipping houses part time for about five years, then last year we went full time," Morrison–Collins explained. "My husband is good at construction, plumbing and electrical; he's a retired auto mechanic and has built several houses. And I have a sales background, so we're a good mix."
The first house they flipped was a neighbor's house that had gone into foreclosure. "We thought, well, that's one way to control who we have as our neighbor," she said. "So we bought it, fixed it up and sold it. We've done 10 houses so far; we're working on three concurrently right now."
All flips, she noted, seem to need flooring, paint, kitchen cabinets and bathrooms – changes that might seem simple at first, until you really start to dig into the work. "If you're new to house flipping and doing it as a DIY, many people don't realize how much tools cost," Morrison–Collins said. "You'll quickly find that you need a lot more than a hammer and a screwdriver. Until last year, we did all the renovations ourselves, but we've grown now to the point where we hire contractors. Now we tell the contractors what we want them to do and then let them do their jobs. If it's a quick flip of paint and carpet, we might do it ourselves, but that's it."
She agreed that the lack of housing in the region can be tough, but in the end, she said it's just "a numbers game." She explained, "For every 100 houses we look at, we bid on 10 and win two. My advice is to work with good realtors, keep your eyes open and look for key words like 'foreclosure, fixer upper, lots of potential' – those words let you know that the house is probably priced below market value."
The last component of house flipping is presentation. While flipped homes are shown completely furnished and beautifully decorated on HGTV and housing shows, our local house flippers agree that this isn't realistic and is done mostly to make a pretty show for the cameras.
"I did a flip on Wenonah Street by the college, and we didn't even have to do any staging – people were bidding on it before it was even finished," Flamont said. "There's such a demand, you don't have to stage a lot of the houses. Plus, you don't want to cover up the work you've done – you want them to see the nice floors and countertops and the fixtures. You want them to see that it's all brand new."

Hastings agreed, adding that both the interior and exterior should present as clean and new without too much interference. "I like to keep everything neutral and sleek," she said. "And even though it's a flip, I want it to look good from the outside, too, so I might power wash and plant some shrubs. I try to stay away from the HGTV flip concepts – it doesn't really happen like that. But if you pick up a nice little flipper and leave it unstaged and open, people can better envision their own furniture and belongings in it, and you'll have a sale."
Trending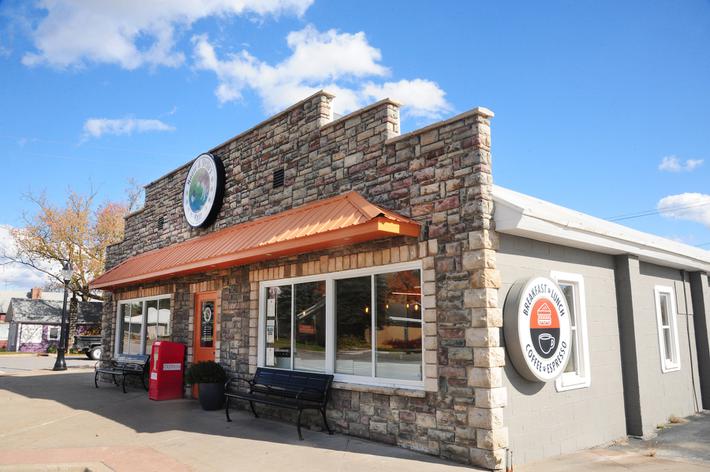 Kalkaska's Moose & Stella's
Dan Bloomquist and his wife, Evamarie, bought Breakfast & Burger Express in downtown Kalkaska at a great time: Decembe...
Read More >>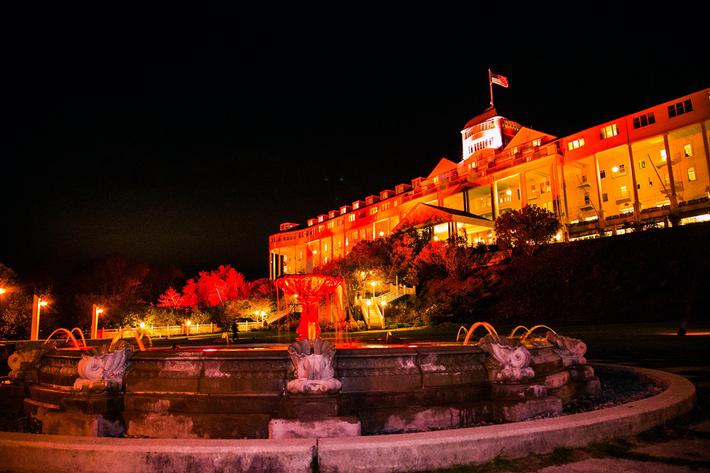 Halloween Rising
While the pandemic continues to impact lives and prevent mass gatherings, some Halloween events Up North, much like your a...
Read More >>
Hope and Vote
With mail-in voting well underway for many, and a trip to the polls just days away for many more, the gravity of the outco...
Read More >>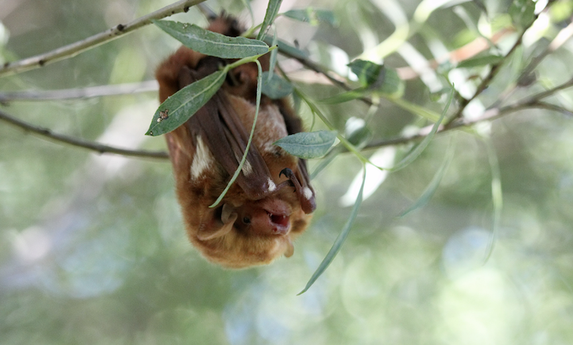 A Nightmare for Michigan Bats?
If you're seeing more decorative bats this Halloween than you saw of their live counterparts this summer, there&rsqu...
Read More >>
↑