International Good
Northern Michigan's charitable folk often extend their reach well beyond our own borders. Here's how some of our local people are making a major difference in far-flung parts of the world.
Mancelona Vet Dale Ackler
Helping Animals in India & Borneo
"There's a need to help animals everywhere you go," said veterinarian Dale Ackler of the Mancelona Veterinary Hospital.

That's why Ackler stepped up to fulfill part of that need when he traveled to India recently. He traveled to Dharamsala, a hillside city in northern India on the edge of the Himalayas, with his wife.

They brought their four oldest kids along (they have eight), booking their travels through Discover Corps, a company that offers all-inclusive "volunteer vacations," immersive and educational service trips for families, couples, and individuals.

"My wife is a nurse, so she went to help at the school, and my kids were each given a classroom so they could teach the Indian kids English and math," Ackler said. "I was initially there to teach too, but once they found out I was a vet, they thought I'd like the animal rescue center better."

He did exactly that, spending two weeks assisting at the animal clinic.

"We did a lot with dogs — there are so many homeless dogs there — and stray cows," Ackler said. "Lots of vaccinations, spays and neuters."

And yes, you read that correctly: stray cows.

"Cows are quite sacred in India," Ackler said. "People have them basically as pets, and often when they get old or can't make milk any more, people just let them go. They can't be harmed, as they're protected, but they're everywhere. People throw food in the streets for them."

He also worked with some horses and mules while in India, although he didn't have the opportunity to work with any wild animals. That might change soon, though. He recently took a trip to Malaysian Borneo, where he saw orangutans up in the trees and spent several days visiting at a dedicated orangutan rescue center.

"The oil palm industry is huge there, and the deforestation because of that industry is displacing the orangutans," he said. "At the rescue center, I got to visit them, observe them, see them, and their little ones. Many there were rescued from bad situation. Some villagers keep them as pets, or sell them to make money."

So next on Ackler's charity radar is returning there to volunteer his services.

"That will probably be a few years down the road, most likely when I retire," he said. "The orangutans are an endangered species, and I'd like to see them continue on into the future, so my grandchildren can see them too. I've always had a heart for helping animals like that."

Traverse City Nurse Aimee Albright & Team
Caring for 1,000 in one day in Philippines
Aimee Albright is taking her charity efforts back to her home country. The Munson Medical Center registered nurse was born in Cebu City in the Philippines, where she graduated from nursing school in 2005, and where medicine has always been part of her family life.

"Both of my parents are doctors and have always been nice about helping people who couldn't afford healthcare," Albright said. "The Philippines are still a third-world country and not a lot of people have access to health care, especially in rural areas. There are really, really small community health centers, if anything, and there's no prenatal care, no surgery. Sometimes the facilities themselves are in really bad condition."

A family friend, Dr. Henry Chua, had been doing medical missions for years; Albright took her cue from him.

"I've always wanted to do what he's doing," she said. "Plus I thought it would help if I invited my friends from over here to go, to see how everything is so different in Asia."

Albright went back to the Philippines last spring, meeting with Dr. Chua to discuss the idea.

"He asked, 'well, what do you want to do?'" she said. "And I said I wanted to keep it simple — offer wound care, some minor surgeries, some internal medicine, health education. Then I asked him if he could estimate the number of patients we'd see in one day, and he said 1,000."
So planning for the trip began.
"The concept of the mission is that it's kind of like a medical assembly line," Albright explained.

"We'll arrive, take a four-hour bus ride from Cebu, then a one-hour boat ride just to get to the clinic, which is basically a big, open covered port out in the wilds of Bantayan Island."
Albright will oversee two medical teams: one already based in Cebu, and the team she's bringing from Munson.

"My husband, Douglas Albright, is an occupational therapist, and he'll be going. We'll also have two respiratory therapists, four ICU nurses, one nurse's aide, three cardiac nurses, an epidemiologist (disease specialist), a cardiac thoracic surgeon, and one infectious diseases doctor."

The clinic services will take place all in that one day, for, yes, an estimated 1,000 patients. Bandages, gauzes, surgical tools, and other supplies are being shipped over months ahead. Munson is also assisting by donating supplies that are nearing their expiration date. No medicines can be brought across due to customs restrictions.

"We'll run the clinic from 7am to 2 or 3am in order to see everyone," she said. "And hopefully that will be good. I don't yet have a clear picture of how bad it really is there."

A fundraiser to help with the medical mission trip will take place from 7–11pm on January 19 at the Workshop Brewing Co. in Traverse City; Albright's husband's band, K. Jones and the Benzie Playboys, will rock their Cajun and zydeco music to assist with Albright's and the medical team's goal. And there will be more goals to come.

"When medical teams travel there more frequently, the increased visits will help us establish a primary starting point with the local governments," Albright said. "Those communications will hopefully, eventually help the local people get easier access to health care. This is definitely going to be an ongoing project."

Petoskey's South Africa Medical Expeditions
Keeping families together and healthy in South Africa
Local Petoskey area artist Sue Bleyaert was at a crossroads several years ago.

"Both my parents had passed away, my kids were out of college and on their own, and a friend suggested I should go help with a medical expedition to Africa — even though I'm an artist," she explained. "I thought, you know what, it will be good to get out of my comfort zone."

So she headed over to South Africa, where it had been determined there was a great need for medical assistance.

"The first time I went was in 2007," Bleyaert said. "The people in the rural areas there not only had TB and HIV, but also were dealing with parasites in their water, and weren't really getting much help from the local government. As an artist, I spent time with the children who were in line waiting to be seen by the medical professionals, just keeping them busy."

Fast-forward 10 years, and Bleyaert is a member of SAME (South Africa Medical Expeditions), a local aid agency that both puts together traveling teams and raises funds to assist orphans, children, and women in impoverished communities in rural northeastern South Africa. SAME works in these communities to bring in local medical workers and caregivers.

"Back in 2007, you'd meet the people through an interpreter, and ask why they wanted to see a doctor," Bleyaert said, "then you'd put their medical symptoms on a card. The cards would go to the medical team that was brought over from Michigan. Those doctors would evaluate the patients, and then send them to a South African dispensing nurse."

Today, SAME has its own director, Shirley-Anne Beretta, who's in South Africa full-time; there's also a nurse who's right on-site. Both oversee Sigagula, a village of around 3,000 people.

"Shirley-Anne and her husband, Frank, are well known in the local community there — they speak the language and understand the culture, so they're a natural fit," Bleyaert said.
Families in this region are also often fractured; with diseases running so high, many times children are orphaned, left in the care of their "grannies" (grandparents) when their parents die. So the other goal of SAME is to help keep families together.

"We thought that instead of building an orphanage, having the families and grannies all stay together and making sure they get medical care and in-home care is a better solution to the problem," said Bleyaert. "We've certainly evolved in the past decade," she said.

In addition to the reward of knowing that she's helping people, Bleyaert has also learned a lot from her experiences working there.

"The best thing is the sense you get of how the people in this village are so happy, even though they live with so little," she said. "We're so fortunate. As a U.S. citizen I come back and realize, we just have so much stuff! So we really can't complain about anything."

Traverse Bay Sunrise Rotary
Building Schools in South Africa (pictured)
Traverse Bay Sunrise Rotary, one of several rotary charities in northern Michigan, was looking for a cause to help back in 2016, when a couple club members went to Malawi, Africa to observe the progress of a school that was being built by the Warm Hearts Foundation out of Grand Rapids.
"They came back and said that building schools in Malawi was absolutely the right project for us," said Kathleen Guy, a past chair of Sunrise Rotary's international service committee.

"We took a two-week trip there earlier this year to build a school in Namakango Village, in the rural Mangochi district," Guy said.

Sunrise Rotary worked with the Warm Hearts Foundation to arrange the group of 26 people — most from the Sunrise Rotary, plus two teenagers from Texas and a family from Boston. The team built a secondary school in Malawi in two weeks, an accomplishment that Guy said was quite a challenge.

"When we got there, there was a crew of Malawians who had the foundation already built and the latrines dug," she said. "But that was it."
The team had to make cement blocks one by one, by hand, mixing powdered cement mix with sand and water.

"Each block weighed 20 pounds," said Guy. "There was a lot of shoveling and wheelbarrow hauling."
But that school was completed and, approved for building by the local government, allotted a teacher — but not much else, Guy said.

"The schools are basically plain cinder block buildings, with desks hand-built out of wood," she said. "And between 90 students, there's just one book per subject. So there's a lot of writing on chalkboards, recitation, and repeating."
But the willingness of the Malawi people, she added, made all the effort more than worthwhile.

"They are such a joyful people, and such enthusiastic learners," she said. "It's quite a thing to watch, which is why we feel compelled to continue our work there. We will likely develop an ongoing relationship with Malawi; we'd like for it to become our signature international service project."
Trending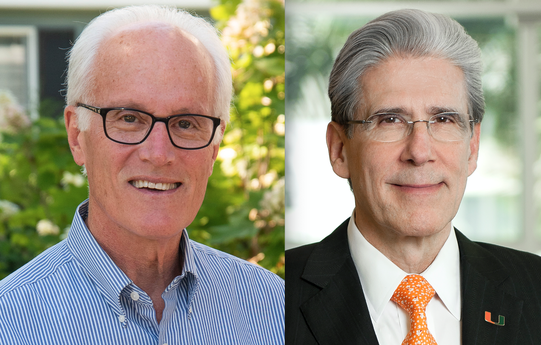 Listen In: Two Global Health Experts — one in TC — to Talk Pandemic
This week, the Traverse City International Affairs Forum at Northwestern Michigan College opens its 27th season ...
Read More >>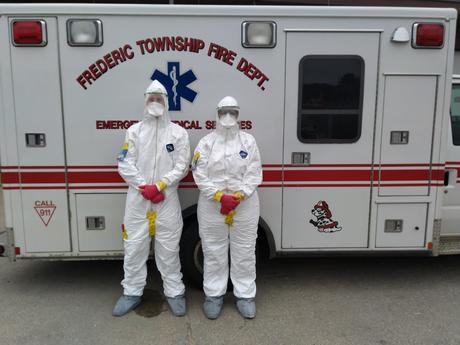 What First Robotics Teams Did on Their Summer Break
When the coronavirus pandemic first hit, masks, face shields, and other personal protection equipment, aka PPE, were hard ...
Read More >>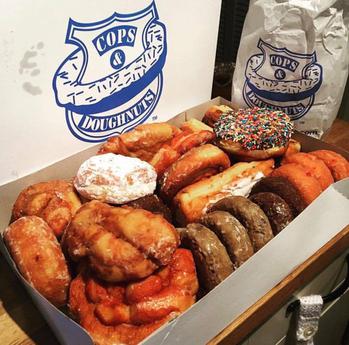 Gaylord's Cops & Doughnuts
There's a cop shop in Gaylord where the phrase "D.W.I." has nothing to do with adult beverages or erratic driv...
Read More >>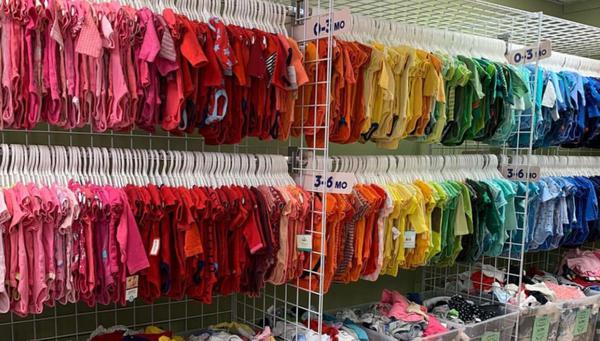 Resale is the New Black
It's a common tradition at this time of year: parents flocking to clothing stores in the last weeks of summer to get...
Read More >>
↑