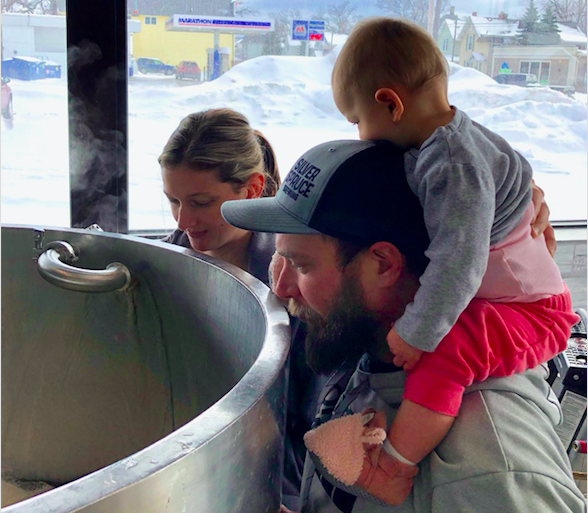 It Takes Two to Brew
The couples of the northern Michigan craft beer scene
By Alex Tank | March 7, 2020
The only thing better than drinking a cold beer is brewing one with your favorite person. In northern Michigan, four couples are not only committed to one another, they are committed to making quality craft beer together, with all the accompanying challenges and triumphs brewed into every pint.
So, how can you get to know these brewing duos? It's easy: Go taste their beer. Enjoy the spaces they've curated. Be curious about their journey. They probably won't tell you how tough it is to create something that consistently tastes amazing, but they are bound to share their joy with you, one beer at a time.
Bier's Inwood Brewery Charlevoix
Owners Tyler and Anna Bier opened Bier's Inwood Brewery just two years ago and they've cultivated a loyal following – even in the off-season. Located just off US-31 behind Bier Art Gallery, wintry views of Lake Michigan hint at impending days of glorious summer.
A wide lawn for barefoot sipping and a gazebo for live music lie beneath a snowy crust for now, but the beer continues to flow inside the renovated white farmhouse. Anna covers marketing, design work, social media and bartending. Tyler is the brewer and self-proclaimed "miscellaneous man."
Together they serve some 200 "Monk Club" members from individualized mugs, hand-thrown by Tyler, who is also a skilled potter. All the mugs are personalized by Anna's custom designs. The vessels embody their partnership as a couple and as colleagues. Along with a cross-section of popular styles like IPAs and Witbier, they pour beers like Monkin' Around, a malty Belgian Dubbel, and The Raven, a chocolaty porter, all brewed on a 2.5-barrel system on the brewery's lower level.
Tyler and Anna also stay busy raising two kids under three years old. Tyler notes that work-life balance requires unending energy.
"The brewery is a living organism that needs constant thought and attention to keep it running smoothly," he said. "A toddler and a baby require the same."
He's quick to note the benefits and joys of working with Anna.
"We think about problems differently," he said. "Usually, a combination of each other's ideas is the best solution. If there's a disagreement, I still have to go home with Anna."
So, what's the best part about running the brewery together? Tyler and Anna enjoy sampling and sharing the fruits of all that work.
"It's most fun to taste the end product … and to see people do the same and enjoy it," he said.
When they hit unexpected costs in the early building stages, Tyler and Anna relied on momentum and grit.
"All we could say is 'We're in too deep to turn back now!'" he said. "We always found a way to make it happen." Indeed, they're making it happen to delicious effect, day in and day out.
Dead Bear Brewing Co., Grayling
Travis and Jean Krebs have been sharing beers since 2006, when they met as students at Western Michigan University. Kalamazoo was already a hot spot for craft beer, long before the big boom in the rest of the country. Jean studied sociology and was a highly focused undergrad. Travis was more interested in art and home brewing. He mentions that he'd been sketching the image of a "dead" teddy bear, with the x's for eyes and then began to carry the image around with him each time he shared his homebrew with friends.
"It developed into a concept," said Travis. "When I brewed a batch of beer, I'd make a dead teddy bear in the style of that beer."
Jean, originally from Rochester Hills, is the general manager of the bustling brewpub. She and Travis have also been busy growing the family. Their son is a toddler and he's part of an intense dance of juggling daily responsibilities. The couple went into business with a partner in 2013, renovated a former steakhouse, and re-opened as Dead Bear Brewing Co. in 2014.
In 2015, they purchased a home; their son was born in 2017.
"Now we're switching. I work the morning," said Travis. "Then we trade off. She works the nighttime."
Recently, the pair bought out their former partner. The whirlwind continues; the couple mentions that President's Day weekend was one of their busiest in operation, with vacation traffic flowing in from nearby I-75 and dozens of snowmobiles zooming up to the brewery for beers and food — no doubt including Dead Bear's renowned baked mac and cheese.
Offered alongside other Michigan craft beers and a full bar, Dead Bear's house beers rotate often. Highlights include the EZ PZ IPA, a low-gravity session IPA with a floral hop signature, and Fresca de Pepino, a wheat beer with juiced limes and 40 lbs. of juiced cucumber. The return of a strong ale called Sugar Bear is always highly anticipated and the Krebs say the batch never lasts long on tap.
Earthen Ales, Traverse City
Jamie Kidwell-Brix and her husband, Andrew, found one another in Ann Arbor. After years of home brewing together, they opened Earthen Ales, which has entered its fourth year in operation beneath the water tower in the historic Grand Traverse Commons.
Jamie says the commitment to marriage and the brewery are similar.
"When you run any business as a couple, you're all in, and for better or worse, there's no real back-up plan," she said. "You just know that you are going to make it work and occasionally need to remind each other that you love one another. That's generally just a good thing to do."
When both partners love beer, the results become a liquid representation of a shared vision.
"We love brewing together. From recipe development to tasting, we're working through that together," she said. "It's a rewarding creative process that we share."
Is it all serious brewing and biochemistry at Earthen Ales?
"Sometimes it's just as fun to work together as to goof off together; sometimes it is one in the same," she said.
Although the steamy brew house can hard work – dragging hoses, shoveling spent grain, washing tanks – great beer is not born in a vacuum.
Jamie says the couple is thankful to be part of the craft brewing community up north.
"The beer community is very inclusive and welcoming and that's why we love this industry. Our keg washer came in late when we opened, and the Filling Station and Workshop both let us stop by and wash kegs," she said.
And what comes around goes around, with a recent collaboration and being part of a supportive community, Jamie says.
"Five Shores (had) just opened in Beulah, and they've already stopped by and brewed a collaboration with us … called Shores of Reality," she said. "Our community of businesses in the Village at Grand Traverse Commons is just as tight-knit and supportive. We are lucky to call Left Foot Charley a neighbor and are aging beer in some of their red wine barrels."
As part of the craft beer community, Jamie says the couple is enjoying the creative process.
"Creating a new beer together is probably the most fun. At the end of the day, we open a beer and talk about beer," she said. "We talk about what beer to make and how to make it. Then, we make that beer together."
It's a decidedly grounded approach to elevating one of life's simple pleasures.
Silver Spruce Brewing Co. Traverse City
Scott Stuhr and Leah Tyrell Stuhr (pictured) are fairly recent transplants from Asheville, North Carolina, where they had met at Asheville Brewing Company and found they shared a passion for craft beer.
Now, with a two-year-old daughter along for the ride, they've traded the Appalachian Mountains for the Great Lakes, founding Silver Spruce Brewing Co. in late 2018.
The melding of brewery work and family life is seamless, and that's not to say it's easy, says Leah.
"Our kitchen table has become an office, every meal together tends to become an impromptu work meeting, and that can be tough for any relationship," she said.
The upside of working with a spouse is knowing your co-worker better than anyone.
"We already understand each other's strengths and weaknesses when it comes to work," she said.
Despite the lack of true down time, the couple is tremendously proud of the realization of long years of planning. "We both get to share the good times and the tough times," said Leah. "It's a great feeling that we are open and get to share this journey."
The daily reality is where the challenges arise, she says.
"Some days we laugh because the task list – just to maintain – is so long, and almost none of it has to do with actually brewing," she said.
As for the beer, Silver Spruce is about to start brewing even more of it, including a sour beer which will be situated in the space formerly occupied by the recently closed Family Video on Eighth Street. The expanded Silver Spruce will feature an events space, more cold storage for aging beer and a home for specialized, oversized oak barrels, called foeders, currently en route to Traverse City.
Foeders are the perfect vessels for the true sour beers that brew master Scott Stuhr says he has in mind. Aged sours are tricky to execute, but the traditional beer styles Scott already prefers to brew take time to mature.
A prime example is a bourbon-barrel aged Märzen – a toasty, malty beer – which will be released for St. Patrick's Day.
Leah and Scott say they picked a prime location to establish their dream together.
"We are happy to be a small part of the craft beer scene up here, and have already met a lot of wonderful people," said Leah. "We enjoy being right in the heart of it."
BEERFEST COMING SOON
Michigan Brewers Guild Inaugural Spring Beer Festival in Traverse City
More than 100 Michigan breweries will convene on May 16 at Turtle Creek Stadium, home of the Traverse City Pit Spitters, for a massive sampling event with hundreds of unique beers, live music and food vendors. Heads up: MBG festivals tend to sell out. Find tickets at mibeer.com/events.
Trending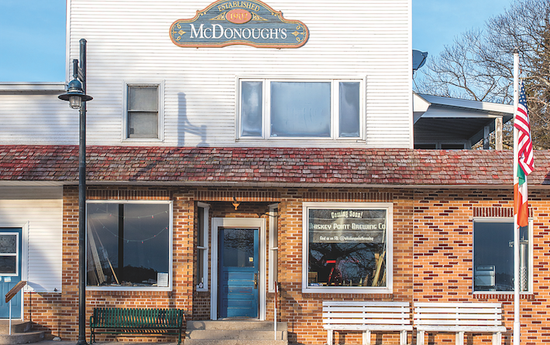 Welcome to Michigan's Most Remote Brewery
After years of planning and honing his beer-making skills, this spring, Patrick McGinnity plans to open Beaver Island&rsqu...
Read More >>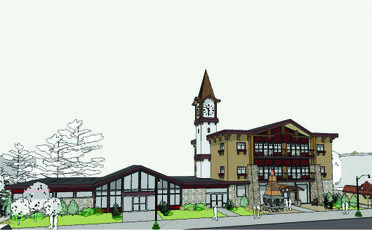 Gaylord: A boomtown Up North
Gaylord native Gary Scott had moved to Indiana, where he and some partners started a business to invest in distressed prop...
Read More >>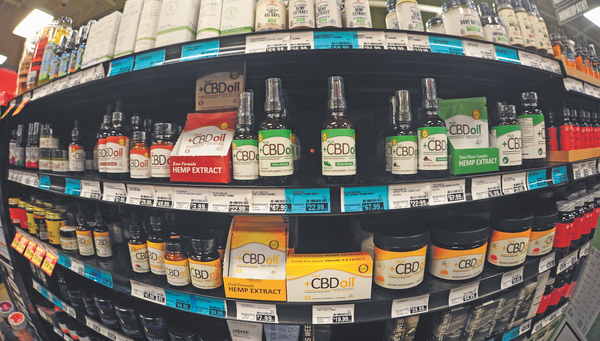 CBD Laws: Dazed and Confused
The sign outside of Family Video in Kalkaska lets drivers know the store has more than just movies. The sign reads: &...
Read More >>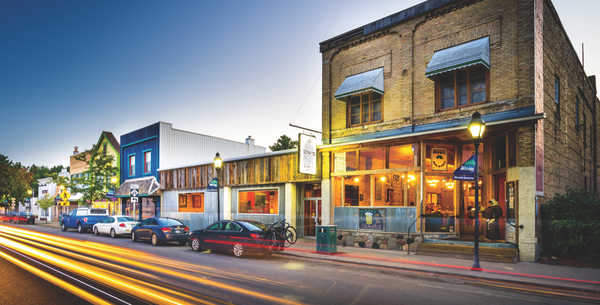 Small Up North Towns on the Rise
Spotlight on Bellaire (pictured)Seems Traverse City isn't the only place in the region making those "Best...
Read More >>
↑