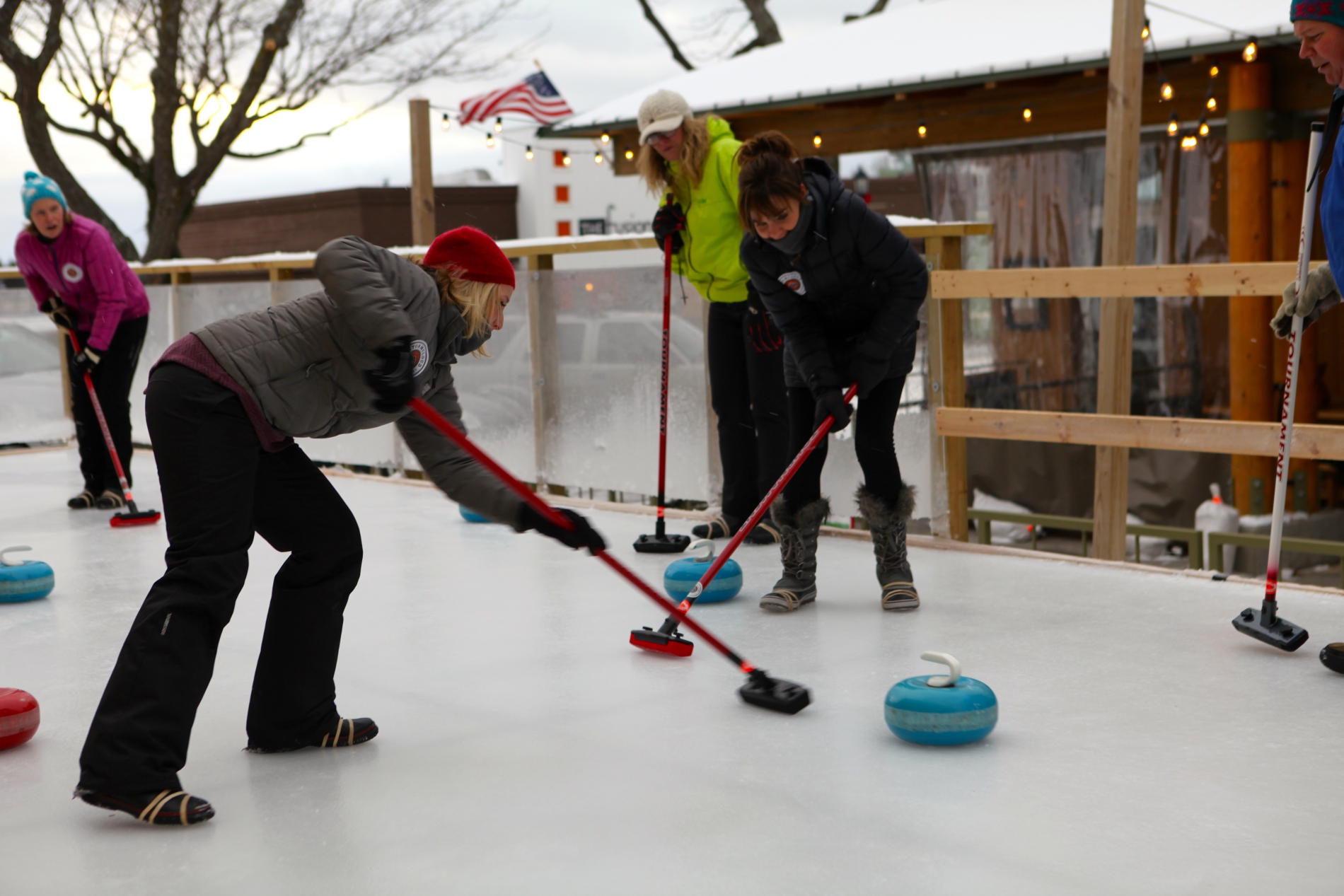 Learn to Love Winter
5 Fun Activities for First-timers
On the opposite end of the spectrum from those who hibernate their way through winter are those who embrace the season and all the opportunities it brings.

If you feel you've limited yourself to hiding inside for far too long, it's time to up your chill thrill. Here are five cool options for first-timers looking to get out of the house and spread their winter wings.
FIGURE OUT HOW TO FISH
Winter steelhead fishing in Michigan is popular for a reason: "People are mostly aware of steelhead from when they 'run' in the spring," said Captain Chad Dilts, who works for Captain Ben Wolfe at Sport Fish Michigan, based in Beulah. "Rainbow trout that head out into Lake Michigan and then return back to our rivers to spawn are considered 'steelhead,' and are much bigger — those are the ones we fish for in the winter."

Provided the ice and weather isn't too ugly, a guide will take newbie (and experienced) anglers out on the Big Manistee, the Betsie and Platte rivers in Benzie County, or the Boardman River in Grand Traverse County. Your wintry trip includes one very toasty touch: an in-boat propane heater.

Too wild for your rookie level? Sport Fish Michigan also offers the slower-paced option of sitting on some still water — ice fishing. Simply don some warm layers and waterproof boots, and a guide will set you up with a heated ice shanty, rods and reels, bait and lures, a pre-drilled fishing hole, and even (when available) an underwater camera to allowing aspiring anglers to drop their lures and watch as the fish approach.

"We provide all the gear and guidance for both river fishing or ice fishing," Dilts said. "And we like taking out beginners; it's fun to show them fishing techniques. Probably 60 to 70 percent of our ice fishing guests are beginners who've never been out on the ice at all."

COST: $175 per person; all ages welcome.
TIP: Winter steelhead tend to spend their time in the deeper, slower water; Sport Fish Michigan will show you several different ways to lure them out, whether you choose to use jig lures or spawn bags, or want to try fly fishing for the first time.
DO IT! Sport Fish Michigan, sportfishmichigan.com or (231) 683-1212.


STUDY SNOWMOBILING
Want to hit the snowmobile trails but never have? DerMiner's in Gaylord will rent you a snazzy new sled that'll be yours for 24 hours. And they'll teach you everything you know before you go. "We give you a good rundown of how to operate your snowmobile, safety features, and trail etiquette," said DerMiner's owner, Brian DerMiner. "It's pretty easy to pick up; we've even had people from Europe who haven't rented a sled before."
After your intro, you've got about 23.5 more hours to explore the region's multitude of snowmobile trails.

"We have over 500 miles of groomed trails in this area, and they're all well marked, which makes it easy," DerMiner said. "A lot of people like to go to Mackinaw City, but we also have a great route that goes to Mancelona, Starvation Lake, and Frederic before coming back up to Gaylord. And of course you have to stop at The Hideaway Bar — they have a dryer you can throw your hat and gloves into while you eat!"
COST: DerMiners offers one-passenger Arctic Cats for $289, or a two-passenger sled for $299 (plus security deposit.) Kids count as one passenger, and you must be 18 with a valid drivers license to rent.
TIP: Even if you're the hardy type, it's no fun to get stuck or lost on a cold trail. Make sure to tell others your plan and route for the day, and carry a fully-charged mobile phone and backup battery with you.
DO IT! Try DerMiner's Parkside Market, 7137 Old 27 South in Gaylord (parksidemarketgaylord.com or (989) 705-7051); or Burt Lake Marina, 4879 S. Straits Hwy., in Indian River (burtlakemarina.com or (231) 238-9315). Both are conveniently located to Trail No. 7, a popular snowmobiling route.

GET THE HANG OF HORSEBACK RIDING
While snowmobiling is a speedy and fun way to see the northern Michigan countryside, some prefer a quieter method of getting around. Feet too slow? Borrow four more — from a horse, that is. If you're unfamiliar with equine pursuits, a good place to start is Northern Pines Farm in Maple City.

Professional trainers will work with you to design a riding lesson program that will meet your needs — and you'll meet Northern Pines' friendly "school horses" that are carefully matched to each rider's ability level.

"We use both quarter horses and warmblood horses," said Brittany Bolger, acting assistant manager at Northern Pines. "They're very seasoned horses that are great for lessons."

You can choose from basic private or group lessons, or take advantage of one of Northern Pines' special lesson offerings; take the wee ones along for the Pee Wee Pony Class (10 years old and under). Or grab a bunch of your gal pals, a pile of snacks and beverages, and enjoy a Ladies' Lesson where you can all learn together.

On Sundays, newbie adult and young adult riders can participate in a $25 beginners class, which includes the loan of a saddle and riding cap or helmet (you'll need to b.y.o.b — bring your own boots). Arrive a half-hour early so you can meet your horse and learn how to prep them for riding.

"Our beginners class is a one-hour lesson in our indoor arena that's great for people who haven't ridden at all before," said Bolger. "We teach walk, trot, and canter, and there are even some holes in the ground right in the arena so you can learn how to avoid obstacles."
COST: Varies per lesson.
TIP: Don't just stride up to a horse and approach it like it's a taxicab. Establish a friendly rapport first by allowing the horse to put his nose to your hand, then spend some time calmly standing and petting it. You'll find that this goes a long way toward making your rides much smoother and your communications with the horse much better.
DO IT! Northern Pines Farm, 7347 S. Stachnik Rd., Maple City, northernpinesfarm.com or (231) 228-5550.


CONQUER CURLING (pictured)
The 2018 Winter Olympics aren't until February, but you can get a head start on one of the games' most intriguing events — curling — by taking part in Learn to Curl lessons at Stormcloud Brewing Company in downtown Frankfort. The northern Michigan microbrewery built an outdoor curling sheet next to its pub three winters ago, and they're now hosting a 12-team curling league as well as the lessons, with instructors from the Traverse City Curling Club.

Curling is a lot like shuffleboard; two players slide granite curling stones across the sheet and try to get as close as possible to a circular target on the ice. Curling brooms are used to sweep the ice ahead of the stone's trajectory to guide it to the target.

"There are three positions in curling," said Keirsun Scott, Stormcloud Brewing Co.'s marketing and communications manager. "The thrower, who releases the curling stones; the skip, the strategist who indicates where the stone should be aimed; and the sweeper, who clears the way for the stones to slide toward the target."

Best thing about curling? You don't really need any gear of your own to play.
"Just dress for the cold weather, and make sure you wear gloves," Scott said. "We provide everything else, the brooms, the curling stones, and special heavy-duty rubber bands that you wear on your shoes so you don't slip on the ice."

Once your feet are geared up and your gloves are on, you can take a 90-minute lesson (every Saturday at noon, 2pm, 4pm, or 6pm) at Stormcloud.
"All ages can participate — we've got no limitations," Scott said. "You'll just have to have your parents sign a waiver if you're under 18."

If you're more the observer type, settle in to Stormcloud's outdoor bleachers, where you can hang out and watch the lessons or games, popping in to the enclosed heater patio in between "ends" (rounds.)

COST: $10 per person.

SNEAK PREVIEW TIP: Etiquette is a big deal in curling. Make sure your footwear is clean before stepping onto the ice, don't damage the ice surface by hitting it with your broom or leaning on the ice, and be sure to partake in the traditional after-game socializing, nicknamed "broomstacking," during which everyone enjoys a beverage and talks about, well … curling.

DO IT! Stormcloud Brewing Company, 303 Main St., Frankfort, stormcloudbrewing.com/curling or (231) 352-0118.


SUSS OUT SNOWBOARDING
Maybe you ski, maybe you don't — but if you want to sail downhill feeling free as a bird, you've got to try snowboarding. Lucky for you, there's no shortage of great places to snowboard in northern Michigan. Get started with a lesson at one of our many local ski resorts; Treetops in Gaylord, for example, can get you out on the slopes in as little as two hours.

"Our best package for beginners is our group lesson, a two-hour lesson that aims to get people going up on the lift and on the green runs by themselves," said Treetops' Spencer Korson.
The group lesson includes an all-day lift ticket, plus your boots and snowboard rental, which are assigned to you by Treetops' technicians based on your height, weight, and ability level.

"The people who have the easiest time at snowboarding are those who have prior experience with skateboarding or surfing, but we have great instructors and lots of different types of lessons for everyone," Korson said.
COST: Group lessons, $85 to $115 per person (based on dates); private lessons are $60 for one hour (not including lift ticket or rentals); youth classes run $45–$50 depending on age group.

TIP: As a beginner, you're going to fall a lot — so it's smart to learn how to fall properly. If you're falling forward, lean on your knees, then forearms. If you're falling backwards, flex your knees and aim at landing on your butt.
DO IT! In addition to Treetops Resort (3962 Wilkinson Rd., Gaylord, treetops.com or (989) 732-6711), these resorts are among the many in northern Michigan that also offer snowboarding lessons: Boyne Highlands, 600 Highlands Dr., Harbor Springs, boyne.com or (855) 688-7022; Boyne Mountain, 1 Boyne Mountain Rd., Boyne Falls, boyne.com or (855) 688-7024; Nubs Nob, 500 Nub's Nob Rd., Harbor Springs, nubsnob.com or (231) 526-2131; and Schuss Mountain at Shanty Creek, 5780 Shanty Creek Rd., Bellaire, shantycreek.com or (231) 533-3000.
Trending
Very Busy Very Fast
This isn't going to be easy. President Joe Biden and his thin congressional majority are walking into troubled times both ...
Read More >>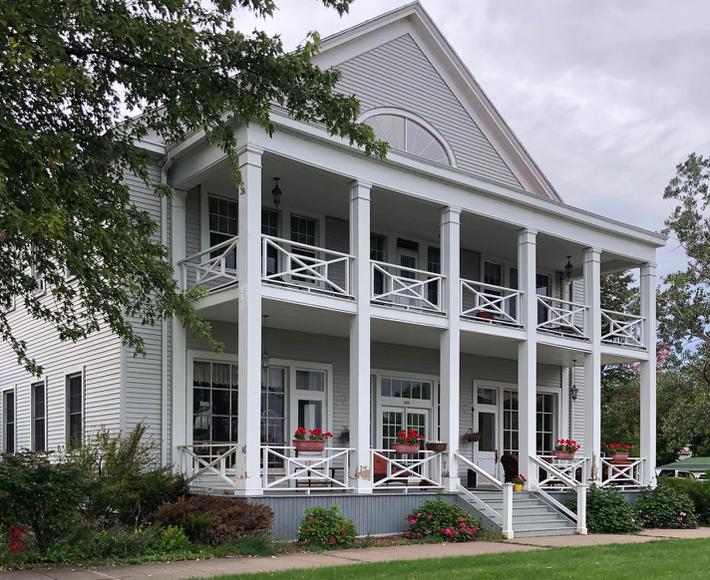 Thunder Bay Inn
Former playground to Henry Ford and part of a famous film and novel based on a real-life murder in the town, the courtroom...
Read More >>
Forty Acres' Spa Day Martini
Myriad methods of cocktail creation are on display at bars around the world. There are flaming drinks, compotes laden with...
Read More >>
He's Gone, Now What?
Wounded and fearful, America watched the 45th President leave the nation's capital. On a hastily arranged stage at a...
Read More >>
↑