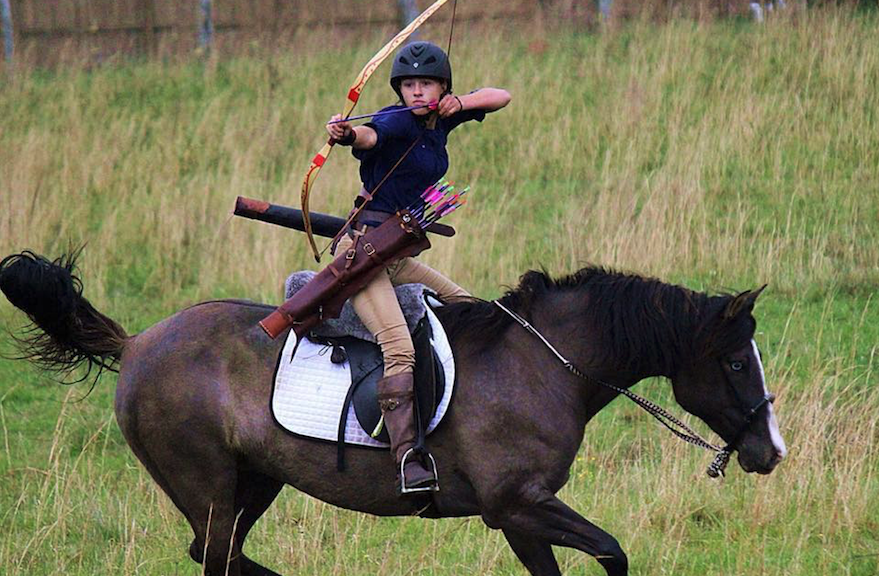 Less Attila the Hun, More Buddha
Targeting zen with the Michigan Centaurs
The half-horse, half-human centaurs from Greek mythology were famous for their archery skills. The creatures, which also made several appearances in the Harry Potter stories and films, are the inspiration for a group based in Gaylord: The Michigan Centaurs. Their goal is to capture that expertise once again.

There are a few differences. For one, the Gaylord-based group isn't mythical at all. The brainchild of Maryellen Werstine and her business partner and co-founder, Erin Halloran, Michigan Centaurs aims to share and build on the passion and skills of mounted archery.

And unlike the creatures for which the group is named, the humans and horses do not share the same flesh. But sharing the same aim is of paramount importance.

"Horses sense everything," said Werstine. Indeed, the group's philosophy as noted on its website is "Be one with your horse and bow in harmonious union."

ONE WITH THE ARROW
So why horseback archery, a staple of civilizations from Persian and Roman warriors to Mongol and Manchurian armies in Asia? It's no longer about warfare, but instead dedicated to providing calm and focus amidst chaos by marrying the two skills. Less Attila the Hun, more Buddha.

Indeed, Werstine said archery aids in developing the ability to relax and concentrate at the same time. "Archery really helps with focus. You pull back and release," she said. And doing it while riding adds another element. "You have to account for the speed and gait of the horse."

Michigan Centaurs offer several clinics each year for those who want to try the sport, as well as the more experienced who want to expand their skills. Next up is a horse archery clinic for beginners taking place Sept. 23 at Sojourn Farm in Gaylord, with another offered Oct. 28.

CENTAUR GURU IN GAYLORD
Between those is a horseback archery clinic with centaur great Mihai Cozmei on Oct. 20 and 21. Cozmei has been active in the sport for 20 years and has taught in Hungary, Turkey, Malaysia, Bulgaria, Poland, and other countries, including the U.S. As a competitor, he has won several international horseback archery competitions in both Europe and Asia. "He's the ultimate horse archery guru," said Werstine.

As with any skill, repetition is the key to success. "It takes time to get in the muscle memory," said Werstine. "Having a strong foundation of riding is really important."

Of course, so is archery. Participants first practice their ground archery and get comfortable with the process, then up they go. "They embrace the partnership with the horse. Don't rush it. Start with a walk," said Werstine.

The inherent challenge for many is to get comfortable riding without holding onto the reins. "It's not uncommon for people to be cautious not holding the reins," said Werstine, though she was quick to add this: "It's liberating. Not holding the reins is bliss."
EMPOWERED CONNECTION
The program developed in part from Werstine and Halloran's collaborative business, EquuSpirit Partnership. It offers workshops and retreats that explore self-awareness, healing, leadership, empowerment and adventure through working with horses. Clinics and workshops are geared toward individuals and groups, whether for encouraging self-awareness, personal growth, healing, leadership, team-building, or, of course, horseback archery.

Werstine said her own interest in the sport developed from watching a video. "I said, 'Wow, people actually do it,'" she said. She learned from a group in Georgia and brought it back to northern Michigan.

Overseeing the growth is the parent organization, Horse Archery USA. Interest in the sport is burgeoning, and Michigan is one of the states where it is seeing its greatest growth. Michigan Centaurs is one of three such groups in the state; it is the only Midwest state to have more than one such organization.

Werstine said the opportunity to deepen the bond between humans and horses through this ancient practice is something she finds engaging, and she loves to pass it along.
"Horses are magical beings for those of us who ride." And as for the archery aspect, "It's amazing how accurate you can be," she said.

Ride Free. Shoot Brave. Be a Centaur!
For more information on Michigan Centaurs or its horse archery clinics, go to MichiganCentaurs.com.
Trending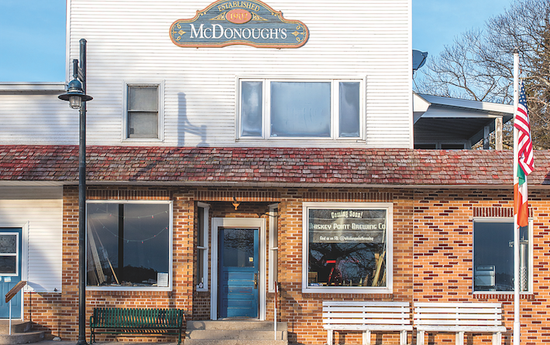 Welcome to Michigan's Most Remote Brewery
After years of planning and honing his beer-making skills, this spring, Patrick McGinnity plans to open Beaver Island's first microbrewery. Opening a craft brewery is challenging. Opening one on a remote island in Lake Michigan that's either a 15-minute plane ride or a two-and-a-half-hour ferry ride from ...
Read More >>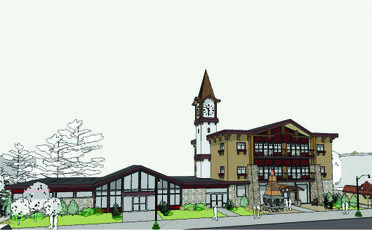 Gaylord: A boomtown Up North
Gaylord native Gary Scott had moved to Indiana, where he and some partners started a business to invest in distressed properties. He was talking to a banker in Detroit about real estate in Bloomington when he asked what kind of deals might be available in northern Michigan. ...
Read More >>
Northern Natural's Organic Success
Travelers might expect to find a tractor sputtering along the country roads about 50 miles south of Traverse City, but they'll also find the home of the award-winning Northern Natural Cider House & Winery, which is producing some of the state's only organic-certified cider. Dennis Mackey, 70, is ...
Read More >>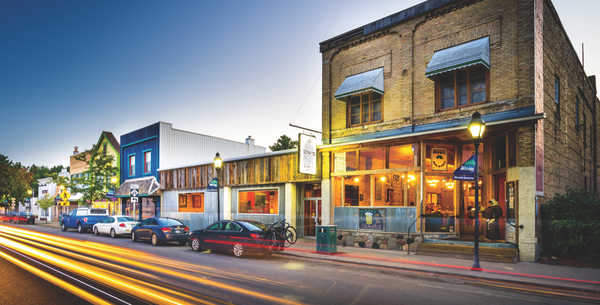 Small Up North Towns on the Rise
Spotlight on Bellaire (pictured)Seems Traverse City isn't the only place in the region making those "Best of" lists. The Antrim County hamlet of Bellaire was recently named to the list of Best Lakeside Towns in the U.S. by Country Living Magazine, alongside the likes of Vergennes, Vermont, Greenville, ...
Read More >>
↑