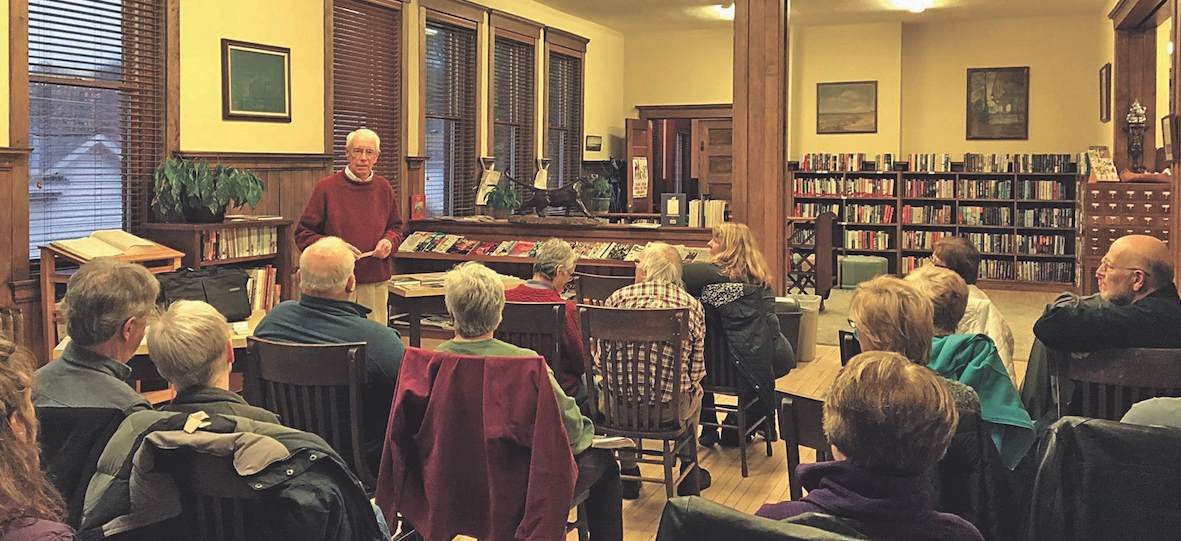 Local Libraries' Innovate Programming for Seniors
The Golden Age
Libraries have come a long way, Baby. Long known as vast repositories of books, audio files, movies, and research/history archives, libraries today are luring card-carrying members of all ages with even more programming: how-to classes, lectures, social events, film screenings, video game tourneys, and even live music. For seniors in particular, the North's local libraries are becoming a kind of beacon, providing both the space and inspiration for older folks to explore, connect, and enrich their lives and that of their community. So what's popular where? We checked out some of the region's busiest libraries to find out.
Figure Out that Damn iPad
"One thing that's very popular, especially with the older set, is our Tuesday Tech Cafe," said Monica Kroondyk, director of the Boyne District Library (boynelibrary.org). "Every Tuesday at 2pm, people bring in their devices — Kindles, iPads, even computers – and they can get free help as to how to use them."
You can take your tech a step further with library classes that will get you doing even more than using your devices to read or browse the Internet. Ongoing Byte-sized Tech and Maker-space Mondays at the Petoskey District Library (petoskeylibrary.org) enable folks to do things like convert VHS tapes to digital files, get personalized e-resource training in things like Microsoft Word, Excel, and Google Drive, and more, said Mary Beauchamp, the Petoskey Library's collection development librarian.

Talia Hofacker, adult services supervisor at the Charlevoix Public Library (charlevoixlibrary.org), added that the library offers one program in particular that's all the rage right now.

"Our 'Managing Photos' program!" she said. "Many people take lots of photos on their phone or digital camera — and then don't know what to do with them."
Fix Your Blender, Lower Your Insurance
If your household appliances are baffling you as much as your technology, the Petoskey Library's Repair Café is a hugely popular option (the next one is coming up in June). Guests bring in items like lamps, toasters, blenders, and sewing machines, and local repairmen and repairwomen are on hand to diagnose the trouble and help fix the item — at no charge.

At both the Charlevoix and the Harbor Springs libraries, guests can "fix up" their driving skills too.

Senior citizens can embark on an AARP Safe Driving Course, which takes place once a week for two weeks (call for days/times available). If a senior driver successfully completes the course, he or she becomes eligible for a possible discount on their auto insurance.
And if you'd like to improve your yarn skills, grab your needles n' hooks and head on over to the Traverse Area District Library's Interlochen branch (www.tadl.org), where they host the Yarn Therapy: Knitting and Crocheting group every Tuesday morning at 10am, where folks can bring their latest project to work on, enjoy a hot beverage, and chat about pattern ideas.

Authors, Experts, & Inspiration
Libraries are also a perfect venue for lectures and discussions, and the libraries across northern Michigan are no exception.

One of the best known events in this category is probably the ongoing Friends @ The Carnegie Speaker Series at the Petoskey Library, which brings a host of interesting authors and experts to the "stage" for a one-of-a-kind view into their lives or local issues. From the effect of climate and human factors affecting Lake Michigan water levels to the state of animal control today (e.g. "Not Your Grandparent's Dog Catcher"), topics ran the gamut. Upcoming guests include Kathy Bricker of Mackinac Straits Raptor Watch on March 26 and Amy Tweeten of Greyhound Rescue on April 23.

The Harbor Springs Library hosts a popular semi-monthly lecture series based on TedX talks. "We meet as a group and watch a handful of TED talks based around a particular theme, and then have a community discussion about that theme or topic. Our next one will be Thursday, March 1, and will be called 'Words Matter,' in which we'll talk about language and communication."

The Harbor Springs Library (pictured above; harborspringslibrary.org) also welcomes traditional lecturers. Soon, they'll confirm dates for a return visit by men from the Gilmore Car Museum, who speak about the history of the automotive industry, as does the Boyne library.

"Our next lecture will actually be an author talk by Seattle writer Garth Stein, who wrote 'The Art of Racing in the Rain,'" said Kroondyk. "That'll be a bigger library event, so it will be held at the Boyne City High School Performing Arts Center."

And at the Charlevoix Library, their "Lifelong Learning Classes" offer ongoing lectures on everything from the local history of towns to the complex matters of foreign policy in Russia and China.
Geneology, Memoirs & Birding
Want to find a new hobby or project? Your library is a great place to get a jump-start.

The Petoskey library offers a couple of different options perfect for digging into your own history.

"Every third Monday of the month, we host a genealogy interest group run by Barbara Manley Hernden, a professional genealogist," said Beauchamp. "Each session features a brief genealogy lesson, followed by discussion and a question and answer session."
Petoskey's library is also presenting a life stories and memoir workshop that will be overseen by local author Randy Evans on March 1 from 11–12pm, so you convert your own memories into a readable tome.
And the main branch of the Traverse Area District Library (TADL) in Traverse City (www.tadl.org) invites you to join the Grand Traverse Area Genealogical Society for their monthly meetings (next one is March 15 at 1pm), where they often have guest speakers and share info on how to get your genealogical search started.

Meanwhile, outdoorsfolk will especially enjoy the Boyne library's upcoming Intro to Birding class on May 20.

"We're partnering with the Sunset Coast Birding Trail for that one," explained Kroondyk, "it will be especially neat, because after the birding presentation, guests will be taken outside for a mini birding experience that very same evening!"
The TADL's main branch also offers everything from Maker Space events to cosplay meetups, while their East Bay branch offers a range of drop-in crafts, including offerings like Ukranian egg painting and pom-pom insect making.

Mahjongg, Live Music & Open Mic
Everything doesn't have to be a learning experience at the library, though. Sometimes you can just go and have a little fun.

Seniors have a great time meeting other seniors during the Petoskey Library's Mahjongg meetups (every Monday, 10am–1pm). Don't know how to play the engaging Chinese tile game? Go anyway, beginner tables and instruction are available.

For a little big-screen entertainment, the Boyne District Library offers up their Friday Night Film Series on the first and third Fridays of every month starting at 6:30 pm. The next film screening will be Woman in Gold on March 16.

Or perhaps a little live music is more up your alley? Check out the Charlevoix Library's ongoing music series: Summer Folk and Winter Folk, folk music concerts on the last Monday of each month, and Summer Jazz, which happens outdoors on Wednesday nights in the warmer months.

Harbor Springs' library has music, too, in the form of their brand new open mic.

"The open mics take place on the first and third Monday of each month at 6:30pm," said Harbor Springs library director Amelie Dawson. "It's a great jam session, usually with guitars and singing and sometimes other instruments, and it's right in the library, so it's great to stop by after work on Monday evenings." (Unless you're retired — then it's just a great stop.)

The majority of the programs listed here, with the exception of some concerts, are usually free of charge; contact your local library to get expanded schedules or for any additional questions.
Trending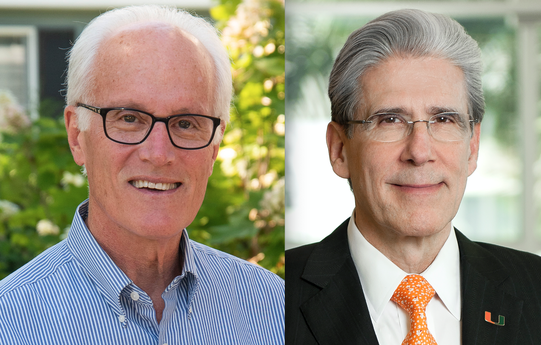 Listen In: Two Global Health Experts — one in TC — to Talk Pandemic
This week, the Traverse City International Affairs Forum at Northwestern Michigan College opens its 27th season ...
Read More >>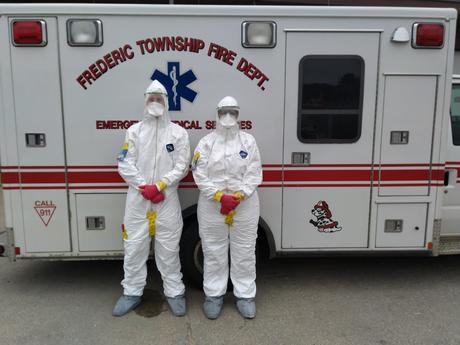 What First Robotics Teams Did on Their Summer Break
When the coronavirus pandemic first hit, masks, face shields, and other personal protection equipment, aka PPE, were hard ...
Read More >>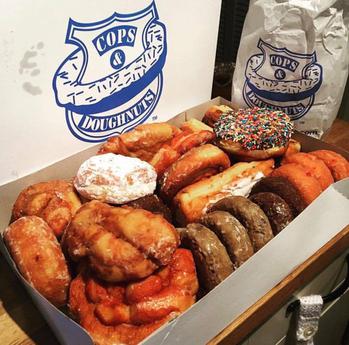 Gaylord's Cops & Doughnuts
There's a cop shop in Gaylord where the phrase "D.W.I." has nothing to do with adult beverages or erratic driv...
Read More >>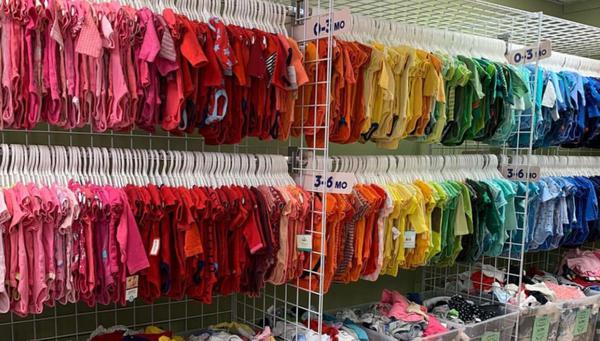 Resale is the New Black
It's a common tradition at this time of year: parents flocking to clothing stores in the last weeks of summer to get...
Read More >>
↑