Long Lake Culinary Campus Breaks New Foodie Ground
Public invited to tour in October
The last student walked out of Traverse City's Long Lake Elementary for the final time in 2012. But the school deemed too old, outdated, and expensive to keep open for area school kids wasn't done fulfilling its mission — at least, not as Timothy Fitzgerald Young saw it.
Under that crumbling roof, Young saw potential: to house Food for Thought — his organic and wild-gathered gourmet foods company that he built, in part, to educate consumers about sustainable sourcing.
"Since Food for Thought has a solid ethos and founding value of walking softly on the planet — I even built our first building myself, out of recycled materials — remaking the school was a perfect fit for us," said Fitzgerald.

But it wasn't only "us" Young saw moving into the vacant school. He envisioned the 12,000-square-foot structure becoming a collective for other food artisans working toward similar goals. He dubbed the project the Long Lake Culinary Campus.
And next month, it's letting the hungry public in for its first glimpse, with an open house and tours scheduled for Oct. 4.
Although the campus' tenant list isn't yet finalized, Young said he envisions the campus as not only a working space for food artisans but also a destination for foodies, where they can partake in tastings, perhaps grab meals at on-site food trucks, or enjoy or host special events.
"There's just so much we can do," he said. And he's quick to point out that he couldn't have done any of it without John "Chip" Hoagland, owner of Tamarack Holdings and Cherry Capital Foods, a local and Michigan foods distributor. Hoagland got on board with Young's idea and is the facility's owner.

"Chip is awesome," Young said. "I like to call him the 'regional Bill Gates of food' here in northern Michigan. He's always willing to invest in local food projects. He saw and understood our vision, and he bought the building and paid for the refurbishments on it so we could rent it from him and use it for our business plan."

Food for Thought is the largest and primary tenant on the campus, with Young overseeing as project manager.
"It took us a year to refurbish the building and move in," Young said. "It's a building of concrete, brick and steel, so it gave us a good shell to work with. But it was also originally built in a different time, so we had to do some removal of things like asbestos and lead paint. We basically stripped the interior down, added on a loading dock and a production room for Food for Thought, and then turned our thoughts to what to do with the rest of it. There were over 20 classrooms, and our business didn't need a bunch of smaller rooms."

Employing the shared-services model, food artisans will be able to rent space in the Long Lake Culinary Campus in a variety of configurations; additional amenities are also on-site and can be purchased (for a fee) along with the rental space.

"You rent the space and outfit it for whatever you need — as a kitchen, fermenting space, baking space — and then we'll make available things like our freezer, cooler, and dry-storage warehouses, use of the loading dock, shared facilities like our conference room and workout room, and even gardening and farming land if you'd like to grow some of your own ingredients for your products right here on-site."

"It's all on the 'cafeteria plan,' though — so if you don't need something, you don't pay for it."
Young envisions the entire campus being a small, close-knit network of entrepreneur food artisans, building a culture of supporting each other. With little over a month until the open house, he's off to a strong start.
"We moved Food for Thought here in May, so now we're finally getting to reach out and see who else might like to join us on the campus," he said. "So far, we've had cheesemakers, chocolatiers, and some other small food artisans expressing interest."

The Long Lake Culinary Campus is located at 7738 N. Long Lake Rd., Traverse City. The open house is scheduled for Oct. 4. For more information, email timothy@foodforthought.net or see www.tamarackholdings.com/llcc
Trending
Very Busy Very Fast
This isn't going to be easy. President Joe Biden and his thin congressional majority are walking into troubled times both ...
Read More >>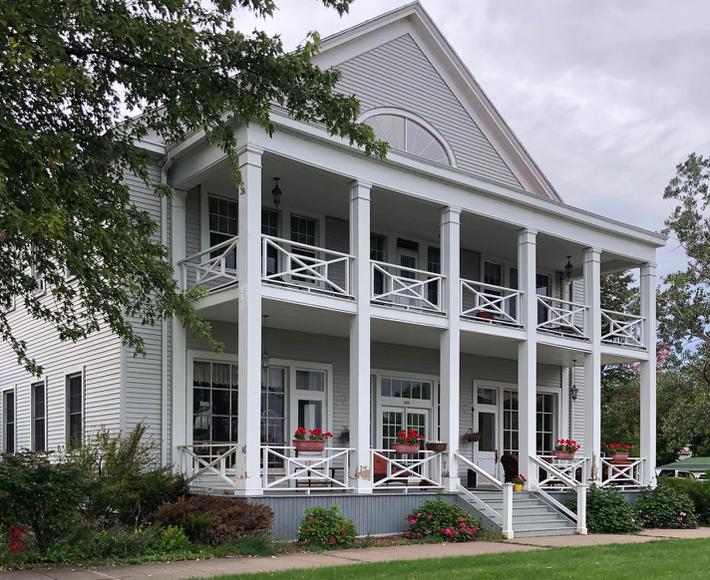 Thunder Bay Inn
Former playground to Henry Ford and part of a famous film and novel based on a real-life murder in the town, the courtroom...
Read More >>
Forty Acres' Spa Day Martini
Myriad methods of cocktail creation are on display at bars around the world. There are flaming drinks, compotes laden with...
Read More >>
He's Gone, Now What?
Wounded and fearful, America watched the 45th President leave the nation's capital. On a hastily arranged stage at a...
Read More >>
↑