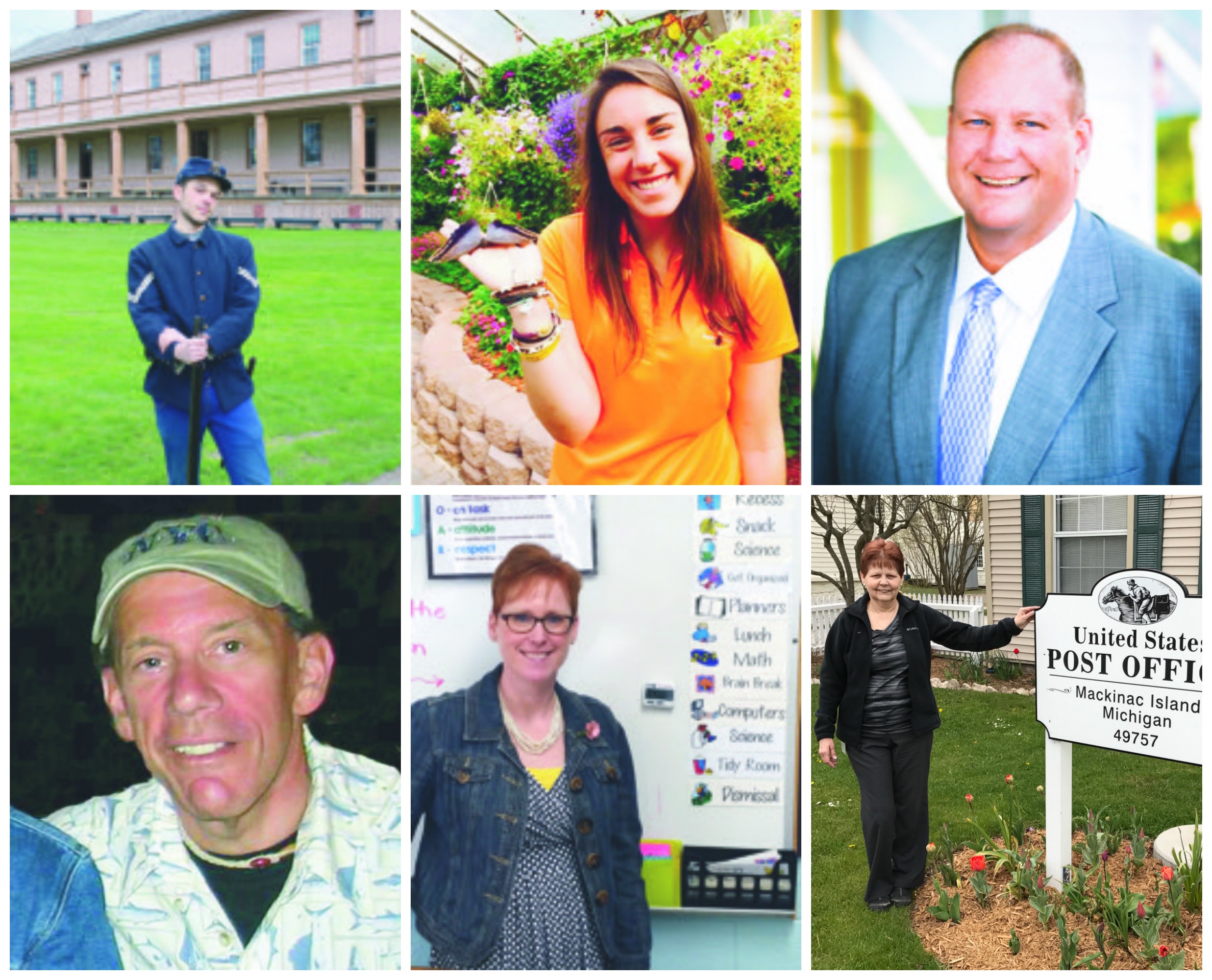 Mackinac Island Mainstays
If you've ever been to Mackinac Island and marveled at the many, many different varieties of fudge (the island's signature export), then you should definitely meet the people. The residents of the island — some who live there full-time, some who only stay through the summer months — are a diverse bunch. Here, we meet six whose unique work and passions keep the 3.8-square-mile island ticking.

Ken Hayward
The Grand Overseer
Grand Hotel Executive Vice President and Managing Director Ken Hayward began his career at the Grand in 1985, directly out of college. "I am lucky," he said. "It is the only place I have ever worked."

He was brought on as a sales manager initially, but spent his first summer on the island as what he calls a "utility infielder" — helping out around the historic hotel wherever needed.

"That first summer, I worked the front desk, convention services, guest services," he said. "It was a great way to learn the hotel business from the Musser family [the Grand Hotel's owners, who purchased the property in 1979]."

Hayward took on something of a double life in the hotel industry by accepting the Grand Hotel job. He lived on the island that first summer, and then worked out of the hotel's Lansing sales office, four hours south, for the following 25 years. This year, he'll spend his sixth summer season living on the island again, along with his wife, Nancy, and their dog, Coach.

"My daughter, Alexandra, and my son, Zach, also visit as often as their careers allow, at least three or four times a summer," Hayward said. "The natural beauty here is amazing. Sometimes you just have to stop and look around and realize what a special place and environment you are lucky to work in. And there is also an energy on the island with so many visitors enjoying all there is to do."
A typical day for Hayward starts with his arrival at the hotel in the morning. He first takes a pass through the kitchen to make sure his chef and crew are all set for the day, then he makes a round through the dining room to say hello to the guests enjoying breakfast.

"Each morning, Mr. Musser, our VP of Accommodations, and I also go over the list of guests arriving for the day to make sure the room assignments and amenities are set," Hayward said. "After that, it's a balance of monitoring email, phone calls, and walking the hotel to interact with guests, our department heads, and staff members to address any issues that may come up at the hotel or our six off-site restaurants."

With so many different departments under his guidance, Hayward said he realizes that he's part of something bigger than himself and important to so many.
In addition to the hotel's most famous visitors — five U.S. presidents; Russian presidents Vladimir Putin and Dmitri Medvedev; author Mark Twain; and actors Jane Seymour and the late Christopher Reeve (leads of the island-filmed movie Somewhere in Time) among them — the hotel welcomes visitors from around the world.
"Guests travel from near and far to celebrate special occasions or just get away from things, and it takes all 750 of our staff members to make that happen. I also appreciate the Musser family and their philosophy of how to treat our guests. How they care for and operate the hotel makes it enjoyable to come to work every day," he said.
"I think everyone should spend the night on Mackinac at least once. I hope it is at the Grand Hotel, but if not, I still believe the experience is special. The peacefulness of the island at night and in the morning is wonderful, and the sunrise and sunsets are incredible."
Elizabeth Burt
The Dedicated Teacher
Elizabeth Burt is much like the Laura Ingalls Wilder of northern Michigan, teaching small classes in a community that becomes even closer during its isolation in the winter months.

Burt got her introduction to Mackinac as a Girl Scout in eighth grade, when she was part of the Mackinac Island Honor Guard, a rotating seven-day program in which selected Girl Scouts perform island flag ceremonies, guide duties, and service projects. Burt participated in the program through high school.
Later, while attending Michigan State University to earn her teaching certificate, she went back to the island, this time working as an historical interpreter at Fort Mackinac between college semesters. Burt said it was during that summer she had the notion that living on the island would be "really wonderful."
"When a teaching job opened up on Mackinac, I applied, thinking maybe I'd stay for a few years," Burt said. "But I loved it, and I didn't want to leave — so I haven't!"
Burt is now in her 24th year of teaching at Mackinac Island Public Schools, where she teaches fourth, fifth, and sixth grade math and science year-round. Her teaching job isn't typical. In the winter, many of her young students arrive at school via snowmobile. The biggest Mackinac Island class she's ever taught had 19 kids; the smallest had only 3.
"But smaller doesn't necessarily mean easier," she said. "They still all have to learn the same stuff!"

The bigger challenge, Burt said, is that because there aren't enough students to fill each elementary grade, the school uses "splits," grouping several grades together in a single class setting. Preschool, kindergarten, and first grade are one; second and third grades, and fourth and fifth grades form two others. Only sixth graders are their own group.

"To work with the kids well in this situation, you really have to be flexible, and you really have to be able to multitask," Burt said.

Another challenge is acquiring school supplies.

"Amazon Prime is my best resource," Burt said. "That's another way you have to be organized — to think ahead and plan a couple of weeks out. Our local grocery, Doud's, is so great, but they aren't able to carry everything, so you can't just run to the store for certain things."

Burt met her husband, Allen, through the local social scene when he was working right across the Straits as an archaeologist at Fort Michilimackinac in Mackinaw City. He's now in charge of the island's drinking water plant. The couple has been married 20 years and have two kids; both children had Mom as their teacher.

"Having my own kids in my class has been a little challenging for me, although I think it's probably harder on them," she said.

Nevertheless, she wouldn't change a thing about her life and work on the island.

"I love the fact that we are such a small, tight-knit community. Someone's always here to help you out — that's just what people on Mackinac Island do," she said. "I also like the fact that you're outside all the time. It's beautiful here, and I can't picture ever living anywhere else. I'll retire here, for sure."
Ira Green
The Quiet Mogul
A consulting job for Mackinac Island's Lake View Hotel brought Ira Green to the island 26 years ago. It was love at first sight.
"I thought it was terrific," Green said. "There's no crime, no bad guys, no bugs to speak of, and beautiful weather."

Step forward to 2017 — or pedal forward, in Green's instance — and he's still on the island, now as the proprietor of the Mackinac Island Bike Shop, among other things. He lives on the island in season, and in Petoskey in the winter.

In addition to the bicycle shop, Green's business involvements on the island include the Lake View Hotel, the Bicycle Street Inn, two Sanders Candy stores, and three restaurants: Goodfellow's, Winchester's Craft Food and Drink, and Riley's Grill.

But the bike shop is the place you'll most often find him. Green worked as an aircraft mechanic in his youth, having attended trade school to learn to work on planes. At one point, he was working for a company that made fighter and bomber jets for the Vietnam war.
"It's only a short hop from airplane mechanics to bicycle mechanics," Green said.

Green opened his first bicycle shop on Mackinac Island in the early 2000s. Over the years, he acquired several more bike shops and blended them together to focus on expanding his flagship brand and stand, the Mackinac Island Bike Shop, which is located right next to Shepler's Ferry dock. The shop opens in mid-May and closes each year around Halloween.
"Bicycles here are licensed vehicles, so there's only a finite number of them," he said. "We currently have a stable of 319 licensed bicycles; there are a total of, I believe, around 1,400 on the island. Since we're right by Shepler's as people arrive to the island, we do pretty well; bikes go in and out of here all day long."

The pace of business suits Green.
"I'm not very good at play," he said. "I work seven days a week, really. I do ride bikes, and walk, and look at the scenery. But what I love about the bicycle shop is that we don't manufacture any goods. A person gets off the boat, heads to our shop, and all they're looking for is a nice experience. So the only thing, and the best thing, that we offer is hospitality."

Ruth Adamus
The Insect Keeper
Ruth Adamus of Dearborn, Mich., was a senior at Michigan State University, studying for her degree in environmental biological zoology, when she decided she needed an internship.

She found one at The Original Mackinac Island Butterfly House, said to be the first butterfly house in Michigan and the third oldest live butterfly exhibit in the U.S. Adamus, now manager of the butterfly house, is entering her fifth year at the facility.

"The job itself drew me to the island," Adamus said. "It kind of surprised me how much I liked it here! I went to the island as a kid, of course, but I never thought I'd work here."

She explained that zoologists have many different job options with their degree. "You can be a zookeeper, work at a nature center, be an educator, or do what I'm doing," Adamus said. "My real passion is conservation education though, and this place is perfect for that. Our mission here is to teach people about how beneficial insects are, what an asset they can be, and what their plights are, from loss of habitat to the problems we're currently having sustaining the bee population."

The butterfly house features 1,800 square feet of tropical gardens, a waterfall, and hundreds of live butterflies from four continents, plus several hundred butterfly chrysalises in the house's "emergence case." Also on display is the butterfly house's own Insect World display, a collection of live giant beetles, centipedes, and foot-long walking sticks, plus a beehive and nature pond of fish, toads, and turtles.

Tropical plants and animals are a crucial part of the butterflies' habitat and food needs, but they're not big fans of winter weather, so changing up the butterfly house's garden every year is the trickiest part of Adamus' job.

New plants for the garden are ordered each January, with a ship date tentatively planned for the end of March depending on the weather.

"We have to factor in the weather conditions to make sure the plants can survive the trip across to the island, and then the trip from the dock to The butterfly house," she said. "One very cold year, the boats didn't start running until May, and we couldn't wait any longer to get the plants set up for the butterflies. So we actually wrapped all of the plants in paper bags and tarps and transported them all over in a small five-seater plane that we had to rent!"

Not every day is that dramatic, but the job definitely keeps Adamus on her toes.

"I love that it's different every day here," she said. "I really like seeing people put away their cell phones and tap back into the side of themselves where they can get excited about nature. From the time we start in the morning — getting everything set up for the day's guests — to closing time, my favorite part is teaching people the cooler side of insects."
Trevor Rettell
The Aspiring Actor
Fort Mackinac, much like its historical brother, Fort Michilimackinac in Mackinaw City, offers a step back in time. The former British and American military outpost, which was garrisoned from the late 18th century to the late 19th century, is today the oldest building in Michigan. It and a dozen other on-site structures showcase exhibits on everything from Mackinac Island's military battles to family life in the fort itself.
As impressive as the surroundings are, what truly steals the show are the historical interpreters — actors-slash-tour guides — who immerse guests in the action.
"Most people come to the Fort to work in order to experience the history of the fort itself and the history of the island — that's what specifically draws them here," Rettell said. "I'm a little different in that I'm more of an actor. I do a lot of plays and productions all around northern Michigan. But I do also really enjoy the historical aspect of it."

Trevor Rettell, a Michigan native, stays on the island each summer in shared residences out by Mission Point that the fort provides for staff. His job as an historical interpreter is to help portray life in the region during the 1880s.

"It's interesting because not a lot of places cover that time period, and if they do, they tend to focus more on things out west, like General Custer's battles," Rettell said. "We portray the infantry maintaining the eastern forts; Fort Mackinac was considered a luxury post at the time, because there wasn't any fighting going on."

Likewise, life for the actors portraying the infantrymen is fairly peaceful. The Fort opens at 9am, and Rettell and the rest of the crew, all in period costume, are on site at 8:30 to fire the morning salute cannon and welcome guests.

"How we dress each day depends on which shift we have," Rettell said. "The first people arriving in the morning get to wear the more informal uniform, with the short coat and button pants. Our dress uniforms have a longer coat, with more white facing, and the iconic spiked helmet you'll see us wearing. But they're all reminiscent of Civil War-era style and are what the real infantry soldiers at the Fort would have worn."

The costumes are made of pure wool, which can be tough to wear when the weather warms. "Well, they do get a little hot in the summer … but the fabric does breathe well at least," he said.

Each actor is expected to study an instructional/history manual and train in how to safely fire the rifles and cannons.

"The first year you're here, you shadow the other interpreters and learn from them," Rettell said. "And once you know your facts, you basically make up your own speeches to convey the information."

What he likes least about the job: "Those days when it's raining, and the cannons won't fire no matter what you do!"

What he likes best: "All of it! We get to fire cannons and rifles, meet people from everywhere in the world, and tell people about history. What's not to like?" he said.
Debra Fisher
The Island Postmaster
There are 1,182 post office boxes on Mackinac Island. And all of them are overseen by one woman: Debra Fisher, the island's sole postmaster.
Fisher has been living on Mackinac Island for 30 years. She moved there to join her husband, William "Willie" Fisher, who was born on the island.
In 1994, she started working at the post office as a clerk, following a postal career's natural progression by applying to be postmaster when the job opened up in 2001.
When Fisher became postmaster, one of her first orders of business was resolving a small problem that had long been plaguing the island's resident travelers.

"People had to go all the way off island to get their passports taken care of," she said. "So when I became postmaster, I took a special class to become a passport agent. Now, people can get their passport photos and apply for passports right here on Mackinac Island. We never had that before."

Island mail, as you might expect, doesn't travel like mainland mail. It arrives by boat when the Straits of Mackinac are free of ice, and by plane when they're frozen. It's brought to the post office from the docks by horse and buggy. And mail availability is, well … not always guaranteed. Some days, because of the island's location, the mail simply doesn't make it at all.

"Oh yes, that definitely happens," Fisher said. "It's winter, it gets foggy, the boats aren't running because of the ice, and the planes can't fly, so the mail just won't arrive. We make sure we put up a sign to let people know that the mail isn't here, otherwise the phone rings off the hook. But most people who live here year-round understand that when the weather's nasty, that affects the mail."

The best part of the job for Fisher? The people, hands down.

Well, the people — and one small perk.

"The post office boxes are a pretty good deal too," she said. "They're only $24 for six months. That's cheaper than a lot of the other post offices out there, because we don't offer mail delivery — you have to pick it up yourself."
Trending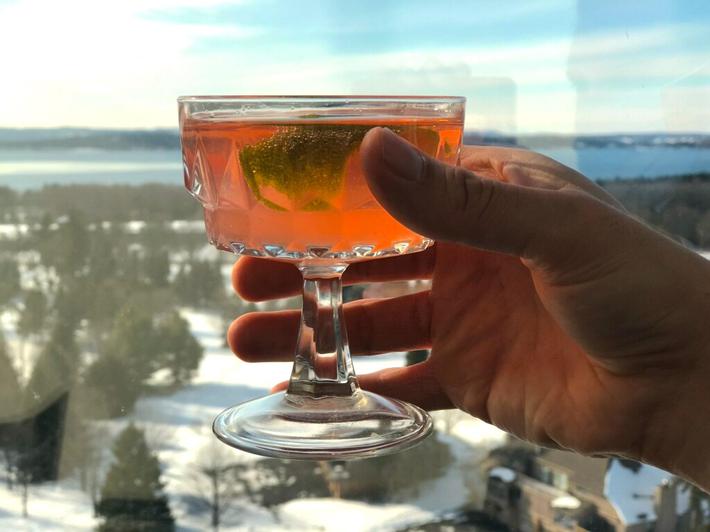 Tiny Pink Bubbles
Hey, ladies, do we have the pink drink for you: Aerie's Tiny Pink Bubbles. With a taste and body as delicious as its...
Read More >>
The Power of Our Example
Every new president faces a daunting array of problems, but 2021 will go down in the history books: Our country is under s...
Read More >>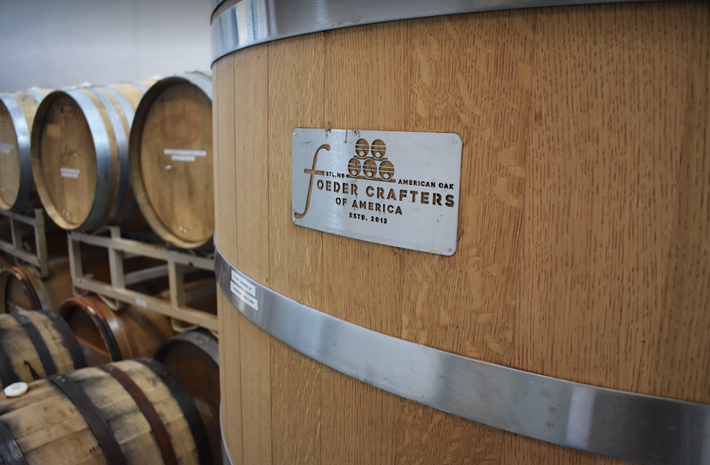 Getting Wild with the Foeder
Drinkers with a discerning eye may have noticed a couple interesting-looking wooden containers in the back of Traverse Cit...
Read More >>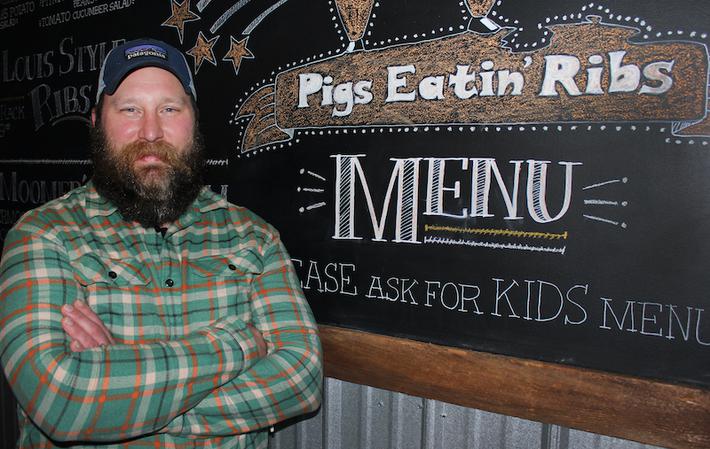 Charlevoix's Pigs Eatin' Ribs
By 2008, Charlevoix Chef Adam Kline had seen and tasted enough. The Northern Michigan food scene had stagnated, he said, i...
Read More >>
↑