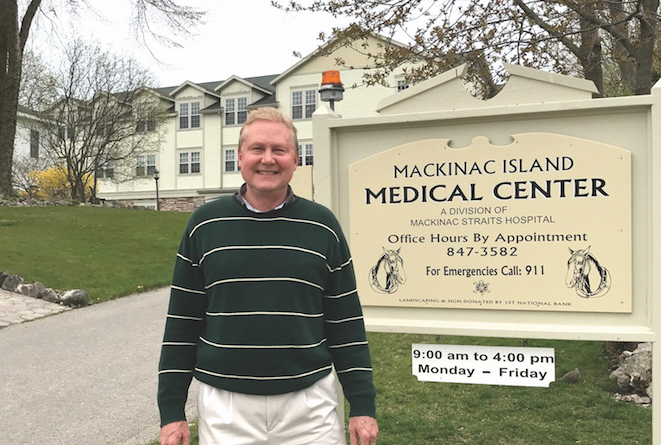 Mackinac Island's New Doctor on Duty
If you're picturing an exciting, fast-paced hospital drama akin to what you might see on medical shows like Chicago Med or Code Black … well, you won't find much of that at the Mackinac Island Medical Center. And Dr. Gregory Hessler, the island's new in-residence doctor, is no Gregory House, the doc-slash-detective from the TV series HOUSE, as there are few mysterious ailments or traumatic incidences to decipher here. Instead, it's a doctor's life as tailored to island life, in a place where seasonal allergies and sporadic insect bites far outnumber vehicle crashes or emergencies of any kind.
Dr. Hessler hails from the North. He graduated from high school in Frankfort, Mich., and after four years of medical school at Wayne State University and three years of residencies, became a working family medicine doctor at the veteran affairs outpatient clinic in Traverse City. He spent the last five years as medical director for the Grand Traverse Band of Ottawa and Chippewa Indians, then pushed northward still.
"There were a number of things that made me decide I needed a change of scenery," Hessler said. "I was driving to work every day, and working 8am-5pm five days a week. Both of my Traverse City practices were quite fulfilling, especially working for the Indians; and there were real needs at the VA that were very rewarding to help with. But those were all primarily adult patients, and mostly males. There was nothing wrong with the people in particular, but I was missing diversity and variety in my cases. So when another doctor wanted to be the medical director for the tribe, and I realized I could leave with someone capable filling those shoes, I started looking around."
Hessler's wife, Margo Hessler, heard about an opening for a doctor on Mackinac Island, and brought the possibility to Hessler's attention. The Mackinac Island Medical Center is primarily designated as an emergency room but also handles routine office calls.
Hessler, while technically the only full-time doctor on the island, explained that doctors on Mackinac Island have typically had a tough time in years past, as there would be only one doctor available, which means there's no relief or break from the job. However, the island's medical center today is supported by a national practice management group that ensures a roster of emergency and family practice physicians are always available to back Hessler up when needed and ensure his schedule is a reasonable one. In winter, he works ten days on and four days off; in summer he works four days, then is off for three, with short-term doctors filling in the gaps. This schedule allows Hessler to not only be the primary physician for his Mackinac Island patients but also stave off the burnout that typically plagues a largely solo physician in a 24-hour setting.
"People who live on the island or who are here for long periods of time really need their own family doctor," Hessler said. "But for the past three years, three doctors have rotated through here and didn't stay, I think in part because the demand of being on the job all the time as the only doctor can be a little much.
"If you look at the new shift rotation, it might seem like a lot of time off, but when I'm 'on,' I'm often up for half the night as well as during our day office hours. So the chunks of free time help me and the other doctors from getting overwhelmed."
Hessler's still on-call 24 hours a day — "We never really close our doors," he said — but the new schedule and the additional physicians rotating through help him maintain a healthier life, as does his new commute, now a walk, bike ride, or snowmobile cruise of about a third of a mile.
The hospital owns a home on the island — nicknamed "The Doc House" —where Hessler and his wife stay. The couple has two grown children who visit as often as they can.
"The Doc House overlooks the grounds of Mission Point [Resort] and the ship canal," Hessler said. "It's really neat because the whole house shakes when some of the bigger freighters go by!"
Hessler delights in his Mackinac Island surroundings. He and his wife often take long walks or bicycle rides around the island, and he considers his environment part of the support structure for his work as a doctor, along with Mackinac Island's long-time mayor, Margaret Doud, and the Mackinac Island Community Foundation. "The medical center is so strongly supported by the community," he said. "That's a really important thing that we greatly appreciate."

Like the community's medical needs, the facilities are a little different than what might be considered a typical hospital. Although there is an emergency room with two beds, there are no operating theaters, trained surgeons, or long-term-stay rooms, so any serious conditions or major traumas are taken off-island. "We have a great little facility here, but we don't have heart monitoring, so if we have a major incident, we'll do our best to keep the patient stable, and then get them off the island by boat or plane when needed, usually to the Petoskey hospital," Hessler said. "That can be challenging in the winter, as sometimes the weather won't allow the plane to be brought in, but that's pretty much the only big obstacle."
The medical center does have its own ambulance — it's one of the few motorized vehicles allowed on the island, where the primary transportation is via horse, bicycle, or in winter, snowmobile. Because many of the year-round residents live up a hill in the heart of the island, farther away from downtown, the ambulance is outfitted with four-wheel drive and tire chains. A recent addition to the medical center's local resources is a 32-foot rescue boat outfitted with a large enclosed cabin, a snap-in stretcher, and IV hooks. "As long as there's no ice, we can now transfer people across the Straits on the rescue boat if needed," said Hessler, "and then of course get them to a hospital on the other side."

The medical center is open four days a week in the winter, and five in the summer, with a small roster of nurses and paramedics making up the rest of the staff. There's a button on the door to push at any hour if you're having an emergency; that button connects directly to 911, which immediately notifies Hessler.
"We tell people to call the ambulance first if it's an actual emergency," Hessler said, "but many of them still just head to the hospital, find we're not open, and end up having to push the button to call us anyway. I can get to the hospital in 20 minutes flat, but that can get interesting sometimes when it's 3am and I'm up at The Doc House … in my pajamas."

Those actual emergencies are thankfully pretty scarce on Mackinac Island. "We don't have a lot of violence. I've been here since November of last year, and so far there haven't been any bar fights or anything like that, which is nice," said Hessler. "We have some bike accidents, but those are mostly due to weather conditions — someone hitting a mud slick in heavy, rainy weather, or cycling down the big hill by the Grand Hotel with no hands on the handlebars, which you obviously shouldn't do."
Hessler most often deals with bug bites, allergic reactions, the flu, an occasional tumble on the hiking trails — and in the winter, sporadic snowmobile accidents, although he said even those are pretty rare.

"We see most of what every other medical place sees — we just don't get much serious high-energy trauma here," he said. "At first, what drew me here was the idea that it was more of an adventure. But in addition to the work that I get to do helping patients, there are so many reasons that make me want to stay here. The island is beautiful, and it slows you down. And the people here truly are neighborly. I can't recall anyone saying an unkind word about anyone else since I've been here. People are thankful that they live here, and they're aware of what they have to be thankful for — so there's a real community feel of people pulling together."

Dr. Gregory Hessler is the primary physician at the Mackinac Island Medical Center, 7474 Market St., mackinacstraitshealth.org or (906) 847-3582.

Trending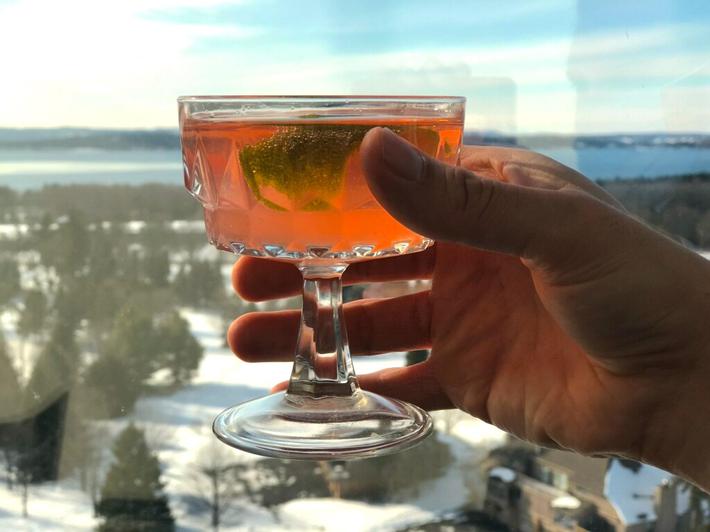 Tiny Pink Bubbles
Hey, ladies, do we have the pink drink for you: Aerie's Tiny Pink Bubbles. With a taste and body as delicious as its...
Read More >>
The Power of Our Example
Every new president faces a daunting array of problems, but 2021 will go down in the history books: Our country is under s...
Read More >>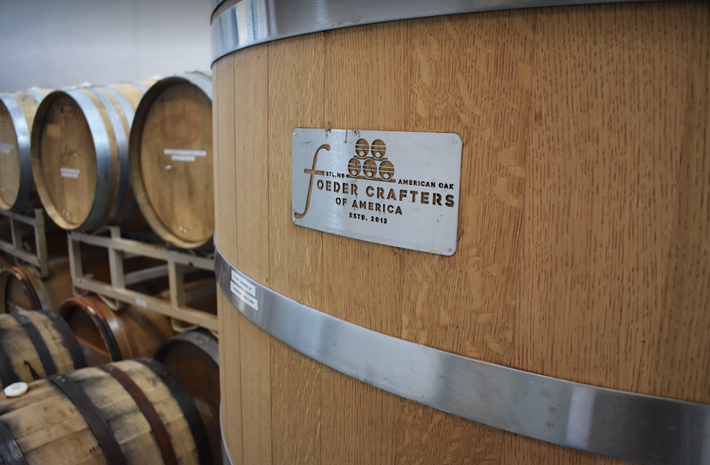 Getting Wild with the Foeder
Drinkers with a discerning eye may have noticed a couple interesting-looking wooden containers in the back of Traverse Cit...
Read More >>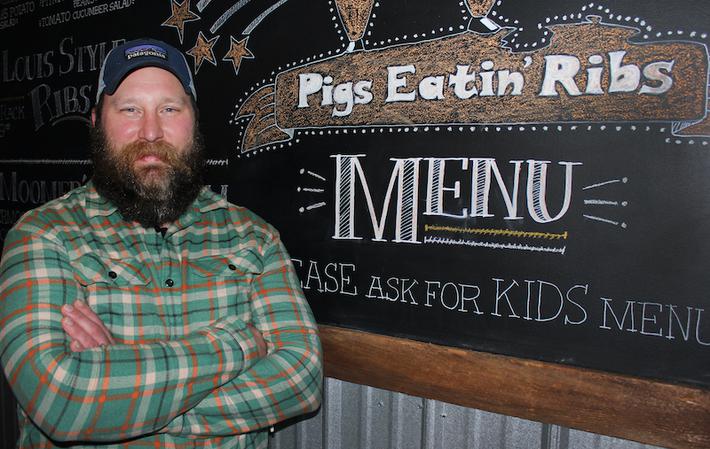 Charlevoix's Pigs Eatin' Ribs
By 2008, Charlevoix Chef Adam Kline had seen and tasted enough. The Northern Michigan food scene had stagnated, he said, i...
Read More >>
↑