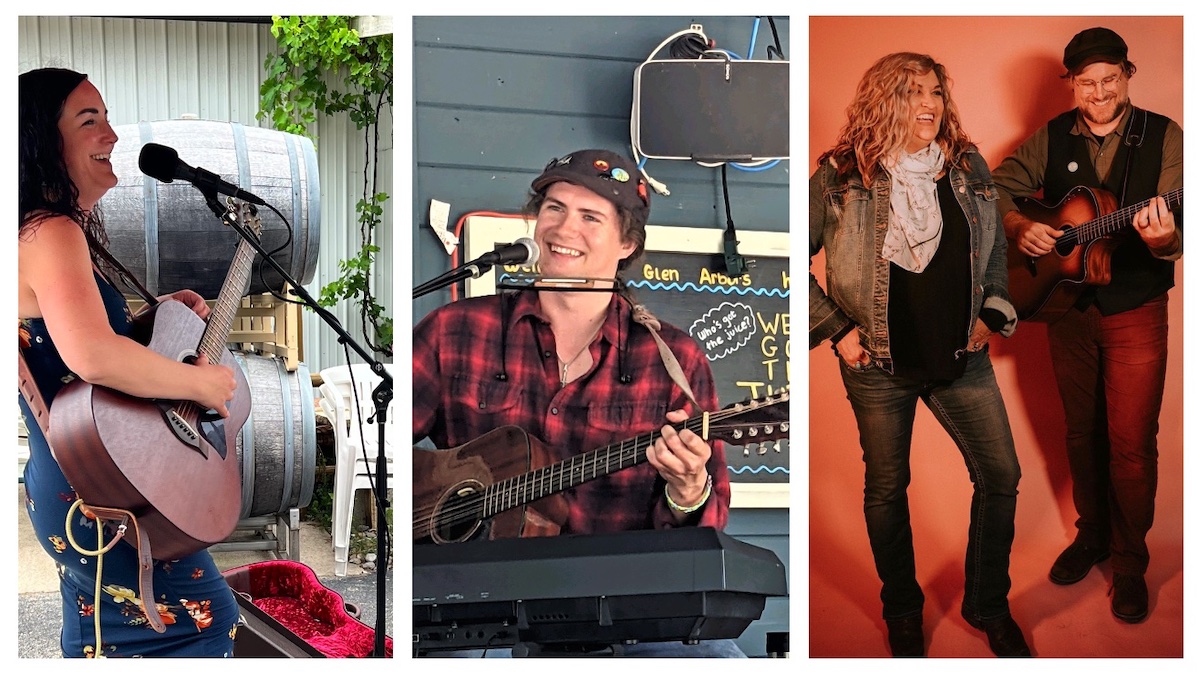 Meet The Winery Circuit Players
These local musicians bring the tunes to your favorite watering hole
If you've spent any time at a winery in northern Michigan, you know that what's in the glass is just part of the appeal of a visit. There's the great views of the vineyards, rolling hills, or one (or both!) of the bays. There's also often live music. Most vineyards host solo players, duos, or full bands throughout the week, and there are often multiple acts on weekends. But what's it like to be a performer responsible for setting the mood (and keeping the guests drinking!) at one of the many wineries Up North?
We chatted with a few of the more prolific "winery circuit" performers working today about what it's like to live a musician's life in a place where the stage and the grapes share the spotlight. From places like St. Ambrose Cellars in Beulah up to 1918 Cellars in Charlevoix and beyond, these musicians cover lots of ground throughout the year to keep crowds entertained while they indulge in another pinot gris.
Elizabeth Landry
Elizabeth Landry is a singer-songwriter who's based in folk and modern country music, and playing the winery circuit suits her just fine. "It's really perfect for my style of music because I don't really fit into the late-night bar scene. So I've made a business out of seeking out all of the unique places to play that have earlier hours."
Since many wineries see much of their business coming in the afternoon, musicians can also earn a living while working hours that align more with the daytime—and performing for patrons willing to engage with their music. "It seems to be a different crowd of people," Landry says. "They listen and really want to hear my songs and the stories behind them, which is really nice for a songwriter."
Landry performs primarily original music—"I'm not a jukebox player," she says—along with guitarists Joe Wilson and Chris Michaels as well as bass player Caul Bluhm, who's been performing with Landry for 15 years. Their winery circuit season starts around Memorial Day and goes well into autumn. "September is super busy because of the color tours, and that has even kind of creeped into October a little bit because our seasons are changing," Landry says.
Another thing that changes throughout the season are the crowds. "In wedding season you can see a lot of bachelorette parties, and that can tend to be a little bit more rowdy—I love them; they're all super happy," she says. "My favorite time is just when the wine tours are going on and you get to meet people from all different places. They're a different crowd than your bar crowd. Of course, they like to drink just as much, but they're coming in on buses so I see a lot more responsible drinkers. Just really great people that love music—they love the outdoors and they really will sit and listen to you. In a crowded bar or restaurant, you kind of tend to be just the background noise."
These mid-afternoon winery gigs also often lead to more work, which for a professional musician is never a bad thing. Landry gets booked for private performances from her winery work "all the time," she says—from weddings to parties at vacation homes to charity events.
Winery work even leads to more winery work: "I've had other wineries come to watch me while I'm playing in another winery. Sometimes I think the wineries are a little bit more picky about who they have playing in their venues, and they'll come out to make sure that I'm a good fit."
Luke Woltanski
Luke Woltanski (aka "The Dangerous Music Man") is another performer who spends most of his summer playing wineries, breweries, and distilleries around the northwest Lower Peninsula. Woltanski peppers his sets with both covers and original music and performs (almost daily) as a solo act as well as with a full band on occasion. Woltanski has been part of the winery circuit for the last four years or so—which have obviously been a weird four years to be a performer, but he notes that wineries might have been one of the best places to play during a global pandemic.
"I think wineries kind of emerged as this perfect venue for being socially distant, for enjoying entertainment, and being able to be out while being safe," he says. "[They're] places that had a really great product and a really fantastic setting, and just decided to start really expanding their music, which is very exciting for me."
He says playing a winery gets you in front of an ever-emerging crowd base as well. "It's very family oriented. There are lots of kids around; all the employees at the wineries that I play at are very, very good at dealing with people who are do-it-yourself sommeliers all the way down to little kids," Woltanski says. "I think that's my favorite part about the wineries—they attract such a diverse crowd of age groups and family groups. There's something a little bit … calmer about a winery."
Woltanski also notices the crowds progressing with the season. "May and June is sort of the last time that a lot of locals will come out before all the craziness happens with tourist season. There's like a cutoff point about halfway through June where it's all brand-new faces every single night. It's very exciting—and it makes it especially fun when you do get one of your regulars that makes it a point to come and brave the crowds."
Another thing Woltanski has noticed happens in August. "It turns more so into older families or families with college students that are getting in their last hurrah before they go back to school. September and October is young adults between like 24 to 40; you get a lot of friend groups coming up," he says. "It's funny—between all of them they're very different groups, but they all keep up the energy quite a bit. They're definitely the reason that I think I have so much fun playing the wineries."
Another benefit of a winery gig: Wineries tend to be more detail oriented. "Right now I book all my own things, so the reason why I like wineries so much is because they are very, very professional with their booking. About 80 percent of the venues, the person who does the booking is the general manager. A lot of them have a very set schedule and a time during the year where they do their booking, so I [know when] to reach out to venues and get an immediate response."
Rhett & John
Rhett DuCouer performs on the winery circuit as part of the duo Rhett & John, often playing two shows of their "eclectic acoustic pop" in a single day—one in the afternoon and another in the evening. When they approach a gig at a winery, DuCouer understands the assignment with crystal clarity. "We're really suited for that kind of laid-back, hanging out kind of thing. Because we know what our job is: Our job is to keep people in seats and sell alcohol," she says.
"We've structured our show so that it's one song after the other. We play the whole time. Because we know that this isn't about us—people want to sit there and relax and we feel like it's our job to enhance the situation and not be the situation," she says. "When the musicians stop, that's when people go, 'Okay, that's our cue to get out of here.' So we're very conscious about not letting people do that."
That crowd, for the most part, is pretty chill. "What we found is that it's a little bit older demographic with disposable income, and disposable time—they can come and linger and … it's just nice. It's a little more genteel at the vineyards; that's kind of the way it is at most of them. It's not a big rowdy crowd."
That observation remains in spite of the bus tours and bachelor/bachelorette parties. "They come and leave—because they're going to go to different [wineries], right? They don't really influence the vibe of the venues."
DuCoeur concurs that the winery circuit season has been expanding—Rhett & John will play outside at wineries for roughly half the year, and "once June hits, it's Katy, bar the door. We play more than wineries, but John and I, we have about 30 shows a month in the summer. You've gotta make hay while the sun shines, you know. I would say May through color season, the end of October, because we still get nice days where people [aren't] ready to let go of summertime yet."
Where to See Them Play
These musicians get to take in the views while playing so many different wineries, and yes, they do develop a few favorites. Landry praises 2K Farms, Ciccone Vineyards, and Chateau Fontaine, adding, "I don't think there's a bad view in either peninsula," while DuCouer loves the vista views as well. "Any of the places like Mari and Bonobo, where our vantage point is looking out across the bay—it's tough to beat."
Woltanski just loves 'em all: "All the wineries up here are so freaking beautiful. Even the quote-unquote 'ugliest winery' up here is better than the prettiest winery anywhere else."
As far as places to play, DuCoeur loves the ambiance of Dune Bird and their coffee bar (for people who don't drink or are the designated driver). They're also welcoming to pets and have open space which allows people to spread out. On the flip side of things, Glen Arbor Wines is another winner for their small space where "it's a collective kind of seating arrangement and it gets really full. [They'll] turn one of our speakers down the main road and it's like in the cartoons where they put the pie on the windowsill—people turn and get drawn down the street."
Landry appreciates Shady Lane Cellars for their "absolutely gorgeous" outdoor space with an outdoor bar, tables with umbrellas for shade, and space for kids to run around, while Woltanski loves Boathouse Vineyards in Leland for their gazebo stage and big yard. "It's just amazing how the trees have grown there to create this lovely natural amphitheater effect," he says.
And what about the wine itself? Do performers find themselves developing a better palate for the products their patrons are producing? DuCoeur doesn't drink at gigs while Landry prefers a non-vinous beverage ("I haven't found a winery yet that doesn't have a delicious dry hard cider," she says) and even though Woltanski takes one week a month as a "dry week," he has plenty of preferences.
"I have discovered that I'm a massive fan of syrahs and a pinot blanc—anything that's more dry and sort of funky," he says, specifically praising Mari's Troglodyte and the Blustone Vineyards' Pinot Blanc Reserve. "My favorite wine I've ever had up here—it's a tie between The Wildflower from Bos Wines, or a place called Soul Squeeze Cellars, and they have a 100 percent petite syrah that is just unbelievable."
Trending
Pronouns 101
My first assignment in an online graduate-level class was to provide information about my background, including my pronoun...
Read More >>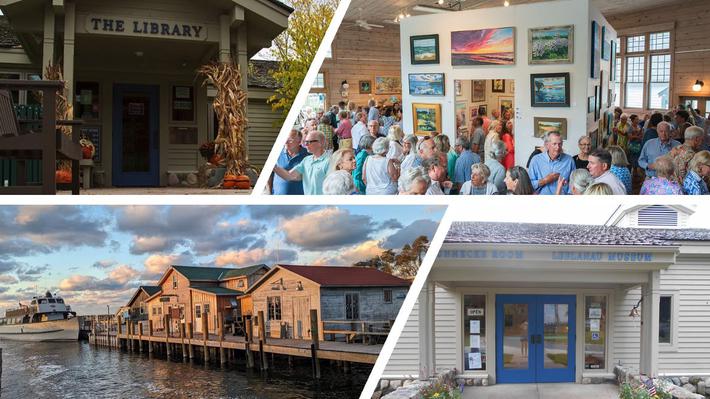 Collaboration Is the Name of the Game
How long does it take to create a cultural center? As few as three years, or as many as 170. Sometimes both. The organiza...
Read More >>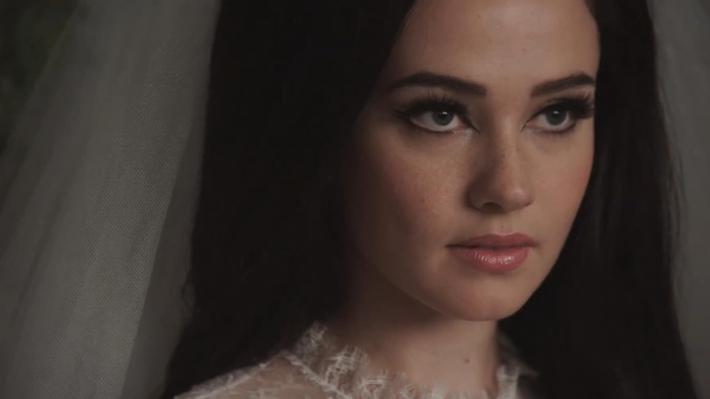 Film Review: Priscilla
While you will certainly be mesmerized by the haunting lead performance from newcomer Cailee Spaeny—and be impressed...
Read More >>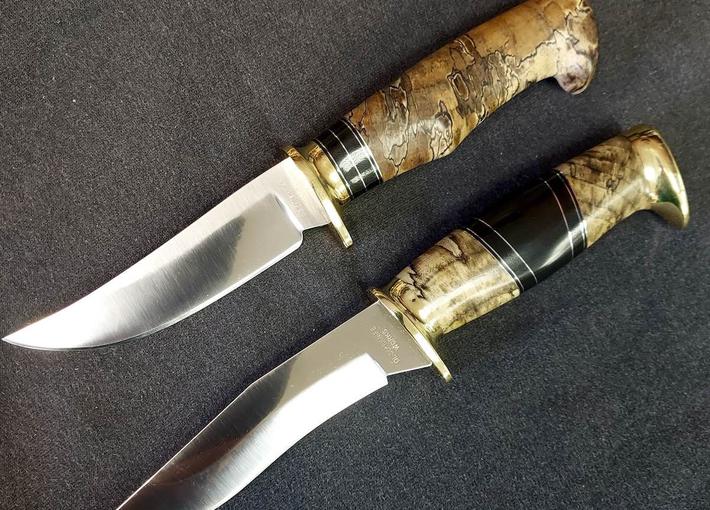 Bespoke Blades
What do you do with a battered ice skate, an old rubber puck, a cracked hockey stick, and a gob of tape? Pitch 'em, ...
Read More >>