Aero Artist Willie Jones Jr.
Patriot. Artist. Visual historian.
You can't hardly swing an easel in northern Michigan without hitting an artist painting a landscape, crafting jewelry, or creating a piece of pottery.

But you have to look far and wide to find one who creates vivid images of military aircraft any better than retired U.S. Air Force veteran Willie Jones Jr. of Traverse City.

And we're betting he's one of the very few whose creative juices were inspired by a legendary sports television show.

Launched in the early 1960s, ABC's The Wide World of Sports showcased sports from around the globe that were rarely televised. The 90-minute program featured two or three events per show, all less common competitive pastimes like hurling, rodeo, curling, jai-alai, wrist wrestling, surfing, powerlifting, demolition derby, slow-pitch softball, barrel jump, and badminton.

But it was the roaring, racing dragsters that captured the imagination of young Jones in his hometown of Greenwood, Mississippi.

"I started drawing the cars at five," said the soft-spoken 59-year-old with a wry smile. "I saw those dragsters on The Wide World of Sports and decided I'd try to draw cars."
And he's been drawing — mostly with pencils and graphite on paper — ever since.

Those cars eventually led him to other subjects, including portraits and, in recent decades, aircraft.

Nineteen-year-old Jones enlisted in the Air Force and did his basic training at Lackland Air Force Base in San Antonio, Texas. "I grew up wanting to be in the military," he said. "My mom used to say 'You owe what you have to the soldiers.'"

After basic training at Lackland Air Force Base in San Antonio, Texas, he learned on-the-job for a truck driving transportation position, eventually serving at K.I. Sawyer AFB in Marquette, Michigan, where he met his wife, Melanie. They've been married for 37 years.

Jones' military career — spanning 1981 to 2006 — took him to several locations around the world, including Montana, Germany, Iraq, and Afghanistan. He retired as a Master Sargeant with an impressive collection of medals.

Perhaps not surprisingly, Jones' drawing pencils were inspired by the roar of another engine during his Air Force years: military aircraft. Not limiting himself to just sketching current planes, he drew warbirds from both World War I and World War II.
His works caught the attention of other airmen, and soon he was doing special commissions for retirement ceremonies and other events.

Today, more than 40 of his works are in the U.S. Air Force Art Collection and on display at The Pentagon and at several air bases, including Scott Air Force Base in southern Illinois and Pope Field at Fort Bragg, North Carolina. To qualify for the USAF Art Collection, Jones had to submit slides of his art to a panel of judges. Out of 155 entries, only 11 were chosen and Jones was among them.

"That was really something," he said with a smile.

His drawings have also been shown at the Pima Air & Space Museum in Tucson, Arizona.

Before Jones even begins drawing an aircraft he launches an exhaustive research project to learn everything he can about the plane, its background, its pilot, and more. That means examining dozens of photos and pouring over books and internet resources.

"I use a lot of different references to put the military aircraft together," he explained. "It's painstaking at times. But when I do a piece of work, if it's historically significant, it has to be exactly right. I have to get it right."

That's exactly what happened with one of his bestsellers, The Memphis Belle, a B-17 bomber that was the subject of two motion pictures. The aircraft was one of the first U.S. Bombers to complete 25 combat missions during World War II. It's now on display at Wright-Patterson Air Force Base in Dayton, Ohio.

"World War II aircraft art is popular as of late," said Jones, whose favorite WWII plane to draw is the P-51 Mustang. "The Mustang is a beautiful aircraft. It's sleek, with that nose cone and the bubble canopy. There are smooth, clear lines on 'em. It's very well constructed and was far advanced. It had a better engine that the [British] Spitfire and could go faster and further."

He's done several different versions of the P-51 Mustang, including one dubbed "Moonbeam Swine" another "Gruesome Twosome" flown by Tuskegee Airmen and "Cripes A Mighty," piloted by Major George E. Freddy Jr.

In addition to the aircraft, he does realistic portraits, capturing the personalities of Hollywood stars such as Marilyn Monroe, Audrey Hepburn, Angelina Jolie, Mila Kunis, Angela Bassett, Elizabeth Taylor and Sandra Bullock.

He's also done portraits of some favorite military figures, including Tuskegee Airmen, Lt. General Benjamin O. Davis, Jr. and Gen. John C. Meyer.

Meyer's name is not well-known to the general public and the years may have dimmed his legacy a bit, but he remains a hero to Jones.

"He was a Lt. Colonel in England in December of 1944," explained Jones. "It was New Year's Eve and his unit wanted to celebrate. But Col. Meyer believed the Germans were about to attack, so he ordered his men to stay sober and be ready. It wasn't a popular choice. His men wanted to celebrate on New Year's Eve, but he stood by his decision."

Sure enough, early the next day, Jan. 1, several German fighter planes roared from the sky. The German military leaders thought the Americans would be hungover from celebrating and launched the aerial attack.

But Meyer and his pilots were poised and ready. He took off under fire, leading his men into aerial combat and causing the German planes to turn back. His efforts earned him the Distinguished Service Cross.

Ironically, a vehicle accident left Meyer with a severe leg injury that ended his flying career. In all, he flew 200 combat missions, scoring 24 aerial victories. Later he had a number of important assignments, including one as commander-in-chief of the Strategic Air Command. He retired in 1974 and suffered a fatal heart attack on Dec. 2, 1975. He was buried with full military honors in Arlington National Cemetery.

Jones typically works on three or four drawings at the same time. He has a part-time job in the mornings, which leaves his afternoons free for drawing. Working from photos, he creates a grid system that helps him maintain precision and accuracy. "I started doing them freehand, but the proportions would be off," he explained. "The grid is very light, and I erase it when I'm done."

He's just finished drawings of a couple of modern aircraft — an F-18 and a U.S. Coast Guard helicopter. "Matching the orange for the helicopter wasn't easy," he said. "I had to blend a subtle red with orange to get it just right."
Pictured at top: Artist Willie Jones Jr. and his print of a P-51C bomber escort, built in the 1940s and powered by a Rolls Royce Merlin engine. "Ina the Macon Belle," in the foreground, was named and flown by Lt. Col. Lee Archer. (Art courtesy of Willie Jones Jr.)

Want to see more of Jones' works? He maintains a virtual gallery at www.ebaystores.com/Jones-Aero-Art-and-Galleries.
Trending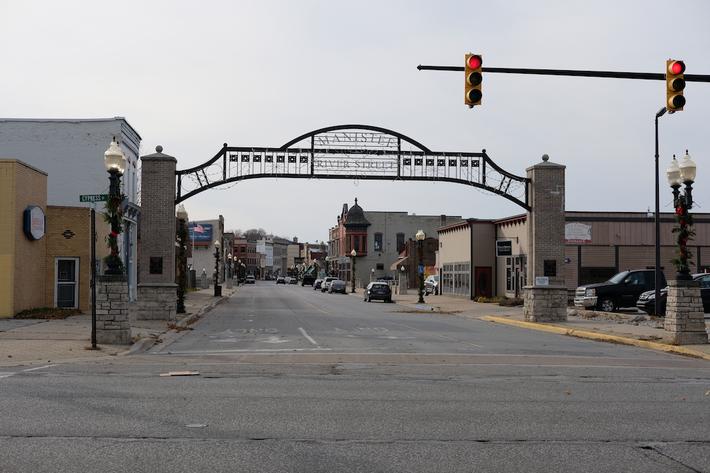 Transforming Manistee
The entrance to downtown Manistee, as it stands today, is drab. On each side of River Street for the first block, building...
Read More >>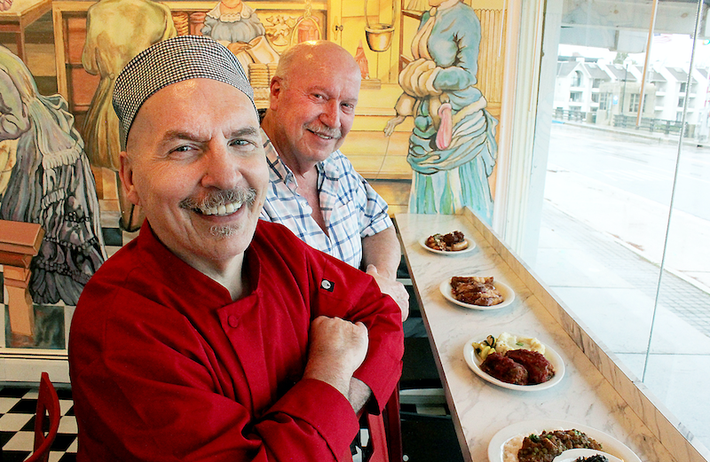 My Grandmother's Table
Gestures of love come in many forms. Gifting flowers, running errands for a sick loved one, wearing masks, or shoveling ou...
Read More >>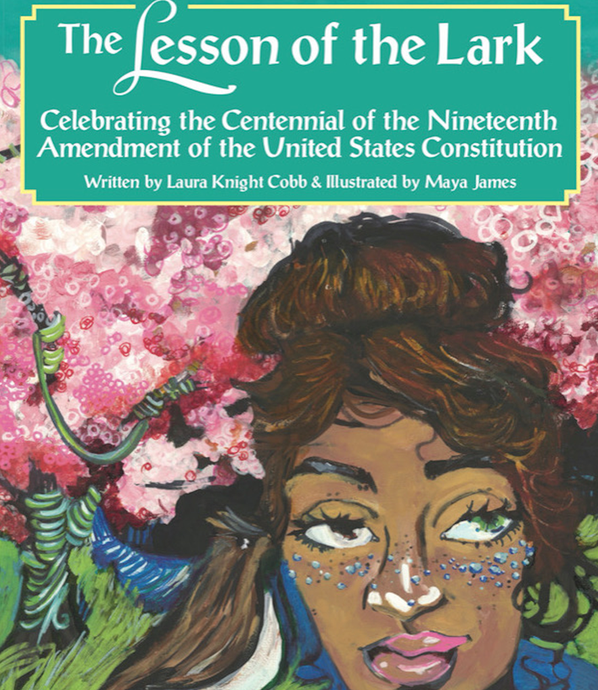 A Girl, a Bird, and a Gardener
An unlikely trio of characters from the pen of a local author has inspired a concert-length musical composition by the aut...
Read More >>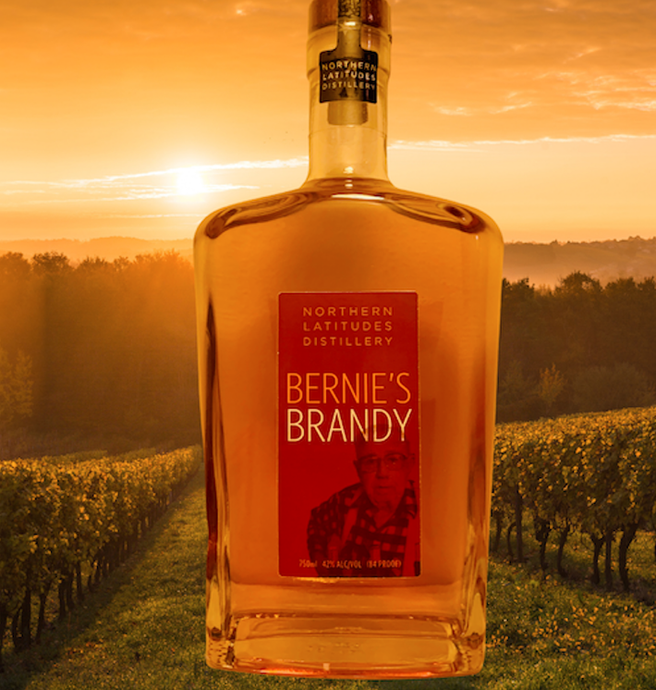 Northern Latitudes' Bernie's Brandy
The legendary spirit of Bernie Rink — aka The Godfather of Northern Michigan Wine — has been, you might say, b...
Read More >>
↑