Michael Taillard, The Econozombist
He's forecasted the post-zombie-apocalypse economy, now he's running for state senate
Most people don't consider the economic underpinnings of horror movies and the coming zombie apocalypse.
Michael Taillard does.
Of course, as The Econozombist, that should be expected.
Taillard is a Beulah resident, husband, and father of four, and an economist and author by trade. He wrote the book on "Corporate Finance for Dummies" — literally — and it's considered a staple in college accounting and economics courses. Other titles he's written include "101 Things Everyone Needs to Know About the Global Economy," "Introducing Personal Finance," and a three-book "Modern Warfare" series, which proposes ending warfare via methods more effective than traditional combat.
Hardly the stuff of ghouls, ghosts and goblins.
But Taillard the econ author has a dark past. He's been a horror buff since childhood, with favorite authors including HP Lovecraft and Philip K. Dick. He also admits to enjoying zombie movies since first seeing Night of the Living Dead (the 1990 remake, not the original 1968 film).

"I've been a fan of zombie movies. They've become a little more sophisticated," he said, referencing films like 28 Days Later and Shaun of the Dead. He's also a fan of the TV show The Walking Dead. "I've hung out with most of the cast." Of course he has — after all, what economist hasn't?
That's right, he pals around with zombie actors, because he has a unique specialty in the field of economics: He studies the economic impact a zombie apocalypse would have. So revered and respected is his zombie-economy work that he has earned the title "The Econzombist" for helping to build an accurate representation of the world after a zombie apocalypse.
"A lot of conditions can collapse under a zombie apocalypse. It's the same as building (an economy), just in reverse order. One of the major things for civilization is the opportunity for trade. You can produce more total working together — that's how you create villages, cities, and grow," said Taillard.
That can lead directly to a collapse under attack from zombies. The more civilization grows, the more densely the population is concentrated. As utilities are cut off, and the infrastructure collapses, the zombie apocalypse spreads. In short, the more people, the more zombies, and the more quickly they will spread.
Taillard knows whereof he speaks. He grew up in the Detroit area and earned a PhD in financial economics and has an academic background that includes degrees in international economics and international finance. After growing up in the Detroit area he migrated around the world practicing his craft before returning stateside and receiving military training at the Army Transportation Corps in Ft. Eustis, Virginia. His work includes economic research projects for The American Red Cross, theoretical study for the United States Strategic Command (STRATCOM), and work as an adjunct professor at Bellevue University.
And guesting at conventions, too. It started one April Fools, when he penned, with characteristic researcher flair, a blurb about the economic collapse that would occur as a result of a zombie infestation. Next thing you know, he was asked to go to ZomBcon in Seattle. "They said, We'll pay you," Taillard said, still a little unbelievingly.
Then it was back to Nebraska, where he was based at the time, before a stint at Zombiefest at Lincoln. Now his zombie-economy expertise is part of his professional background. "After gaining notoriety I was called The Econozombist. It's corny but flattering," said Taillard.
He still teaches a bit but is turning down at least as many assignments as he's taking. "I'm an adjunct graduate school professor at Central Michigan, but I don't have time between writing books and running for state senate."

That's right, The Econozombist is also running for political office. His tagline: "If you seek a strong economy, vote for an economist."
Learn more about Taillard — the man and his mission to lead Michigan's 35th District — by visiting michaeltaillard.com.
Trending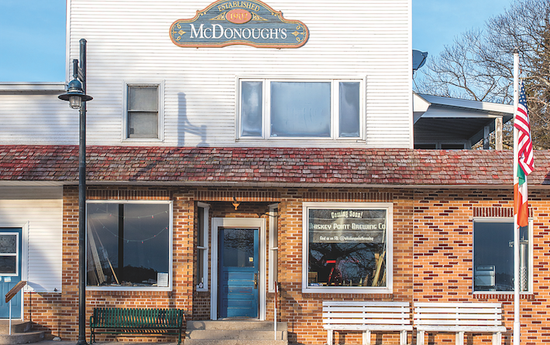 Welcome to Michigan's Most Remote Brewery
After years of planning and honing his beer-making skills, this spring, Patrick McGinnity plans to open Beaver Island&rsqu...
Read More >>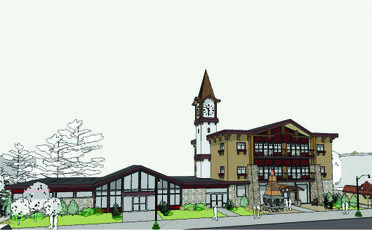 Gaylord: A boomtown Up North
Gaylord native Gary Scott had moved to Indiana, where he and some partners started a business to invest in distressed prop...
Read More >>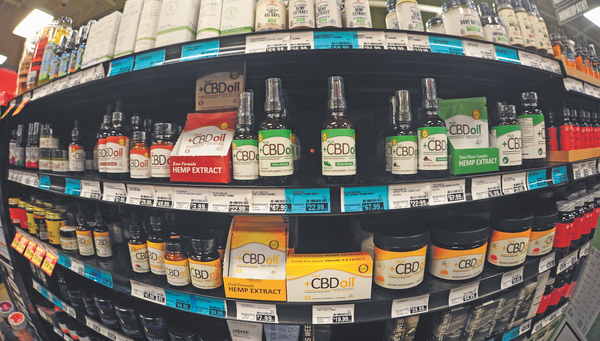 CBD Laws: Dazed and Confused
The sign outside of Family Video in Kalkaska lets drivers know the store has more than just movies. The sign reads: &...
Read More >>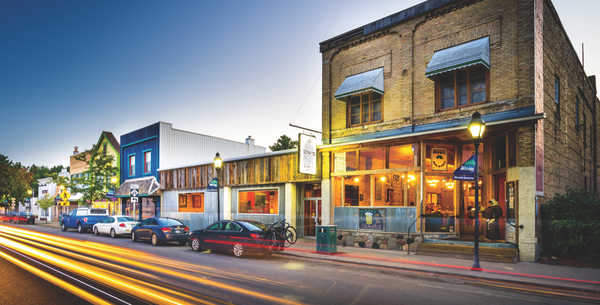 Small Up North Towns on the Rise
Spotlight on Bellaire (pictured)Seems Traverse City isn't the only place in the region making those "Best...
Read More >>
↑