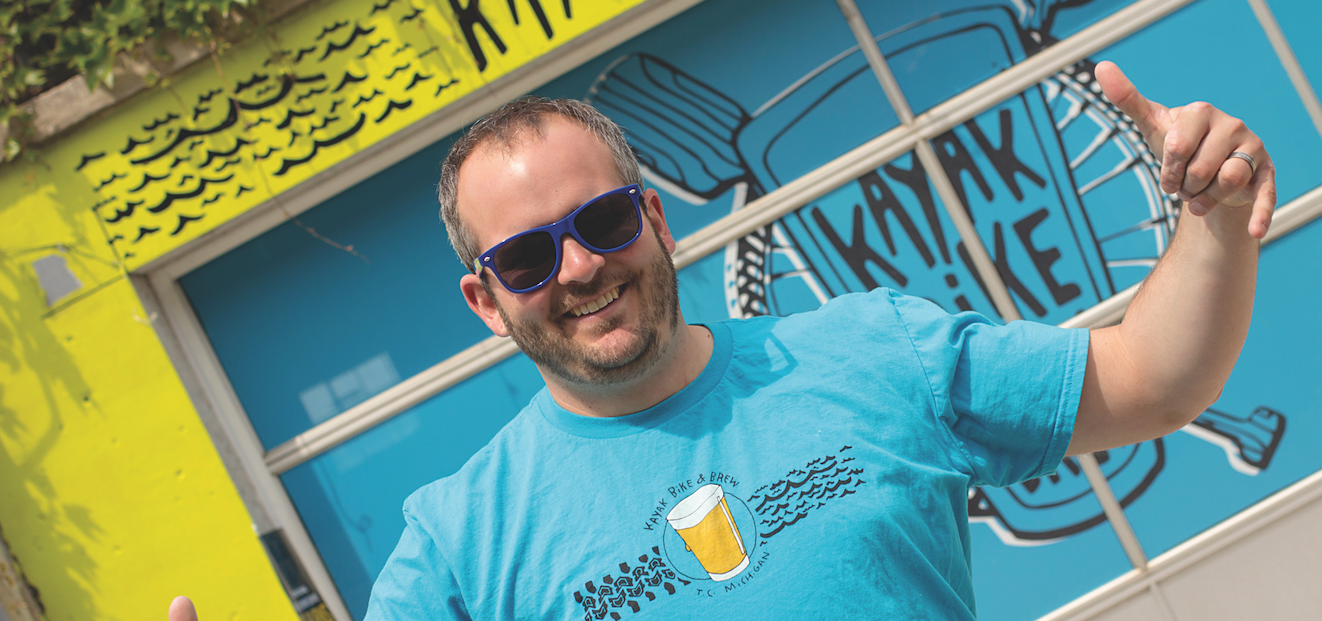 Mr. Summer, Troy Daily
Daily might be a man for all seasons, but right now, he's preoccupied with one
Those growing up in a family business often either turn to that business when they grow up — or run away from it into an entirely different direction. Troy Daily did both, and as the force behind food trucks, local beer tours, a marketing company, and an event company, he's still running toward incorporating different visions.
"My mom and dad owned Kilwin's [in Traverse City]. I grew up there, and as a kid, I wanted to own my own business," said Daily.
So it was no surprise that after graduating from college he purchased a Kilwin's franchise. But the where and when conspired against its success. He and his girlfriend, Whitney (now his wife) opened a Kilwin's in a near-vacant outdoor mall in Williamsburg, Virginia, shortly after his 2008 graduation from Michigan State University. "It was 95 percent empty when we moved in," he said. And it stayed that way. "No other businesses moved in." So after bucking the tide for a couple years, they decided to close up shop and move back to his hometown while they figured out what to do next.
While trying to succeed with his Kilwin's shop in Virginia, Daily created a marketing plan based around print and online services. So it was a no-brainer to offer his Daily Medias services to others in the Traverse City area while he pondered his next move. "I brought the business concept here, marketing [attractions] to hotels, including breweries — the Filling Station, Brewery Terra Firma, Rare Bird." Daily said he was fascinated by the brewing business, and though he didn't want to be in the business himself, he wanted to be attached to it.
That led to TC Cycle Pub, where patrons could bike to and from local breweries on, essentially, a large passenger-and-pedal-powered … bar table. The custom bikes can seat up to 14 people (four to six for the smaller hightop-table-style version, the Circle Cycle). Its success soon had Daily thinking beyond the road.

"There was an explosion [of interest]. I thought, 'We can do this on the water too.' I can turn this into an event and business."
Thus was born Paddle for Pints, in which Daily orchestrates brewery tours, aboard kayaks and paddleboards, through Traverse City's waterways. The first tour took place in August 2013. Now it's grown to serve 5,000 people a year, most of whom are not local but travel to the area, often specifically for the kayak/beer tours.

"In 2015, I launched Paddle for Pints [registration for summer trips] in February … It sold out in under an hour. … I needed to do more. Kayak, Bike and Brew is a four-hour tour — two on bike, two on kayaks. We do multiple tours every day, May 1 through October 31," said Daily. "This year we have 21 events with 200 people maximum (per event)."
Knowing there were excellent microbreweries in the region that weren't so easily accessible by water, and certain bikes wouldn't attract crowds in the winter, Daily looked for another way to accommodate overland tours. "I wanted to do it year-round — tour breweries and wineries," he said.
So he found an old school bus on Craigslist. Today he has eight vehicles and friends throughout the beverage business, courtesy of Paddle for Pints and TC Brew Bus. "I have a good relationship with breweries and bars," he said with a laugh.
That would be more than enough for most people. But ever the serial entrepreneur, Daily next turned his attention toward non-alcoholic endeavors. He'd become friends with Gary Jonas, who with his wife, Allison, founded the Little Fleet food truck scene.

"He was looking for a healthy food truck. I said I'd do it," said Daily. Soon the Daily Blend debuted, featuring vegetarian cuisine, wraps, salads, and smoothies. Now there are three Daily Blends, holding forth at the Little Fleet and events, such as the recent Camp Greensky gathering at Hoxeyville and Elk Rapids Harbor Days.
For those who are counting at home, don't even try. Because Daily still wasn't (and most likely isn't) done. He's also partnered with restaurateur Simon Joseph (of Traverse City's Harvest and Gaijin restaurants) in Alley's Market, a pizzeria and market. He's also purchased the recipes for Strongbrew, a canned cold-brewed coffee, from Roaster Jack. Now he's planning a complete line of canned beverages along those lines.
Then there's event creation and coordination. Daily found many of his friends in the microbrewery business were interested in creating their own events but were either unsure how to go about it or simply too busy with their regular business. Enter Create TC, which soon branched out.

"I was approached by Timber Ridge. They said Suds and Snow was too big [for the campground to coordinate]. Could Create TC do it?" Turns out it could, with a small change in season.
The new Suds & Sun event — with two live-music stages and 20+ craft breweries serving beer, wine, & cider, and local food vendors — is happening Saturday, June 16.
Whew. If it's hard to keep up, imagine how Daily feels. He's quick to give credit to those who have helped him along the way, from his parents to his wife to his various managers and partners.
He's learned a few things along the way as well. One has to do with providing alcoholic beverages for a large crowd. "We're up front; we don't encourage overdrinking. If it happens, the tour's over. Excessive drinking is not accepted."

He's pleased that over the five years of events he's created and curated, there have been no major issues. "We haven't had to contact law enforcement," Daily said.
What does it all mean for the local economy? Daily said among his various entrepreneurial efforts, he estimates he has 75 employees. But the impact goes beyond that. He said most of those at Paddle for Pints or Bike and Brew are from out of town.

"Ninety-five percent are not from here. They're coming because of it," Daily said. They stay at local hotels, shop and eat locally. "If each person coming here spends $200, that's $20,000 [to the local economy per event]. Between that, the Little Fleet, coffee, and events, that's millions of dollars to the local economy."
Beyond the economic impact, Daily has been recognized for his efforts, with Paddle for Pints winning 2017 Most Innovative Tourism Collaboration for Experience Development at the Pure Michigan Governor's Conference.
Daily said he and his employees are also advocates for the area's natural resources. "We take pride in our river. We regularly do clean-ups, we provide trash receptacles and porta-johns, and spend over $15,000 annually on improvements to the Boardman River and access points on the lower Boardman," he said.
All caught up? Probably not. It's a safe bet that by the time you read this, Daily will be on to some new endeavor.
Trending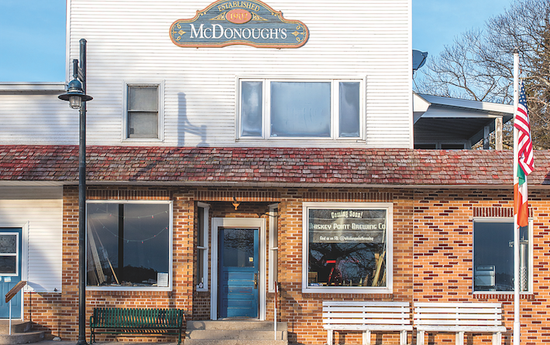 Welcome to Michigan's Most Remote Brewery
After years of planning and honing his beer-making skills, this spring, Patrick McGinnity plans to open Beaver Island's first microbrewery. Opening a craft brewery is challenging. Opening one on a remote island in Lake Michigan that's either a 15-minute plane ride or a two-and-a-half-hour ferry ride from ...
Read More >>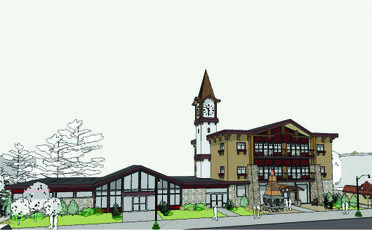 Gaylord: A boomtown Up North
Gaylord native Gary Scott had moved to Indiana, where he and some partners started a business to invest in distressed properties. He was talking to a banker in Detroit about real estate in Bloomington when he asked what kind of deals might be available in northern Michigan. ...
Read More >>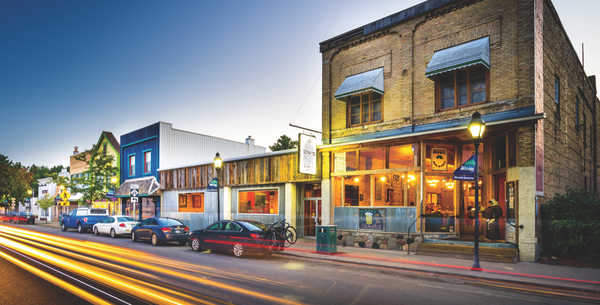 Small Up North Towns on the Rise
Spotlight on Bellaire (pictured)Seems Traverse City isn't the only place in the region making those "Best of" lists. The Antrim County hamlet of Bellaire was recently named to the list of Best Lakeside Towns in the U.S. by Country Living Magazine, alongside the likes of Vergennes, Vermont, Greenville, ...
Read More >>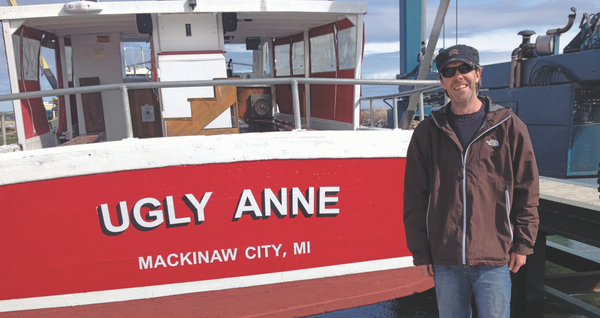 A Wicked Cool Ride Around the Straits
You expect to see boats around Mackinac Island in summer. Sailboats, power boats, cruisers, and the ubiquitous ferries that run residents and guests back and forth across the Straits of Mackinac, sure. But there's a more unusual vessel visible these days — an all-wooden Down East lobster ...
Read More >>
↑