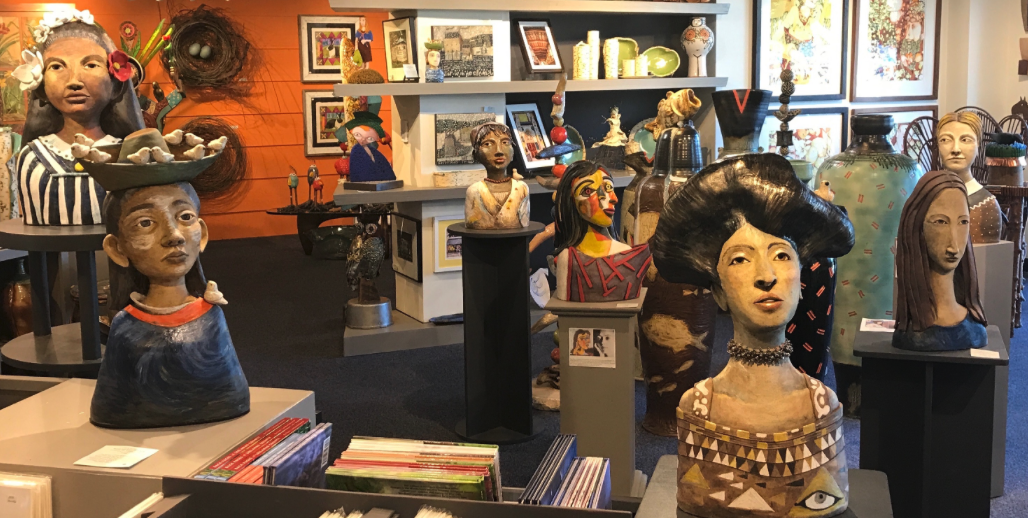 Muse
The women who inspired the artists who inspired Leanne Schnepp
By Al Parker | Oct. 14, 2017
Being "Busted" is a good thing at the Michigan Artists Gallery.
That's the title of one of the most popular exhibits ever offered at the popular Traverse City art gallery, according to owner Sue Ann Round.
An impressive grouping of seven busts created by sculptor Leanne Schnepp, "Busted" is a spin-off from the gallery's May show "Channeling Picasso" in which more than 40 artists created their interpretation of Picasso's 1939 painting "Woman with Green Hat."
Schnepp's Picasso homage bust was a huge hit, so Round invited her to follow up with a series of 21-inch stoneware clay busts inspired by the works of other artists: Van Gogh, Grant Wood, Picasso, Gauguin, Modigliani, and Klimt.
The show focuses on the women who posed for the famous artists, many who were creative talented artists in their own right but often went unacknowledged, according to Round. "Unfortunately women were allowed to model but not allowed to be the artist," she said. "You could be in the painting, but not paint."
For example, there's Jeanne Hebuterne, Modigliani's common-law wife, who studied at the Academie Colarossi to pursue a career in the arts. Very little is known about her, but her bust is one of Schnepp's favorites. "I love her," she said. "She is straight forward, just staring you down."
Another favorite is Nan Wood Graham, who modeled for her brother Grant Wood's iconic "American Gothic."
"That one reminds me of my grandmother, who was a farmer," said Schnepp, who lives in East Lansing, but spends a lot of time in northern Michigan at her family's cabin in Central Lake. "I changed her expression to include my grandmother's wry smile."
Perhaps the most difficult piece for Schnepp to capture was Dora Marr, a photographer and painter who was Picasso's most famous muse.
"Oh my goodness, that cubist piece was difficult," said Schnepp with a laugh. "I was taking a two-dimensional object and turning it into a three-dimensional object. And at the same time I was challenged to make sure it still looks like the person with her personality. It was really tricky."
The "Busted" exhibit continues through the fall at 317A East Front Street in Traverse City.
"American Gothic" by Grant Wood
Grant Wood painted "American Gothic" to symbolize the steadfast farmers of Iowa. Schnepp said the painting had always reminded her of her grandparents and their farm in upper Michigan. "I changed the expression on the face of the woman from worry to begrudging humor to better capture my grandmother and her sense of humor. She is one of the strongest women I have ever known."
Dora Maar as seen by Pablo Picasso
Henrietta Theodora Markovitch — aka Dora Maar — was a photographer and painter with strong ties to the Surrealist circle. She photographed many of the Surrealist artists and exhibited with them throughout the 1930s and 40s. She also was Pablo Picasso's most famous muse.
Agostina Segatori (Italian Woman) as seen by Vincent van Gogh
The proprietress of the Café Tambourin in Paris, Agostina Segatori encouraged and hosted Vincent Van Gogh's first exhibition of his paintings in her cafe. The two had a brief relationship that resulted in several paintings of her — many of which Agostina Segatori kept in her café after they parted. She also served as a model for Edouard Joseph Danton, Jean-Baptiste Corot, Jean-Léon Gérome, Eugéne Delacroix, Vincent van Gogh, and Edouard Manet.
Tehamana as seen by Paul Gauguin
After Gauguin left his wife and five children in Paris, Tehamana served as one of several companions/native wives (some claim sex slave) Gauguin took on during his stay in Tahiti. Schneppchose to recreate Tehamana in three-dimensions not because of Gauguin's painting but because of Tehamana herself. "She was a beautiful 14-year-old young lady with her own identity, although it is difficult to find any information about her. In the painting she sits tall, wearing her Christian missionary gown, but looks away." Schnepp decided to create her with her eyes leveled straight at her viewer.
Jeanne Hébuterne as seen by Amedeo Modigliani
With a talent for drawing, Hébuterne chose to study at the Parisian art school Académie Colarossi. Soon after, she met Amedeo Modigliani and became his common-law wife. Very little can be found about Hébuterne, her loves, passions, or friendships, but it is said she was utterly destroyed when Modigliani died of tuberculosis. "Although we know little about her, you can see this passion in her stare. It draws you in. She seems to dare us to get closer, and she is not looking away," said Schnepp.
Adele Bloch-Bauer as seen by Gustav Klimt
Adele Bloch-Bauer and her husband, Ferdinand, were close to the artists of the Vienna Secession movement, which Klimt helped establish in 1897. Adele would often hold court for musicians, artists, and writers in the salon of her huge house near the Vienna State Opera house. The world came to know Adele as Klimt had painted her in 1907, in the painting "Woman in Gold," and she became the epitome of Vienna's Golden Age.
Trending
Very Busy Very Fast
This isn't going to be easy. President Joe Biden and his thin congressional majority are walking into troubled times both ...
Read More >>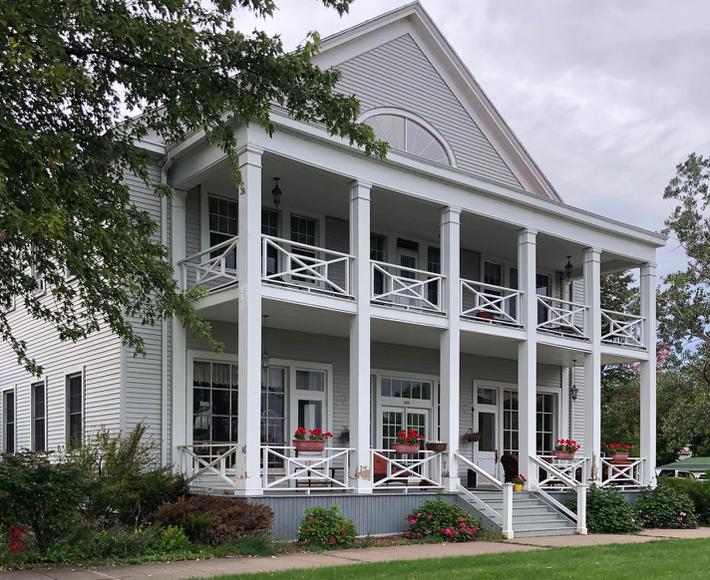 Thunder Bay Inn
Former playground to Henry Ford and part of a famous film and novel based on a real-life murder in the town, the courtroom...
Read More >>
Forty Acres' Spa Day Martini
Myriad methods of cocktail creation are on display at bars around the world. There are flaming drinks, compotes laden with...
Read More >>
He's Gone, Now What?
Wounded and fearful, America watched the 45th President leave the nation's capital. On a hastily arranged stage at a...
Read More >>
↑