No Place for Women
Plans to expand an addiction treatment center in Petoskey have been thwarted.  
Since 1974, Harbor Hall in Petoskey has grown from a humble residential rehab that served 10 or so struggling men to an addiction treatment center that takes up an entire city block and has turned around thousands of lives.

All of that growth never caused much notice, perhaps because it occurred so gradually.
"I've been on the board a long time, and I don't remember any pushback," said Larry Rochon, the president of Harbor Hall's board. "We're part of the neighborhood."

The neighborhood's peaceful coexistence with the addiction treatment center's growth halted this year, however, when Harbor Hall proposed doubling its size so that it could accommodate not just men, but also women, who in the face of an opioid epidemic, have become a greater proportion of the need.
Those plans have put a spotlight on a growing problem and increased controversy about how — and where — to deal with it.

20 YEARS OF PLANNING
For years, Rochon said he's noted the deficiency of options for women struggling with addiction. If a woman needs to go into a residential rehab program for drug or alcohol addiction, and she lives in Petoskey, the closest options are in Traverse City, Sault Ste. Marie, or Midland. Harbor Hall only offers outpatient treatment for women.

"There's no help. That's the whole issue," Rochon said. "It's been a vision for about 20 years to do a women's center. The receptionist gets one or two calls a day from women seeking help."
Plans for a residential center ramped up in the past three years after Harbor Hall purchased an adjacent property. The nonprofit eventually settled on plans to open a 35-bed facility for women. Once it came time to get permission from the City of Petoskey, however, those plans came to a screeching halt.

In July, the city's Zoning Board of Appeals approved a variance that would allow Harbor Hall to open a facility with just nine beds, a restriction that undermines the financial viability of the project, said Harbor Hall CEA Patrick McGinn.

That Harbor Hall grew organically over the years is evident in its appearance. To the west, it appears as though it is a row of old houses; on its eastern side, it appears to be a community center facing an alley or a parking lot.

Across the alley, there is a warehouse that, until several years ago, was home to a beer and wine distributor. When Harbor Hall bought it, in addition to eliminating the irony of holding sobriety classes in view of laden beer trucks, it doubled their footprint. They had planned to tear down the warehouse and build the women's facility, a larger meeting room, and a new cafeteria.

Harbor Hall leadership traveled to Hazelden Betty Ford in St. Paul, Minnesota, the gold standard of addiction treatment centers, for inspiration on how to integrate a rehab facility into a neighborhood. They hired engineers and architects, and they spent money to draw up plans to develop an addiction treatment campus that would blend into the neighborhood and would cost $15 million.

SIGNS OF TROUBLE
Early on, Rochon and McGinn said they thought the City of Petoskey was receptive to their plans.

Over the past couple of years, the city had reconstructed Emmet Street as part of a neighborhood improvement project. As that project was developed, the city installed new sewer and electrical connections for the women's recovery center.

"That was kind of like a green light for us," Rochon said. "'Oh good, they're on board.' We proceed. We spend a lot of money doing the plan."

Amy Tweeten, the city planner, said Harbor Hall officials should not have interpreted the electric and sewer improvements to be tacit approval of their project. Those were added anywhere in the corridor that was identified as a potential redevelopment parcel, she said.
Other indicators weren't as promising for Rochon and McGinn. One of their first requests to the city was to ask for the alley — called Rush Street — to be vacated. That's when they discovered not everyone wanted them to double in size.

"The first thing we did was we went to the city to see if they would vacate this, Rush Street, which really isn't even a street, it's more like an alley," Rochon said. "It serviced those beer trucks all those years, that's what it did."

The city told Harbor's administration that before any action could be taken, the nonprofit needed to learn what its neighbors thought of its request to take over the street. Harbor Hall sent 480 invitations to an open house about the project to neighbors in a six-block radius.

The open house happened last December. McGinn said six people showed up, most of them to express support for the project.

"There's a couple neighbors that are vocally opposed since we started the expansion," Rochon said.

McGinn and Rochon said Harbor Hall has always strived to be a good neighbor. In its 44 years, there have only been a handful of negative incidents. Unfortunately, one of the most serious of those happened just as expansion plans were getting underway: A client left the treatment center, committed a break-in in the neighborhood, and then tried to break back into Harbor Hall.

"One thing about that particular incident that was never reported is that it was Harbor Hall that contacted the police. [We] figured it out and contacted the police and had this guy arrested," McGinn said. "That was a pretty serious incident, but over the years, there have been very few."
Rochon said there is an unfortunate stigma about people in recovery.

"The stigma is common nationwide, that drug addicts and alcoholics are convicts. They're not convicts. They're just sick people. But that's the stigma that we constantly run up against," he said. "They think these are bad people trying to be good. They are not. They are sick people trying to get better. It's hard to get that through some of the public's head."

THWARTED BY A BOARDING ORDINANCE
The existing parcel where Harbor Hall stands today is zoned residential. The parcel they purchased has less restrictive zoning because it is in a commercial district. When Harbor Hall bought the property, they thought that distinction should work in their favor.

"So, when we bought that building, we thought, 'This is a no-brainer. It's less restrictive and we'll expand,'" Rochon said.

Meanwhile, however, the city council was busy drafting an ordinance on boarding houses in the face of a workforce housing shortage in Petoskey. Some residents feared the character of their neighborhoods were threatened by houses where landlords had rented to too many tenants. The city finally decided to limit the number of non-related people who could live in a house to four.

Then, Rochon and McGinn said, they learned that Harbor Hall would be considered a boarding house under the ordinance, a decision that threatened to prevent any expansion at all.
"At the end of this ordinance writing, we had a couple meetings with the city about the expansion, and the city said to us, 'We have to define what you are," Rochon said. "We said, 'We're a substance abuse treatment center. That's what we are. That's what we've always been.' And he said, 'Well, I think there's some reference that you're a boarding house.'"
For Rochon, the classification looked like trouble.

"That was the flag that they're not going to let us do this, because the boarding house ordinance states you're only allowed four unrelated people in a dwelling," he said.

Harbor Hall then hired their own attorney, and their attorney came up with a way to potentially get around the "boarding house" distinction. Harbor Hall filed an application with the Zoning Board of Appeals as operators of a dwelling that was looking for accommodation under the Federal Fair Housing Act for occupants protected under the Americans with Disabilities Act.

For the ZBA, that triggered a complicated review process for board members who had to consider lists of factors in order to ensure Harbor Hall received a "reasonable accommodation" for Harbor Hall under the Fair Housing Act.

Ultimately, the debate had changed from one about whether Petoskey needs residential addiction treatment for women and where that should be allowed, to a debate mired in complex details, legalese, and zoning terminology.

In the end, the ZBA offered a compromise, approving a variance so that Harbor Hall's women's facility could house eight clients and one group leader. They based that number from an expert cited by Harbor Hall who said that eight patients is the minimum group size for group therapy to be successful.

That might be the minimum for successful group therapy, Rochon and McGinn said, but it is not enough patients to make a facility financially viable.

"BUT THIS IS ABOUT ZONING"
Rochon believes opposition to Harbor Hall's expansion is comprised of three angry and very vocal neighbors who are supported quietly by some city officials. The debate thus far might have been about zoning regulations and focused on technicalities, but he believes behind it is some quiet, unspoken opposition to having a large addiction treatment facility in Petoskey, perhaps because that sort of thing doesn't fit Petoskey's brand.

"Their stance was, 'We love your mission and what you're doing, but this is about zoning,'" he said.

Rochon, who spent 20 years on Petoskey's Downtown Development Authority, said he doesn't know where the opposition is coming from, but he's been left with the impression that advocating for doubling the size of Harbor Hall makes him unpopular.

"I've been trying to figure that out. I don't know," he said. "I started talking about this, and the mayor didn't re-appoint me to the board after 20 years."

In fact, the way that officials have interpreted zoning in Petoskey means that the only place in the city where a large addiction treatment facility could be located would be in an H-2, or hospital district. All of that land happens to be owned by McLaren Northern Michigan, which leaves nowhere in Petoskey for Harbor Hall to grow.

"This restricts a treatment center from being built anywhere in the city," Rochon said.
Mayor John Murphy said he has nothing against Harbor Hall; rather, he believes it is a vital institution.

"There are currently 50 residents that are there, and they are welcomed into the community," Murphy said.

He said that Harbor Hall was not contemplated as the city drafted its boarding house ordinance. However, once it was drafted, the city attorney determined that Harbor Hall fell under its scope.

Murphy agreed that the city council could, if they wished to, decide that treatment facilities should not be considered boarding houses, thereby opening up avenues for Harbor Hall's plans to gain approval, but he said he wouldn't support that.

"Sure, we could do whatever we want as a city council, but I respect the planning commission's process," he said.

Murphy said Rochon is mistaken if he believes his Harbor Hall advocacy cost him his seat on the DDA. Rather, Murphy said he has made numerous appointments to replace longstanding members of boards and commissions with new blood for the sake of hearing new voices.
"I felt that it was time for us to allow others who hadn't been on the board for 20 years to serve," Murphy said. "I have high respect for Larry Roshon."

ZBA Chair Michael Karr said he believes Harbor Hall was treated fairly in the review process, though he can see why Harbor Hall asked to be able to open a larger facility.

In the 4-2 vote to approve eight beds, Karr was a no vote, but he said he voted no because he thought "fair accommodation" for Harbor Hall would mean approving a greater number of beds.

"A LOT FOR A RESIDENTIAL NEIGHBORHOOD"
Harbor Hall started out as one building on the corner of Emmet and Grove streets.

Gradually, over the years, the organization purchased neighboring properties and grew. Today, Harbor Hall can accommodate 38 men in the residential rehab and 12 men in the sober living homes.

They've also got two beds for subacute detox, which means they can accommodate someone from the day they stop using until the day they are ready to reemerge into the community.
Harbor Hall's latest project apparently has a lot of support in the community at large, but it lacks support in their neighborhood.

"I have support letters from the hospital, from Women's Resource Center, clergy. I mean, I've got a file full of support letters," McGinn said.

Jeremy Wills opened his dental office in sight of Harbor Hall in the 1970s, just a few years after Harbor Hall opened.

Harbor Hall's always been a good neighbor, Wills said, and he never objected as they quietly grew. That growth happened slowly — almost organically — and it resulted in structures that fit well into the neighborhood.

Wills, who is the fourth ward city council member who represents the neighborhood on the city council, said he can understand his neighbors' worries that doubling the size of Harbor Hall would negatively impact the area by bringing in too much traffic and diminishing the residential feel of the neighborhood.

"I've been here almost as long as they have, and they kind of grew into the place a few people at a time," Wills said. "And now, to all of a sudden double in size, it's a lot for a residential neighborhood."

Wills said he understands Rochon's and McGinn's point of how they are located in an area that transitions from commercial to residential, but he doesn't think that means what they've proposed makes sense.

"Petoskey is a very small town," he said. "It's not much more than a mile in each direction, so the transition is very quick, no matter where you are."

At the ZBA meeting, the minutes show that of the crowd of people who showed up to comment were fairly evenly split between Harbor Hall supporters and opponents. Wills points out, though, that the opponents largely came from the neighborhood, and the supporters were addiction treatment supporters who lived further away or in surrounding towns.

"If they really want it, put it in their neighborhood or their town," Wills said.

That said, Wills said he supports Harbor Hall, and he appreciates what they do for the community. He doesn't think Harbor Hall's presence causes a lot of problems. He said he hopes a compromise can be struck.

"I would like to see them work out something with their neighbors," he said.

NOT MANY OPTIONS
Christopher Hindbaugh, CEO of Addiction Treatment Services in Traverse City, said there are 12 residential treatment beds for women in Traverse City, and he hopes to add 12 more by the end of the year.

Those 12 beds are located at Phoenix House in the Boardman Neighborhood, and Hindbaugh said the women's treatment center has never been a source of problems for the neighborhood as far as he knows. Hindbaugh said he went door-to-door when ATS took over the house in 2012 in an effort to quell opposition before it arose.

"I went door to door and knocked on houses in that neighborhood, introduced myself and our organization, and had an open house before we even went to the planning commission," he said. "We had zero opposition."

A reason for that could be that the ATS proposal was a third of the size of what was proposed in Petoskey, and it did not involve a large construction project.

Hindbaugh, though, said there is desperate need for beds for women in northern Michigan.
"We are working on adding more women's beds because we are seeing a huge need for women, in particular for women that have children and don't have treatment options. The need is great," he said.

What's next for Harbor Hall's plans to offer residential services to women?

"There are a couple of options: Don't do anything, don't build a women's recovery center. Let that sit there 'til it rots. Or sell it. Or move this whole facility out into Bear Creek Township, into a farmer's field. Buy a big piece of property and build a facility out there," Rochon said. "Or go back to the ZBA and try again."

Harbor Hall's board doesn't like the first two options because of the need for a woman's facility and because they believe it is important for a recovery center to be in the community, within walking distance of shopping and other services. Harbor Hall also serves as a meeting place for Alcoholic Anonymous for the community at large, and that would be lost if they moved to a rural location.

Ultimately, they want Harbor Hall to continue as a part of the community it's been in for 44 years.

"When you move it to a farm and field, so to speak, they're isolated. And that's what the disease is all about is isolation," Rochon said.

Trending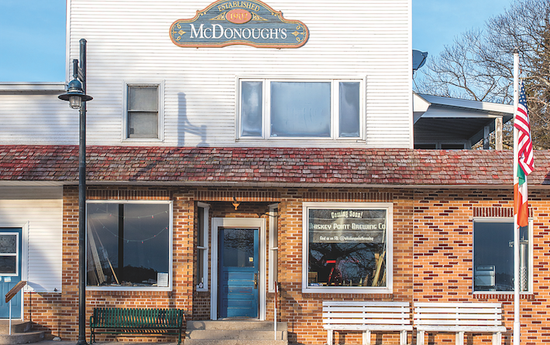 Welcome to Michigan's Most Remote Brewery
After years of planning and honing his beer-making skills, this spring, Patrick McGinnity plans to open Beaver Island&rsqu...
Read More >>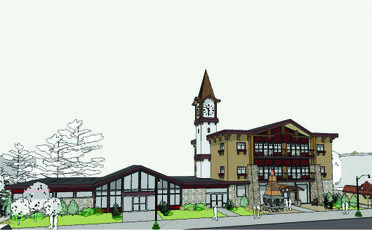 Gaylord: A boomtown Up North
Gaylord native Gary Scott had moved to Indiana, where he and some partners started a business to invest in distressed prop...
Read More >>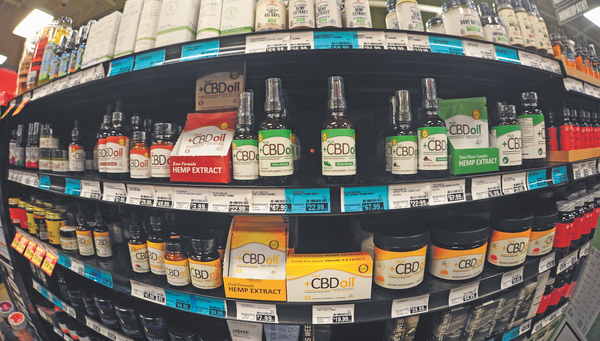 CBD Laws: Dazed and Confused
The sign outside of Family Video in Kalkaska lets drivers know the store has more than just movies. The sign reads: &...
Read More >>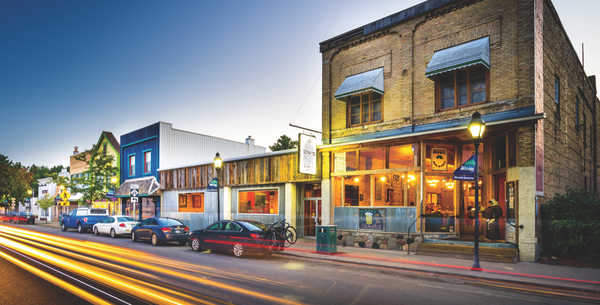 Small Up North Towns on the Rise
Spotlight on Bellaire (pictured)Seems Traverse City isn't the only place in the region making those "Best...
Read More >>
↑