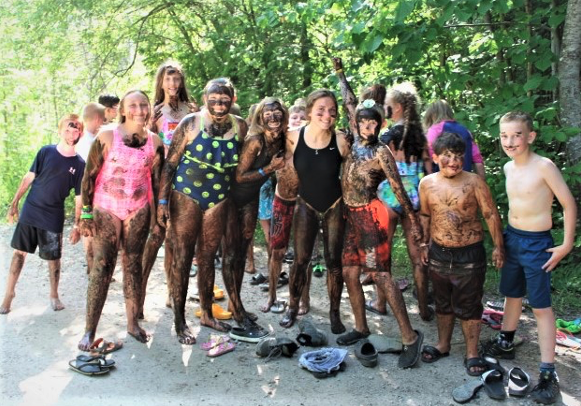 Northern Express' Kid Camp Special
10 summer camps to check out now
Michigan boasts hundreds of summer camps for kids and teens, from the traditional Kumbaya-around-the-campfire to high-tech STEM camps, with activities like backcountry backpacking, trapeze arts, paintball, and just about everything in between. To help prospective campers (and their parents) plan for what some predict will be our first post-"this-pandemic-ruins-everything!" summer since 1920, Northern Express has compiled a list showcasing some of the coolest camps we found in Michigan. Think it's too early to think about summer camp? Think again: Registration for most starts in late January and early February, and sessions fill up fast.
Granor Farm Day Camp
Three Oaks
Profile: Founded in 2006 and dedicated to bringing young people (ages 5-12) into the farm-life fold through week-long day camp sessions.
Fun Fact: Campers are encouraged to get dirty! And collect bugs! And they come home with recipes (rest assured, none use bugs as an ingredient)!
What to Expect: Kids discover farming and friendship through age-appropriate activities, problem-solving, and teamwork. They learn to garden, create delicious recipes with the help of the in-house chef. They work on daily projects that farm life requires, from painting the chicken coop (and snagging an egg) to creating decorative art for the farmhouse. Granor Farm is hands-on fun.
Nitty Gritty: Cost is $335. www.granorfarm.com
*Note to Parents: Three Oaks has restaurants and shops, art and antiques, and Granor Farm is close to Lake Michigan beach towns. Book your vacation to coincide with Farm Camp.
Camp Carvela
Frankfort
Profile: A family of three camps: Camp Carvela and Crystallaire Adventures on Bass Lake; and Camp Lookout (accessible by boat only) on Lower Herring Lake. Ages 7–17.
Fun Fact: Camper ideas become activities — a Finding Nemo-style scavenger hunt, stargazing, and sunrise pancakes, for example.
What to Expect: Build-your-own experiences with varied scheduling. For example, choose a one-week session at base camp, plus an offsite adventure to South Manitou Island. Teens can spend 14 days backpacking on Isle Royale while the younger set might make camp closer to their base. In between, campers enjoy everything from soccer to drama to paddleboard yoga. Three separate day-camp sessions are free of charge.
Nitty Gritty: Cost ranges $660–$2,485. (231) 299-0005, campcarvela.com
Camp Daggett
Petoskey
Profile: Founded in 1925. Welcomes traditional campers ages 7-14, with overnight wilderness adventures for ages 13-15.
Fun Fact: The original outhouse facility was known as "Egypt," because campers had a long traverse across the sand to reach it.
What to Expect: In addition to all the traditional activities in and around Walloon Lake, a camp favorite is the Outdoor Adventure and Ropes Course, with 22 high/low ropes, zip line, and a 40-foot-tall three-sided climbing tower. Inside, the 5,820-square-foot state-of-the-art Adventure Center features a 35-by-40-foot climbing wall, plus 25 high/low ropes. (i.e., Rain is never a problem at Camp Daggett.) Wilderness Adventure Camp for teens includes canoeing the AuSauble River, hiking and kayaking through the Jordan Valley, or backpacking the North Country Trail and northwest tip of the Lower Peninsula.
Nitty Gritty: Costs range from $475+ for local residents (children who attended schools in the Charlevoix and Emmet Intermediate School District and have year-round residence in Charlevoix or Emmet County) to $775+ for campers from out of the area. Campdaggett.org, (231) 347-9742
Camp Tanuga
Kalkaska
Profile: Making "Tanuga magic" since 1952, this 220-acre camp on Manistee Lake welcomes campers ages 6 to 15.
Fun Fact: Michigan's only camp with a flying trapeze. And milk and cookies every day at 4:20.
What to Expect: Tanuga combines traditional camp structure and activities with individual choices. Choose wakeboarding and a slalom ski course, equestrian training for beginners and beyond, competitive sports from lacrosse to softball to roller hockey, and much more. Supervised evenings feature skits, game shows, and scavenger hunts. Special day programs include July 4 Field Day, Carnival, or Color War. Optional overnights for all ages (on-property for the youngsters; Pictured Rocks National Lakeshore and Isle Royale National Park for eighth and ninth graders) round out the camp experience.

Nitty Gritty: Camptanuga.com, (231) 258-9150
YMCA Camp Nissokone
Oscoda
Profile: Founded in 1914, Camp Nissokone sits on 170 acres next to Lake VanEtten, where the AuSable River meets Lake Huron. Best known for its sailing, horseback riding, and teen leadership development programs. Ages 5-18.
Fun Fact: Nissokone was featured in Outside magazine as a 2018 Top 10 camp in the U.S. for outdoor adventure.
What to Expect: Themed weekly sessions (see website) for third through ninth graders provide a backdrop for extra fun. Choose a specialty camp (Ranch, Paintball, or Wakeboarding) to develop and improve skills: Work specifically with one horse for the week, master wakeboarding tricks, or learn paintball safety and strategies. Campers can expect all of the traditional camp fun, plus unique extras like "log" rolling, a giant water slide, and fencing lessons (en garde!) All activities are "Challenge by Choice." Age-appropriate Wilderness Camps for grades 7-11 visit places like the Huron National Forest, North Manitou Island, or Sleeping Bear Dunes. Parents are welcome for Family Camp, Memorial Day, and Labor Day weekends.
Nitty Gritty: Cost ranges from $239 to $1349+. www.ymcadetroit.org/nissokone, (989) 739-2801 or 248-887-4533.
Camp Batawagama (Iron Co. Youth Camp)
Crystal Falls
Profile: Founded in 1945 on Indian Lake in the western Upper Peninsula, Camp Batawagama welcomes kids age 9–16, many of whom are third- and fourth-generation campers.
Fun Fact: Batawagama is an Ojibwe word meaning "land between the lakes."
What to Expect: Outdoor skills, safety training, and native lore figure prominently in camp activities. Build a fire, tie knots, and construct a shelter. Learn swim safety via six levels of instruction. (Campers earning Red Cross certification can even try basic scuba diving!) A fleet of 70 non-motorized watercraft, including canoes, ocean kayaks, and inflatable boats ply pristine Indian Lake and take campers to overnight camping spots. (Older campers overnight on Lake Superior.) Folk dancing, music, and family-style meals are a camp tradition.
Cost: Iron County residents, $110 per week; non-residents, $280. icyc@iron.org, (906) 265-4476
University of Michigan iD Tech Camp
Ann Arbor
Profile: One week co-ed tech sessions, on campus, for ages 7–17. Founded in 1999, iD Tech is the pioneer STEM camp for kids.
Fun Fact: With over 40 choices, young tech wizards can find just the right program.
Profile: Campers won't be singing around the campfire, but they will fire up their imaginations. The youngsters learn game design with Minecraft or coding and engineering with JavaScript. Python Coding 101 is great for the tweens, while the teenagers can join Entrepreneurship: Business Camp with Daymond John of ABC's Shark Tank.
Nitty Gritty: $999+. Select University of Michigan under Michigan Summer Camps in the Locations tab at idtech.com. (888) 709-8324
Bay Cliff Health Camp
Big Bay
Profile: Since hosting its first therapeutic summer session in 1934, Bay Cliff has grown into a year-round therapy and wellness center for youth ages 3–17 and adults living with disabilities.
Fun Fact: Bay Cliff campers have traditional camp summer fun!
What to expect: Campers experience seven full weeks of camp activities combined with individualized therapy. (Pre-K campers stay for 3.5 weeks and have their own playroom.) Arts and crafts, pool, nature experiences, talent shows, sports and games, and trips to the beach or the frog pond make up a portion of every day, in conjunction with each camper's therapy goals. Campers are referred to Bay Cliff based on therapeutic needs (occupational, physical, or speech and language).
Nitty Gritty: Bay Cliff Health Camp is a 501(c)(3) organization and is free-of-charge. www.baycliff.org, (906) 345-9314
Blue Lake Fine Arts Camp
Twin Lake
Profile: Since 1966, Blue Lake has provided fine arts education for grades 5–12 on a 1,600-acre campus in Michigan's Manistee National Forest.
Fun Fact: Enthusiasm can be contagious!
What to Expect: Choose two-week structured sessions in music, art, dance, or drama. Students are accepted at their existing proficiency level and encouraged to grow in their chosen program. Free-time activities include competitive sports, swimming, and ultimate Frisbee, plus skits, pizza parties, campfires, and talent shows.
Nitty Gritty: $1495+, bluelake.org, (231) 894-1966,
Camp4All
Locations vary
Profile: Camp4All is a new summer camp experience for LGBTQ teens, run by Experiential Ink, founded in 2021, to provide community-driven solutions to address the gaps in youth education and leadership. Experiential Ink is a 501(c)(3) non-profit.
Fun Fact: Come as you are!
What to Expect: Camp4All takes place in an environment that protects and values personal identity. In 2021, Camp4All held sessions at four Michigan camps: Camp Algonquin in Hastings; Camp Arbutus Hayo-Went-Ha in Traverse City; Camp Timbers in West Branch; and Camp Ohiyesa in Holly. Campers enjoyed traditional summer camp experiences like hiking, swimming, boating, arts and crafts, ziplining and scaling a climbing wall.
Nitty Gritty: Camp4All headquarters are based in Bellaire. Contact Experiential Ink for this summer's locations: (231) 709-0865, experientialink.org/camp-4-all

Phone First
For the latest updates and more details (COVID protocols, specialty add-ons, extra fees, camper prerequisites, social media policies, etc.), please contact each camp before registering.
Trending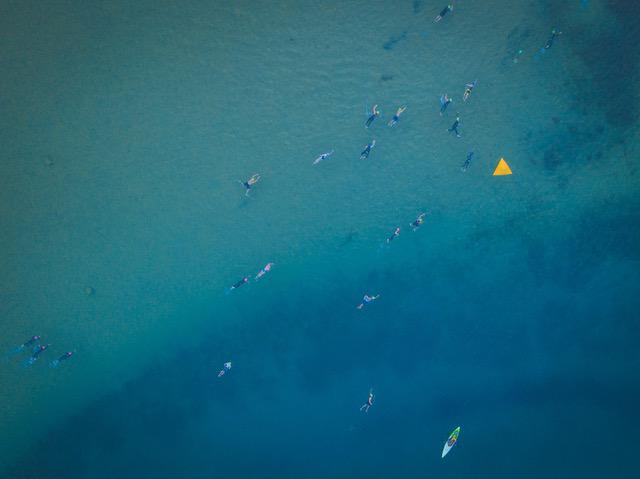 Swim, Bike, and Run in TC
The Traverse City Triathlon is back on Sunday, Aug. 21, with Olympic and sprint-distance races beginning in Bowers Harbor ...
Read More >>
Forty+ Years of Fabulous Art
Frankfort may be a sleepy town come winter, but in the summer, the little spot on the water is hopping. And for 46 years, ...
Read More >>
The Past in Motion
Where can you find 1,000 tractors? What about 600 antique engines? Dozens more old and cool cars and trucks? This weekend,...
Read More >>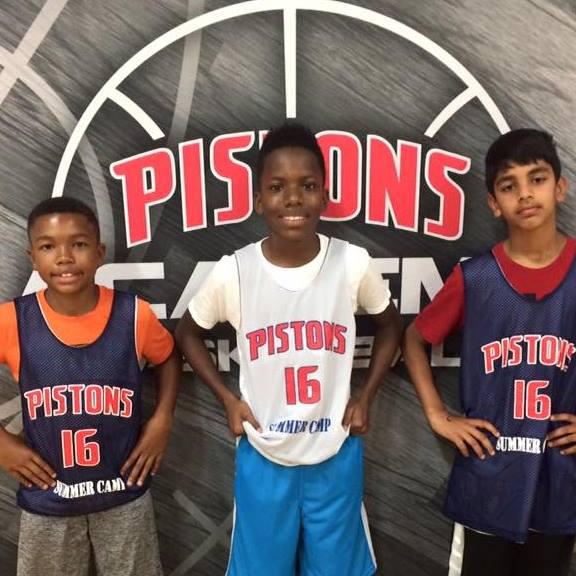 De-troit Basketball!
Is the next point guard for the Detroit Pistons living under your roof? Or do you just want to get your kiddo out of the d...
Read More >>