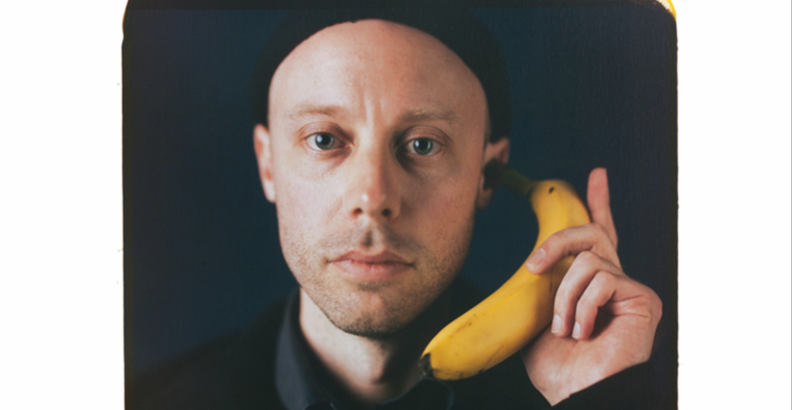 Northern Michigan's Own Cult Film Director
A director who's helped put Grand Rapids' art scene on the cultural map makes his Traverse City Film Fest Debut
In just a few years, Northern Michigan native Joel Potrykus has developed a reputation around the world as an edgy, exciting filmmaker whose work delves into the strangeness of ordinary lives.
Potrykus grew up in Ossineke, just outside of Alpena, and he studied filmmaking at Grand Valley State University. After achieving success with his first film, Ape, which won the Best New Director prize at the 2012 Locarno Film Festival, he didn't move to Los Angeles. Potrykus stayed in Grand Rapids and continued to make films with a group of longtime friends that would go on to win greater and greater acclaim. He also teaches filmmaking at Michigan State University.
In 2014, Potrykus' second feature, Buzzard, secured the auteur's reputation as an up-and-coming indie filmmaker. That movie tells the story of a temp worker at a mortgage department who embezzles checks and steals office equipment as his directionless life spins out of control. Since Buzzard, there have been retrospectives on Potrykus' work at the Brooklyn Academy of Music and at the Valdivia Film Festival in Chile.
With his latest film, Relaxer, Potrykus finds himself at the Traverse City Film Festival for the first time. Northern Express caught up with him and got a chance to ask some questions via email.
Northern Express: Tell me about Relaxer — is it more of a coming-of-age drama or a quirky romantic comedy? Just kidding! I know your movies are none of those things. What's the best way to describe your movies?
Potrykus: I'm probably the last person able to describe these things. I don't put much thought into classifying them, or even what genre they'll fit into before I make them. Or even afterwards. It's the part of the process I'm not much interested in. I prefer to let the audiences tell me what they are. I'm just trying to make movies that I wish existed in the world but don't yet. I like a little bit of everything, so I try to include it all into one movie — comedy, surrealism, a tiny bit of blood, sweat, whatever.
Express: At the SXSW screening of your film, you hosted a milk shot contest between two fans, which was so odd. Why did you do that?
Potrykus: We go to festivals to get an experience that we can't get in a corporate theater chain. I'm just trying to show everyone how to properly experience this movie. You must start by chugging lactose. Simple as that.
Express: From what I can tell, this is your first time showing at the Traverse City Film Festival. What took so long?
Potrykus: Yes, first time playing TCFF. I can't answer why it took so long. These films have played as far as Moscow, but for whatever reason, I hadn't been able to crack this city two and a half hours north of me until now.
Express: Something I think is cool about you is that you've become an indie/cult/underground success as someone who comes from northern Michigan and as someone who has maintained ties with the people you grew up with. How did you pull that off?
Potrykus: I've just always had cool friends. The cinematographer, Adam, and I met at Alpena High School. My brother, Chuck, does artwork for the films. The production designer, Mike, and I used to dress up like Gizmo in college and sneak attack students. Our lead actor, Joshua, would play acoustic guitar across the street from our Grand Valley apartment. The producer, Ashley, and I just had a baby together. So we've been pretty close for awhile. I just like working with people that I like. I see us as a band, rather than a production company. We mostly come from music, so it's a logical jump.
Express: Your film playing at TCFF, Relaxer, finds you working again with Joshua Burge, the star of your breakthrough film, Buzzard. Tell me about how you guys met and what your friendship is like.
Potrykus: Again, he was a musician originally. I met him years ago at college briefly, then turned into a fan of his band, Chance Jones. Grand Rapids is a pretty small city once you're inside the art community. I just thought he had a manic energy onstage that I wanted to try to capture in front of a camera. I had no idea if he could act or not. So the first movie we made together, a Super 8 short film called Coyote, had no dialogue. I was after a purely visual story. Turns out, he could act. He starred in my first feature film, Ape, and I realized I had found my guy. At this point, we communicate through small facial expressions on set. We're locked in, and both understand the big picture without needing to talk about character motivations or all those things that actors sometimes annoy directors with.
Express: Joshua got a supporting actor role in The Revenant and has since moved to Las Angeles. Is that something that tempts you?
Potrykus: I have no interest in the West Coast. My management company is there, and they keep me in the loop on anything important. But at the end of the day, I make very small movies with my friends, and that type of filmmaking is difficult in a city that is fighting to make their own movies. In Michigan, no one asks for permits or proof of insurance. They support you because they're into what you're doing. I'd rather live in an arts city, rather than an entertainment city. The business side of these films is supported by Oscilloscope Laboratories out of New York. It's the distribution company founded by Adam Yauch of the Beastie Boys. They understand what we're up to here in Michigan and have given me the financial ability to make these films the way I want. It's all about finding people that get you, and staying loyal to each other.
Express: I see you've taught screenplay writing and filmmaking at Grand Valley State, and you teach currently at Michigan State. What are your classes like, and what kind of teacher are you?
Potrykus: Well, I like to think my classes are totally awesome and inspirational and that I'm training up a filmmaking army to run the world.
Express: Tell me about [your company] Sob Noisse and explain how that works.
Potrykus: Again, we function more like a band than a company. It's socialist when it comes to money. Everyone makes the same on these films. The assistant camera person makes the same as the sound person, which is the same as I make. We're trying to make changes in the way commerce and art mix. It's mostly inspired by Dischord Records out of Washington DC.
Express: When I searched Ossineke, Michigan, in Google Maps, at the first zoom level, the only feature listed is Dinosaur Gardens. If you zoom in a bit, a few more places show up, like Paul Bunyan & Babe the Blue Ox. Sounds like a weird place.
Potrykus: One of these days I'll get a private tour of Hayden's Acres. It's the most elusive of all the weirdo spots in Ossineke.
Express: Is Ossineke worth a road trip? If so, where would you recommend going?
Potrykus: They just lost their one and only bar, but you should sneak into the haunted house on Nicholson Hill Road some time.
Trending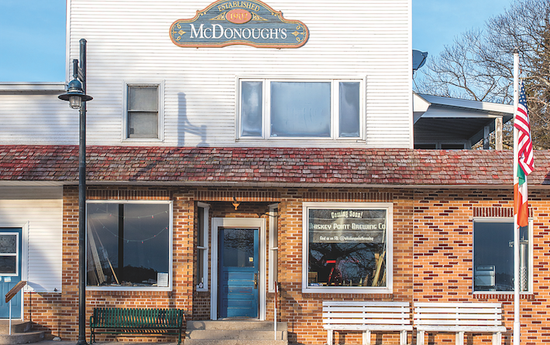 Welcome to Michigan's Most Remote Brewery
After years of planning and honing his beer-making skills, this spring, Patrick McGinnity plans to open Beaver Island's first microbrewery. Opening a craft brewery is challenging. Opening one on a remote island in Lake Michigan that's either a 15-minute plane ride or a two-and-a-half-hour ferry ride from ...
Read More >>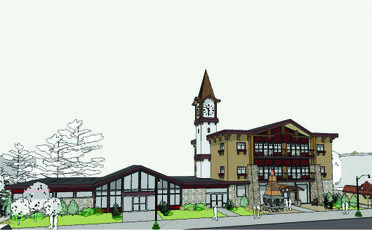 Gaylord: A boomtown Up North
Gaylord native Gary Scott had moved to Indiana, where he and some partners started a business to invest in distressed properties. He was talking to a banker in Detroit about real estate in Bloomington when he asked what kind of deals might be available in northern Michigan. ...
Read More >>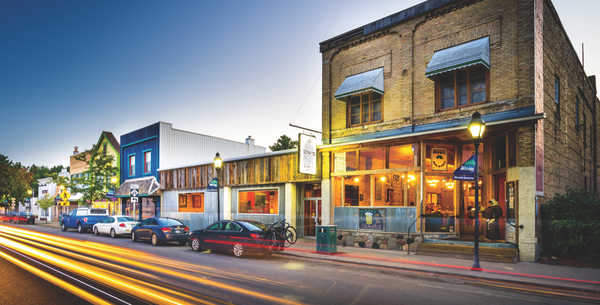 Small Up North Towns on the Rise
Spotlight on Bellaire (pictured)Seems Traverse City isn't the only place in the region making those "Best of" lists. The Antrim County hamlet of Bellaire was recently named to the list of Best Lakeside Towns in the U.S. by Country Living Magazine, alongside the likes of Vergennes, Vermont, Greenville, ...
Read More >>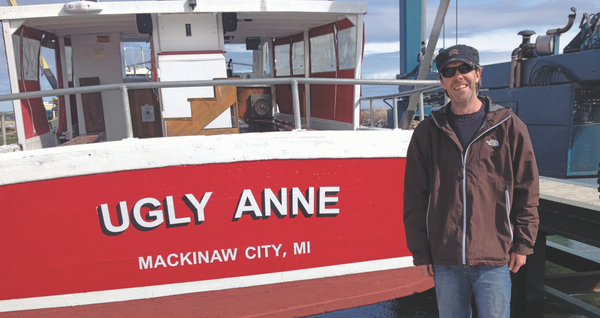 A Wicked Cool Ride Around the Straits
You expect to see boats around Mackinac Island in summer. Sailboats, power boats, cruisers, and the ubiquitous ferries that run residents and guests back and forth across the Straits of Mackinac, sure. But there's a more unusual vessel visible these days — an all-wooden Down East lobster ...
Read More >>
↑