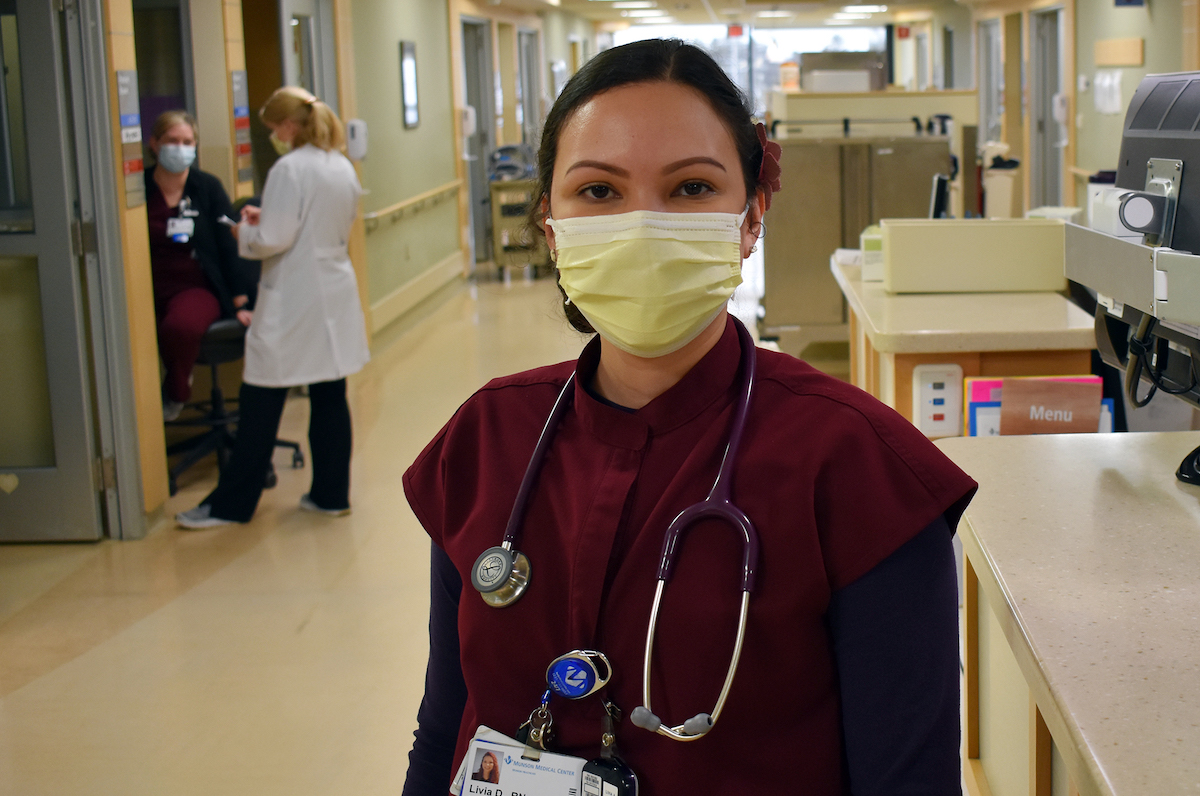 Nursing a Dream
Livia Argyle's journey from Brazil to Michigan and journalism to nursing
It wasn't long ago that patients staying overnight at Munson Medical Center might have received their meal tray from a friendly young woman who always wore a flower tucked behind her ear.
Livia Argyle, R.N., a native of Brazil, moved to Traverse City in 2015 following her marriage to her husband, Greg. Argyle's mother-in-law is a hospital social worker and suggested that Argyle apply for an entry-level job at Munson to learn more about American culture.
Argyle wouldn't describe her experience of moving to the United States as one of culture shock, but there were certainly differences that took some getting used to.
"In Brazil, when you meet people, you always give them a hug and a kiss on the cheek," Argyle says as an example. "Here, it's a little different. You just shake hands, so I had to learn how to stand back. Personal space is a bit different."
Even still, Argyle's personable demeanor and warmth endeared her to Munson hospital staff and patients alike. Fast forward to today, and Argyle is now a full-time Registered Nurse (R.N.) at the same hospital where she first started as a meal-service attendant.
A True Calling
It's a career change that might seem surprising, especially considering that Argyle studied and worked in journalism in her home country. Yet when Argyle looks back on her life in Brazil, she can see signs that nursing was her true calling.
Argyle grew up in Manaus, a bustling city and the capital of the Brazilian state of Amazonas. While she pursued a career in journalism, she lived with her parents, which is the norm for young adults in Brazil, where a high value is placed on family.
This commitment to family also extends to the hospital. In Brazil, it isn't typical for hospitals to have nursing assistants who can provide patients with around-the-clock care. As a result, family members must take on this role and stay overnight with their loved ones.
"Whenever a family member had surgery, I was the one to stay with them," Argyle says.
These hospital stays included caring for her great-uncle after he had a stroke and also her mother after she had surgery. Families in Brazil are also expected to care for their elderly at home, so this background provided Argyle with caregiving skills from an early age.
After she began working at Munson, Argyle found she really enjoyed the contact with patients and decided she wasn't satisfied remaining in the kitchen. Delivering meal trays had allowed her to meet Munson's nurses, which gave her a better sense of the path she might want to take if she continued working in a hospital setting.
"I fell in love with the people and with the nurses especially," says Argyle. Witnessing nurses change people's lives on a regular basis is ultimately what led to her desire to apply for nursing school.
Argyle says she was moved by seeing patients in difficult situations begin to improve under the nurses' care. Watching patients regain their independence as they walked or ate or showered for the first time was a rewarding experience that solidified her commitment to a healthcare career.
A New Goal
Other staff also noticed Argyle's aptitude for the field. When Argyle was still delivering trays, Kathy Stutzman, a nurse manager on Munson's cardiothoracic floor, thought she was "the friendliest person" who would do a great job in healthcare.
About six months later, Stutzman told her, "'Livia, you need to go to nursing school.' And then she was on our floor as a nursing student… She really took the American Dream and went for it."
Argyle began her nursing education at Northwestern Michigan College and continued working at Munson as a nursing assistant while completing the program. Balancing work and pursuing a degree wasn't easy—especially given that English is Argyle's second language—but the most significant challenge was starting her healthcare career during the pandemic.
"It was hard," Argyle says of that time. "We didn't know what to expect. We were all scared."
Argyle tells us how difficult it was to witness patients being unable to have contact with their loved ones while they were ill. Argyle herself lost family members and friends to COVID, an experience that gave her even more empathy for what her patients and their family members were going through.
During such stressful circumstances, Argyle's calm presence was a major asset to patients and staff alike.
"She is very warm, inviting, and open to new opportunities," Stutzman says. She cites Argyle's humility about what she still needs to learn and her willingness to pursue constant growth as her greatest strengths as a nurse.
Argyle officially became an R.N. in December 2022, and she believes that helping people and advocating for her patients are the most rewarding parts of the job. "A lot of the time, we have to be educators too, so [patients] can understand the disease process, what's going on, why they are taking a certain medication, and what outcomes to expect," she says.
Trending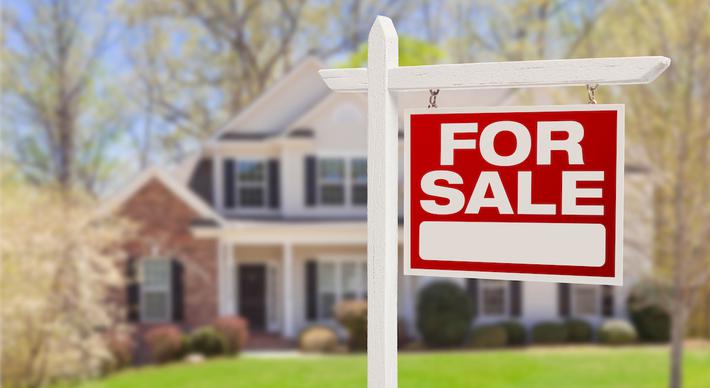 From Frenzy to Focus: Northern Michigan's Real Estate Update for Fall 2023
High-interest rates coupled with a lack of home listings have made for an interesting year in real estate. Northern Expres...
Read More >>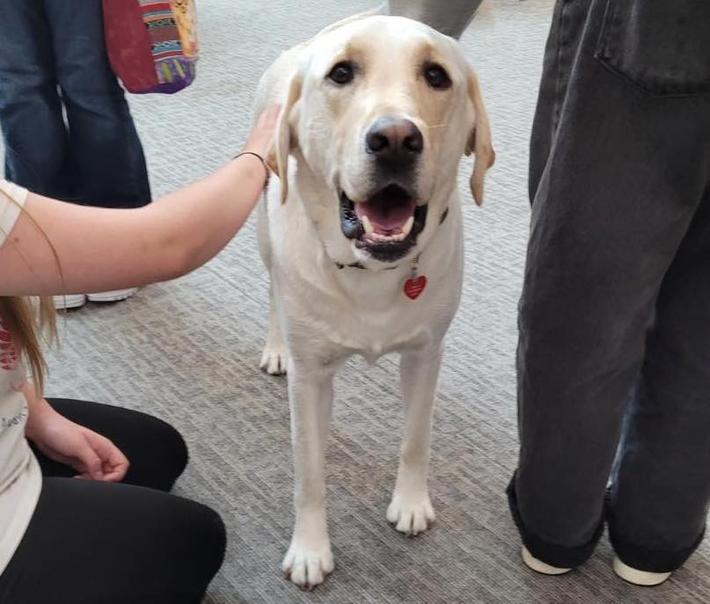 Pups on Campus
Traverse City West Senior High has brought on a very good boy as their newest staff member for the 2023-24 school year. Me...
Read More >>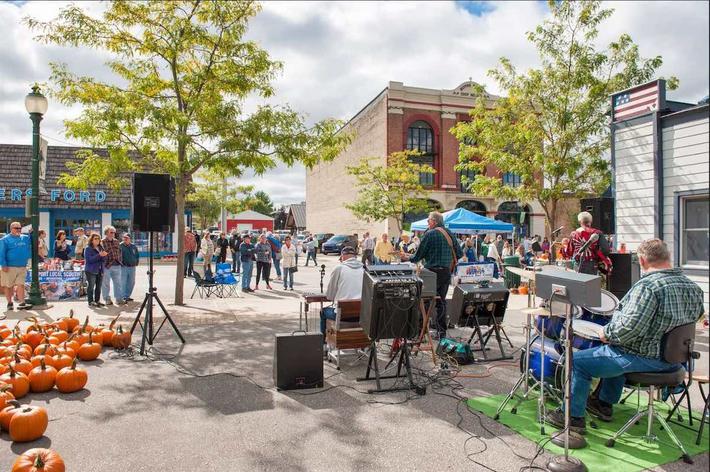 Celebrate the Harvest in Boyne City
Welcome to the season of harvest festivals! The days are getting shorter, the nights (and days) cooler, and it's tim...
Read More >>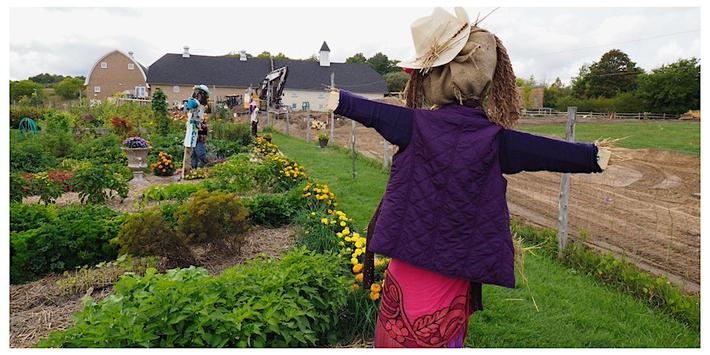 Scarecrow Szn
It may not be "spooky szn" (as the kids call it) just yet, but it does seem like it might be scarecrow szn. Th...
Read More >>