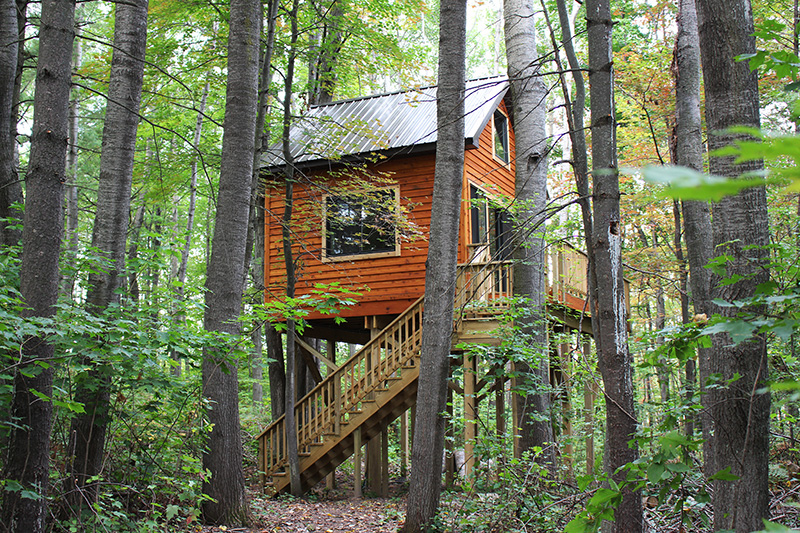 Trends in Outdoor Living
What's hot for your outdoor spot
After a year of near-confinement, our homes' outdoor spaces have become sanctuaries of solace and sanity — and we're investing a lot of time and money to make them beautiful, comfy, and ideally, available for more than just three or four months of the year. That trend is not slowing down.

"It's really crazy," says Tina Garner. The manager at Labadie's Summer Casuals, on US-31, east of Honor, says the staff usually has plenty of time to clean windows, reset displays, and get ready for summer while waiting on the occasional customer during the first weeks in April that the store is open. Not this year.
"Three days before we were open, we were busy," she told Northern Express. Seeing staff working inside, shoppers ignored the "Closed" sign and knocked on the door.
"We had a record year and were only open five months instead of seven," she said of 2020. For 2021, she anticipates more of the same. "It's going to be a crazy year."
We asked Garner and other outdoor experts what trends are hot and which products are high on customers' wish lists this year.
THE GREAT RESET
Chief among the experts' predictions in publications from Forbes to Veranda to Architectural Digest: an increasing interest in home gardening and a push for native plants and sustainable landscapes. Jeanine Rubert, co-owner of Pine Hill Nursery, with locations in Kewadin and Traverse City, said last year saw a huge increase in the number of gardeners. "Garden Media Group [a public relations firm specializing in the gardening industry] calls it The Great Reset," she said. "Conserving water, reducing lawns, using native plants and plants for pollinators. We have four benches full of native plants."
Matt Lamore, owner of Black Cap Farm in Onekama says native plants will help the environment and make for less work. "Native plants have a huge role in the [local] ecosystem. Non-native plants don't have a role in the ecosystem. Non-native pests are wreaking havoc," he said. And once they are established, native plants typically need less watering as they are already adapted to their local environment.
Some to Try: "Blue Vervain is one of the best-selling plants, and for good reason. It is a reliable, long bloomer with strong deer resistance. It is a great nectar source for pollinators. Yarrow comes in a wide variety of cultivated colors but is white in its natural state. It is useful in the garden to weave with other plants because studies indicate that it actually boosts the health of the plants around it. This won't come as a surprise to people who take yarrow supplements. Jacob's Ladder has deep green foliage that always looks new like Spring. It has soft blue or purple flowers in spring and is also deer resistant. Jacob's ladder is useful in a shade garden."
HEAVY, ECO-FRIENDLY FURNITURE
In anticipation of a banner year for outdoor living, Garner said the store boosted its off-season orders of outdoor furniture and decor. "Last year we sold things we hadn't ever sold. So we doubled our wholesale order." Good thing. Typically, special orders made in the first couple weeks of April would be delivered in four to six weeks, so people would be able to enjoy their new outdoor furnishings by Memorial Day. "Now, vendors are telling us we can't get them until September."
Among the most popular lines: Sling, Owlee and poly furniture from Berlin Gardens, particularly the Adirondack chairs. "They offer exceptional quality, and they're heavy so the wind won't take them out," said Garner. She said the recycled nature of the products, many of which are made from shredded milk jugs, makes them even more appealing. "They are comfortable and very low maintenance. I think that's our biggest seller right now."

PORTABLE HEAT
Another trend Rubert is seeing is people embracing the outdoors even when temperatures dip. One option for making cooler morning or evening temperatures more palatable, as well as stretching outdoor time into the shoulder seasons, is the use of an outdoor heating source. She recommends using a chiminea, which are safer than firepits. "Chimineas are portable," she said, and they also add to the décor. "Anything that makes it more fun to be out in the yard."
PERMANENT HEAT
Chris Foreman, a salesperson at Fireside Hearth & Leisure in Gaylord, said as people spend more time outside, the more they want to include all the necessities. So in the spirit of go big and go home, the Castlewood Fireplace from Heat & Glo gives off plenty of heat as well as the feelings of warmth from a natural fire. The Castlewood turns any outdoor area into a welcoming and relaxing living space. Its large, high opening provides a dramatic view from across the yard or through the sliding doors in the family room.
SMART WOOD-PELLET GRILLS
Whether it's brats or chicken, corn or pineapple (really, you should try it), firing up the grill is a time-honored tradition that's never going to go out of style. The Traeger Pro 575 Wood Pellet WiFi Grill is high demand these days. Stylish and with a bevy of features, it's as easy to use as an oven — or probably easier; it works with Alexa and Google Assistant. They are available at a number of locations, such as Ace hardware stores and Home Depot locations.
Foreman, of Fireside Hearth & Leisure in Gaylord, recommends Green Mountain Pellet Grills. "The Daniel Boone [series] is the most popular," he said. Features include a meat probe, a peaked lid for stand-up chicken/large fowl/rib racks, a convenience tray with utensil hooks, hard rubber tires, and Sense-Mate, a thermal sensor that constantly monitors the ambient temperature. When the weather gets cold, the sensor kicks the grill into Turbo mode, so you don't have to wait long for the grill to heat up. And yes, it has WiFi, so you can control it from the handy app.

OUTDOOR KITCHENS CONTINUE THEIR REIGN
An outdoor sink, fridge and countertop does make it easier to enjoy outdoor ambience while preparing a gourmet feast on your grill, but Angela Goodall, owner of Traverse City's Kitchen Choreography, said there are a few prerequisites: "Typically, access to plumbing, gas lines and electricity. Plus a solid foundation for setting cabinetry, an outdoor-rated material for cabinetry [typically stainless steel] and an outdoor-rated stone for countertops."
COMPOSITE DECKING — PREFERABLY CURVED
Deb Brown at WB Builders in Boyne City said the use of composite material to build decks is becoming more prevalent. They offer several advantages, the biggest being they are maintenance-free. No staining, no replacing rotted boards, no slivers. She warned, however, that if in a sunny location, they can get very warm on bare feet. The company has also done curved decks, offering a stylish variation on the theme. "We're getting more requests for curved decks. They add interest," said Brown. Plus they make it easier to incorporate into a landscape design that's already complete.

HOUSEPLANTS INDOOR AND OUT
"Houseplants are really taking off," said Rubert. Houseplants not only reduce toxins and increase both overall health and wellness, she says, but when you use houseplants inside and out, you blur the lines between indoors and outdoors and increase the perceived size of your living space. "Lots of indoor plants are outdoor plants in the tropics. They make the space more tropical." Among the most popular are snake plants and zamioculcas zamiifolia (pictured), more commonly known as ZZ plant. "There are so many varieties, different greens and variegations," Rubert said. Neither requires a lot of light or water, making them great for beginners. That's also true of philodendrons, including the monstera, a.k.a. split-leaf philodendron.
JUST ADD WATER
Travis Drost of Drost Landscape in Petoskey said the company is frequently adding a pool or water feature into their design and builds. The company already has contracts to build six this year, from Traverse City to Petoskey.
FLAGSTONE IS KING
Another increasingly popular trend involves using flagstones for walkways, driveways and patios. "They are different from the everyday brick," says Drost, but every bit as durable. He calls flagstones "the icing on the cake in the landscape," as the hand-cut stone offers something you don't typically see.

TREEHOUSE GETAWAYS
Deb Brown at WB Builders in Boyne City said her company is getting more and more requests for treehouses. Now, these aren't your children's playhouses. These are comfy little getaways built high off the ground, sometimes with bedrooms, lofts, even kitchens. They're insulated, have functioning windows, and offer electricity. "Treehouse Masters has hit northern Michigan," she said with a laugh, referencing the television show on Animal Planet, which features builders constructing elaborate homes in the trees. Brown said many are being touted on AirBNB as getaways for those seeking some seclusion and the magic of living in the canopy, with birds and squirrels as your next-door neighbors.
Trending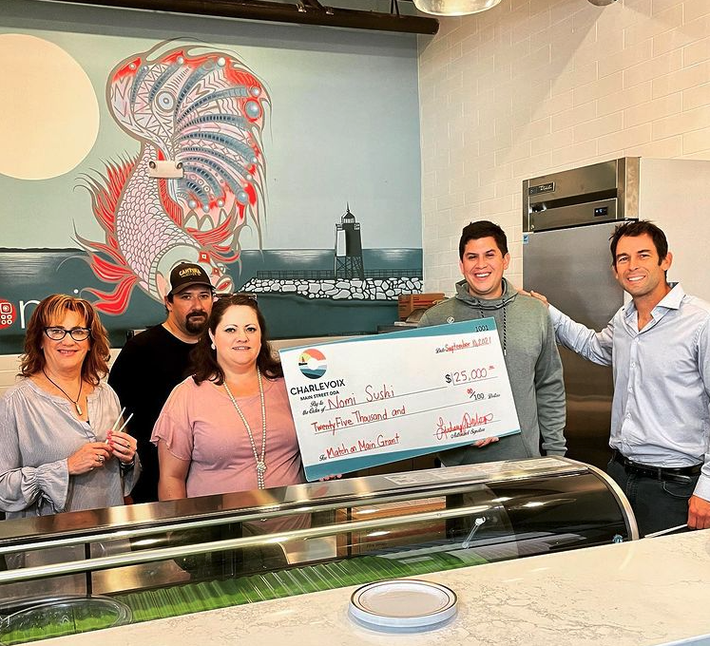 Big Boost for NoMi Sushi
Typically, restaurants don't begin earning money until after they've opened. NoMiSushi, which opened up earlie...
Read More >>
The Unfriendly Skies
A woman on a Southwest Airlines flight refuses to fasten her seat belt or put on her mask. The video, taken by another pas...
Read More >>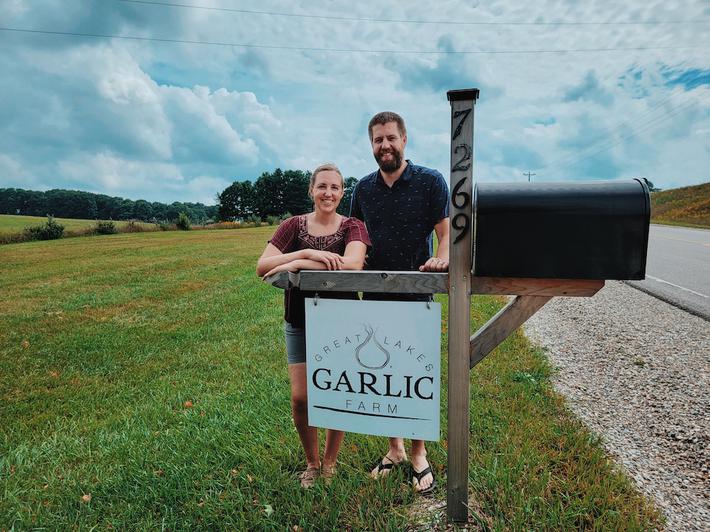 A Matter of Life & Breath
When it comes to cooking, you'll be hard-pressed to find anyone opposed to throwing in a few extra cloves of garlic. Human...
Read More >>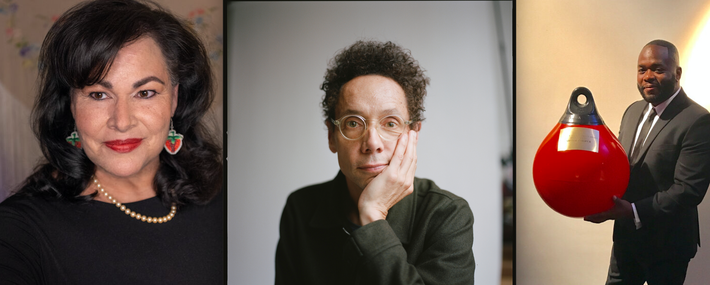 Read 'Em and Meet
Bibliophiles rejoice: The Harbor Springs Festival of the Book is returning Sept. 23–25, with a slate of authors, in-...
Read More >>
↑