Peek Inside the Minds of Interlochen's Young Filmmakers
A single-night screening of the works of Motion Picture Arts students and alumni
The Interlochen Artists at Kirkbride series has showcased many musicians in multiple forms and genres at Grand Traverse Commons: singers, songwriters, opera, jazz.
The next one in the series, however, goes in a different direction. "Artists from Interlochen at Kirkbride Hall: Motion Picture Arts," taking place this Thursday, Oct. 17, will showcase short films on the campus of Interlochen Arts Academy — all produced by, featuring, directed by, and written by Interlochen students over the past several years.

"There's a variety of work," said Michael Mittelstaedt, the director of Motion Picture Arts for the academy. That's for sure; the dozen short films vary in length, from six minutes to more than 20, as well as in topic and treatment. Audiences can expect animation, documentaries, comedy, coming-of-age stories (lots of those, according to Middelstaedt), horror, and satire.

One of the filmmakers is Eve Robitshek (a still from her film, above). Now a freshman at UCLA, she said film attracted her for many reasons. "I was always a lover of movies. There are so many different aspects — lighting, writing, producing, acting. You're able to tell people's stories in many ways. Film universally connects us all," she said.

Another Interlochen alum whose work will be shown is Miles Carey. Like Robitshek, he, too, is still in school — though not for film studies. He's enrolled in Harvard University's divinity program, following his recent graduation from Princeton as an English major. "It was a pretty circuitous route," he said.

Neverthless, Carey see his time at Interlochen, including the work in film, as being beneficial to his undergraduate and post-graduate education.
"The arts classes are invaluable, but the academics are rigorous too. My senior thesis was a play [he minored in theatre at Princeton]. My capstone film [which will be shown at Kirkbride] feels like a time capsule — where we were in life at that time. It was a coming-of-age film, dealing with identity, saying goodbye to friends, filtered through a magic, robust, fantastical world."

Mittelstaedt said all the films he's selected for the showcase reflect the things that were important to the students. He also said there's a universality to the films that he believes audiences of all ages will enjoy, both as a reflection of their youth and simply as enjoyable movies.

The technology of movie-making has improved dramatically over the past few years, with cameras becoming smaller and both cameras and software becoming more affordable. That's great for a film program, but Middelstaedt and the students say the program at Interlochen deals with the entirety of filmmaking. "The focus of the Interlochen film program was on storytelling, rather than technical [aspects] — cinematography, for example," said Carey.

That also works directly into another benefit for film students attending Interlochen: the availability of resident classmate who can add their (often immense) talents in acting, writing, and music. "A lot of close friends were able to work on it with me," said Carey.

Mittelstaedt started the motion picture arts program when he was hired by Interlochen 15 years ago. While both Robitshek and Carey are Traverse City natives, he said the motion picture major actually trends toward more international students.
"It's remarkable. We have kids from all over the world — South Africa, Lithuiania, the Dominican Republic, Venezuela, Kazahkstan. The stories [they can tell] are important to people all over the world," Middelstaedt said.

He said the setting of the center — "Parts of Interlochen are super-modern; parts of it are 50, 60 years old." — and the surrounding area lend themselves to most any type of movie. "Lighthouses, the waves of Lake Michigan, frozen landscapes — it's as much ambition and imagination," he said.

Mittelstaedt said a majority of the film students from the academy go on to film school, though they often branch out in different directions. "They expand into other [areas], photography philosophy, religious studies. One student went into makeup effects, worked on the Cat in the Hat and Looper. He's now a production manager. Two others are doing theme parks and roller coasters. There are so many opportunities."

For Robitshek, the chance to study film has so far topped all else. She went to UCLA because it offers both smaller classes and a broad curriculum. "There are only 17 freshmen [in the film program] this year," she said, which means more individual attention.

"It's well-rounded. The first two years you take a lot of other classes. I'm taking a philosophy class and English. I can find more of who I am, more than just how to run a camera or write a script — it's how to articulate your thoughts."

Maybe divinity school isn't such a stretch after all.

Artists from Interlochen at Kirkbride Hall: Motion Picture Arts begins at 7:30pm Oct. 17. For tickets, go to www.tickets.interlochen.org.
Trending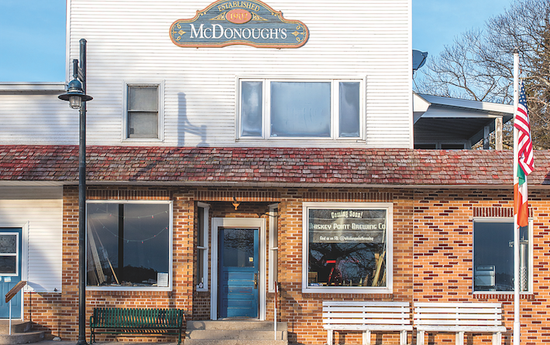 Welcome to Michigan's Most Remote Brewery
After years of planning and honing his beer-making skills, this spring, Patrick McGinnity plans to open Beaver Island&rsqu...
Read More >>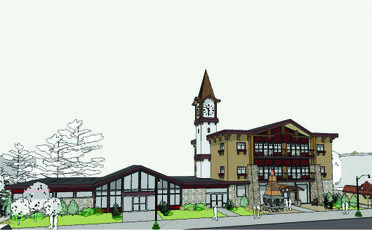 Gaylord: A boomtown Up North
Gaylord native Gary Scott had moved to Indiana, where he and some partners started a business to invest in distressed prop...
Read More >>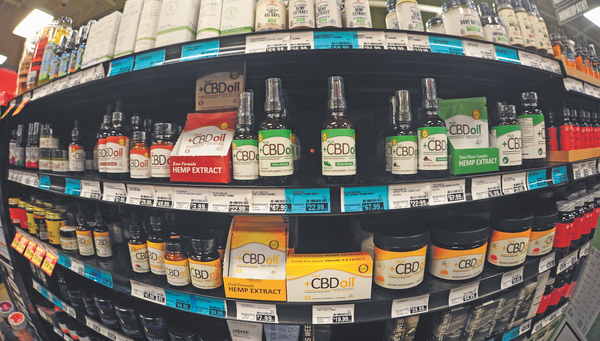 CBD Laws: Dazed and Confused
The sign outside of Family Video in Kalkaska lets drivers know the store has more than just movies. The sign reads: &...
Read More >>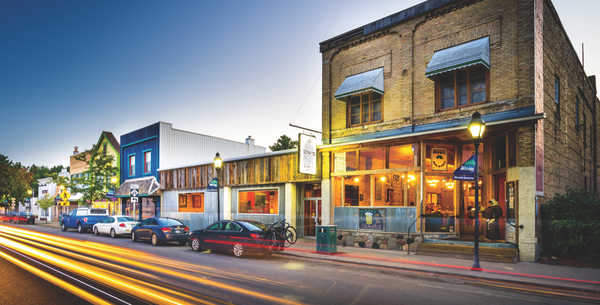 Small Up North Towns on the Rise
Spotlight on Bellaire (pictured)Seems Traverse City isn't the only place in the region making those "Best...
Read More >>
↑