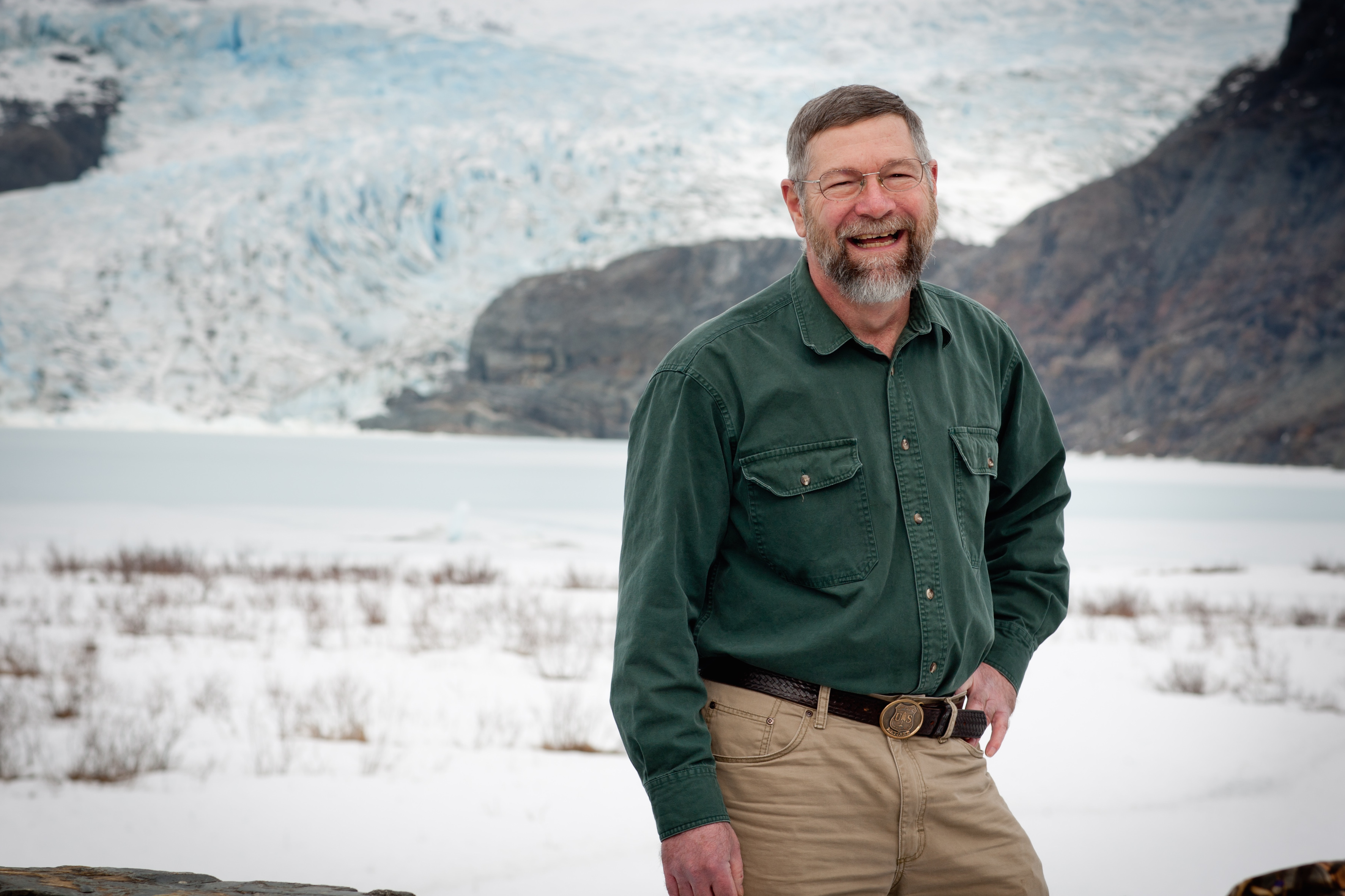 Pete Griffin Turns A Page With New Storytelling Career
Michigan native–turned–Alaskan storyteller Pete Griffin was getting ready to step on stage at the National Storytelling Festival in Jonesborough, Tenn., last year when one of the other storytellers quickly pulled him aside. "Don't leave the stage too soon when you're done telling your story," the man told Griffin. "Let them appreciate you!" So Griffin, after regaling the crowd with his tales of life as a forest ranger and anecdotes of living in Alaska, spoke his last word and then stood there, waiting.

After a brief pause, the appreciation began. "The stage was in a huge tent, with over 1,600 people in the audience," Griffin said. "The applause started in the back of the room and worked its way to the front. And let me tell you – that applause picked me up like a wave and carried me along as I stepped down the stairs and off the stage. It was the neatest thing. I got goose bumps!"
Griffin arrived at that memorable moment after years of pursuing a completely different interest. In fact, he didn't start storytelling until he retired from his former career as a forest ranger in 2010. But it was that career that yielded the many experiences that became the foundation of his stories, even if he wasn't aware of it at the time.
The Guy in Charge
Griffin grew up on the east end of Michigan's Upper Peninsula in Cedarville. For as long as he can remember, he wanted to be a forest ranger. "I finally got a job with the U.S. Forest Service [USFS] in Cadillac, at the Manistee National Forest," he said. "In 1987, I transferred to the Chippewa National Forest to become an assistant ranger, working with wildlife and recreational opportunities."
But Griffin's big goal was to become a district forest ranger – "the guy in charge," as he put it. This meant he needed more experience in different environments. He started applying for different positions and got two job offers, one in Washington, D.C., and one in Ketchikan, Alaska.

"My wife said, 'There's no way we're going to D.C.,'" Griffin said, "so we moved to Ketchikan in 1992." He kept moving up the ranger ranks, and by 1999, he finally got his district ranger job, moving to Alaska's state capital, Juneau, to take it.

At this point, it might surprise you to learn that one of Griffin's other goals was to return to Michigan. "Alaska, at first, was just a rung on a career ladder," Griffin explained. "What I really wanted was to be a district ranger in the Great Lakes region. But after being in Alaska a while, I realized that if I left Alaska to go work in Michigan, I'd definitely want to come back to Alaska. So I thought, 'Well then, why leave in the first place?'"
Setting Down Roots
Griffin went on to spend 11 years as the district forest ranger in Juneau. His ranger territory was three and a half million acres, the largest territory in the whole USFS. "I worked with a lot of different things," Griffin said. "Timber sales, mining permits and a lot of tourism and special use situations like glacier tours, treks out to the Juneau ice fields, helicopter companies that wanted to do tours, sled dog trips."

He acknowledged that some of the adventure tourism can be controversial but said, "I think any time we can get people out into their national forests, they end up gaining a respect for the natural world and for what nature provides for us."

After setting down roots in Alaska, Griffin started paying more attention to his ranger colleagues who were being awarded for their service. This is where his aspirations as a storyteller were born. He explained, "I thought the awards were great for them, of course, but they just kind of got the award and then that was it. I wondered what was it that got them the award or honor. What was their story? I wanted to tell those stories, as it seemed that what was lacking in the forest service was telling the stories of the people who work there."
Learning through Stories
Griffin started using storytelling informally in his work, sharing tales of past experiences he'd had or that he'd heard from co–workers. "I used them as a better way to communicate during challenging issues or to help people understand safety issues," he said. "A lot of the work we do as rangers isn't necessarily dictated by Forest Service guidelines; a lot of things that happen, we kind of have to figure out how to deal with off book. And I gradually realized that stories are one of the ways people learn."
Having caught the storytelling bug, Griffin started doing regular natural history talks on local public radio in Juneau about things he'd seen as a forest ranger – stories of plants, trees, animals and fish. The radio series was popular enough, but most of all, it boosted Griffin's confidence and showed him that people were interested in what he had to share. Once he decided to retire from the USFS, he hung up his forest ranger hat but kept telling stories.

"I went to some storytelling workshops and a storytelling conference," he said, "and just learned more about the process. I used to spend time out in the woods as a kid, by myself, and I was pretty introverted. I didn't want to deal with people at all a lot of the time, but that gradually changed. You never really get over being introverted, but after all that time as a ranger, I can now stand up in front of thousands of people and tell stories."
He also has four storytelling CDs to his credit and a storytelling video called Diary of a Forest Ranger that ran on television statewide throughout Alaska. Some of his stories range back to his time in Michigan; others focus on experiences he had after moving to Alaska.
Reflective Experiences
Griffin explained, "My storytelling is a real mix. Some stories are about my childhood, spending time in the forest, but the mix is also pretty heavy on U.S. Forest Service stories. One Michigan story is about the Mack Lake Fire in Mio in 1980; it was a fire that started as a prescribed burn to create habitat for the Kirtland's Warbler [a bird], but it ended up burning 25,000 acres and 40 houses, so I share my reflections on that experience."

Many of Griffin's popular stories are about Alaskan wildlife. "One is about a black wolf that was coming into town in Juneau, and the wolf really divided the town," he said. "Some people loved the wolf, wanted to meet it and tried to feed it. Others hated it and didn't want it in town at all. And I was right in the middle. So that was another interesting experience."

As is his tale called "The Skunk Whisperer." Griffin revealed, "That story is about my insisting that we don't kill skunks but live trap them into cages so we can relocate them elsewhere. I won't spoil it by telling you how that one ended, but let's just say we had a little trouble getting the skunk back out of the cage!"
Griffin also gets a lot of questions about how Alaska is represented on television, most notably about the Discovery Channel show Alaskan Bush People. To this, he just shakes his head. "People come up to me all the time and ask, 'Is that show really real?'" he said. "No! It's not real. Sheesh."

Forest Positivity
What is real is the interest in Griffin's stories. He's told his tales at a number of storytelling conferences and events, including the aforementioned national festival in Tennessee and the Honolulu Talk Story Festival in Hawaii. Most recently, he's begun receiving invitations from cruise ships to tell stories for passengers as they travel through the Alaskan regions he knows so well. "Disney invited me aboard its cruise ship that tours southeast Alaska, and Princess Cruises just invited me to do the same," he said. "I talk about brown and black bears, shrews, caribou and moose; I now do five to six cruises every summer, telling Alaskan stories."

This, Griffin feels, is a positive way to portray both Alaska and the U.S. Forest Service job that resulted in all his storytelling material. He concluded, "I think, through my storytelling, people finally get the idea that there are real people working for the forest service. It might be a large organization, but it's not a faceless one. Forestry people experience so much in common with everyone else and have such a deep appreciation for the natural world we live in. I think I help give people a picture of Alaska they won't get by watching reality TV."

Pete Griffin will present An Afternoon of Stories at the Cadillac–Wexford Public Library at 411 Lake Street in Cadillac at 1pm on May 6. The event is free. For more information, visit cadillaclibrary.org or call (231) 510-9047.
Trending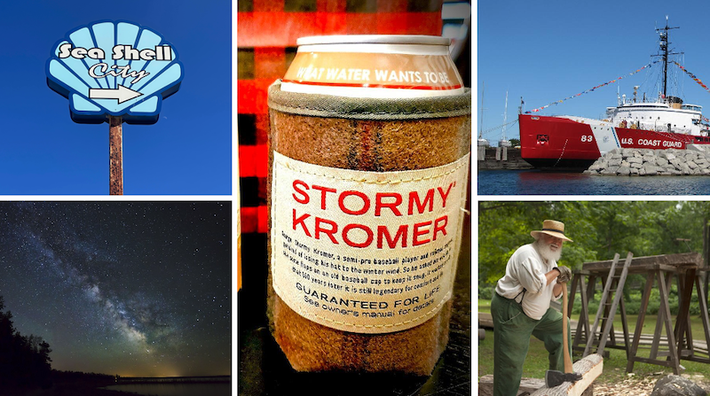 Must-sees on the Way to da U.P.
Whether you want to stretch your legs or stretch out your vacation, try at least one—or all!—of these detours ...
Read More >>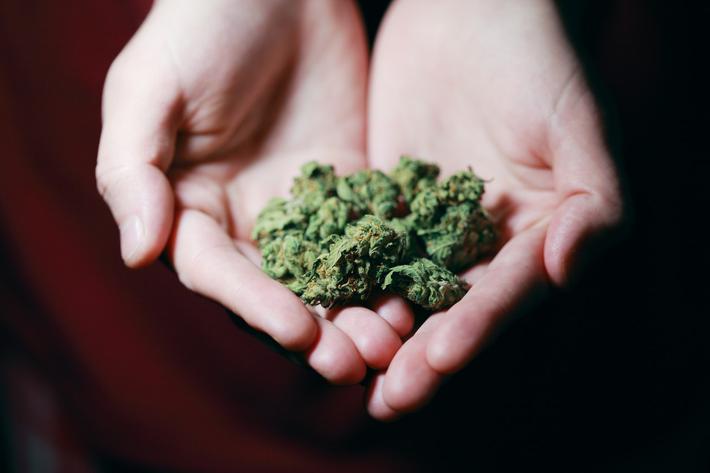 Traverse City Going Green(er)
After years of limbo, Traverse City's City Commission voted to move forward with allowing retail recreational mariju...
Read More >>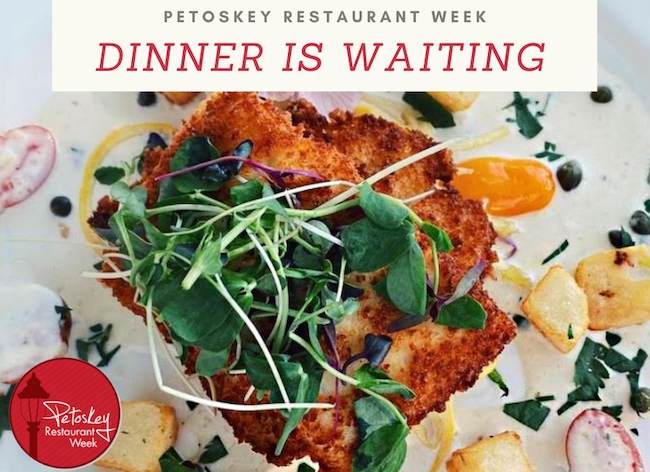 Restaurant Week Is Happening Now in Petoskey
Play hooky before the long weekend and make a stop in Petoskey for their spring Restaurant Week, running May 20-27. Three-...
Read More >>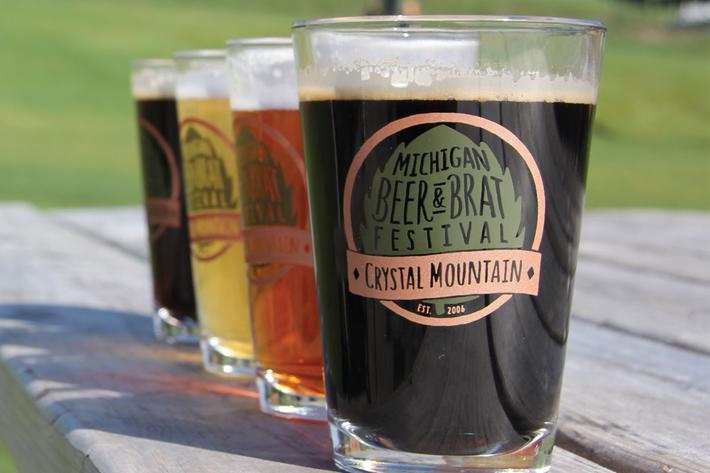 We See Beer and Brats in Your Future
The 15th annual Michigan Beer and Brat Festival is making a comeback Saturday, May 28, at Crystal Mountain in Thompsonvill...
Read More >>
↑