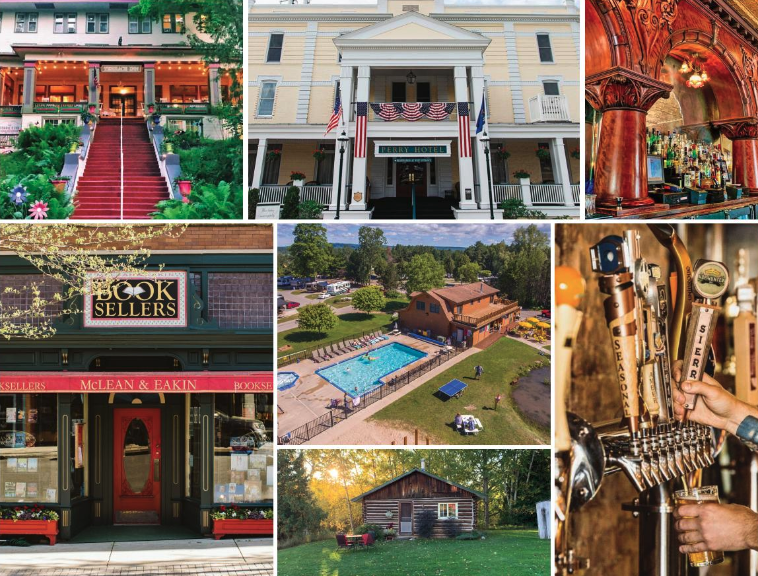 Petoskey
A Harbor Towns Special
Rock-strewn coasts and windswept beaches rightfully claim much of the fame for our corner of Lower Michigan's vast shoreline. But amid the miles of Petoskey stones and golden sand, there blooms an idyllic series of civilizations, tiny harbor towns that offer shelter from Lake Michigan's occasional storms and a much-needed escape from the usual landlocked 9-to-5 grind. Whether you're a landlubber on a daylong escape or a boater on a weekend tour, most any one of the region's lake- and bayside hamlets are worth setting your engine to idle and exploring. Here, a tour of one of our favorites, Petoskey.
The beautiful coastal town of Petoskey is one of Northern Michigan's quintessential lakeside communities, with a historical downtown full of charming storefronts and excellent eateries, miles of forested trails to explore, and pristine beaches. Distinctive brick buildings date back to when this area was a lumbering town, and several of the building established in the 1800s stand tall today. Whether you spend your day wending through the gaslight district, splashing through Little Traverse Bay, or hiking amongst the pines, entertainment and amazement are never far in this area. Once a favorite haunt of young Ernest Hemingway, this town is bursting with tastes, treks, and tales to discover.
Where to Stay
Perhaps the most notable of all lodging in the Petoskey area, Stafford's Perry Hotel is an enchantingly historic setting for a weekend getaway. Built in 1899, it's a jewel nestled in the heart of downtown. www.theperryhotel.com
The KOA Holiday campground is full of RV spaces, areas for tents, and even tiny homes and cabins for rent. Full of amazing amenities including volleyball courts, snack bars, playgrounds, hot tubs, Wi-Fi, firepits, basketball courts, and stone polishing workshops, this pet- and family-friendly campground feels like a return to summer camp. Rates vary based on the type of setup you require. $51+, search "Petoskey" at koa.com.
While it has seen many upgrades since its original opening in 1911, stepping foot inside the Terrace Inn or on either of its shaded porches is like stepping back in time. The chandelier-lit 1911 Restaurant serves up some exquisite cuisine as well. www.theterraceinn.com
Musts for your Mouth
If you're into breakfast pastries (aren't we all?) you absolutely must stop by Tillie's Tafel for one of their giant mouthwatering cinnamon rolls, you — and your sweet tooth — won't be disappointed. $5 and worth every cent. tilliestafel.com
Tap 30 boasts an entire wall of draft beers from around Michigan and the U.S., plus some innovative cocktails and upscale pub food. tap30.com
Chandler's, A Restaurant, is an upscale dining destination in the Gaslight District boasting a 4,000 bottle wine cellar and an intimate, nearly hidden outdoor nook so romantic it could make even the worst date feel divine. www.chandlersarestaurant.com
Don't Leave Town Without …
Visiting Hemingway's old haunt, the City Park Grill, to sip a cocktail and take in the history of the former billiards hall where the not-yet-famous writer spent many post-war days. www.cityparkgrill.com
Curling up in one of McLean and Eakin Bookstore's cozy chairs to take a test run through the first chapter of any number of their massive inventory of books. www.mcleanandeakin.com
Ensuring the next dish you bring to a party is unforgettable by purchasing just about anything from most every Northerner's secret culinary weapon, American Spoon Foods. Its locally made gourmet jams and sauces are just a start; talk to their culinary-besotted staff for any number of recipe secrets. Can't wait for the next party? Live in the now with a scoop of their homemade gelato. www.spoon.com
Supporting several women-owned small businesses with a single stop into Flora Bae Home, a new boutique that's full of unique finds ranging from plants to home goods. www.florabaehome.com
Adventuring at Bear River Valley Recreation Area, which houses one of the best whitewater recreation areas in the state, plus miles of trails and boardwalks to stroll through. Search "Bear Valley Recreation Area" at www.petoskeyarea.com
Dock It
The Petoskey City Marina has 72 transient slips, water, electricity, restrooms and showers, laundry units, grills, picnic tables, WI-FI, gasoline, ice, pump-out, free coffee, courtesy bicycles, and a dog run — alll within walking distance to downtown Petoskey. Search "Petoskey City Marina" at www.michigan.gov.

Want more?
Click to read about three other harbor towns highlighted this issue: Charlevoix, Northport, and Suttons Bay.
Trending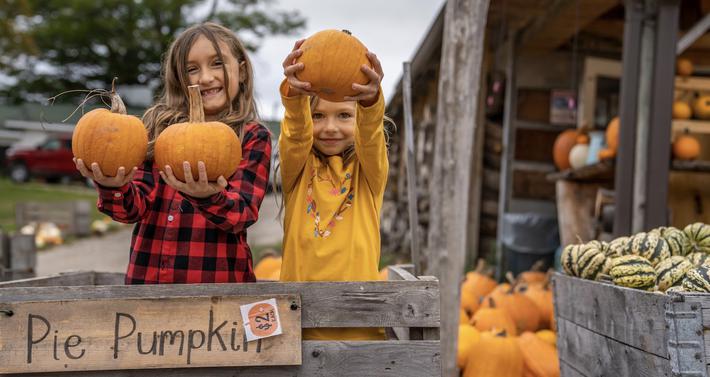 Seven Fall Festivals and Celebrations Around the North
If you ask us, it's impossible to beat the beauty of fall in northern Michigan. Vibrant-hued trees, glowing sunsets,...
Read More >>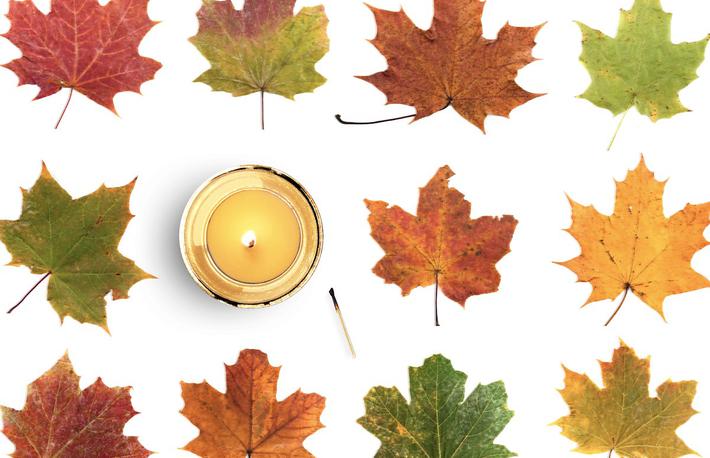 All the Scents of Fall
With the equinox behind us, it's time to go all in on autumn. Traverse City Candle Co. has done just that with their...
Read More >>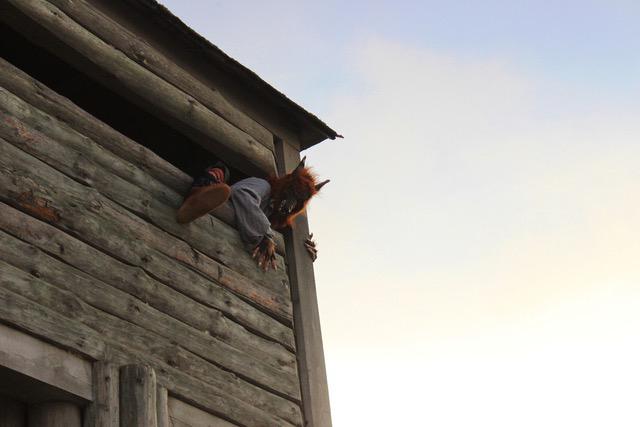 A Night at Fort Fright
This is not your typical haunted house or trail! Make your way through Fort Fright, an 18th-century fort and fur trading v...
Read More >>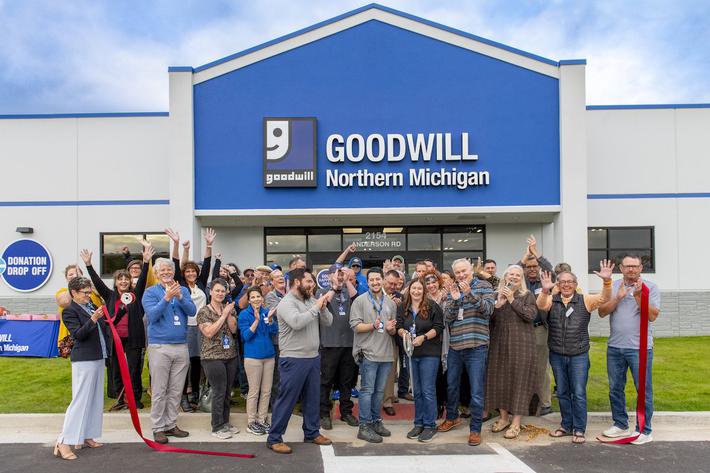 Goodwill Gets New Digs in Petoskey
This past week, Goodwill Northern Michigan opened a new Goodwill store in Petoskey at 2154 Anderson Rd., which replaces th...
Read More >>