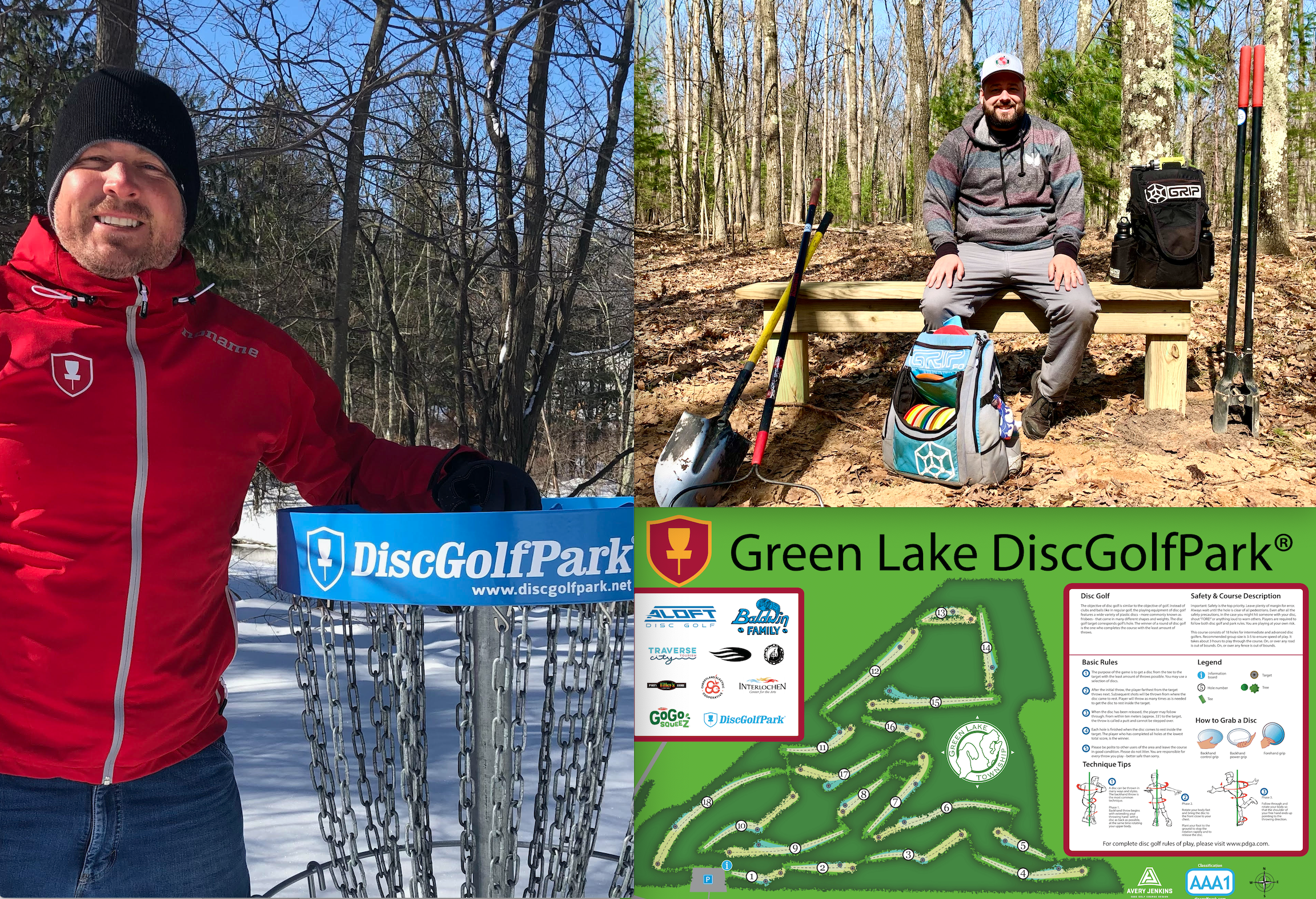 Plotting a Championship Course
This May, Northern Michigan will unveil a premier disc golf course designed by world champ
By Alex Tank | April 24, 2021
By the sweat and determined efforts of a small but dedicated crew, a world-class golf course is rising up in the woods near Interlochen. And though it won't be open for competition until its inaugural Green Lake Open tournament May 15–16, this one-of-a-kind course is already drawing national attention from pros and expected to draw top competitors from around the world.
Your first thought: "Sure, exactly what we need, another golf course."
Re-think it.
The Green Lake course isn't just another golf course; it's a disc golf course — one designed by a PDGA world champion (the "d" is for "disc," of course), boasting an ultra-challenging layout, and built by passionate locals.
Greg Argyle (pictured top right), founder of Aloft Disc Golf — a Michigan-based organization dedicated to promoting the sport — was the driving force behind the Green Lake course. In fall 2018, Argyle and colleagues brought forward the concept and found willing partners on the Green Lake Township board. "We presented the idea of a world-class championship disc golf course unlike anything else in the area," Argyle said.
With board backing in place, the fundraising began: "We used online platforms like GoFundMe, charity tournaments, fundraiser disc sales, and tee-sign sponsorships so local businesses could sponsor holes." Vitally, Green Lake Township came through with $10,000 in matching funds to complete the financial puzzle.
Gaining so much tangible support from public, commercial, and municipal sources for a niche sport endeavor isn't the norm, but it might have something to do with the high-impact recreational returns disc golf courses typically offer — and low-impact changes to the natural landscape in which they're built. In contrast to manicured greens and fussed-over fairways, disc golf courses are generally less disruptive to the environment than traditional golf courses; they require no fertilizers, no irrigation, and no major manipulation of topography or the ecosystem. Argyle said the team carried the sport's thoughtful approach throughout the Green Lake course's construction: "We kept as many good-size trees as possible."
With the partially donated services of Johnson Outdoors, the result feels more like forest management, with each hole, each fairway having been selectively thinned to create challenging shots for future players while maintaining the integrity of a healthy woodlot.
PANDEMIC GROWTH SPORT
Like so many fixtures on the American cultural landscape — think skateboards, popsicles, and wetsuits —disc golf was born in California. Argyle's labor of love — building the northern Michigan disc golf scene, organizing players, and hosting tournaments — is a modern echo of the sport's (arguable) founding father, "Steady" Ed Headrick. A lanky, affable guy with a flair for Frisbee, Headrick worked as an engineer at Wham-O in Carson, California, a familiar company to those who recall the '60s and '70s.
As he pushed the sport of disc golf forward via demos and tournaments in Southern California, he racked up several patents that shaped play, including the circa-1975 "Pole Hole" — the target, or pin, at the end of each hole, which is a metal pole topped with a ring cascading with links of chain, á la '70s-era beaded curtains. This wire basket catches the disc, and then it's on to the next tee. Like with traditional golf, players shoot for par, strive for birdie. And a low score is a good score, just like traditional golf, sans the pesticides and country club pretense.
Argyle describes the sport in recognizable golf terms: "The club is your body, and the ball is the disc." On the Michigan disc golf scene, Argyle is mild-mannered but driven, a natural collaborator linking enthusiasts, area businesses, amateurs, and pros with the love of the sport. He sees the momentum continuing to build: "Disc golf has seen exponential growth in the last year, with estimates of nearly 40 percent of players starting to play since the pandemic hit."
He doesn't exaggerate. Legions of new players have shopped so hard in the last year that disc golf manufacturers have, at times, run out of discs to sell. The PDGA notes an increase in membership of nearly 84 percent in 2020; compare that to the 3.5 percent growth between 2018 and 2019. Argyle believes the overall growth can be attributed largely to disc golf's low barriers to entry — it's inexpensive to get equipped and play a round, it's available in many communities around the country, and it's fun for all ages — but credits the sudden spike during the pandemic to something else viral: "People were stuck at home watching tournaments on YouTube and getting way into it."
As vaccines help ease pandemic paralysis, it seems the Green Lake DiscGolfPark and its May pro-tier tournament, Green Lake Open, are opening at just the right time. The course will have its real-time test run with the pros: brand new "turf tees" and "long pins" for the hard-throwing competitors. Outside of tournament play, a concurrent set of "short pins" will cut the course's overall distance and level of difficulty, making the course versatile and accommodating to players all skills levels, including that cadre of beginners setting up for their first throws in the north woods. The combination of long and short pins — and corresponding tee boxes — will give the course four unique layouts to keep the venue fresh, even after it has become a favorite spot for disc chuckers.
CHAMPIONSHIP DESIGN
Argyle and Aloft Disc Golf aimed high while planning the Green Lake course. He had an enthusiastic reception from Green Lake Township. He had the perfect, wooded location. Then, for the course design, he signed Avery Jenkins — 2009 Disc Golf World Champion; three-time U.S. Distance Champion; and now team manager at Discmania and sales manager for DiscGolfPark, Discmania's course design arm. Jenkins (pictured above, on left) has competed on the world championship stage for nearly three decades, playing over 1,220 unique courses in 21 countries, and in 49 of 50 states. Jenkins has designed 25+ courses already, with a lifetime goal of 200 courses.
When asked about the Green Lake site and working with Argyle's team at Aloft Disc Golf, Jenkins remarked, "They let me have full reign." With that freedom, Jenkins designed 18 holes stretching 10,350 feet total on the wooded 80-acre plot betwixt Green and Duck Lakes. That distance will make it one of the toughest courses in the state.

The relatively flat topography and selective tree thinning allow players the opportunities to make great shots, say Jenkins: "There's a lot of potential to really open up, to throw a big driver off the tee, a distance driver, to go 400 or 500 feet."
Avery told Northern Express he crafted the layout to include a variety of "different shot shapes, different bends in the fairway that'll keep it interesting, challenging, and fun." He also sees the universal attraction to the northwest Lower Michigan area, beyond the outstanding disc golf action he helped to create. "Tucked along the lake, with awesome weather, a beautiful landscape," he said. "It's a perfect place to have an amazing disc golf course that's going to draw a lot more players and families up there to play."
LEARN MORE
Want to learn more about the Green Lake Open May 15–16? Click here.

Trending
Goliath Brewing Co.'s Scorpius Morchella
There's not a lot we don't like about Iowa's Topping Goliath Brewing Co. Purposely founded in th...
Read More >>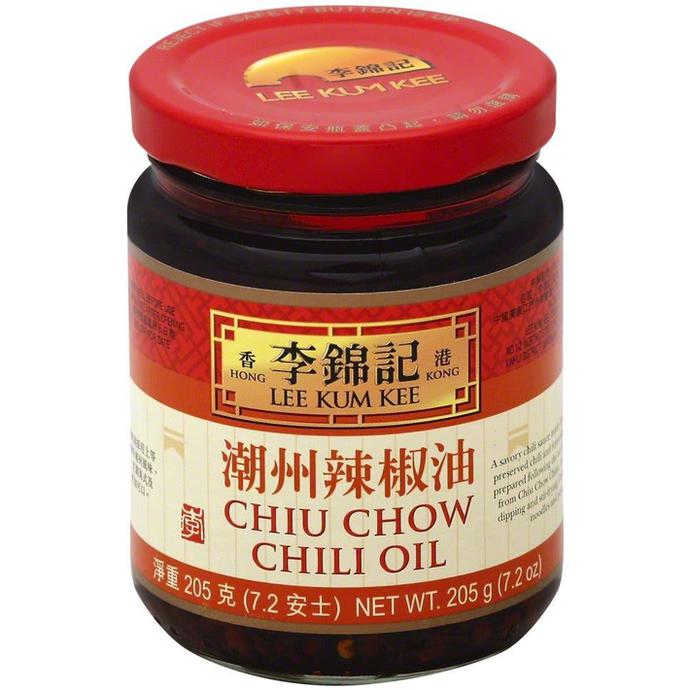 Chefs' Secret Weapons
My own "secret weapon" is a birthday gift I received from my husband some time ago (after several hints had be...
Read More >>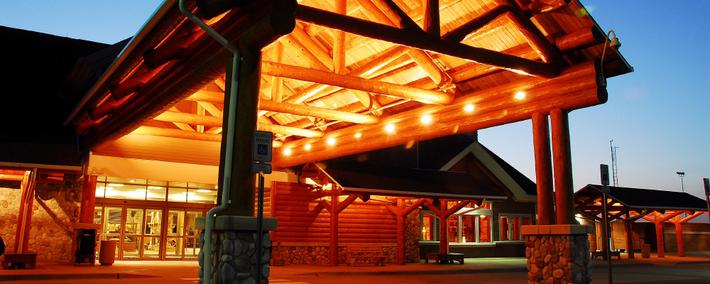 Where to Eat this Spring
Please be seated for these abbreviated versions of the restaurant profiles we've featured since our last Restaurant ...
Read More >>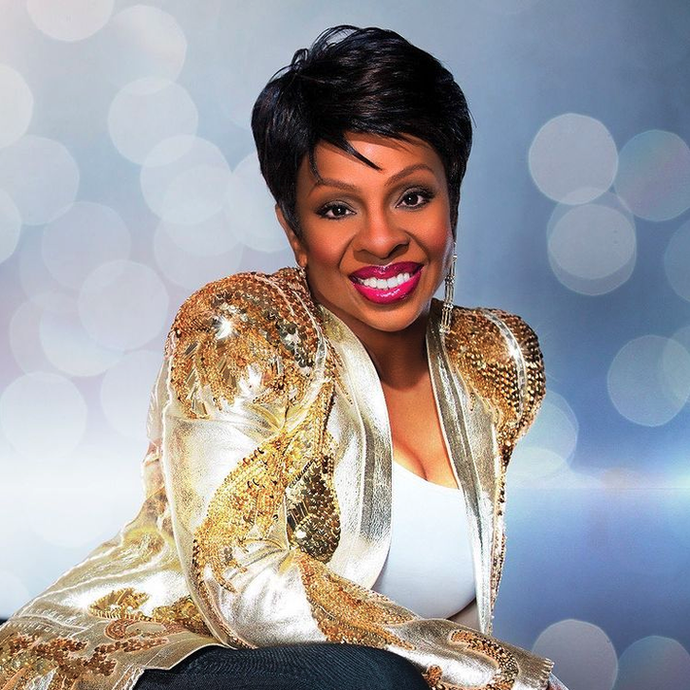 Live and In-Person Performances at GLCFA are Back — and Big
In the good old summertime, people used to gather, enjoy one another's company, and do things. One of the things the...
Read More >>
↑