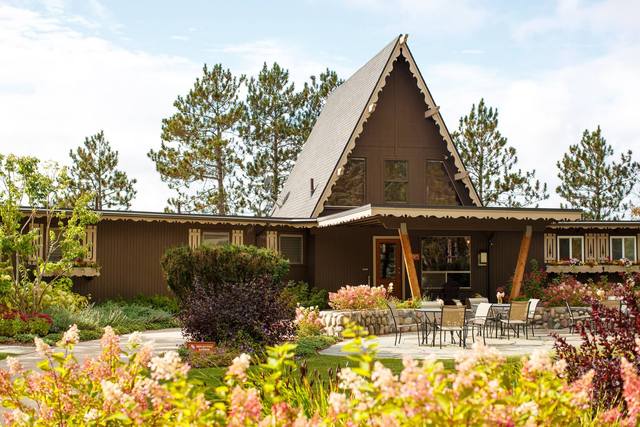 Rebirth of a Resort
The revitalization of a Western style ranch-turned-Up North resort
The view across the lake hadn't changed much since the old resort closed down. But for Janice and Scott Lampert, it was a constant reminder of possibility. The Lamperts, who revisioned and revitalized a vintage summer retreat into a newly welcoming northern Michigan destination, said that doing so was just a natural extension of their own families' philosophy — that to gather people together is the most welcoming thing of all.

The Lamperts moved to Gaylord in 1985 from Denver, Colorado. They'd both grown up in Naperville, Illinois, and returned to the midwest when Scott Lampert took a job in Naperville with Nicor, Inc. The couple later moved further north to Gaylord, where he'd acquire multiple businesses as an investment partner.

"We raised three kids in Gaylord," said Janice Lampert, "and along the way, we fell in love with Dixon Lake, a place we got to know when we rented a cottage there for a family reunion."
Back then, the retreat was called El Rancho Stevens; it had been opened in 1948 as a guest ranch, complete with horseback riding. "It was a Western-themed family dude ranch," Scott Lampert said. "But they wound down their operations around 2003."
By then, the Lamperts had their own cottage on Dixon Lake — which happened to be right across the lake from El Rancho Stevens.
"We were always looking over at it and talking about it," Janice Lampert said. "We're both from big families who like to gather, and once the place closed, we just thought, well, what's going to happen to it? We thought it had to have more life left in it than that."
The ranch, however, had other ideas. It was basically falling apart. "The patriarch of the original owners' family had passed away, and their kids were trying to make a go of it, but they finally decided they just wanted to sell it," Scott Lampert explained. "We decided to buy it, but then it still just kind of sat there for a while, as we didn't quite know what we wanted to do with it yet."
Scott, a petroleum engineer, and Janice, a graphic designer, might have seemed an unlikely couple to take over a dude ranch.
"The only 'hospitality' experience we'd had was with our own family," Janice Lampert said. But that family-friendly quality is what would eventually drive their vision for the property.
Pushing forward, they found that the roofs of the buildings were leaking, and many other parts of the place were also in disrepair. "Everything was … " Scott Lampert chose his words carefully, " … seasoned."
Their choices: bulldoze and start over. Or fix up what was already there.
"We came to the conclusion that the vintage part of the place was a big part of its appeal, and you can't just make something look old, not really," Scott Lampert said.
"The charm of yesterday just shone through the place, even in the state it was in," Janice Lampert added.
They started by fixing the roofs and doing an overall spruce-up, spending one full summer on the roofs themselves, and then digging into several of the rooms that had been damaged by water due to the roof leaks. Then more decisions had to be made, which would be followed by an additional two years of repairs, remodels, and updates.
"But we still weren't sure what form the new resort would take," Janice Lampert said. "Just a hotel? A camp, maybe for kids? A full resort?"
The Lamperts decided to get some outside help. They hired R.O.I. Design out of Grand Rapids to help them solidify their plan. "They did an interview with us, and helped us make a game plan of phases," Scott Lampert said. "We restored most of the buildings, just adding one new building, a welcome center to greet our guests."
Several architectural styles were suggested to the Lamperts, who saw value in all of them; "so the firm just kind of blended the styles together," Scott Lampert added.
They started by getting the gathering spaces together, keeping the focus on the property as a destination hotel and small resort. The guest rooms, great hall, patio, and the aforementioned welcome center became the focus, with plenty of landscaping and a water feature added to enhance the exteriors and grounds. All of this sprucing up soon started drawing attention to the place, which the Lamperts dubbed Sojourn Lakeside Resort.
"A couple of people came and looked at the property, and asked us if they could get married here," Scott Lampert said. "Once word got around, the interest in holding wedding events here just exploded; people wanted to come here for weddings and family reunions both, as well as corporate events and smaller vacations and community events. We even went to some wedding expos so we could learn more."
The resort's appeal, now that it was no longer the downtrodden place it had become after its first heyday had waned, was multifaceted. The Lakeview Lodge rooms, now revitalized in earth tones with wooden floors, tiled baths, and modern fixtures, were complemented by the other components of the property; the Whispering Pines luxury suites in their own separate building, the Michigan-mitten shaped pool (originally built in the 1950s), the Great Hall events space, and the Sandbar Lounge and Patio.
"We've purposefully kept TVs out of the rooms, so people can really get back to simpler, older times and truly relax and reconnect with each other," Janice Lampert said.
"Although we do have one central TV in the main lodge — and WiFi — so people aren't kept completely out of the loop," Scott Lampert was quick to add.
The beach and grounds offer such shuffleboard, swimming, horseshoes, chairs for lounging, paddle boards, kayaks; guests often bring along their own lawn games and additional activities. Some even arrive by boat. And there's a "very vintage" tennis court and basketball hoops for a little casual competition among guests.
The Lamperts don't have a full restaurant on-site; they encourage guests to go into Gaylord to explore the area, to further foster that sense of being part of a community. Everything is kept very low-key and friendly, all the better to help achieve the Lamperts' goal of offering guests a true gathering place.
"You can dress up the resort, or dress it down," Janice Lampert said. "I've heard people refer to it here as 'casual elegance.' It's just a place to rejuvenate, to have fun, to spend time with the people you care about. Back in 1985, we were new to the area, and we were warmly welcomed to the community. So we know what that feels like, and that's what we're trying to do."
Sojourn Lakeside Resort is located at 2332 E. Dixon Lake Road in Gaylord; sojournlakesideresort.com or (989) 370-7873.
Trending
Moving Dirt And Stone
This year is taking a toll on me. I'm more sluggish. It's harder to get out of bed each morning. I have muscle pain that I...
Read More >>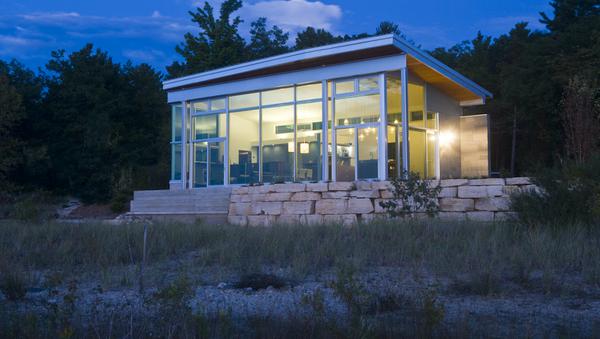 Northern Michigan Modern
From rustic log cabins to Victorian-style homes all the way to more traditional suburban-like developments, northern Michi...
Read More >>
Warts And All
Project 1619, a product of New York Times Magazine writers, is a potential public school curriculum that attempts to redef...
Read More >>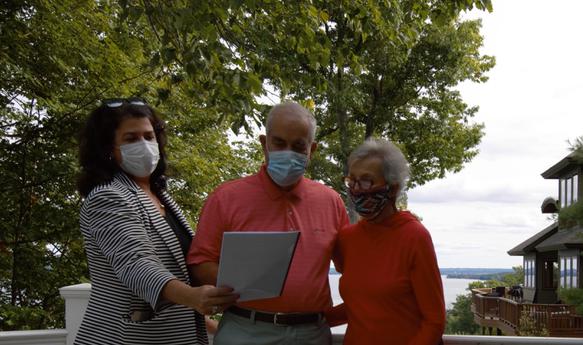 Pandemic Brings Even More Heat To A White-Hot Real Estate Market
There's a mad dash going on in real estate: companies bailing on their massive corporate office buildings, families ...
Read More >>
↑