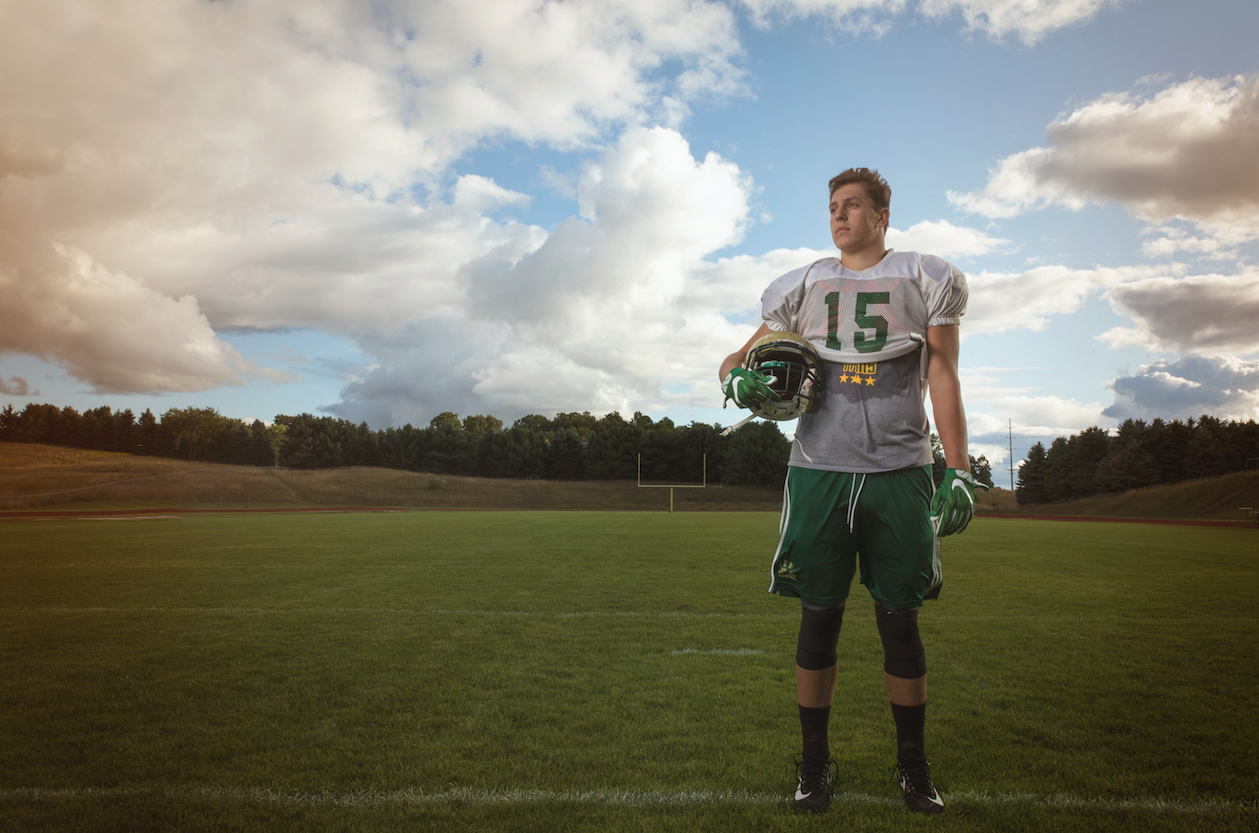 Remember this Titan: Traverse City West tight end Ryan Hayes
By Al Parker | Sept. 9, 2017
Traverse City West tight end Ryan Hayes has committed to the University of Michigan, and he's aiming for the pros. Before he goes, local football fans are anxiously awaiting what promises to be the senior's unforgettable final season.

Watching videos of Traverse City West High School football player Ryan Hayes gets a little monotonous.
There's the brawny tight end obliterating a defender with a massive block, shoving the would-be tackler downfield some 10 yards. It's like watching a snowplow clear Front Street during a snowfall. Then there's Hayes towering over a frustrated defensive back to snag a touchdown pass. He goes up into the air and snatches the pass, looking like LeBron James snagging a rebound over a bewildered middle schooler.
At 6-foot-7, 250 pounds, Hayes has the size and strength to be a tight end for a Big Ten football team, maybe even an NFL squad. And those are goals the TC West senior recently set for himself.
"It really became real during the recruiting process," said Hayes, who considered going to Notre Dame and Michigan State University before eventually deciding in May to attend the University of Michigan next year. A spring visit to the Ann Arbor campus made all the difference to Hayes.
"I knew right away," he said. "I didn't think I was going to go to Michigan, but I got there and just loved every minute."
It didn't hurt that Michigan officials told him he might be able to play both football and baseball for the Wolverines. Or that during the same week, top offensive-line prospect Jalen Mayfield, from Grand Rapids Catholic Central, was added to the Maize-and-Blue football fold. Whether Hayes will play tight end or be moved to tackle next year is still uncertain, but coaches are confident he is talented enough to be a standout at either position.
Hayes has been a three-sport star for the Titans — an All-State football player, the Big North Conference Basketball Player of the Year, and the league's baseball Pitcher of the Year.
So which sport is Hayes' favorite?
"Whatever one is in season," he said. "They all help me stay in shape and keep me from getting bored with any one sport."
Perhaps not surprisingly, the athlete excels in all three sports. As a tight end last year, he caught 20 passes for 311 yards. In basketball he was a dominant post player for the Titans, averaging 12.4 points and 8.3 rebounds per game. On the mound, Hayes posted an impressive 0.475 earned run average and struck out 102 hitters in 59 innings.
He sometimes draws comparisons with TC West graduate Jake Fisher, who attended the University of Oregon, became an All-American, and was the second-round pick of the Cincinnati Bengals. At 6-foot-6, 305 pounds, Fisher has had a solid NFL career as a right tackle/tight end for the Bengals. Also like Hayes, Fisher was a tight end and baseball pitcher for the Titans.
Hayes comes from an athletic family, with both of his parents playing Division 1 sports. His older brother, Conner, was a highly rated offensive lineman who signed with the University of Pittsburgh. His mother, Sue (Nissen) Arthur, played basketball at Central Michigan University, where she was a high-scoring guard. She is second on the CMU women's all-time scoring list and was elected to the school's Hall of Fame in 2001. His dad, Mike, played under legendary TC Central football coach Jim Ooley before going to CMU, where he was a lineman in the 1980s.
During a recent practice session, Hayes gave up valuable time that he could spend in the weight room to talk with the Northern Express. He's quiet — not shy — but confident, and he prefers to talk about team goals rather than personal objectives. As a senior, he's one of the Titans' team leaders, but he likes to do it quietly. "I lead more by example," he said. "But in games I'm more vocal."
Hayes was evaluated by Scout.com, a prep football scouting website, which ranked him as the No. 3 offensive tackle prospect in the Midwest and No. 21 in the country.
"Big framed high school tight end who will project to tight end at the next level," said the website. "Very good athlete, a three-sport athlete who is coordinated, has good balance and flexibility. Used as a blocker as a tight end, so he has experience in the run game and does well in that aspect. Must learn to play tackle and continue to add weight and strength to play left tackle in the future, but has a very high ceiling as a tackle."
But Hayes has more than strength and stamina going for him. In addition to brawn, Hayes has brains.
"He has football smarts and is a 3.7 (GPA) student," said Titans Head Coach Tim Wooer. "He's a quiet kid, very business-like, and a very humble person. As a coach, it's rewarding to have a player who is a high-character kid. You don't have to worry about him getting in trouble. He's a great student, a great person, and a hard worker."
Last month, Hayes was named one of the Top 50 high school football players in the state (and the only one from northern Michigan), according to The Detroit Free Press. Earlier this year he was chosen Male Athlete of the Year by The Traverse City Record-Eagle.
"I'm not surprised at all," said Wooer. "Ryan's obviously a very talented athlete and a hard worker."
More to Watch
Friday nights in the North are expected to bring some great gridiron moments this season, with players like these stealing the show:
Cade Peterson, Glen Lake
In the season opener last month, Peterson scored four TDs and passed for two others in a 42–21 win over Kingsley. The senior racked up 346 yards of total offense on 176 yards rushing and 170 passing. Last season, the Lakers 6-foot-4, 176-pound quarterback threw for 2,178 yards and 22 touchdowns. A dual threat, he also rushed for 658 yards and seven TDs.
Griffin Kelly, Frankfort
The senior running back averaged almost a first down per attempt (9.2 yards per carry) for the Panthers last year. He accounted for 1,803 yards rushing, 300 yards receiving, and 29 touchdowns.
Joe Baugh, Boyne City
In the season opener, Baugh scored three TDs and rushed for 118 yards in the Ramblers 51–13 win over Negaunee. Last season, the 5-foot-8, 180-pound fullback piled up 1,216 yards and 12 touchdowns in only eight games. Baugh averaged 6.9 yards per carry and 152 yards per game, while displaying power running inside and speed around the corners. On defense, he's a solid safety.
Nolan "Nacho" Mitchell, Kalkaska
In the Blazers 33–8 opening day victory over Pine River, Mitchell rushed for 108 yards and scored two touchdowns. He also accounted for six tackles from his safety position. Last year Mitchell scored 12 touchdowns and has twice been chosen the team's most valuable player.
Garrett Bybee-Mullins, Forest Area
As a two-way lineman, Bybee-Mullins is a stalwart for the Warriors. On defense he's a nose tackle and recorded 75 tackles, 10 for losses, last year, along with five sacks and three forced fumbles. Those numbers earned him honors as an all-conference selection.
Trending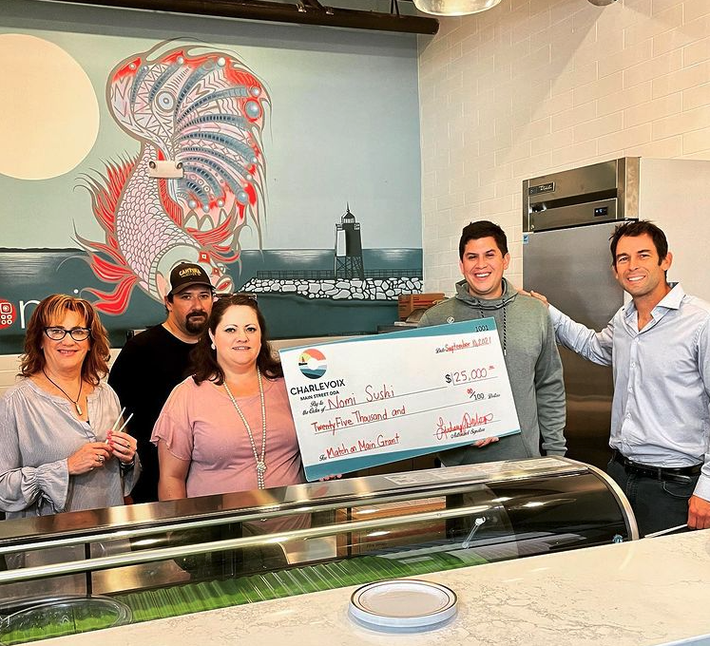 Big Boost for NoMi Sushi
Typically, restaurants don't begin earning money until after they've opened. NoMiSushi, which opened up earlie...
Read More >>
The Unfriendly Skies
A woman on a Southwest Airlines flight refuses to fasten her seat belt or put on her mask. The video, taken by another pas...
Read More >>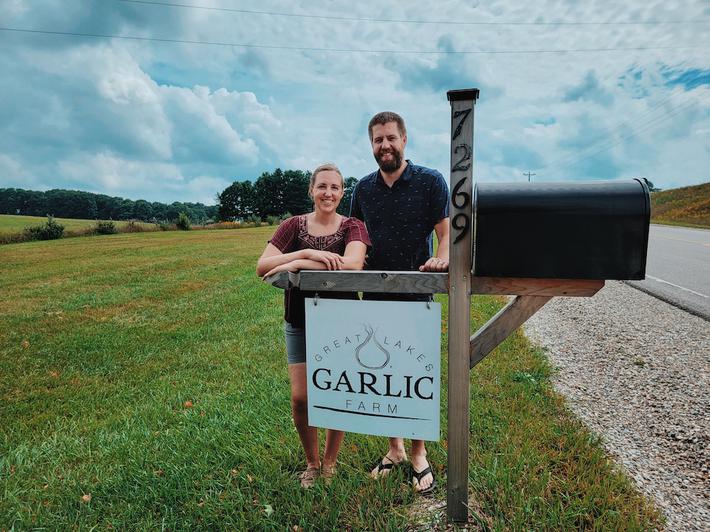 A Matter of Life & Breath
When it comes to cooking, you'll be hard-pressed to find anyone opposed to throwing in a few extra cloves of garlic. Human...
Read More >>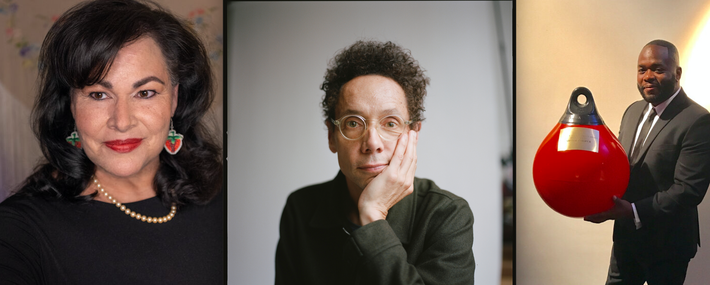 Read 'Em and Meet
Bibliophiles rejoice: The Harbor Springs Festival of the Book is returning Sept. 23–25, with a slate of authors, in-...
Read More >>
↑