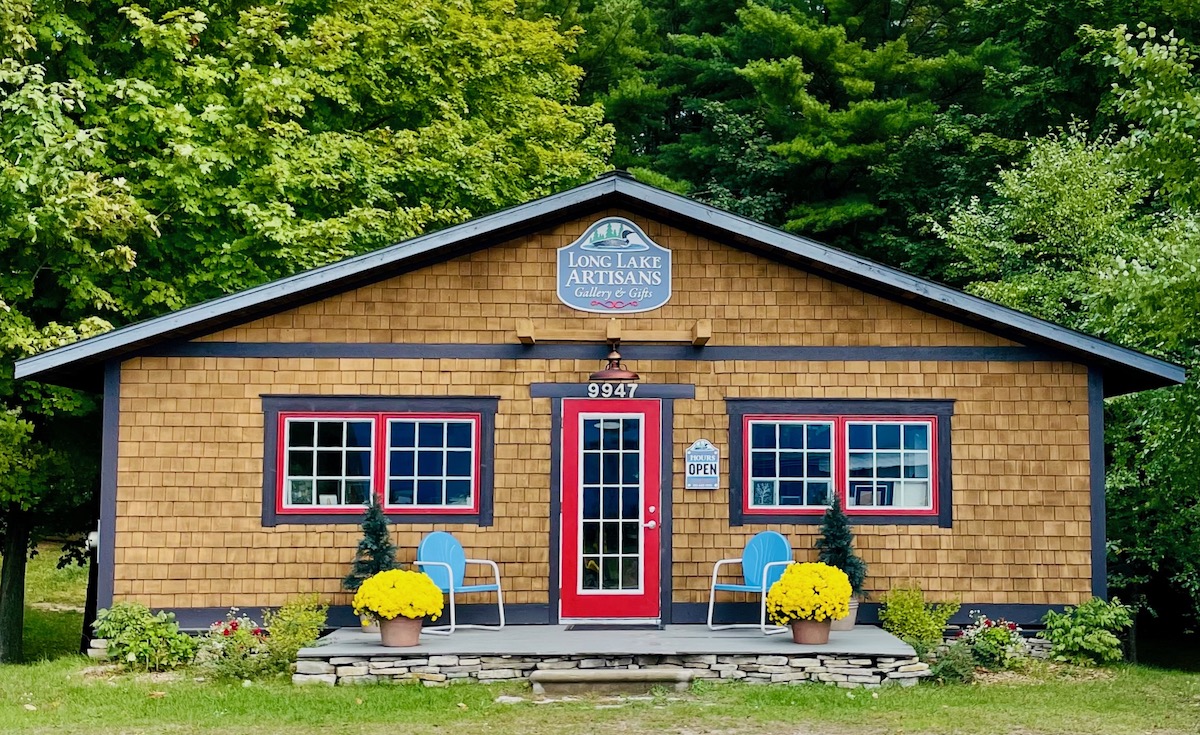 From Retirement to Retail, the Wheels Keep Spinning
Long Lake Artisans Gallery & Gifts opens in Traverse City
By Al Parker | Nov. 26, 2022
Nancy Crummel's passion for pottery—and indeed, all things art—is clearly on display at her newly-opened gallery, Long Lake Artisans Gallery & Gifts.
"I became fascinated with the whole process of pottery about 25 years ago," says Crummel, who opened her Traverse City area gallery in June. "I am mainly self-taught; however, I did take some classes from Mary Anne Ettawageshik, whose pottery and work I admire."
Crummel worked as a nurse practitioner before retiring a couple of years ago. "When I retired…I was able to spend time honing in on different aspects of pottery. I especially like the wheel-thrown pieces and find great joy in experimenting with different glaze applications."
She had always created pottery as a hobby, but her retirement gave her the time to turn a dream into reality—a gallery that she launched in a building that formerly housed a woodworking shop and, before that, an animal clinic.
She's quick to point out that friends and family were supportive of her plan and she received solid business advice from members at SCORE—a volunteer organization that offers entrepreneurs a chance to learn from mentors with business experience—along the way.
"Ironically, pulling the gallery together was relatively easy," she says. "As I enjoy making pottery, I needed an outlet for all the pottery I made. Family and friends reach a point where they have enough pottery."
Once she decided to go forward with the gallery, Crummel invited other local artists she had met at various art shows to display and sell their works alongside her pottery.
"Currently 10 other artists have joined with me to display and sell their artwork," says Crummel. "Various paintings, photography, and mixed media, jewelry and glass fusion, woodturning and woodworking, wildlife prints and greeting cards. All local and all handmade."
Here's a sampling of that creative lineup:
Annie Hawley's parents were both lifelong artists and passed those creative genes and love for art down to all eight of their children. "Like most artists, I find myself intrigued by many art forms and tend to try anything and everything that strikes my fancy," she says.
"Although I used to specialize in painting portraits, I now do glass and stonework, make jewelry, as well as continue to paint and draw using many mediums and styles. Living in the beautiful state of Michigan, much of my inspiration is the scenery I am privileged to enjoy, including the lakes, forests, and the animals that inhabit them."
Barb Deroshia designs and creates unique handmade jewelry. She works mostly in sterling silver, copper, natural stone, and lampwork beads.
Robert Wederich says exploring nature and capturing its form and beauty brings him peace and happiness. "I have enjoyed working with chalk, pen and ink, black and white and color photography, computer manipulation of images, oils, watercolors, gouache, and video," he says. "I tend to shoot a lot of nature, animals and scenery, and as a SCUBA diver, also shoot underwater."
Molly Ann Davis worked in commercial advertising in the Detroit area for more than 20 years, always creating artwork on the side. She's been inspired by the Golden Age of Illustration, specifically children's book illustrations from 1880 through the 1970s. In 1994, Davis and her family moved to Traverse City and opened a specialty store in a historic downtown firehouse.
"To help flesh out our inventory, I began painting and making giftware items to sell," she says. "The store closed in 2002, but I have not stopped creating! I work in all mediums and often combine them. I like to see the effects I can get from mixing media together."
Traverse City artist Yvette Haberlein specializes in watercolor paintings. She started as a pet portrait artist and has expanded her art to landscapes and digital art. Haberlein also created The Traverse City Coloring Book Project, a coloring book based on local photos and scenes.
Jill Gary, a Kingsley resident, is a fused glass artist who learned advanced techniques while studying with some of the nation's premier glass artists. "One of my styles is mosaic where I arrange pieces of colored glass on a sheet of glass and either fill the spaces with black powdered glass or leave them empty," she explains. "Another style is slurry, where several colors of powdered glass are mixed with water and placed on sheets of glass which is then manipulated to create an abstract design."
Gary's latest style is handmade murine (rods of glass), which she designs, pulls, and cuts to create bowls, boxes, and more.
Chuck McLaughlin retired from teaching in 2004 and moved with his wife to Traverse City. Initially, they built a log home and ran a bed and breakfast, but "really retired" seven years later and devoted time to other pursuits. "I have always enjoyed working with wood and worked on various projects from cabinets to furniture," says McLaughlin. "But my real passion is wood turning. I like making bowls, platters, hollow form vessels, and just about anything else that can be made out of wood or turned on a lathe."
He also uses pyrography, resin, stone, carving, color, piercing, and other techniques to make a piece unique. His wooden charcuterie boards, enhanced with resin and stone, are very popular.
Long Lake Artisans Gallery & Gifts is at 9947 North Long Lake Road in Traverse City. Open Thursday through Saturday, 10 am to 5 pm. (231) 642-5353, longlakeartgallery.com
Trending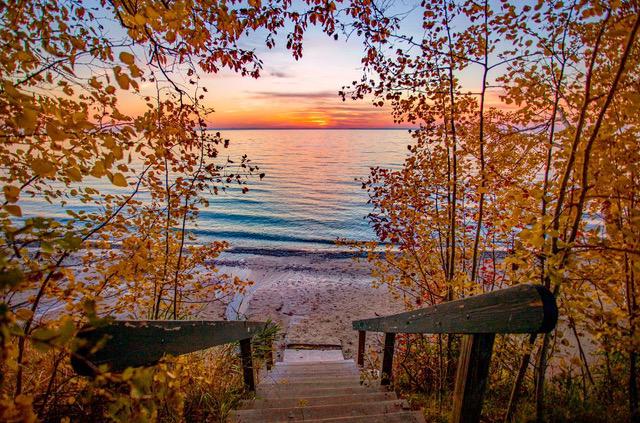 Cruisin' the Breezeway
Fall into East Jordan during the 15th Annual Autumn on the Breezeway! Choose from three different dates: Sept. 30, Oct. 7,...
Read More >>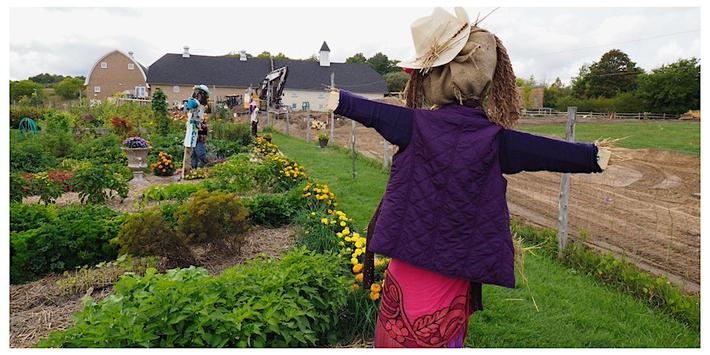 Scarecrow Szn
It may not be "spooky szn" (as the kids call it) just yet, but it does seem like it might be scarecrow szn. Th...
Read More >>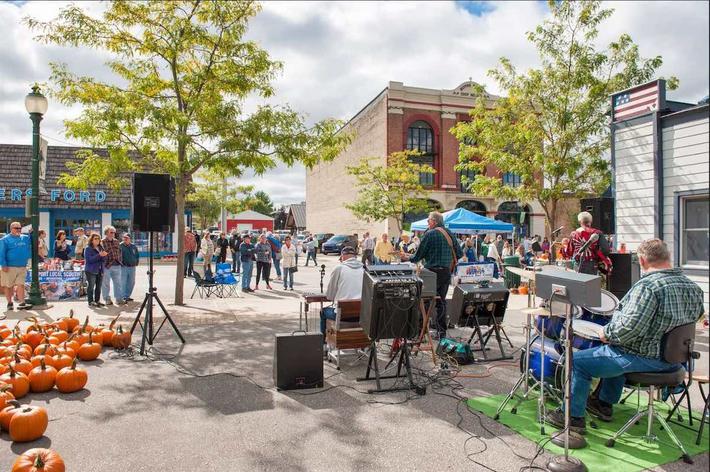 Celebrate the Harvest in Boyne City
Welcome to the season of harvest festivals! The days are getting shorter, the nights (and days) cooler, and it's tim...
Read More >>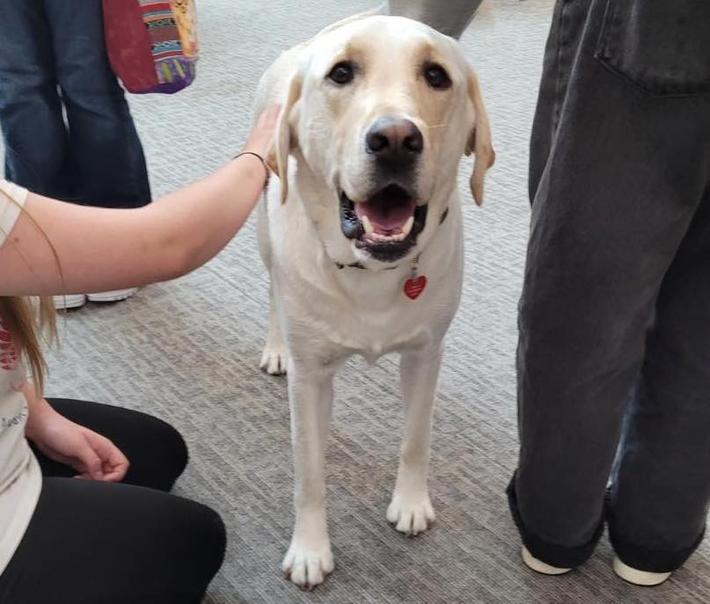 Pups on Campus
Traverse City West Senior High has brought on a very good boy as their newest staff member for the 2023-24 school year. Me...
Read More >>