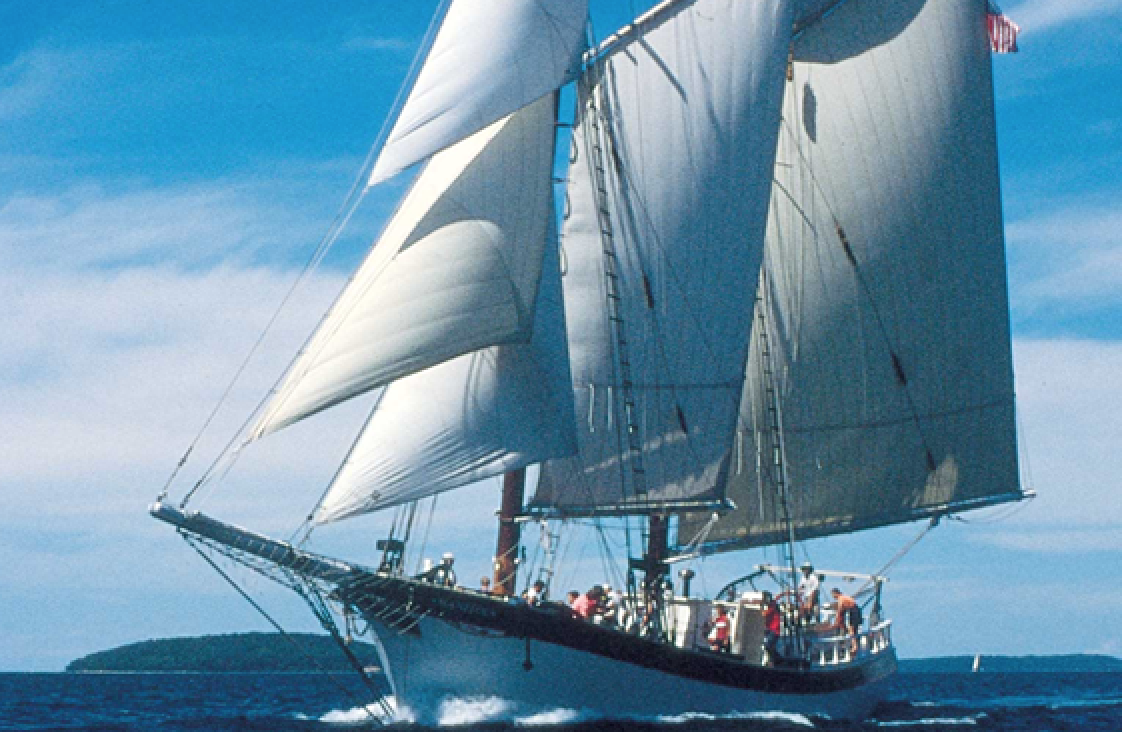 Sail the Sweetwater Seas
5 ways land-lubbers can get on the water
Avast, ye landlubber! Want to get out on northern Michigan's sweetwater seas, but don't know a sheet from a sail or an anchor from aft? No problem — hop on board one of these sailboats plying the lakes, and choose between riding in style as a guest, or learning the ropes (literally).
CRUISE ON A CABO
The Boat: The Scout
A 1988 Cabo Rico 38 XL classic, the sailing yacht Scout was built in Costa Rica and outfitted with sustainably grown plantation-sourced honey teak in a graceful design.
Your Experience: Captain Amber Ramsey, originally from Florida, became passionate about the sailing world after taking lessons as a youth at the Key West Sailing club. Now, she's commandeering Scout right here in northern Michigan. This one's more of a calm pleasure cruise, during which the boat is stocked with complimentary snacks and non-alcoholic beverages (you may carry on your own alcoholic drinks if you choose). Enjoy your time lounging below or enjoying the views from the deck or the cockpit Bimini top as you chat with your fellow passengers. Special event cruises and dockside overnighters are also available.
Get On Board! Cruises are offered daily starting in July. Rates vary, starting at $319/pp. tallshipsailing.com, (231) 941-2000.
CATCH A CATAMARAN
The Boat: The Sunshine II
A 40-foot long cruising catamaran built for blue water sailing, the Sunshine II provides a smooth ride and lots of room to enjoy the trip.
The Experience: Captain Josh, Captain Gary, and their crew make sure you have a good time cruising the waters of both Round Lake in Charlevoix and Lake Michigan. Free pop is provided (you're welcome to bring additional food/beverages on board), and the captains might even let you trim the sails or steer! Three daily sailing trips are available through Labor Day: morning tours, usually with lighter winds, are recommended for families and groups; afternoon tours offer the best wind, a good mix of people, and the potential for 'dragging' (swimming) on lines behind the boat; and evening sunset cruises, most popular with couples and friends, offer a relaxed atmosphere and a slightly longer tour to enjoy the sunset views. Private charters are also available.
Get On Board! Rates start at $25 kids/$35 adults. sunshinecharters.com, (231) 547-0266, or stop by the "Go Sailing" kiosk at 222 Bridge Park Dr. in Charlevoix.

SAIL CARIBBEAN STYLE
The Boat: The Nauti-Cat
Billed as "the largest catamaran on the Great Lakes," the Nauti-Cat's 47-foot-length, 63-foot mast, and 40-person capacity makes plenty of room for fun. The style of boat also provides plenty of stability for calm cruises, while amenities like two heads (bathrooms) and a cash bar add convenience.
The Experience: Three different regular cruises — a noon cruise for chilling and tanning, a happy-hour cruise, a champagne-sunset cruise — offer different levels of the Nauti-Cat's party-like atmosphere for families, couples, individuals, and groups. Even kids can sail — daytime kids' cruises introduce the little ones to boating while parents relax onboard. Got a wilder crowd? Go for a late evening cruise with live music played from the boat's custom stage.
Get On Board! Live music cruises start at $10/pp; regular cruises start at $30/pp for adults, $15/pp for kids. nauti-cat.com, (231) 947-1730.
TAKE A TALL SHIP
The Boat: The Manitou
The 114-foot long Tall Ship Manitou is a replica of a coasting cargo schooner, designed to look like those that sailed the lakes in the 1800s, but with one major difference to benefit you: This New Hampshire- and Vermont-built boat was specifically designed for passenger service.
Your Experience: You can try a variety of sailing experiences on the Manitou. The Noon Sail and Afternoon Moomers Ice Cream Sail offer light refreshments and gorgeous water scenery, while the Evening Sail includes specially catered meals. You can stay right on the boat with an overnight 'Floating Bed and Breakfast' package and (in September only) multi-day Windjammer cruises are also available. Want even more? Check out the Manitou's section of the website, where you can find specialty cruises ranging from a wine-tasting cruise and entertainment nights to package deals like the "Power Island Package," where the boat sails to Power Island for a day of hiking, picnicking, swimming, and more (perfect for families)!
Get On Board! Rates vary — starting at $40/ per adult and $20/per kid. Overnights start at $124/pp. tallshipsailing.com, (231) 941-2000.
GET SERIOUS
The Boat: Varies!
Your comprehensive course will be taught on a 31-foot cruising sailboat from the Great Lakes Sailing School's fleet.
Your Experience: With a 30-year history of introducing the sport of sailing to over 500 new sailors, plus a private marine facility that includes shoreside amenites like the new boaters' lounge, all the beginner bases are well covered here, from harbor handling and docking to anchoring, weather tactics, safety, and general seamanship. Over a four-day course, you'll be taught about a wide variety of gear and hardware found on sailing vessels, and you can even stay aboard the boat each night at no additional cost (limited space available). Evenings are spent dockside, where you can check out downtown Traverse City and talk about your day's sailing experience.
Get On Board! The particular course outlined above costs $895 per student at The Great Lakes Sailing School; more courses available. greatlakessailingco.com, (231) 941-0535.
Trending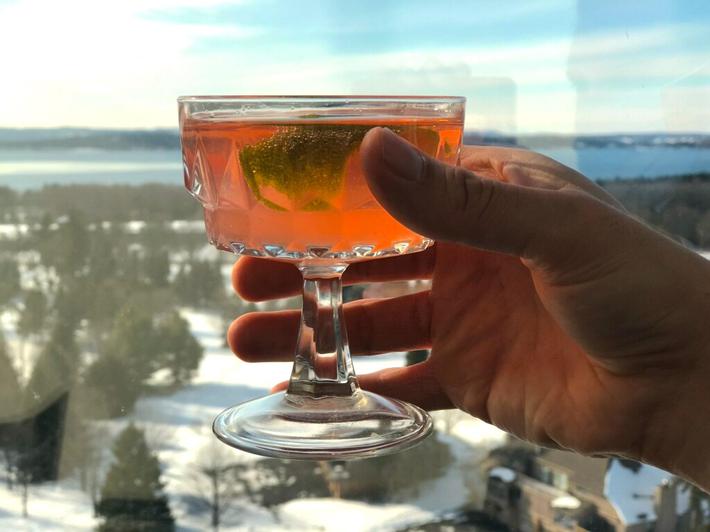 Tiny Pink Bubbles
Hey, ladies, do we have the pink drink for you: Aerie's Tiny Pink Bubbles. With a taste and body as delicious as its...
Read More >>
The Power of Our Example
Every new president faces a daunting array of problems, but 2021 will go down in the history books: Our country is under s...
Read More >>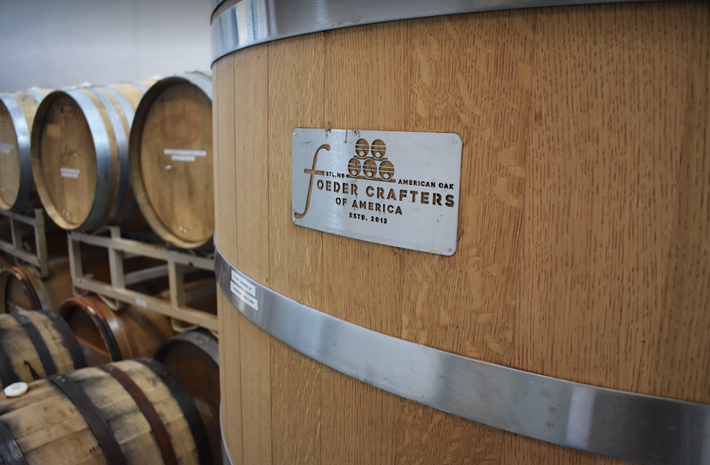 Getting Wild with the Foeder
Drinkers with a discerning eye may have noticed a couple interesting-looking wooden containers in the back of Traverse Cit...
Read More >>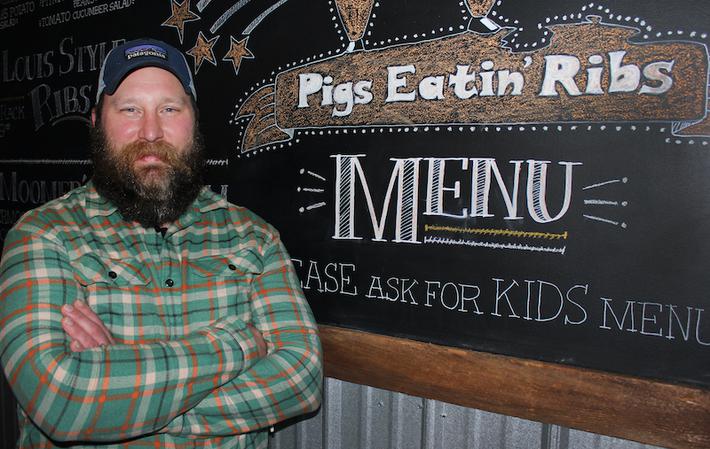 Charlevoix's Pigs Eatin' Ribs
By 2008, Charlevoix Chef Adam Kline had seen and tasted enough. The Northern Michigan food scene had stagnated, he said, i...
Read More >>
↑