Say Cheese
How to build the perfect cheese plate
"Holiday fact: Everybody loves a cheese platter."

That's the wisdom of Sue Kurta, owner and cheesemaker at the Kingsley-based Boss Mouse Cheese. We happen to agree with her: Not many things are more essential to a festive holiday gathering than a carefully-put-together cheese platter. But what's the secret to building a perfect cheese plate, and what cheeses should be on your shopping list this holiday season?

To find the answer, we asked Kurta (and several other cheesemakers and cheese shops from throughout northern Michigan) to share their top cheese plate tips and recommendations. Here's what we learned.

Get diverse with your cheese selection (but not too diverse)
The key to the perfect cheese plate is to offer a diverse selection of cheeses without giving your guests too much to choose from or keep track of. "We have a simple rule we follow for the best cheese selection," said Tina Zinn, co-owner of The Cheese Lady in Traverse City. "We say no more than four to five cheeses. My daughter's golden rule is 'something old, something new — so, fresh cheeses such as brie or camembert, or even a very young gouda. Something Goat — or sheep, or flavored. And lastly, something bleu.

Anne Hoyt, who owns the Suttons Bay-based Leelanau Cheese along with her husband John, recommends a similarly diverse selection that includes one hard cheese, one soft cheese, one goat cheese, and one blue cheese.

Start with a crowd-pleaser
Every cheese plate should have at least one cheese that just about anyone could like. Recommendations from our cheese experts include the Prairie Breeze Cheddar from Iowa's Milton Creamery, described as "a well-aged cheddar with a crystalline crunch"; the Fromager D' Affinois, a brie-like soft cheese from France; and the BellaVitano, an affordable parmesan-inspired cheese from Wisconsin.

Remember that it's not just about the cheese
While including a fancy or exotic cheese on your cheese plate can be a real conversation starter, Kurta notes that even familiar and affordable cheeses can shine so long as you are paying attention to the other aspects of the cheese plate.

"Even a block of very inexpensive cheese from the grocery store can get a lot of help from the go-withs on a cheese platter," Kurta said. "Much like the Thanksgiving meal itself, it's all about the sides. A chunk of inexpensive cheddar, pepper jack, or Swiss cheese can get a lot of help from a jar of jam or chutney; a small dish of honey or honey comb; salted nuts; cornichons and olives; pickled vegetables; any type of fresh fruit; and any variety of dried fruit, be it apricots, figs, prunes, or raisins. Creating unique taste combinations with the various parts of a cheese platter is the delicious fun of it, and cheese is the perfect starting point."

Plan ahead for optimal temperature
For Dave Omar of Traverse City's Saltless Sea Creamery, temperature is one of the most important facets of a successful cheese platter. It's also a detail that is easy to overlook, especially in the midst of a chaotic food prep schedule. "Cheese is best served at room temperature, so remember to take your selections out of the fridge about an hour before serving," Omar said. "You'll enjoy improved texture and flavor at no extra cost."

Think about presentation
The best cheese plates aren't just a smorgasbord of deliciousness; they are also aesthetically-pleasing works of art. Fortunately, Hoyt says it doesn't take a rocket scientist to arrange a cheese plate that looks as good as it tastes.

"This is simple," Hoyt said. "Find a fun board, put your blocks of cheese on first, arrange your cut pieces around them, and add some dried fruits and crackers and nuts as palate cleansers. Make it fun and easy to eat, that's our motto."

Have the right utensils on hand
Speaking of making everything on the cheese plate easy for your guests to eat and enjoy, having the right utensils is a must. Kurta says a combination of knives, small spoons, toothpicks, and pretty napkins "invite guests to create their own taste combinations from the ingredients on your cheese platter." Hoyt notes that cheese-serving utensils don't need to be anything fancy and that a standard paring knife will do the trick for most hard cheeses.

For cutting and eating cheese off the block, Zinn recommends purchasing a quality cheese plane – something customers can find for about $6 at The Cheese Lady shop on Front Street. "It works amazingly well and is very affordable," she said. "I say it will pay itself back in about a pound of cheese, as you will enjoy the flavors of the cheese more and not eat as much as fast as when you cut it up into big pieces."

Make a plan for serving soft cheeses
Soft cheeses vary in consistency and can sometimes be difficult to serve. Case-in-point is Saltless Sea Creamery's Snowdrop, described as a "beautifully soft, triple-cream style robiola." For serving this type of ultra-soft and creamy cheese, Omar recommends taking a different approach than the standard cut-and-slice: "Instead of slicing into wedges and having oozy cheese run onto your cheese board, cut off the top of the wheel and invite guests to scoop the cheese right out of the rind."

Get festive
Set your holiday cheese plate apart by picking up a cheese or two that is only available this time of year. Zinn says the go-to holiday cheese at The Cheese Lady is the "Cranberry LeRoule," described as "a fresh French cheese rolled out like a pastry, coated with dried cranberries, and rolled into a pinwheel." "When we add Effie Oat Cakes with this cheese, it is better than cheesecake," Zinn said.
Trending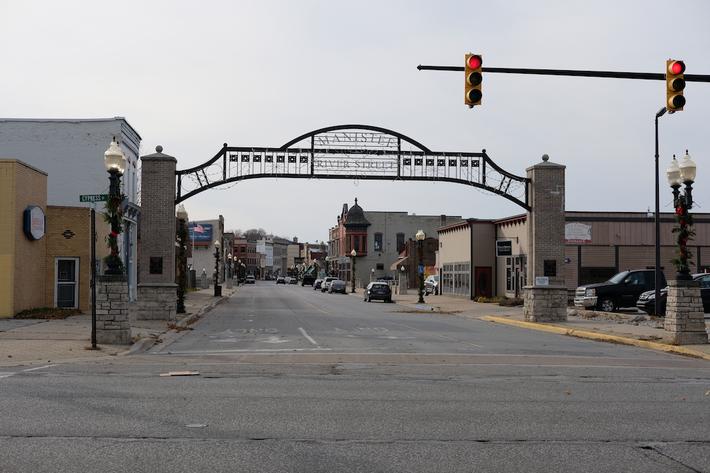 Transforming Manistee
The entrance to downtown Manistee, as it stands today, is drab. On each side of River Street for the first block, building...
Read More >>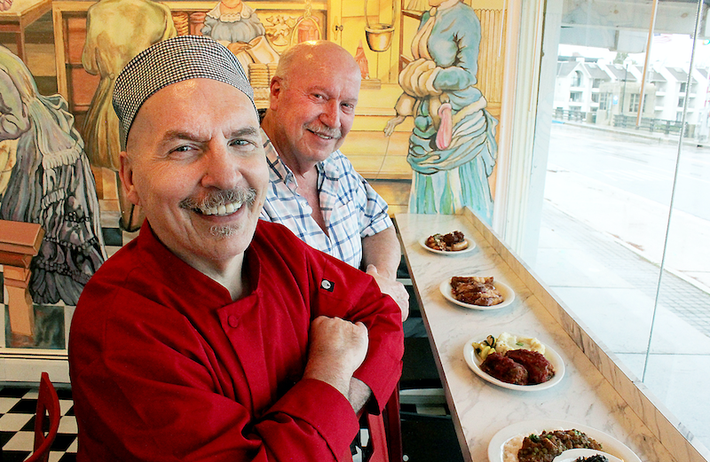 My Grandmother's Table
Gestures of love come in many forms. Gifting flowers, running errands for a sick loved one, wearing masks, or shoveling ou...
Read More >>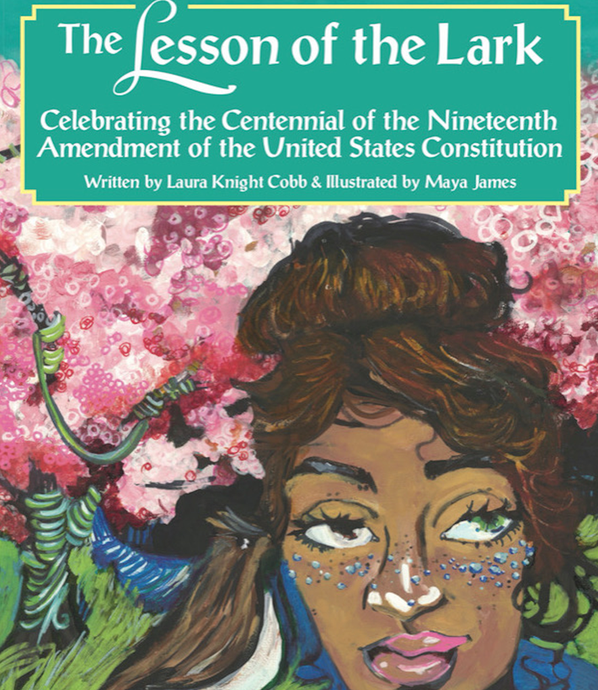 A Girl, a Bird, and a Gardener
An unlikely trio of characters from the pen of a local author has inspired a concert-length musical composition by the aut...
Read More >>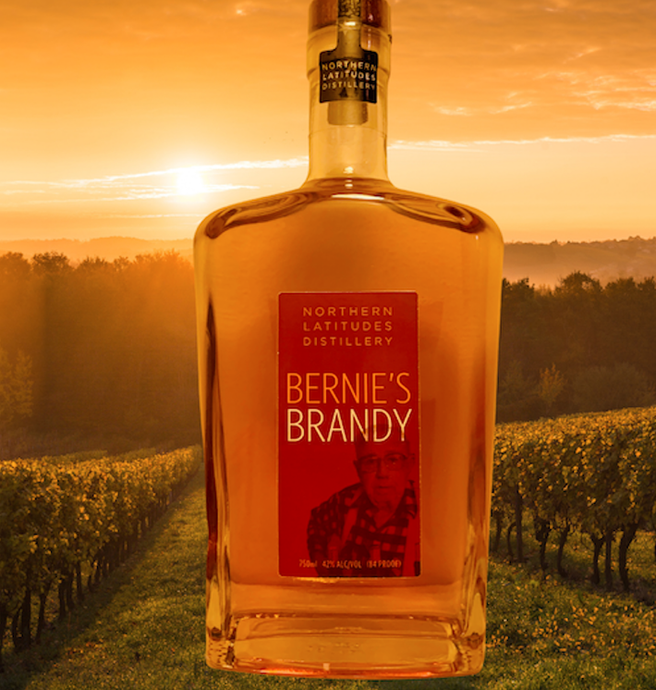 Northern Latitudes' Bernie's Brandy
The legendary spirit of Bernie Rink — aka The Godfather of Northern Michigan Wine — has been, you might say, b...
Read More >>
↑