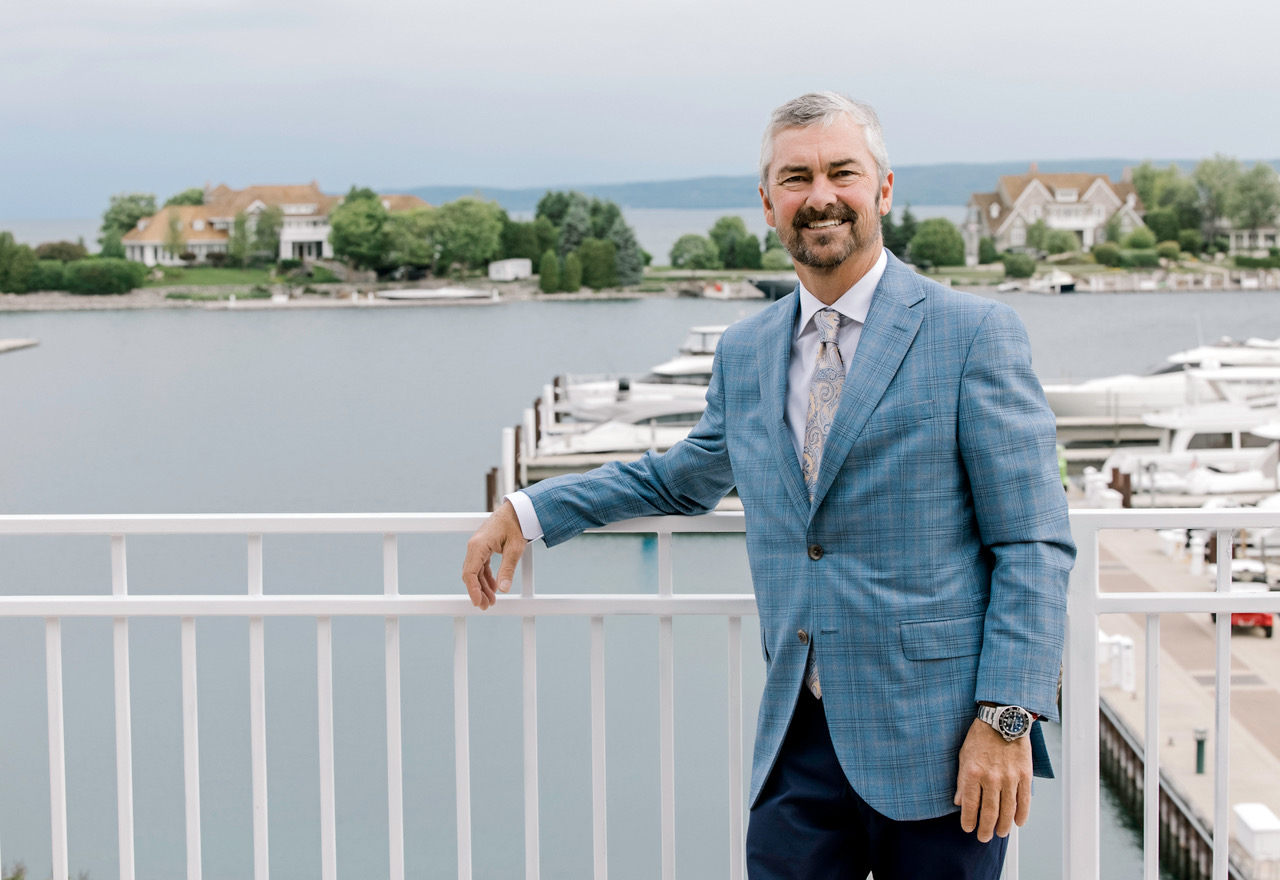 Selling the Dream House
Pat Leavy's take on two decades of real estate
Real estate is part finance, part therapy, and part vision. The ability to combine those aspects has served Pat Leavy during his more than two decades as a realtor—the last several as one of the top-selling agents in the entire state—as he and longtime friend and business partner Wally Kidd have built their Petoskey-based firm Kidd & Leavy Real Estate into a powerhouse, primarily serving high-end buyers and sellers.
Starting Out Up North
Leavy's real estate story begins in Bay Harbor. When the tiny resort community just south of Petoskey was being built in the 1990s, Leavy was told he'd be a natural in real estate sales there.
As the owner of a successful concrete products business in the metro Detroit area, he was reluctant to uproot his family. But ultimately, the draw of the region was too much to resist. "I told my wife we had an opportunity to go live in paradise," he recalls.
But it was no paradise at first. "We had a baby, and the first year I made $11,000. I [thought] I might not be cut out for this." But within a few years, he figured out how to parlay his work ethic and leverage his ever-increasing client base of friends, family, and former customers from downstate, selling them on the lifestyle of northern Michigan he'd already embraced.
By 2003, Leavy was ready to expand beyond the confines of Bay Harbor. "My business partner and I went off on our own to offer Walloon Lake, Petoskey, Harbor Springs. We opened a little boutique office in downtown Petoskey," he says. Kidd & Leavy took off selling homes large and small—mostly the former, or at least those boasting bigger price tags.
Today, they have nearly two decades of success under their belts, and Leavy says referrals are key for any agency. "I come from a large Irish Catholic family. I know everybody," Leavy says. But it's not enough to know a lot of people. "The key is happy clients. They'll keep sending friends."
Flexibility is also crucial, zeroing in on the numbers when dealing with a client focused on the financial details, or finding just the right place for a client for whom the price is largely irrelevant but who wants the perfect waterfront home. "A good agent has to be a chameleon," Leavy says.
Following the Ups and Downs
After the recent real estate boom, the market has begun to shift, in part due to rising interest rates to low housing inventory. Prices and number of sales are also coming down in many areas.
Leavy takes it all in stride. For those currently looking to buy a property up north, he says it's imperative to determine the area they prefer, something you can't do online.
"Get focused. Take the wheel and drive around, eat out, grab some coffee, see what you like," he says. "If you want to be in northern Michigan, do you have friends there? If so, ask why they chose that spot."
He tells clients to make a checklist about what they're looking for and what's most important for them: Boating? Golf? Eating out? Being near town, or getting away from it all?
Location, location, location works…until there is nothing to buy. Leavy says the lack of inventory is a hurdle for everyone in real estate and points to Bay Harbor as an example. "Bay Harbor has a ton of condos. There's one for sale and only two or three houses. That's stunning."
He is hopeful that will change as summer turns to autumn. "There's a little more coming on the market," he says, noting many people want to spend one last summer at their cottage or waterfront home before putting it up for sale come fall.
He says one of the biggest challenges is selling a relatively expensive in-town home, while vacation properties or high-end cottages at an even higher price point aren't as problematic. "The hardest to sell is a $500,000-$700,000 [house] in town. If it's not a cottage, what is the occupation for someone to be able to afford that? Who's hiring?" On the other hand, "If it's a vacationer from downstate or Florida, they don't care. For them, it's a luxury item."
As interest rates inch upward, overall sales are slowing, though Leavy says that is immaterial to some of his clients. "My market is high-end. If it's a million or more, they don't care about interest rates. They pay cash."
For others, however, interest rates are a concern—though perhaps they shouldn't be, as rates are still at a relatively low point compared to the past. "Over the last 30 years, the interest rate has been (as high as) 9 percent," Leavy says. (In the '80s, it was in double digits.) Rates are now hovering around 5 to 6 percent, but as Leavy notes, "Now 30- and 40-year-olds haven't seen that interest rate."
The Biggest Challenge Yet
The changes in the real estate market now come with a strong dose of perspective for Leavy. In 2020, his career was going so well, it seemed like nothing could slow sales down—not even the pandemic. "I sold $137 million in 2020," he says.
What did interrupt things was a serious health challenge. That year, Leavy went through two months of chemotherapy and radiation for throat cancer.
Then late last year, his health deteriorated again. He ended up at Mayo Clinic, where he was told his lungs had weakened to the point they were shutting down. He couldn't leave the clinic and spent 45 days in a hospital bed.
On Feb. 2, he went through an 11-hour lung transplant surgery.
"I spent five days in the ICU, then walked out a week later," he says. "I was blessed by the physicians, God, and somebody else who gave me a gift."
Buoyed by his new lease on life, Leavy has returned to the area and his livelihood with a greater sense of purpose. "The sky is bluer, the grass is greener. I love people more now. I can't thank all the people who cheered me on. I love my job. It feels like a fun hobby."
The pivot to remote work during the pandemic allowed Leavy to continue working, even while confined to the hospital, and Leavy boasts a year-to-date total in 2022 of $107 million, not far off the pace of 2020 or last year's total sales of $132 million.
Trending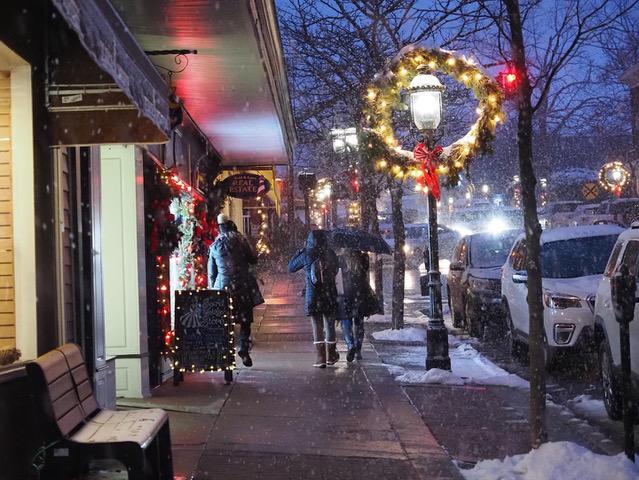 Jump Start Holiday Shopping
Downtown Petoskey hosts their Holiday Open House on Friday, Dec. 2, from 6-9pm as Santa flies into town to light the giant...
Read More >>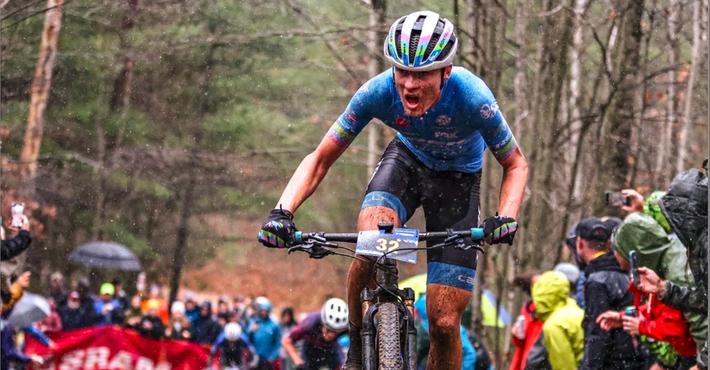 A New Gear
If last week's snow made you think the two-wheeling season is over, think again. Tuesday, Nov. 29, is the official l...
Read More >>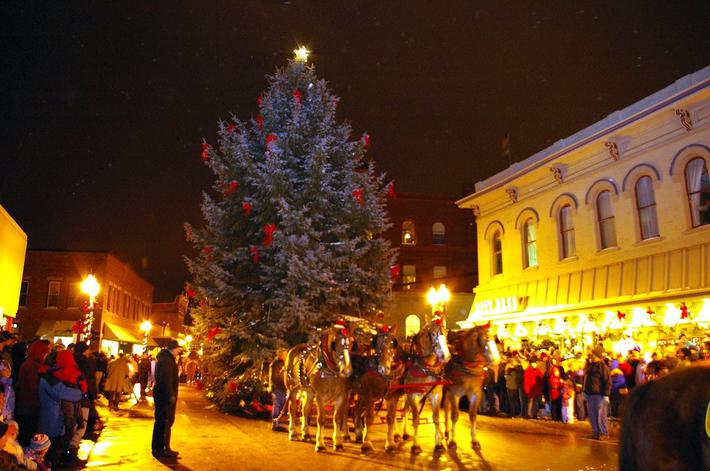 Jingle All the Way to Manistee
The town of Manistee is going into full holiday mode—and going back in time—this weekend. Friday, Dec. 2, the ...
Read More >>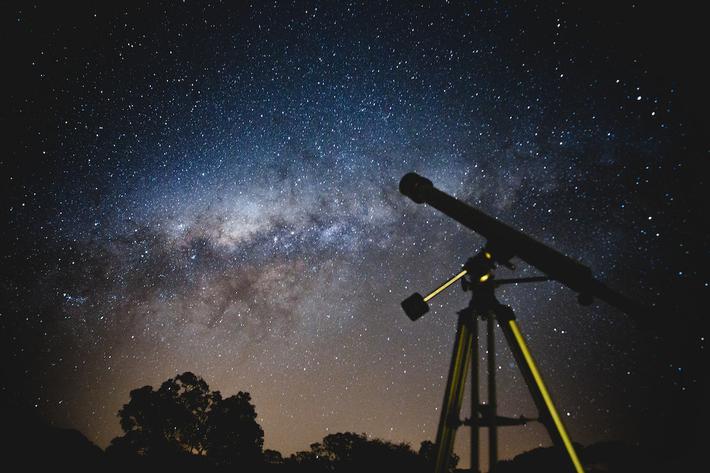 Aim for the Stars
Aliens may walk among us, but this weekend it's our turn to wander through the galaxy. On Saturday, Dec. 3, the Denn...
Read More >>