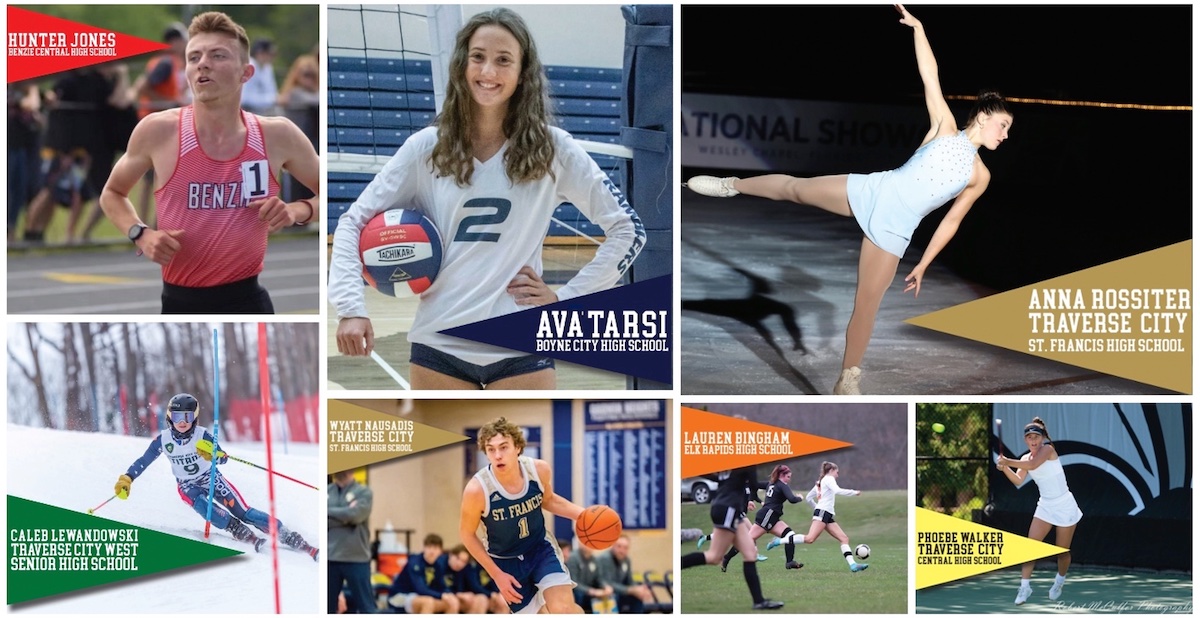 Seven Stellar High School Athletes to Watch in 2022-23
State championships, All-State recognition, impressive playoff runs, and shattered school records: Is it just us, or have these occurrences become more common in northern Michigan high school sports lately? And will the 2022-23 school year continue this apparent golden age in local athletics? Here are seven stellar local athletes we're counting on to extend northern Michigan's winning streak.
Hunter Jones
School: Benzie Central High School
Graduation year: 2023
Sports: Cross country, indoor and outdoor track
Proudest accomplishment: Jones is proudest of the 14:20.71 he ran last March in the 5,000 meters at the Nike Indoor Nationals meet in Staten Island. Jones won the race by 35 seconds, clinching himself a second indoor national title in the process.
Goal for the year: Jones has his sights set on being Mr. Cross Country for the state of Michigan, which would require him to record the fastest 5K time for a senior at the state championships in November. He's also aiming for a national cross country title and a sub-four-minute mile in track.
Next steps: Jones has a full-ride scholarship to run collegiately at Wake Forest University in North Carolina. Beyond running, Jones plans to get a degree in environmental engineering, though he's not ruling out the possibility of a professional post-college running career.
Why we're watching: Hunter Jones is the best distance runner to come out of northern Michigan. Across his freshman, sophomore, and junior years, he's won three Division 3 state titles in cross country and another five state crowns between indoor and outdoor track. He's also a two-time 5,000-meter national champion in indoor track, and nearly took a national title in outdoor track last year, finishing second in the 5,000 meters at the New Balance Nationals.
With one year left to go, the Benzie Central standout is targeting a fourth straight state title in cross country, something only two other male runners have accomplished in Michigan history. Asa Kelly, Jones's coach, says they've also talked about gunning for the all-time state cross-country record—the 14:10.4 mark set in 2000 by Michigan legend (and eventual Olympian) Dathan Ritzenhein of Rockford.
Ava Tarsi
School: Boyne City High School
Graduation year: 2024
Sport: Volleyball
Proudest accomplishment: "Making my school's varsity team as a freshman," Tarsi says. "I worked super hard, and although it was tough competing with the older girls, I'm proud of how I pushed myself to be my best every single day and didn't back down from the challenge."
Goal for the year: "I reached my 1,000th assist last year, and I'm looking to hit my 2,000th somewhere in the middle of the upcoming season," Tarsi says. Also on the goal list for this season? Making an All-State team.
Next steps: Though she still has two years of high school ahead of her, Tarsi is already eyeing a collegiate volleyball career, calling the prospect of college play "a dream of mine ever since I started playing."
Why we're watching: Ava Tarsi has good reason to be proud of her freshman varsity season. Not only did she make the squad, but she also put up some truly impressive stats. In her first year at Boyne City High, Tarsi—who plays setter for the Ramblers—racked up 629 assists, 226 digs, and 43 aces. Her sophomore season was even better: She delivered 726 assists, 215 digs, 88 kills, and 58 aces, en route to All-Region and All-Conference honors.
Tarsi looks like she's well on her way toward another exceptional season: The Ramblers kicked off fall 2022 with a tournament win on Tuesday, August 23, with Tarsi delivering 30 assists, 10 aces, and five kills.
Caleb Lewandowski
School: Traverse City West Senior High School
Graduation year: 2024
Sports: Alpine skiing, lacrosse
Proudest accomplishment: "Qualifying to race at the U16 U.S. National Championship for Alpine Skiing last year was pretty awesome," Lewandowski says. To qualify, Lewandowski had to finish among the top 15 skiers from a 19-state field at the Rocky/Central Junior Championships in Vail, Colorado. He was the only skier from Michigan to qualify for nationals.
Goal for the year: With an individual state title under his belt already—he won the slalom race at the MHSAA alpine skiing state finals this past season—Lewandowski hopes to score a second title in 2023, as well as to qualify for the U18 US National Championship.
Next steps: "I hope to continue having fun skiing and playing lacrosse competitively into college," Lewandoski says. "Once my competitive racing days are over, I'll likely do some time as a ski bum somewhere out west for a winter or two."
Why we're watching: One of the dangerous things about skiing is how easy it looks when you watch a truly gifted skier glide down the hill. It's only after you take to the slopes yourself that the realization hits of just how hard it is to get down the hill with any measure of grace.
As a sophomore in the winter of 2022, Lewandowski was already arguably the best high school alpine skier in Michigan. Look for the Titan star to win a couple more state titles—and perhaps even contend for some national ones—in his two remaining seasons.
Lauren Bingham
School: Elk Rapids High School
Graduation year: 2023
Sports: Soccer, basketball
Proudest accomplishment: On top of playing for Elk Rapids High, Bingham keeps her soccer chops sharp by playing with the TBAYS North Storm 05 club team during the off-season. Her top accomplishment, she says, was "scoring the game-winning goal in the State Cup last October" to claim the trophy for North Storm.
Goal for the year: At the top of Bingham's to-do list for the upcoming year is "to commit to a successful collegiate program."
Next steps: Beyond 2023, expect to see Bingham on the field for a collegiate soccer team.
Why we're watching: Lightning fast, with dynamite ball control and a ton of heart on the field, Bingham is the kind of striker who makes soccer exciting to watch. As a sophomore, she scored 31 goals, netted a dozen assists, and landed All-State Third Team honors. Last season was even better: Bingham tallied 49 goals and 15 assists during her junior season—enough to move her up to All-State First Team.
Had Bingham's freshman season not been canceled by COVID-19, she'd likely already have more than 100 goals across her Elk Rapids playing career. No matter, though: She'll get there in 2023. Last year, Bingham led a senior-heavy squad to an impressive 18-3 record, including the first regional title in program history and a semifinal playoffs campaign. 2023 will prove more challenging, given the exits of 10 seniors from last year's team. Still, a dynamo like Bingham can go a long way toward turning a young team into a well-oiled winning machine.
Wyatt Nausadis
School: Traverse City St. Francis High School
Graduation year: 2023
Sports: Basketball, football
Proudest accomplishment: Nausadis says he's still most proud of "starting every basketball game on varsity as a freshman." He was the only freshman on a starting five that included four seniors.
Goal for the year: Nausadis has some big aspirations for the coming school year—namely, bringing home state championship titles for St. Francis in both football and basketball.
Next steps: Nausadis has been highlighted by Michigan high school sports experts as a strong college basketball recruiting prospect. He tells Northern Express he's already getting recruitment calls and is looking forward to a college basketball career.
Why we're watching: At 6 feet 4 inches tall and 195 pounds, Nausadis has the ideal build for a basketball player. Since his freshman year, Nausadis has racked up more than 900 points for St. Francis. Last season, he averaged 18.5 points per game—as well as 4.0 assists, 3.3 rebounds, and 3.2 steals—and led the Gladiators to a 19-3 season. Particularly sweet was a double-overtime win for the Glads over Traverse City Central, which Nausadis sealed with a 31-point performance. St. Francis fell in the district finals to Benzie Central, but Nausadis is confident the coming season will bring a stronger playoff run for St. Francis.
While basketball is Nausadis's top sport, he's also a key cog in the St. Francis football team. Last season, he led the Glads in both rushing yards (1,129) and receiving yards (554).
Phoebe Walker
School: Traverse City Central High School
Graduation year: 2023
Sport: Tennis
Proudest accomplishment: Walker was handed a big responsibility during her junior tennis season as she moved up from No. 2 singles to No. 1 singles for the Trojans. The shift meant a lot of pressure, given that a No. 1 singles player always goes head-to-head with the opposing school's top tennis star. Walker's proudest accomplishment is rising to the occasion, particularly in a few "incredibly challenging matches" that she says "elevated my mental and physical game to my absolute best level."
Goal for the year: Walker's biggest goal is "to always continue improving." She's not just thinking about her solo performance on the court, either. "This includes supporting all my awesome teammates and pushing for our success as a team," she says.
Next steps: Walker views tennis "as a lifelong sport," and hopes to continue competing in college and beyond.
Why we're watching: Phoebe Walker made what can only be described as a quantum leap between her sophomore and junior seasons. As a sophomore, she tracked a 11-12 record at No. 2 singles. During junior season, though, she not only moved up to No. 1 singles, but also improved her record to 19-8. Plus, she did it knowing full well what kind of challenges awaited: Her older sister, Ivy Walker, had been Central's No. 1 singles player the year before.
With how much Walker grew as a player between sophomore and junior year—and how she built upon her strong tennis fundamentals with a whole new level of mental steel—we can't wait to see what kind of growth she brings to the table in 2023.
Anna Rossiter
School: Traverse City St. Francis High School
Graduation year: 2023
Sport: Figure skating
Proudest accomplishment: If you caught the Traverse City Figure Skating Club's annual spring Ice Show this year, you saw Anna Rossiter in one of the starring roles, as Danny Zuko in Grease. The figure skater's favorite achievement on the ice is something else, though: Competing internationally and representing Team USA in Epinal, France in 2019.
Goal for the year: Rossiter says she's aiming for a top-three finish next spring at Nations' Cup, a prestigious Theatre On Ice (TOI) competition that will pit her team—the Hartland-based Harmony Theatre Company—against other top TOI teams from throughout the U.S.
Next steps: First up, Rossiter says she wants to skate as part of a synchronized skating team in college. Longer term, though, she's eyeing a professional life that will keep her in the rink. "I plan to pursue a career as a professional skater skating for Disney on Ice," she says.
Why we're watching: Figure skating doesn't tend to get a lot of attention or coverage. But anyone who has ever watched the Winter Olympics knows that figure skaters, at their best, are incredible athletes with a truly unique mix of grace, emotion, physical prowess, and pure daring. Anna Rossiter personifies all of those things when she's out on the ice, whether she's showing off technical skills in competition or bringing the showmanship in an ice theater performance. Grab a ticket to next year's Ice Show and see Rossiter while she's still local!
Trending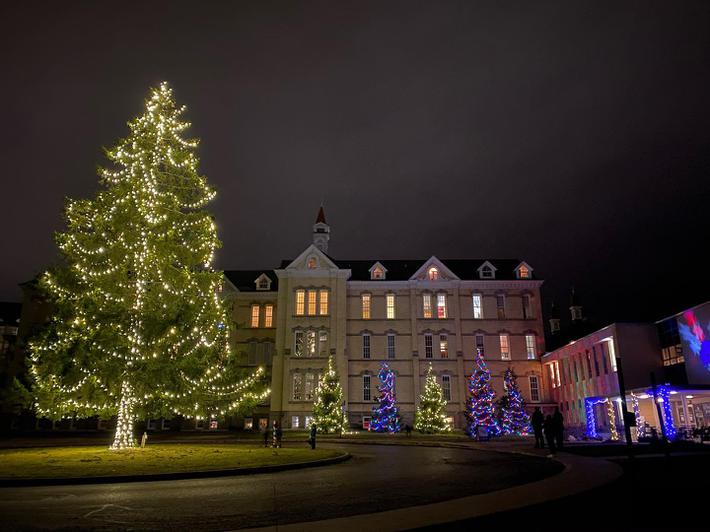 An Uncommon Celebration
The Village at Grand Traverse Commons is a shopping destination all year round, but we especially love a visit during thei...
Read More >>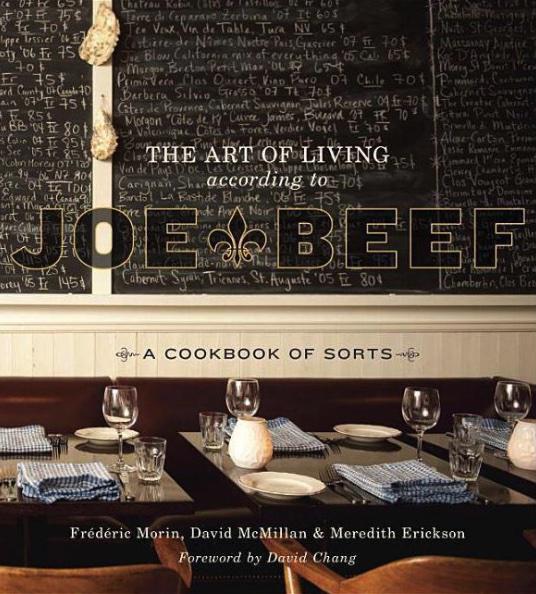 Cookbooks and Canadians
The beloved amical Cookbook Dinner Series is back, and this month the TC restaurant features The Art of Living According t...
Read More >>
Christmas on the Farm
If you'd like your ho-ho-ho to be a bit more e-i-e-i-o, then look no further. First up: Christmas with Alpacas at No...
Read More >>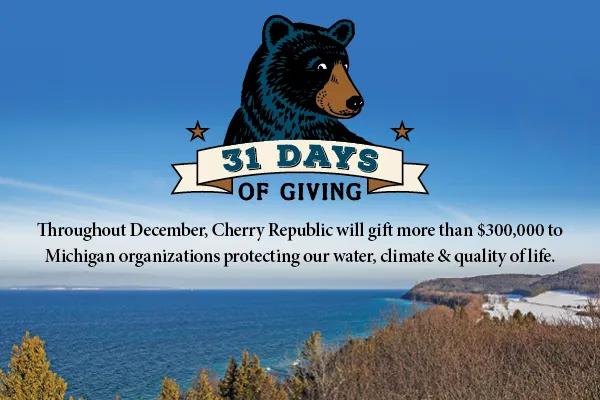 31 Days of Giving
Giving Tuesday, which falls every year on the Tuesday after Thanksgiving, is typically a busy day for northern Michigan, g...
Read More >>