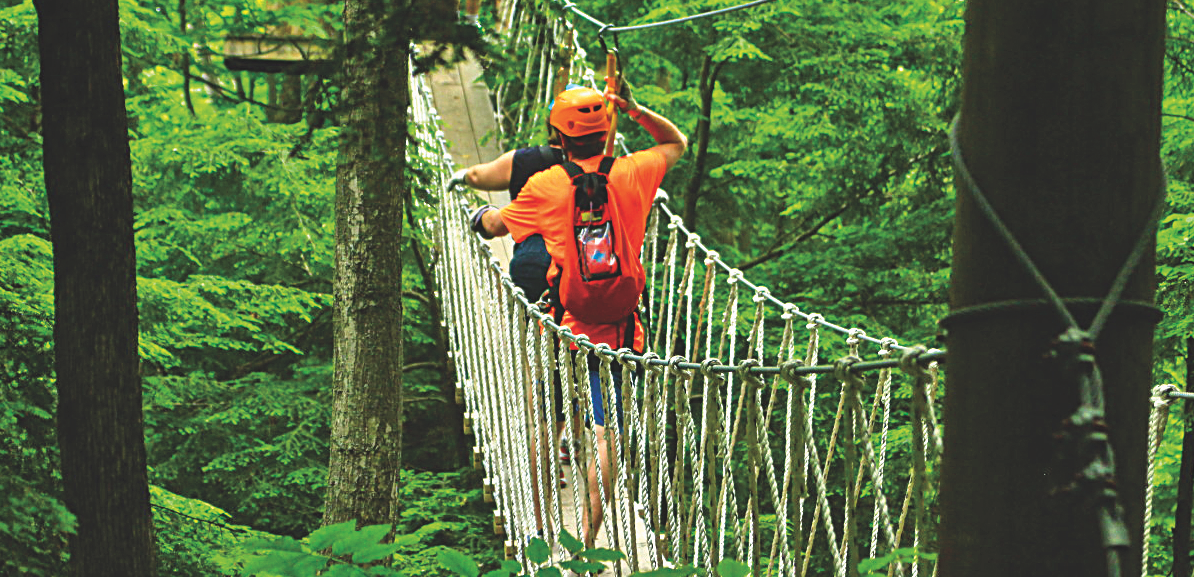 Shoulder Season Meanders for Locals
Take back your North!
The shoulder season of fall is a northern Michiganian's reward for working their way through another hot, bustling, crowded northern Michigan summer season.

The tourists have departed, the roads and sidewalks are less crowded, the weather is right in that comfortable middle ground between sweltering and freezing. It's the perfect time to reclaim your roads and trails and become something of a tourist yourself, so take advantage of this slower time of the year to do some of the things that draw so many others Up North.

Boyne City Stroll Through History
Boyne City's self-guided tour — aided by a a colorful, well-written brochure available at the Boyne Area Chamber and iPhone audio app — leads you to 52 historic landmarks and houses. Did you know that Boyne City used to have a zoo (the Old City Park Zoo, which housed, among other inhabitants, a bear named Teddy)? Or that at the height of the city's lumbering era, the population numbered 6,000? (It's about 3,800 now.) Find out even more about Boyne City's transition from industrial and lumber boom town to its current status today as a tourist and retirement destination.
When: Year-round.
Top Tips: Get the free app and you can add an audio tour that you can listen to as you take the walking tour (download it at tinyurl.com/boynecitytour).
More Info: Pick up a brochure at the Boyne Area Chamber of Commerce, 28 South Lake St., in Boyne City. (800) 845-2828.
Big Mac Scenic Shoreline Fall Tour
This annual bicycling event, now in its 27th year, is going through some major changes. It's no longer cycling across the Mackinac Bridge (due to (most pedestrian and cyclist events on the bridge have been cancelled in recent years due to safety reasons.) Instead, the shoreline tour will head directly to Mackinac Island to bike around the island's perimeter. That's in addition to the event's other four routes, which run from just south of Mackinaw City down to Harbor Springs for 25-, 50-, 70-, or 85-mile jaunts.
When: 9am, Sept. 16
Top Tips: This is the first year the event has extended to the island and M-185 — the only state highway in Michigan that doesn't permit regular motorized vehicles. So courtesy is going to be paramount to ensure that the event's invited back: Make sure you stick to the 12mph speed limit and make way for horses!
More Info: Request an entry pamphlet for the fall event by emailing kelly@mackinawchamber.com.

Wildwood Rush Canopy Tour
If you've ever wanted to try zip lining but were deterred by the crowds, fall is a great time to go, especially with the fall colors brightening up the local foliage. Boyne City's Wildwood Rush offers nine different zip lines, six platform towers, and five "sky bridges," all for you to get views of northern hardwood forest and Lake Charlevoix. Guides take you on a two-hour trek through the route, which concludes with a grand-finale a zip down a 1,200-foot triple racing line.
When: Fridays through Mondays, by reservation only.
Top Tips: Participants should weigh between 70 and 270 pounds, and wear pants or long shorts, shirts with sleeves, and closed-toe shoes (don't arrive in sandals, flip-flops, or clogs). You should also be capable of walking graded woodland trails.
More Info: Wildwood Rush is located at 2575 Boyne City Rd., in Boyne City. wildwoodrush.com or (231) 582-3400.

Breezeway Color Tour
Whether you decide to drive it, bicycle it, or motorcycle it, The Breezeway, a 26-mile-long rural route along C-48 — from Atwood through Ellsworth, East Jordan, and Boyne Falls — offers beautiful countryside views, working farms and orchards, quaint little roadside shops, lodging, a nature preserve (The Bolt Nature Preserve), the Ellsworth labyrinth, and even art galleries and studios. Each town boasts eateries and shops; you can spend an entire day going from one end of the Breezeway to the other, discovering new things at each stop.
When: Year-round, but fall is especially picturesque.
Top Tips: Once you hit Boyne Falls, you'll be right at Boyne Mountain Resort, where you can grab an off-season chairlift ride to the top of the hill for a top-notch view of those fall colors from a completely different angle.
More Info: www.ridethebreezeway.com has a plethora of info and facts, including a map and a guide to lodging, shops and stops.
Charlevoix Mushroom House Tours
The unusual, earthy mushroom-shaped houses designed by legendary architect and Charlevoix native Earl A. Young are well known locally, and are also a must-see for those interested in architecture, history, and whimsy. Starting at Elements Gallery at 211 Bridge St., these tours take you by some or all of the mushroom houses in Charlevoix (depending on which tour you choose), and on occasion (depending on the homes' rental status), you can even take a peek at a mushroom house interior. All 28 of the houses can be peeped during a GEM car tour, in which you'll ride in a chauffeured car. You can join a random group, or reserved the car for five. If you prefer walking, try the 50 minute walking tour on which you'll spy 11 of the houses.
When: Contact Mushroom House Tours to reserve your spot (see below).
Top Tips: If you hitch a ride in the GEM car — nicknamed Gigi — bring a jacket if it's cool. Though its roof will protect you from rain, the GEM is open-sided.
More Info: www.mushroomhousetours.com or (231) 445-0770

Manistee Riverwalk
Supersize your typical morning, afternoon, or evening stroll with a trek along the Manistee Riverwalk, a 1.5 mile excursion that starts at the end of Jones Street and follows the picturesque Manistee River. Bring your camera, because you'll see postcard-worthy docks, fishermen, freighters, leisure boats, gulls, and more. At the end of your walk, you can either use one of the side stairs to climb up to downtown Manistee's restaurants and shops (or even catch a show at the Ramsdell Theater if your timing's right!), or relax at the park at the end of the walk, which features inviting picnic tables, grills, and bench swings for further enjoyment of those views.
When: The Riverwalk is open year-round, weather permitting.
Top Tips: Mileage markers every tenth mile are placed along the Riverwalk to track your distance if you're walking for fitness; if you're walking for fun or city discovery, watch for the historical markers along the route that point of local sites of importance and interest.
More Info: www.manisteeriverwalk.com offers more info, plus a map of the full riverwalk route.



Trending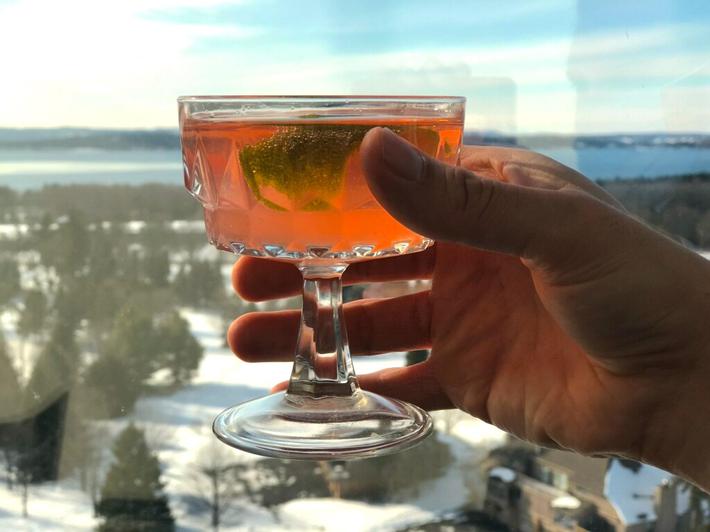 Tiny Pink Bubbles
Hey, ladies, do we have the pink drink for you: Aerie's Tiny Pink Bubbles. With a taste and body as delicious as its...
Read More >>
The Power of Our Example
Every new president faces a daunting array of problems, but 2021 will go down in the history books: Our country is under s...
Read More >>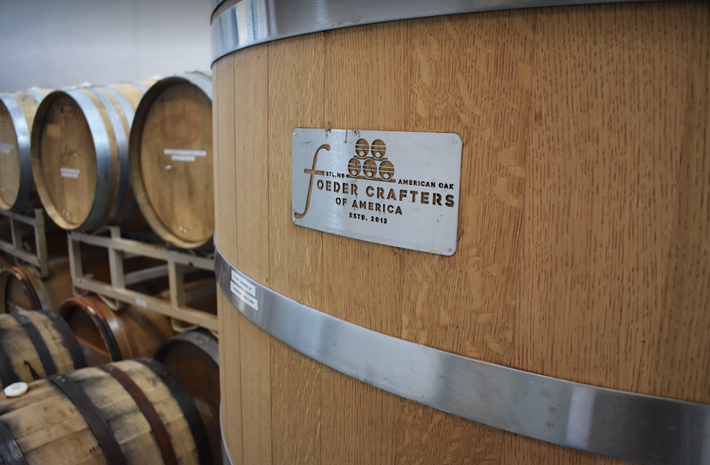 Getting Wild with the Foeder
Drinkers with a discerning eye may have noticed a couple interesting-looking wooden containers in the back of Traverse Cit...
Read More >>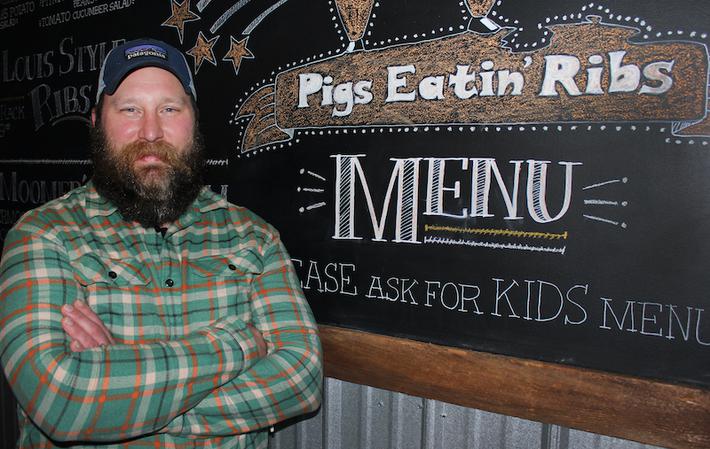 Charlevoix's Pigs Eatin' Ribs
By 2008, Charlevoix Chef Adam Kline had seen and tasted enough. The Northern Michigan food scene had stagnated, he said, i...
Read More >>
↑