So. Many. Gigs.
Newly married musicians Jim and Sam performed 365 shows in a year. Then they made a film about it.
A duo of singer-songwriters, who just so happen to be married, embark on a worldwide tour with one goal: Play a show every day for 365 days straight. Along the way, they experience the ups and downs of touring life, the power of music to transcend boundaries, and whether their commitment to music (and to one another) can weather miles and challenges alike.

That pitch might sound like fiction, but it's actually the real-life story of Jim Hanft and Samantha Yonack, better known as the musical duo Jim and Sam. It's also the plot of After So Many Days, their documentary concert film set to play at this year's Traverse City Film Festival.

According to Hanft, the idea behind the 365-day tour — and the ultimate impetus for After So Many Days — came many years ago. Hanft and Yonack had met the late 2000s at a mutual friend's comedy show. It was a matter of days before they were writing songs together and playing joint shows. When fans started referring to them as "Jim and Sam," the name stuck. Then, around 2013, they hatched a crazy concept: "What if we played one show every day for an entire year?"

"[The idea] was born out of a late-night conversation with a producer that we were working with," Hanft said. "We were all talking and commiserating over the music business, and about being in a band and wanting to play live. And it became this idea of 'Well, what if we just played all the time, played every single day?'"

In 2016, stuck in a musical rut and feeling a similar sense of music biz frustration, Jim and Sam wound back around to the idea. This time, though, they didn't just ruminate; they dove in headfirst. And so it was that Jim and Sam ended up embarking on what would become an endlessly grueling, endlessly rewarding 365-day musical romp around the world.
SPONTANEOUS COMBUSTION
"We made the decision and then two months later left for the tour," Yonack said. "We didn't have much time to plan for it. We kind of just ripped the Band-Aid off and went for it. We wanted to take every relationship we had built [over years of touring] and put it into one year, to see what would happen. We started by just having the first three weeks or so mapped out — we had ideas for how the rest of the year might look, but we weren't 100 percent sure."

Complicating matters was the fact that Jim and Sam were newly married when they left for the tour, which meant that they were charting a new course in their personal lives even as they took on a daunting professional challenge. While the experience wasn't without its challenges, though, Hanft says that it helped strengthen their marriage right out of the gate — a baptism by fire, of sorts.

"It was a challenge," Hanft says. "Having zero time alone, waking up in different parts of the world every day. But the good news was that, if we had a disagreement, it forced us to fix that problem really fast, because otherwise you're sitting in a car for four hours angry at each other."

Perhaps even tougher than the personal hurdles was the looming professional strain of the entire endeavor. While Jim and Sam ultimately succeeded in routing a tour with 365 consecutive days of gigs, the sheer size of the tour meant they were doing something professional musicians almost never do: heading out on the road with little idea of where they might be in a month or even a week. In the midst of this chaos, the two were dealing with the challenges every entertainer faces, from the occasional bad audience to simple fatigue.

"It's almost as if you took the ups and downs you experience in 10 years of being a band, and you concentrated it into one year," Hanft said of the experience. "The rejection, the second-guessing, the moments when we thought a week would be no problem with booking, and then all of a sudden it became really challenging to find places to play. We constantly had to be really resourceful to come up with alternative ideas."

Along the way, Jim and Sam captured their experiences on film, returning home in mid-2017 with a wealth of concert footage and a lot of stories. Working with close friends Natalia Anderson and Kyle Weber, they crafted the footage into After So Many Days, which has already played at notable film festivals like the Dallas International Film Festival, Cinetopia in Ann Arbor, and NorthwestFest, in Edmonton, Alberta.

AFTER THE TOUR
For Yonack, making the film — and touring it through the festival circuit — has helped bring stability and artistic fulfillment to what could have been a tough post-tour slump. While Jim and Sam came back from the tour feeling thoroughly exhausted, they also found themselves having to adjust to a routine that no longer involved playing music in front of audiences every day.
"Having the film that we were going to dive into, we were really grateful for that, because I think we would have felt like 'Now what?' otherwise," Yonack said.

Since the tour, answering that question of "Now what?" has become easier for Jim and Sam. They spent the first half of this year opening shows for famed folk singer-songwriter William Fitzsimmons. Currently, they're working on writing and recording new music that they hope to release this year. The film has helped them balance their artistic ambitions and avoid any sense of burnout, while also bringing them closer to fans and earning them a few new ones.
Hanft says that the message of After So Many Days — about pursuing a dream even if it sometimes might look suspiciously like madness — has resonated even with people who had never heard a Jim and Sam song before.

"We're big believers of diving headfirst into something if you're interested in it," Hanft said. "When you're an entrepreneur of any kind, there are a lot of closed doors. You don't have keys to them, and you can't have access to them. And then you sometimes forget that there are all these other doors open that are welcoming, and that people are there and want to invite you in. It's more fun to walk through the doors that are open than to stand outside knocking on doors that never will open. That's what this tour was about, and that's what this film is about."

SEE THE FILM
After All These Days plays twice at the Traverse City Film Festival: 9pm Thursday, August 1, at the City Opera House, and 6pm Saturday, August 3, at Traverse City Central High School auditorium. Jim and Sam will be at both screenings. You can purchase tickets at www.traversecityfilmfest.org.
Trending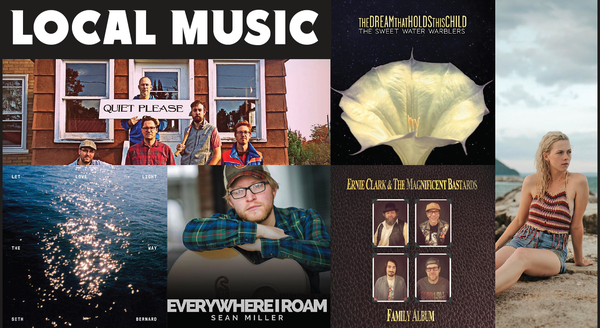 Listen Up: The Latest & Greatest Spins
So 2020 has not been a particularly great year for arts and entertainment. Film releases have been delayed. Concert tours ...
Read More >>

The Libertarians are Coming
Something in the ether, maybe, brought together a bunch of people who over the last year or so declared themselves Liberta...
Read More >>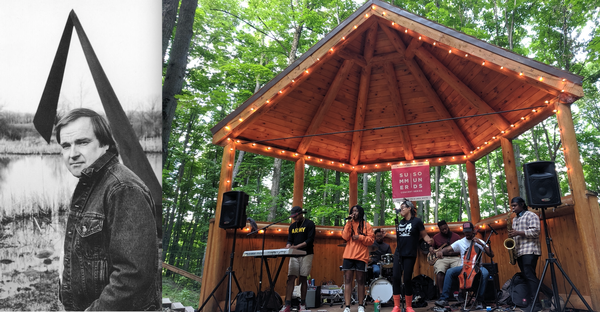 The Other Summer Sounds
As with virtually all venues, the enchanting forest-circled amphitheater inside Michigan Legacy Art Park — like its ...
Read More >>

Say You Were a Fan First
Who are the next big bright stars on the Michigan musical landscape? Who's the next band to become a local favorite ...
Read More >>
↑