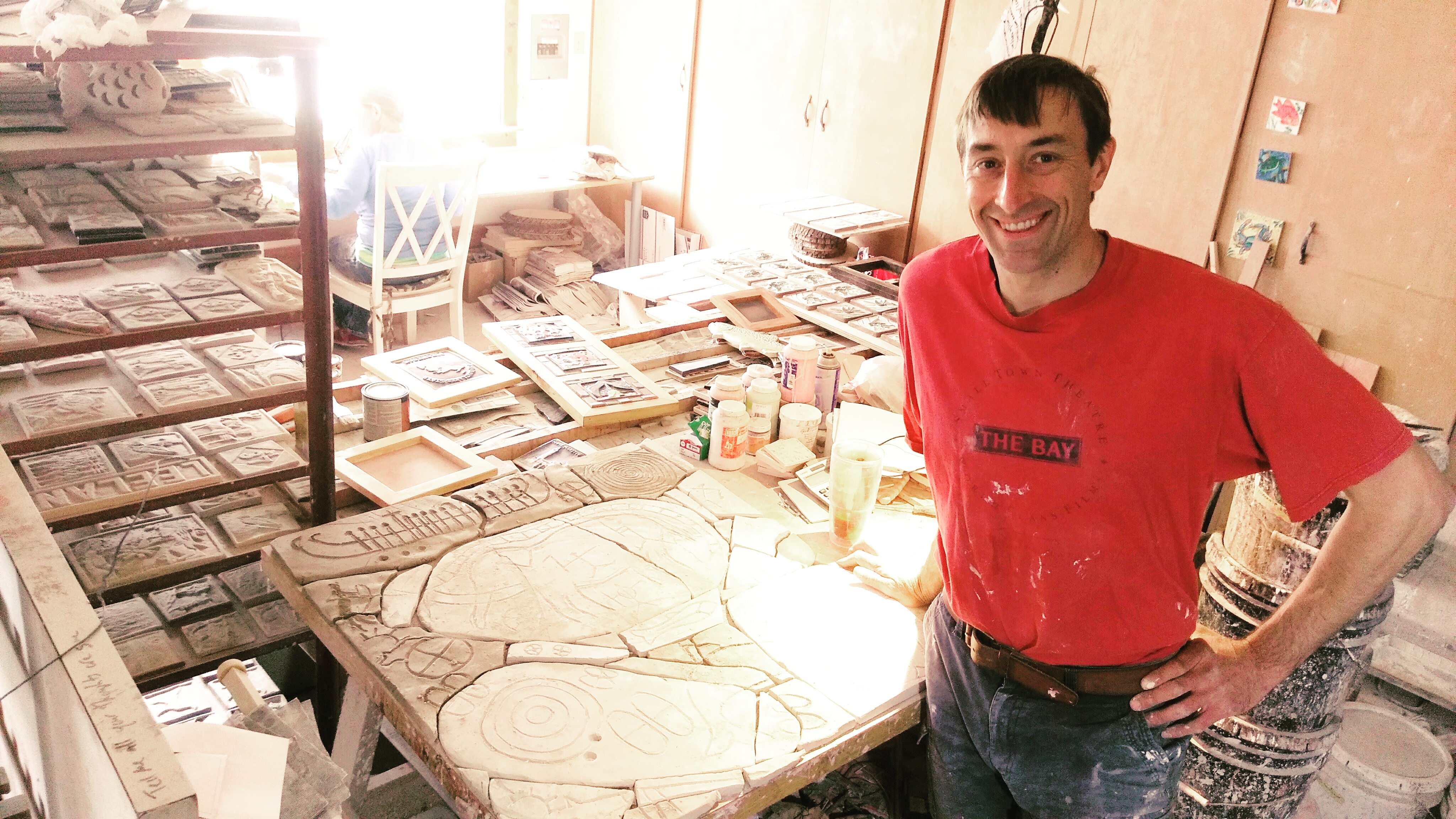 Sporck Tile Art: Carving Out a Career
Superstar basketballer to artistic tile maker. This may sound like an unusual transition at first — until you dig further into Leif Sporck's story, a narrative of youthful ambitions, family ties, and a sudden realization of purpose.
Sporck is the artist and proprietor of Sporck Tile Art, a business in which he handcrafts clay tiles that capture moments and elements specific to northern Michigan. As a youth in Suttons Bay, Sprock was a talented high school basketball player who was recruited — with several offers for full rides — by several different colleges.

Sporck chose Hope College in Holland, Michigan. "There were technically better deals for me at other colleges, but it's a good college, and even though it was basketball that was taking me there, it was my education that was the priority," Sporck said. "Although why I was actually going to college was up in the air for quite a while."
Two years in, Sporck quit the basketball program; his heart just wasn't in it anymore, he said. He continued his education, however, earning a degree in humanities, and aiming to pursue a career as a lawyer, spurred on in part by friends of the family, Dean Robb and Grant Parsons, both local lawyers in the Grand Traverse area.

"They were both so successful, and both encouraged me to go into law," Sporck said. "As I'd been thinking about careers throughout college, the one thing that I knew was that I wanted to stay in Leelanau County. But houses and property were getting really expensive here, so I thought maybe I could be a lawyer, then I could afford to stay. And I thought — being idealistic at the time — that I could be an environmental lawyer and do some good too."
His goal set, Sporck went to Washington D.C. for a law internship and began to study for his law school admission test. He was at the testing facility when things took a drastic turn.
"I was just sitting in there, ready to take the admissions test, and I suddenly realized that the law school dream, of being a lawyer — none of it was going to work," Sporck said. "I'd have to go to another state and be away from Leelanau. I'd have to figure out how to pay for law school. I couldn't do it. So after all of that preparation, I walked out of the admissions test."
Sporck returned to Suttons Bay to stay with his mother and reassess his future. In her garage was an art studio. One day, Sporck's father, Karl Sporck, dropped off some clay tiles to the younger Sporck, suggesting that he try carving on them.
Clay was hardly an unknown medium to the young man. Both parents had fine arts degrees. Karl, in fact, was a career potter who had spent over 30 years as an adjunct professor of pottery at Northwestern Michigan College.
"Ever since I was a kid, as long as I can remember, I was around ceramics," Sporck said. "I'd hang out in the pottery shop all the time and play with clay and stuff. Clay was just always around."
Although Sporck hadn't worked with clay in years — "due to basketball and all that studying," he said — that day in his mother's studio, with the clay once again in his hands, something opened up for Sporck.
"When my parents saw what I'd carved into the tiles, they really encouraged me. Funny thing is, before then I couldn't draw as much as a stick figure. Maybe all the discipline I learned from basketball and school helped me? But whatever the reason, I realized that all of my good memories were tied up with pottery and ceramics, so I kept making more, and fired them in my mother's kiln. I surprised myself by what I was able to draw on the tiles, and I kept getting good feedback."
Sporck placed a few of the tiles in his father's pottery shop, and the tiles sold right along with the elder Sporck's pottery.
"When I saw that happening, I decided to start growing what I was doing, and began putting the tiles into other shops as well as my dad's, and going to art fairs with the tiles," he said. Showcasing themes native to the region — local Leelanau County towns, the Great Lakes, wildlife, flowers, and morel mushrooms — Sporck's tiles became quick sellers, and he decided to make a go of it, leaving any potential return to college behind.

Today, he works from his own studio in Leelanau County, with his tiles available for purchase at two showrooms: one in Leland's Fishtown, and one just off M-204, between Suttons Bay and Lake Leelanau.
Each tile is part of an intense, multi-step process. Sporck creates the clay itself, mixing clay powder with water, sending the mix through a slab roller, rolling it out flat, then cutting each slab into squares, which become the blank canvases for his designs.
Carving alone can take anywhere from a day for a simple image, to a week for a more complex design. Sporck also makes clay molds of each tile for future use, and he makes his own glazes as well, which he says a lot of potters don't do any more.
"Plus I can't glaze just one tile at a time, so I put [up to] 500 into the kiln at once for the small tiles, and for the larger ones, around 50 at a time," he said. Sporck estimates that he's carved several thousand tiles a year since his business began; he guessed that he's close to the 100,000 mark by now.

His subject matter has evolved over the years. Some tiles hew closely to his original ideas, but as his business has grown, he's added tiles with words on them, fish and boat-shaped tiles, maple leaves, different varieties of wildlife, flora, and fauna, outdoor sports — and a personal favorite, Viking images and symbols, a nod to his own Norwegian heritage.
People purchase the tiles for many reasons and purposes: as a souvenir, a miniature piece of art, a garden decoration, or to install as a feature in a tile backsplash.

The designs, which now number in the hundreds, are as varied as the many different places that the tiles end up. "At first, the subject matter was always nature, as I was always out in nature myself; then I started going to art fairs and getting more feedback, which gives you more ideas to work with. We're taught to fuel our emotions into our art, but when you grow a business, you have to be a businessman, so I learned to let that go, or every time I sold a piece I'd be sad," Sporck said. "What's always on my mind now is the need of the customer."

For showroom locations and directions, ordering online, and more information, call (231) 409-1331 or visit sporcktileart.com.
Trending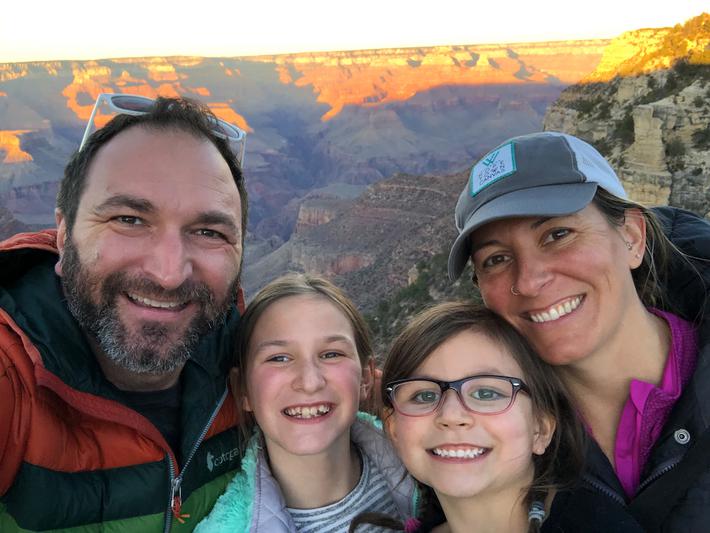 A Nine-month Family Vacation
Long before the pandemic, Joe and Christina Sanok had a plan. A dream, really: They wanted to take off with their kids and...
Read More >>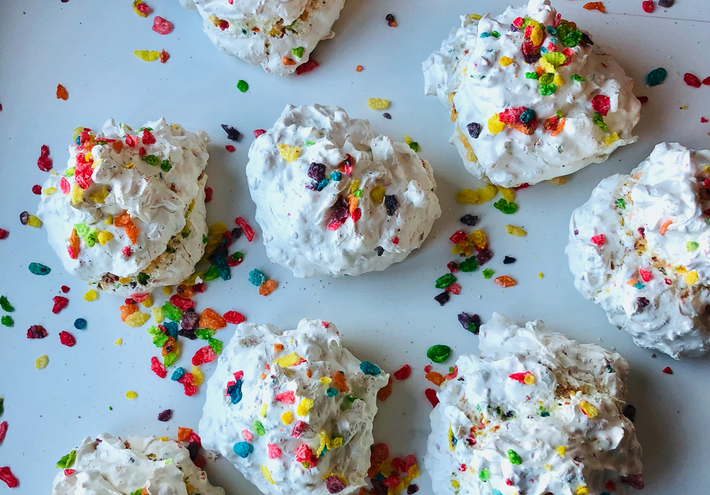 7 Batches Made in Heaven
Let's be honest: Picking the best cookies in northern Michigan is an impossible task. There are so many "right...
Read More >>
Respecting the River
Forever, the Grand Traverse Band of Ottawa and Chippewa Indians (GTB) has regarded the water — and the Boardman/Otta...
Read More >>
Not a Clue
Surely politicians wouldn't be so clueless that they'd lie about COVID-19 deaths or take a vacation during a statewide eme...
Read More >>
↑