One-Tank Road Trips
Just 2 ½ hours to a day's worth of family fun.
No, it won't be 80 degrees and you won't be on the beach. But there are plenty of things to do and enjoy if your break means staying home, or at least nearby. These options for a daytrip/daycation are all within 2½ hours of Traverse City.

For starters, head south to Grand Rapids. And yes, while it's not even close to 80 degrees outside, it is inside to Frederik Meijer Gardens and Sculpture Park.The "Butterflies Are Blooming" exhibition at Meijer Gardens is the largest temporary tropical butterfly exhibition in the nation, with over 7,000 butterflies representing 50 species. Tropical butterflies from around the world fly freely in the Lena Meijer Tropical Conservatory every March and April.

Find it at 1000 East Beltline Ave. NE, Grand Rapids. (888) 957-1580. Admission: adults $14.50, seniors and students with ID $11, children 5–13 $7, 3­–4 $4. Eat at Anna's House, 2409 E. Beltline Ave. SE, delicious, home to unique and sometimes decadent breakfasts, bowls, burgers and more.

If it's museums you want, then Furniture City, a.k.a. River City, a.k.a. Beer City USA, has you covered as well. You can choose from the Gerald R. Ford Presidential Museum, Children's Museum, Art Museum, or African-American Museum & Archives. Maybe start with Grand Rapids Public Museum. Current exhibits include "Expedition: Dinosaur" (lifelike and life-size animatronic dinosaurs, electronic learning stations, hands-on interactive displays, and information about dinosaur hunters); "Toys!" (an interactive, multi-generational exhibit of toys and games to rekindle childhood memories and/or spark new ones); and "Meet Finny" (a virtual reality experience with the museum's iconic 1905 finback whale skeleton).

Find the GR Public Museum at 272 Pearl Street NW, downtown. (616) 929-1700. General admission adults $8, seniors $7, students $3; "Expedition: Dinosaur" admission $12, seniors $11, students $7. Eat at San Chez, 38 W. Fulton, for tapas, small plates, and Spanish food, breakfast to dinner.

If not Grand Rapids, maybe Big Rapids? Ferris State University offers a variety of activities, as well as the ongoing series "An Army of Women" at the Fine Arts Gallery, portraying women of all ages as the strong, intelligent and courageous beings they are. But maybe the most fun would be at the Big Rapids Roller Rink. Hey, the place even celebrates the holidays, like at its St. Patrick's Day Skate. But you don't have to be Irish or wait for a special occasion. Roller skating, food, and even some arcade games are always available.

It is located at 325 N Michigan Ave., Big Rapids.(231) 796-1900. For food, try Nawal's Mediterranean Eatery, specializing in traditional Mediterranean meals, specialty cupcakes, and other baked goods, at 14253 Northland Dr.

Head southwest to Muskegon, and you can visit the Muskegon Museum of Art. One reviewer calls it "the best-kept secret in Michigan." Current exhibits include the 37th annual Muskegon County student art exhibition, "Postcard Salon Art Return" (more than 1,350 cards by 381 artists from West Michigan), "American Spectacle: Paintings from the Manoogian Collection" (11 selected American paintings from the Detroit Institute of Art), and perhaps the most fun of all, "In Pieces: The Art of Vintage Puzzles" (a look back to the late 19th and early 20th century heyday of the puzzle, when manufacturers across Europe and the United States brought their products to market).

Located at 296 W. Webster Ave., Muskegon.(231) 720-2570. Admission: $10 adult, $8 seniors, $6 students 17 + with school ID, free for children through age 16. Eat at Rebel Pies, inside Unruly Brewing, 360 W. Western Ave.

Southeast of Traverse City and Cadillac, the Ziibiwing Center in Mt. Pleasant shares the history of the Saginaw Chippewa Indian Tribe of Michigan. It was created to provide an enriched, diversified, and culturally relevant educational experience. It honors the tribal ancestors who protected and passed down the cultural knowledge, language, and teachings of its people.

It is located at 6650 E Broadway Rd., Mount Pleasant. (989) 775-4750. Admission: adults $6.50, senior citizens (60 years & older) $3.75, active military personnel $3.75, college students, $4.50, certified teachers (MEA, NEA, MFT, AFT) $2, Youth (ages 5–17) $3.75. For food, try Mexican at Los Palominos, 4585 E Pickard St.

You can always go east to west — West Branch, that is. At Ogemaw Nature Park, get up close and personal with some of the state's most plentiful wildlife, the whitetail deer. You can see, feed, and touch deer. Open weekends from 11 to 4, the non-profit offers free admission, though of course it's great fun to buy bags of feed to offer the deer. The facility was established in the 1940s. 5626 W Rose City Rd., West Branch. (989) 389-3257.

Less than 20 miles away, you can get your exercise walking from shop to shop at West Branch Outlet Shops. The 20-some stores offer discounted rates for all manner of things, from cooking to clothing, lotions to footwear. Located at 2990 Cook Rd. (989) 345-2594. Fuel up at the Tipsy Bear Bistro at 503 W Houghton Ave., with small plates, sandwiches and more, with Mexican, Mediterranean and Asian flavors.

Over in Alpena, the Besser Museum Planetarium offers illuminating perspectives on the sky and space. Four shows are rotating through the end of the month: "Two Pieces of Glass," the history of the telescope, from Galileo's modifications to the launch of the Hubble Space Telescope; "Accidental Astronauts," where Cy, Annie and their dog, Armstrong, check out the sun, moon and earth; "Sunstruck," all about heliophysics, space weather, and all of the ways the sun impacts the earth; and "Did the Asteroid Really Kill the Dinosaurs?"
​
Tickets for the planetarium shows are $3 through the end of March. It's located at 491 Johnson St, Alpena.(989) 356-2202. For a diverse menu, try the Fresh Palate at
109 N. 2nd Ave.

Like to hike? The North Country Trail runs from the southern border of Michigan through the U.P. to Wisconsin. If you want to begin at its U.P. starting point, check in at the St. Ignace Welcome Center and then walk through downtown before heading north outside the city. The North Country Trail has 40-plus miles of trails that aren't groomed in the winter, making conditions perfect for snowshoeing. Want a shorter hike? The U.S. Forest Service St. Ignace Ranger Station, located about seven miles west on US-2, has a small network of trails called the Gros Cap Trails. Call North Country Trail Association Headquarters at (866) 445-3628 or the St. Ignace Visitors Buerau at Toll Free: (800) 338-6660.

Hungry? Then you've got to try Java Joe's, the kitschy diner at 959 N. State St. Its enormous menu includes everything from pizza to sandwiches to a boatload of breakfasts, including crepes and chocolate peanut butter pancakes.

Trending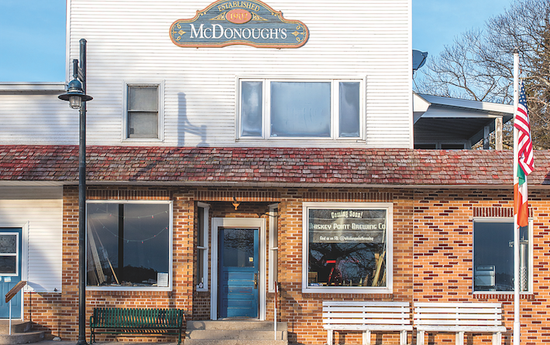 Welcome to Michigan's Most Remote Brewery
After years of planning and honing his beer-making skills, this spring, Patrick McGinnity plans to open Beaver Island&rsqu...
Read More >>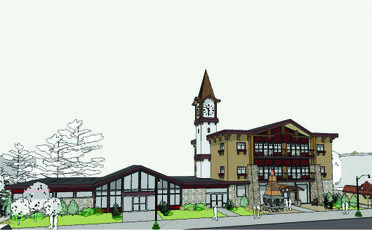 Gaylord: A boomtown Up North
Gaylord native Gary Scott had moved to Indiana, where he and some partners started a business to invest in distressed prop...
Read More >>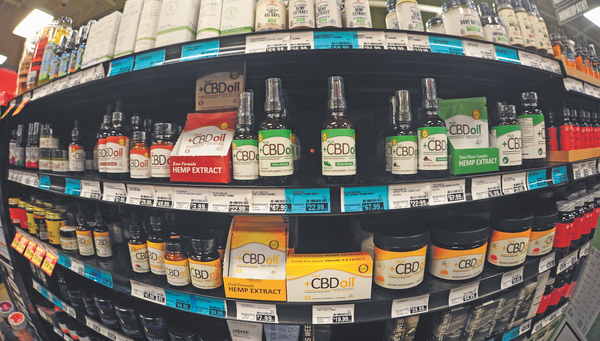 CBD Laws: Dazed and Confused
The sign outside of Family Video in Kalkaska lets drivers know the store has more than just movies. The sign reads: &...
Read More >>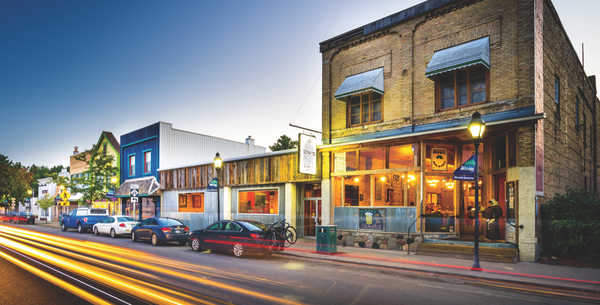 Small Up North Towns on the Rise
Spotlight on Bellaire (pictured)Seems Traverse City isn't the only place in the region making those "Best...
Read More >>
↑