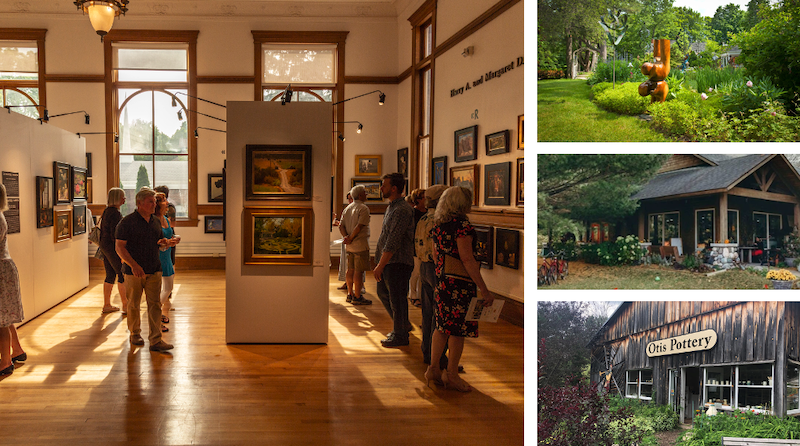 Studio Scenery
Gallery + great outdoors pairings for art lovers
Anyone can stroll the main drag of a northern Michigan town like Petoskey, Gaylord, or Traverse City and find art galleries overflowing with impressive works.
But for those who want some adventure—and to stretch their legs—Northern Express found a few "off-the-beaten-path" studios worth checking out as you explore the region. Whether you're a local looking for an out-of-the way day trip or an out-of-towner looking for real deal NoMi artisans, here are some spots that should not be missed. We've paired each studio with a nearby natural attraction that could be combined for a full day of creativity and natural beauty.
Crooked Tree Arts Center + The Botanic Garden at Historic Barns Park
Located on quiet Sixth Street in Traverse City—away from the retail flurry of Front Street—CTAC presents a rotating series of exhibitions in its TC galleries. The historic site includes the Cornwell art gallery, built in 1966, and the adjoining Carnegie galleries and rotunda, originally constructed in 1904 by philanthropist Andrew Carnegie as a library.
Today, these newly-renovated spaces serve as a beautiful environment to see and experience art. Gallery exhibitions change frequently, and all are free and open to the public. Artist Jason Lee's works will be featured in Land of Competition June 17 through July 29. He uses a variety of elements and techniques to create colorful, often humorous, sculptures.
Also beginning June 17 is a display of large-scale relief prints by Emily Legleitner, who depicts comforting images of home pushed to distortion. The prints reflect ideas of home, domesticity, work, and dreams—realized or not. This show runs through July 22. For details, visit crookedtree.org/tc.
A five-minute drive from CTAC, the elegant, 25-acre Botanic Garden at Historic Barns Park is a year-round sanctuary of environmental preservation, education, and recreation. Spend quiet time alone, learn about a variety of native plant species, or just chill out soaking up the natural beauty of the historic location.

Headlining the park's summer schedule is a free 4-H Junior Master Gardeners Club event that runs from June 21 to July 14. Designed for kids in third through sixth grades, it focuses on plant and soil science, insects, and wildlife habitat exploration. But don't delay—enrollment ends June 10, with details at thebotanicgarden.org/events.
Twisted Fish Gallery + Elk Rapids Walk of Art Sculpture Park
Just south of Elk Rapids on U.S. 31, the main gallery at Twisted Fish offers an array of fine oil paintings, dazzling watercolors, whimsical pottery, driftwood carvings, hand-blown glass, and exquisite jewelry. Nearby, the 150-year-old Cottage Gallery is a former farmhouse that's been transformed into a venue for art exhibits, demonstrations, talks, and classes.
While on-site, be sure to save time for a stroll through the beautifully tended sculpture garden. You'll see peonies, daffodils, tulips, Lenten roses, three kinds of iris, Black-eyed Susan, hollyhocks, butterfly bushes, wild geranium, phlox, Sweet William, and much more. The garden is a colorful feast for the senses, accented with original sculptures. Many visitors come just to savor the gardens—a tranquil getaway that's hard to match. Details at twistedfishgallery.com.
If you haven't gotten enough of the great outdoors, you're in luck. Just a few minutes down the road is the Elk Rapids Walk of Art Sculpture Park, a stunning outdoor gallery that debuted in 2013 with six selected sculptures. It now offers more than 30 pieces from a cadre of award-winning Michigan artists, including Dewey Blocksma, Bart Ingraham, Julie Kradel, David Petrokovitz, and Leif Sporck. The sculptures are chosen by a jury and rotated every three years. (Best of all, if you fall in love with one and want to take it home, most sculptures are for sale.)
With nearly a decade under its belt, the scenic 15-acre site has remained focused on its initial concept of enhancing and promoting the arts in the Elk Rapids area. Stroll through the dog-friendly park or relax on the nearby Lake Michigan beach. Feeling peckish? Combine nature and a nosh in the picnic pavilion (with handicap access) as you soak in the twin pleasures of sculptural art and scenic beauty. Check out artrapids.net.
Otis Pottery + Sleepy Hollow Nature Preserve
Enchanting gardens, distinctive artwork and a warm, welcoming vibe make Otis Pottery extra special. The home and studio-gallery are on a century-old homestead, two miles south of the Ironton Ferry on M-66 halfway between Charlevoix and East Jordan.
David and June Otis began working in clay more than 40 years ago in Germany and opened their studio-gallery in 1988. David focuses on beautiful functional works, including his one-of-a-kind teapots, while June crafts intricate hand-built figures and framed pieces.
Their son, Andrew, has been working in the studio for 16 years and now has his own line of decorative large-scale vessels. His pieces range from 3-foot tall garden fountains to 6-foot tall decorative vases—all with original colors, carvings, and sculptures. Learn more at otispottery.net.
With your new pottery wrapped up and safe in the backseat, make the three-minute drive to Sleepy Hollow Nature Preserve. Donated anonymously to the Little Traverse Conservancy in 1980, this 55-acre site features more than a mile of easy walking trails that take you through a peaceful second-growth forest dominated by sugar maples, American beech, and ash.
The lush greenery is dotted with oversized stumps bearing fire scars as testimony to its historic logging days. A spring-fed stream, Sear Creek, runs through the preserve, eventually emptying into the south arm of Lake Charlevoix. It's an ideal spot for quiet reflection and contemplation.
But there's more than just leisurely strolling encouraged here. Biking, bird watching, fishing, hiking, and similar low-impact, non-motorized fun are here. Feel free to bring your dog, but Rover must remain leashed. More details at landtrust.org.
Three Pines Studio and Gallery + Wilderness State Park
Founded in 2000 by Gene Reck and Joann Condino, Three Pines Studio in Cross Village is a working studio and gallery in the arts and crafts tradition. What makes it somewhat unique is that it features only works of northern Michigan artists. That enables visitors to take a deep dive into the vivid creativity that exists in Up North.
If you're a fan of the exhilarating landscapes of the region, you'll want to check out an upcoming exhibit. Heidi Amenda Marshall, noted for her impressionist landscape paintings, has been a featured artist at Three Pines for many years and will have her show—Inexhaustible Riches: Landscape Paintings—July 2 through July 12. Visit threepinesstudio.com for more.
Speaking of Up North, just a short trek north is Wilderness State park, home to 26 miles of scenic Lake Michigan shoreline; 20-some miles of trails; a swimming, pet-friendly beach; and an array of camping opportunities. From some portions of the park, look west and you can get a glimpse of the 170-year-old Waugoshance Lighthouse near the Straits. Turn to the east and view the Mackinac Bridge.
The park's terrain is varied, and the forest includes dense coniferous trees and mature hardwoods. Hikers will enjoy open meadows and carpets of wildflowers in early summer. The sprawling park is more than 10,000 acres, so it's a good idea to pay attention to trail signs, carry a map, and bring along a compass. Learn more at michigan.org/property/wilderness-state-park.
Trending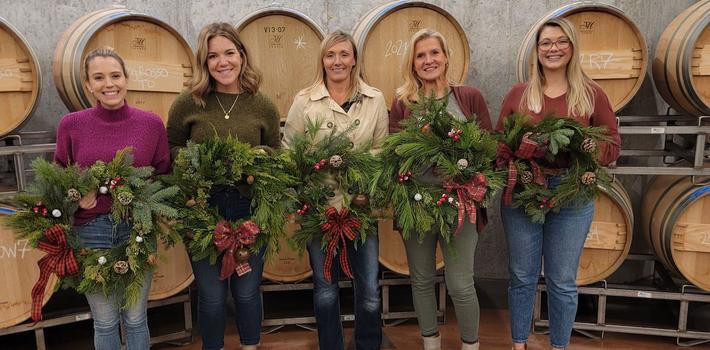 Wine & Wreaths at Mari
If you like wine and wreaths, you'll want to head to Mari Vineyards on Old Mission Peninsula. A 90-minute wreath-mak...
Read More >>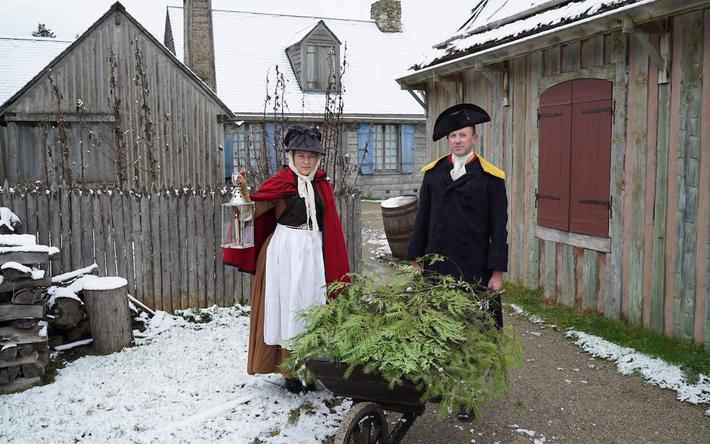 A Colonial Christmas
Christmas is coming to Colonial Michilimackinac in Mackinaw City on Dec. 9. Storytellers will bring to life the stories of...
Read More >>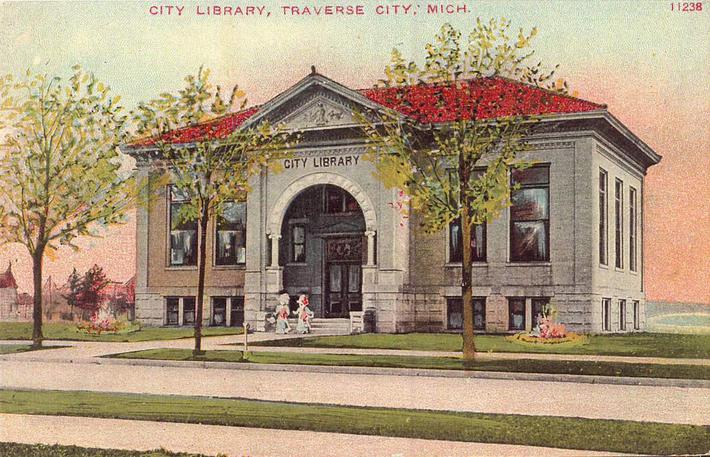 A Literary History of TADL
Next year, the Traverse Area District Library (TADL) will celebrate 155 years of lending books and knowledge in northern M...
Read More >>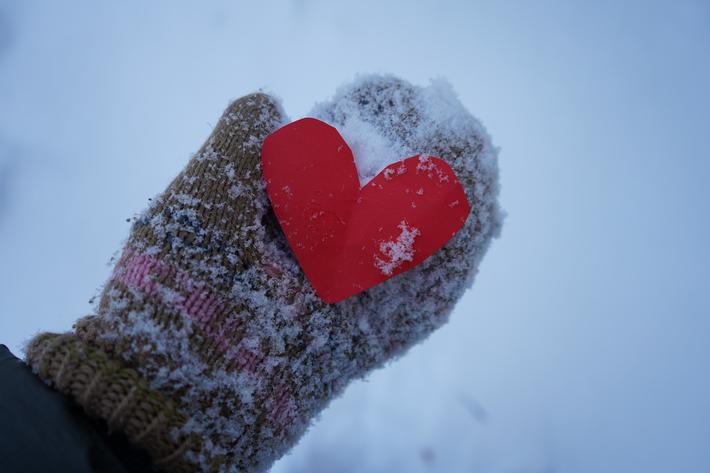 Merry Mittens
The Mitten Real Estate Group of Traverse City is helping make the season bright by kicking off their first Mitten Drive, w...
Read More >>