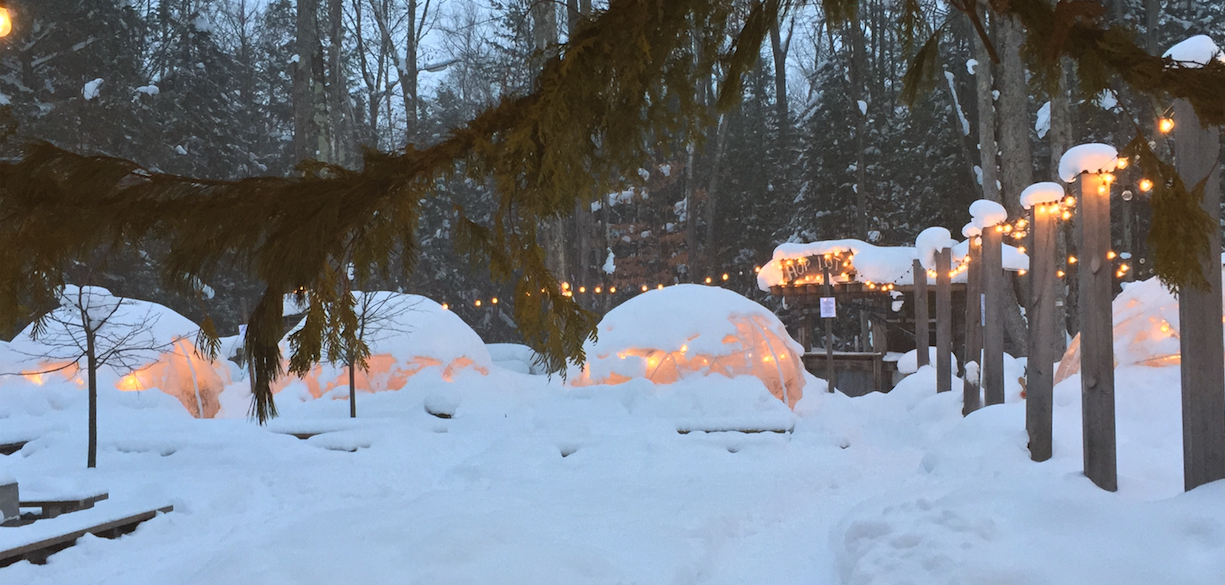 Hop Lot Brewing in Suttons Bay
Great beer, great food, and the great outdoors — in any season.
Brothers Steve and Drew Lutke knew they wanted to do something special with their microbrewery on the south end of Suttons Bay. Even before building their facility, they had begun researching the style and aesthetic they wanted to draw in customers. So they decided to showcase what brought them back to the area from Chicago: the great outdoors.
"The idea of northern Michigan is the outside, Up North, so we embraced it," said Steve. The interior embodies the rustic aesthetic, with concrete floors, dark wood tables and benches, and beams hewn from white pines harvested on the property.
Plenty of windows offer views of the properties wooded outdoors, but the brothers and Steve's wife, Sarah, Hop Lot COO, wanted to draw business outside as well. To that end, they set out picnic tables on the patio, as well as on the fringes of the property, under the shade of trees. They also built a small outdoor stage, grand fire pits, and in summer, set out yard games and footballs for kids and families. And in winter, they erected igloos.
"We kept the inside small because everyone wants to be outside," said Steve. In the summer, sure, but winter? And igloos?
Yes, and yes. The zippered clear plastic igloos, which include a small electric heater, are frequently full — in fact, you need to reserve them at the bar.
Which is where you'll order from a host of different beers brewed by Steve. While Drew is in charge of the front of the house and Sarah is in charge of finance and marketing, Steve puts his science background (he was a pre-med major) to work creating the brews. There's Norseman IPA (named for the Suttons Bay school mascot), Highway Robbery (blonde ale), Rough Sawn (amber ale), Kitty Wampus (oatmeal stout), Red Over Red (a double IPA), and a host of others on tap. Hop Lot also offers cider and wine, but there's no doubt the beers are its calling card.
Unless, of course, you're talking about the food. While the menu hews toward usual pub fare, with nachos, mac and cheese, pretzels, and sandwiches, it refuses to go the burger route. Instead, Hop Lot offers several in-house smoked specialties, such as turkey, chicken, pork, and beef brisket. It's prepared in a variety of ways: There's a smoked pork taco, smoked turkey sandwich with bacon, Colby jack and guacamole, beef brisket sandwich, and various specials. In the winter, the smaller crowds mean the smoker is not always running at full speed, so the two suggest checking with a server for what's available.
The food perfectly complements the beer. The flavors are zesty yet balanced, and it's obvious there's as much care given to the comestibles as to the brews. Drew recommends the pulled pork nachos, while on the liquid side, Steve touts the Leelanau Exchange as his best beer. "It's infused with ingredients from local sources," he said — Nella's So Good coffee from Empire and Mundos Coffee in Traverse City.
It's not just the sources, it's that the beer is ever evolving. Steve is continually tweaking the recipe, so each time you stop in it might be slightly different. "If I was going to sit in an igloo, that's my go-to beer," Steve said, and who can argue with that?
Hop Lot opened just a year and a half ago, and has already won a bevy of awards. The Lutkes had been working and living in Chicago, but the Holland natives missed their home state. Sarah was from the area, and Steve said after visiting family, the two would drive home to Chicago trying to think of ways to move back. Drew was similarly entranced with northern Michigan.
At the time, Steve was brewing up a storm at home. When the three decided to create their own business based on his brewing prowess, Steve went to the Siebel Institute of Technology/World Brewing Academy where he earned a degree in Brewing Technology. "Brewing is so fascinating to me," said Steve. "It's an art. And a science. You've got temperatures and micro-organisms. It became a giant experiment."
They decided the small town feel of Suttons Bay would fit with what they wanted to do, and found their perfect setting just inside the south village limits.
With igloos, firepits, and in the summer, a wide-open back yard, Hop Lot is perfectly suited for family excursions and vacationers. Steve said it's important that they have a place where kids can be kids, where they can run around after being cooped up inside a car.
Drew concurred. "Our sister said years ago, 'I hope you guys do something with a family atmosphere. Our mission statement would be focused on four areas: Beer, obviously; delicious food; a welcoming staff; and the environment. All four are important," he said.
Hop Lot opens at noon daily. It closes at 9pm Mondays through Thursdays, 10pm Fridays and Saturdays, and 8:30 on Sundays. It's located at 658 S. West Bayshore Dr. Call 866-4445 or visit HopLotBrewing.com.
Trending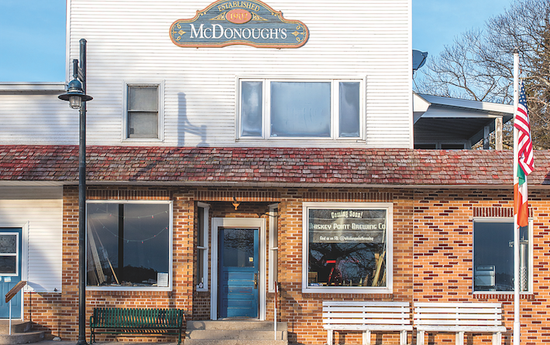 Welcome to Michigan's Most Remote Brewery
After years of planning and honing his beer-making skills, this spring, Patrick McGinnity plans to open Beaver Island's first microbrewery. Opening a craft brewery is challenging. Opening one on a remote island in Lake Michigan that's either a 15-minute plane ride or a two-and-a-half-hour ferry ride from ...
Read More >>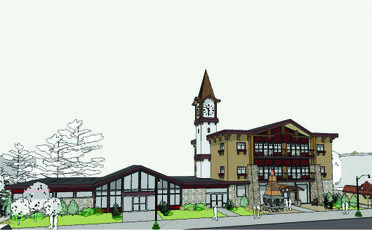 Gaylord: A boomtown Up North
Gaylord native Gary Scott had moved to Indiana, where he and some partners started a business to invest in distressed properties. He was talking to a banker in Detroit about real estate in Bloomington when he asked what kind of deals might be available in northern Michigan. ...
Read More >>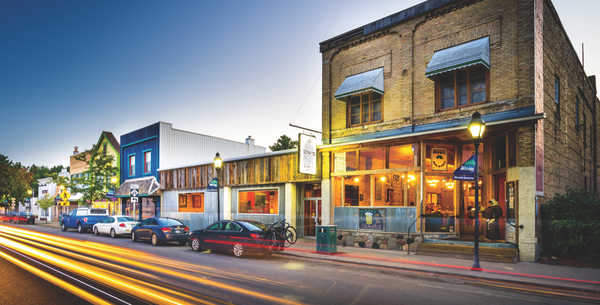 Small Up North Towns on the Rise
Spotlight on Bellaire (pictured)Seems Traverse City isn't the only place in the region making those "Best of" lists. The Antrim County hamlet of Bellaire was recently named to the list of Best Lakeside Towns in the U.S. by Country Living Magazine, alongside the likes of Vergennes, Vermont, Greenville, ...
Read More >>
Ready, Set, Shop!
Looking to put some local gifts under your tree this year? Look no further: We've scoured the shops of northern Michigan to find a mix Up North classics and out-of-the-box surprises — at all price points — that'll excite everyone on your list. Behold: Our 2018 picks for ...
Read More >>
↑