Sweater Weather
From cotton to cashmere, it's time to get cozy
Northern Michigan is a wonder to behold during the autumn months, the bright reds and dazzling yellows offering a stark contrast to the lush blues of Lake Michigan and its tributaries. With summer drawing to a close, it's time to start dreaming of fall, with its cooler temps, crisper air, and cozier attire.
Before you start drinking cider around a bonfire, stock up on this season's sweaters to keep you warm and comfy through the fall (and into the impending winter months). Local stores offer up an array of options, from soft and sleek choices to fluffy shawls that could double as a blanket. Whether you're looking for a great gift or hoping to refresh your wardrobe a bit, these small shops have elegant and stylish choices for every taste.
The Local Touch: Haystacks of Suttons Bay
301 N St Joseph St., Suttons Bay | (231) 271-0280 | haystacks.net
If you haven't yet visited Haystacks for one of their sweaters, we recommend you hurry over to one of their Up North locations (see below). This local brand of soft and unique clothing started in 2000 in one of the historic fishing shanties in Fishtown in Leland and has grown immensely thanks to the popularity of the designs found in the shops—like their Dreamers Sweater, which sells out every year!
If you already have a Dreamers Sweater (or two), our top choice for this season is the Leelanau Cotton sweater ($58), an invitingly soft, waffle-knit cotton piece that's handmade for Haystacks. This flowy sweater comes in an array of blue tones and features an asymmetrical handkerchief hem and a design that flares at the hip. Available in a single size that fits most, it styles perfectly with leggings or jeans for an evening out or a day lounging around the house.
Haystacks now has Michigan stores in Leland, Suttons Bay, Elk Rapids, Petoskey, and Traverse City (plus a shop in Connecticut and another in Florida), with the Suttons Bay location serving as the design studio and online hub.
Vintage Finds: Slip Vintage of Traverse City
121 E Front St Suite 108, Traverse City | (231) 715-1716 | slipvintage.com
Some of us prefer a more timeless look, borrowing from past trends and giving old garments a second life in today's styles. Slip Vintage in Traverse City seeks to breathe fresh life and deliver a modern twist on the traditional second-hand store model.
Not only is Slip focused on breathing new energy into older clothes, it's also a place that strives to create a community filled with like-minded individuals who appreciate and want to learn and discuss vintage fashion. Owner Katie Asher is passionate about taking on the culture of fast fashion and working to provide people with alternatives that are just as stylish while being gentler on the planet.
For this upcoming chilly season, Asher recommends snuggling into this Catalina Reindeer sweater ($188) that's "in amazing condition for being over 80 years old." With 100 percent wool construction, ribbed sleeves and collar, a cool reindeer and shield design, and timeless maroon and cream coloring, this sweater from the 1940s would make an excellent companion when curling up with a book, enjoying a hot cocoa, or attending a winter party.
Asher provided some styling ideas, mentioning that this is "a sweater that could be layered over a collar shirt, a maxi dress and tights, or worn over pajamas for the ultimate winter outfit."
Level Up: Threads of Petoskey
400 Bay St., Petoskey | (231) 439-9844 | shopthreadsonline.com
If carefully curated outfits that have an emphasis on both style and quality speak to you, Threads is right up your alley. Owner Chris Jaconette creates a distinctive and fashion-forward inventory every season that has customers returning annually to find the perfect outfit.
The collection focuses on pieces that boast top-notch materials, thoughtful construction, and unique designs. One of their stand-out items this season is their White & Warren cashmere crewneck sweater ($295). This soft garment is made from 100 percent traceable cashmere and offers a flattering yet simple straight fit, so you can wear it with practically anything. Dress it up with one of Threads' eye-catching accessories, or toss it on for an extra layer at dinner. No matter the look, the White & Warren cashmere sweater is the epitome of versatile fashion.
Stop into their storefront on Bay Street in downtown Petoskey or check out their selection at their online store. Out-of-town customers even have the option to set up a shopping appointment via video chat!
Cozy and Casual: Livnfresh of Gaylord
147 West Main St., Gaylord | (231) 445-5548 | livnfresh.com
Looking for a soft, laid-back top to wear every weekend, whether you're on the trails or at the tailgate? Livnfresh of Gaylord has a huge sweatshirt selection for fall.
We especially love the "Michigan Rocks" Petoskey stone sweatshirt ($58.99), featuring a fleece-lined funnel neckline that's perfect for keeping the chilly wind at bay during the cooler months. This is a great fall sweatshirt for running errands, raking leaves, or walking along the beach, and perfect for wearing underneath a jacket come winter. The details on this sweatshirt are what make it stand out: Metal-tipped aglets on the drawstrings, raglan sleeves that start at the top of the shoulder for a more appealing look, and a variety of bright colors that go beyond the traditional heather gray. The combination of cotton and polyester prevents the sweatshirts from shrinking, which means it'll be a favorite for this fall and future autumns.
Livnfresh has two locations—one in Traverse City and one in Gaylord—and offers free shipping from their online store.
Warm and Wooly: Crystal Lake Alpaca Boutique of Frankfort
4907 River Rd, Frankfort | (231) 920-7085 | crystallakealpacas.com
What has four legs, a long neck, and produces one of the finest and more durable textiles used for clothing?
If you guessed alpacas, you guessed correctly! These animals were originally bred for their wool by the Incans around 6,000 years ago in an effort to create more luxurious clothing, and today alpaca wool remains a high-quality material. It is softer than cashmere, warmer than wool, hypoallergenic (no itch), strong (lasts for many years), and lightweight. It repels dirt, odor, and water.
Crystal Lake Alpaca Boutique in Frankfort has a herd of over 50 alpacas from which they make some of the best mittens, scarves, and socks in the area. Some of their most unique (and cozy) items are their ruanas, which resemble a cross between a poncho and a shawl. These are the perfect extra layer for the cooler months: Warm but not stifling, soft yet supple, durable and easy to clean.
According to Chris Nelson, one of the boutique's owners, "they are the perfect autumn covers… [and] can be dressed up for a romantic evening out or worn casually with jeans." One size fits most, making them an excellent gift option for those interested in sustainable fashion or anyone who could use something warm to snuggle into this autumn. The Venetian Ruana ($199) is reversible, featuring two different shades of blue with a gorgeous geometric print and a snap neck closure.
Trending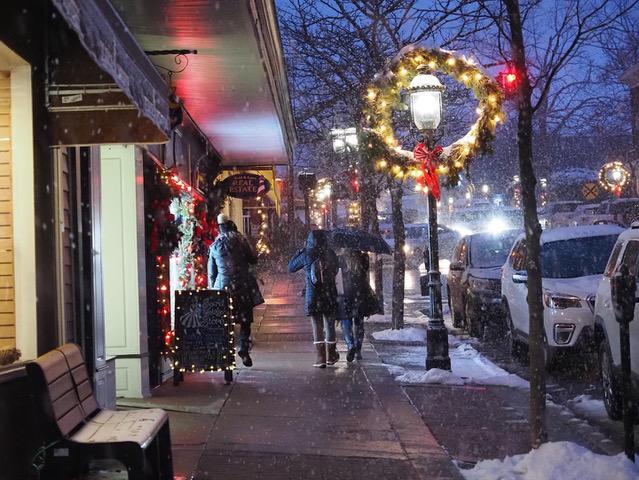 Jump Start Holiday Shopping
Downtown Petoskey hosts their Holiday Open House on Friday, Dec. 2, from 6-9pm as Santa flies into town to light the giant...
Read More >>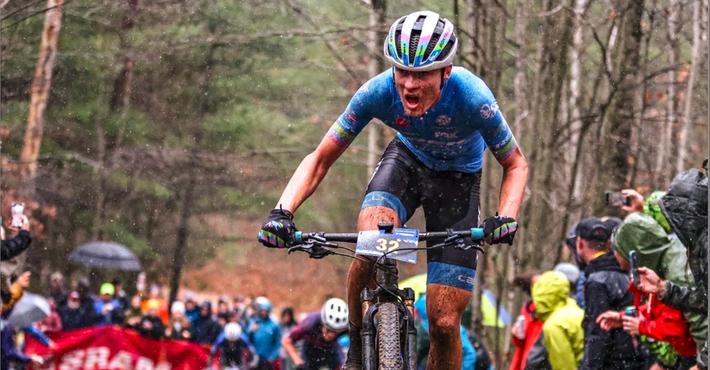 A New Gear
If last week's snow made you think the two-wheeling season is over, think again. Tuesday, Nov. 29, is the official l...
Read More >>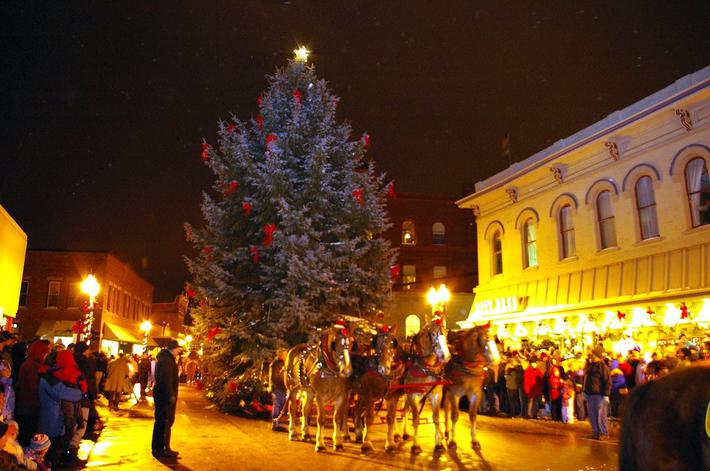 Jingle All the Way to Manistee
The town of Manistee is going into full holiday mode—and going back in time—this weekend. Friday, Dec. 2, the ...
Read More >>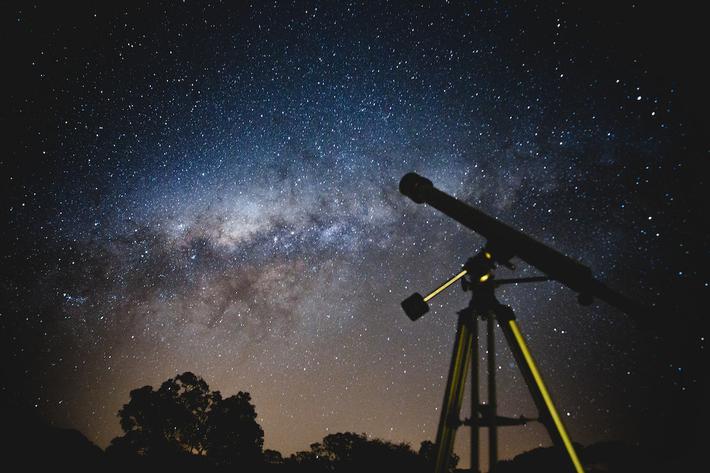 Aim for the Stars
Aliens may walk among us, but this weekend it's our turn to wander through the galaxy. On Saturday, Dec. 3, the Denn...
Read More >>