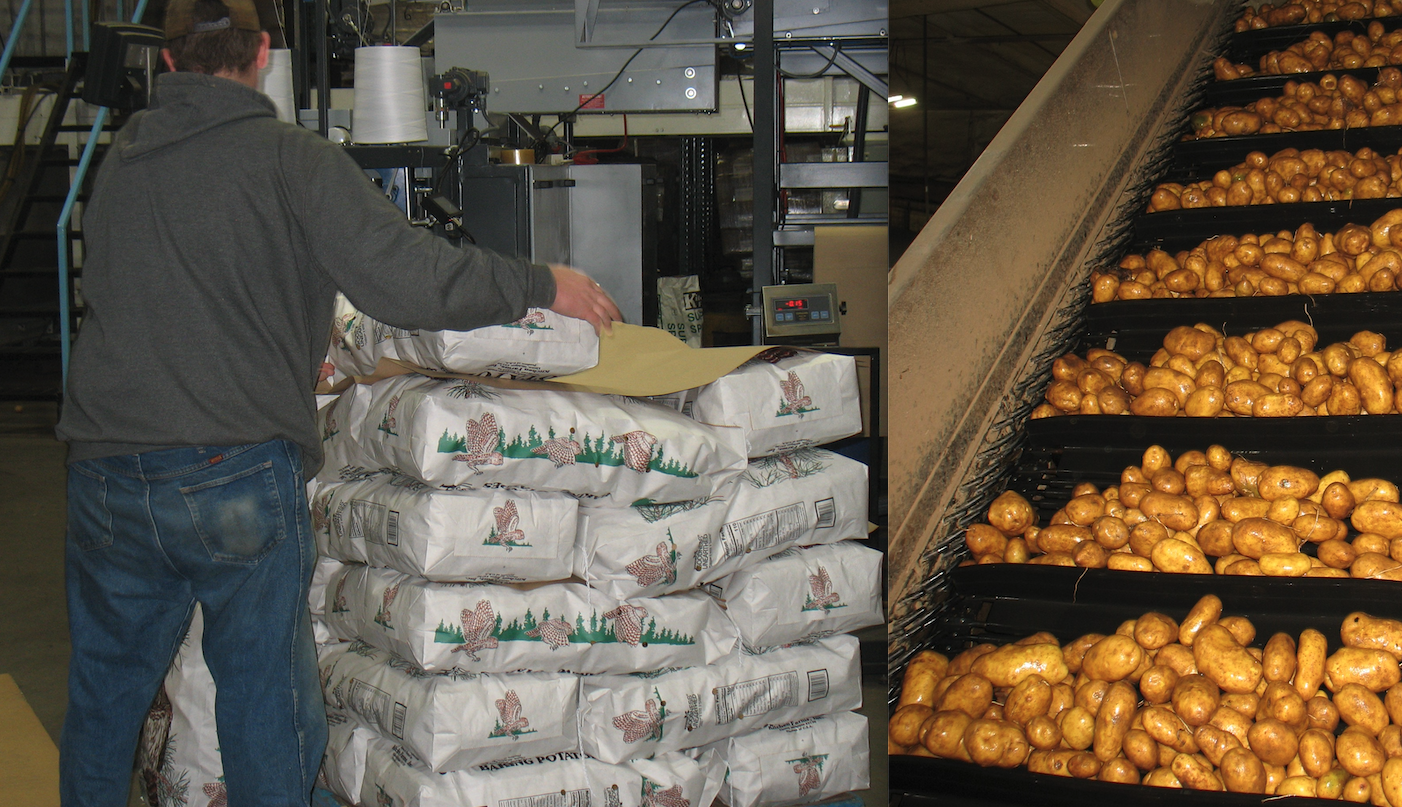 Tater Time: Inside Kitchen Farms
The family potato farm in Elmira, cranking out 70 million potato pounds a year
By Al Parker | Feb. 15, 2020
Just north of Alba and south of Elmira, a foot-thick blanket of crisp snow covers the dormant fields of Kitchen Farms, a 5,000-acre potato-growing operation that straddles both sides of US -131.
The fields are quiet and will remain so until spring when planting begins.

But inside the farm's processing and packing plant, tons of potatoes are tumbling along a briskly moving conveyor belt where they are washed, sorted, and bagged or boxed. While there is a computerized sorter, workers still do much of the sorting by hand, culling out potatoes that are imperfect. Large machines bag the spuds by size and type.

Last year the farm produced about 70 million pounds of potatoes, according to owner Don Kitchen.

About one-third are whites, one-third russets, and one-third yellows with just a tiny bit of reds. Within those broad categories, Kitchen Farms actually raises 26 different varieties of spuds.

"Potatoes are the mostly widely eaten food in the world," said Kitchen. "We don't export any of our potatoes, they are all for consumption in the U.S."

The farm's potatoes are known as "fresh" in the industry, meaning they are not processed. They are marketed mainly to groceries and restaurants. No Kitchen Farms spuds are turned into McDonald's French fries or any other form of processed potatoes, according to Kitchen. They are sold as whole potatoes in bags ranging from 1-pound to 50-pounds.

Meijer stores are the farm's largest Michigan customer, selling potatoes under the Meijer brand and the Kitchen Farms brand. But the company also ships its potatoes to clients along the East Coast, New York, Georgia, Florida, Maryland, New Jersey, and the Carolinas.

Kitchen Farms is very much a family success story. Don is president, succeeding his father Bill, who passed away in 2017. Don's wife, Sarah, is the office manager, handling personnel issues. Their 18-year-old son, Dylan, is learning the business as is their daughter Hailey, 15.

The operation began 110 years ago as a small 80-acre family farm founded by Don's great-grandfather, Robert. He grew potatoes and other crops, but also had cows, horses and sheep. Over the years, more acreage was added and by 1961, Kitchen Farms was raising corn and other crops on some 900 acres.

In the early 1980s, the other crops were eliminated and the focus turned to potatoes.

Now it occupies about 5,000 acres, though the number planted with potatoes is only about 1,200 acres each year, in accordance with the crop rotation schedule. Land not planted in potatoes is planted in alfalfa to nourish and protect the soil.

Each year, in May some 2,600 potato plants will be sown per acre. That's more than 3 million plants across the 1,200 acres.

"We have good, sandy soil and use lots of water," explained Kitchen. "From planting to harvest, 100 to 110 days is optimal. The hardest thing about growing potatoes is dealing with Mother Nature. Rain, hail, extreme heat, insect problems, it's all up to Mother Nature."

During the summer growing season, it's hard to drive north or south along US 131 in Antrim County without noticing the squadrons of sprawling pivot sprinklers that water the potatoes. Moisture level is critical throughout the spud growing cycle and the sprinklers keep the ground moist during dry spells.

Technology has helped make Kitchen Farms a success, according to Kitchen.

"We've added new high-tech wash lines, a potato polisher and an optical sorter that is computerized," he explained. "We have four tractors that all have auto-steer, where the operator punches in the coordinates for a straight line from point A to point B on a computer and the tractor stays within a half-inch of either side of the line. It's totally hands-free for the operator who only needs his hands on the computer keyboards. The tractor picks up eight or 10 satellites as it goes.

"We do what we can do," he adds with a laugh. "We have no fancy robots like GM."

The harvest begins in September and runs well into October. A fleet of military surplus trucks, each weighing 28,000 to 30,000 pounds, hauls the spuds from the field to farms' storage facility. Most of the crop is stored in wooden boxes, stacked in a series of sprawling warehouses where the temperature is strictly controlled to keep the spuds as fresh and crisp as possible. Storing the spuds is a balancing act with the temperature at about 36 degrees and humidity of about 98 percent.

At the heart of Kitchen Farms is a full-time team of about 26 to 28 employees. That number swells to almost 50 between when the harvest starts in September and continues with processing and shipping into July.

"We couldn't do it without our workers, we gave a very good core group," said Kitchen. "And we're always looking for good people."

What about the bad rap that potatoes sometimes get about being high in carbs and a fattening food?

"Potatoes are one of the healthiest vegetables," said Kitchen. "It's just they way they are prepared. If you deep fry them or slather them with mayonnaise in potato salad, that's not so good. But it's not the potato, it's what gets added to it."

So what's his favorite way to enjoy a potato?

"I eat whites and yellows," he said. "Just dig one out of the ground in July, boil it and put some butter on it. That's the best!"


TATER TIDBITS
According to the National Potato Council, a medium-sized potato has no fat, no cholesterol and contains only 110 calories. Here are some other nutritional spud facts:

Sodium Free: Low sodium diets help to reduce the risk of high blood pressure and stroke.

Vitamin C: Don't just think of oranges anymore as a great source of Vitamin C. By eating one medium sized potato, you will receive 45 percent of the recommended daily value of Vitamin C — a great antioxidant.

More Potassium than Bananas: A medium-sized potato contains 18 percent of the recommended daily value of potassium, essential for maintaining proper muscle function.

Good Source of Fiber: The 3 grams of fiber in one medium-sized potato is 8 percent of the recommended daily value. Diets high in fiber are beneficial for a healthy digestive system and may reduce the risk of cancer and heart disease. Consuming adequate fiber also makes you feel fuller, helping to reduce snacking between meals.

Carbohydrates: A medium-sized potato contains 26 grams of carbohydrates, only 9 percent of the recommended daily value. Complex carbs are a great source of energy for the body.

Antioxidant: Potatoes have one of the highest overall antioxidant activity among vegetables. Antioxidants protect key cell components by neutralizing the damaging effects of "free radicals." Spuds also contain glutathione, an antioxidant that may help protect against some cancers.
Trending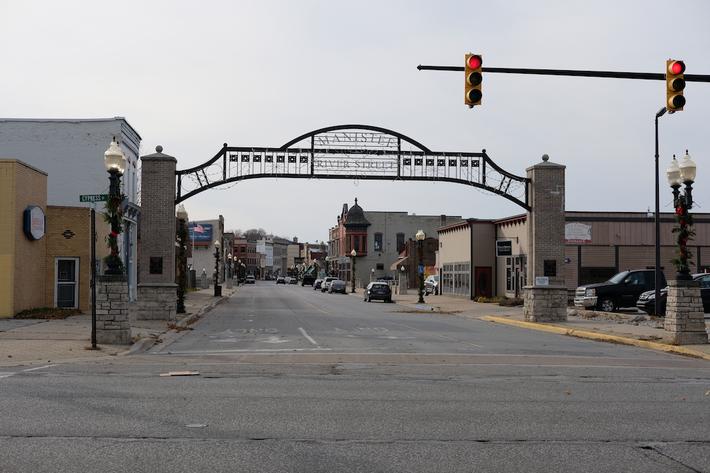 Transforming Manistee
The entrance to downtown Manistee, as it stands today, is drab. On each side of River Street for the first block, building...
Read More >>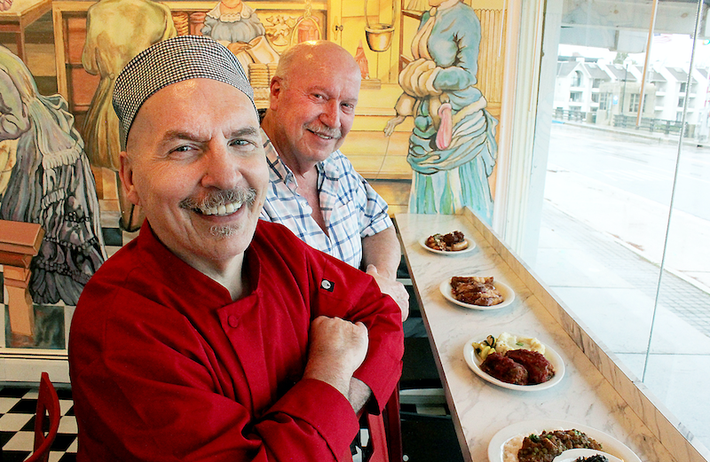 My Grandmother's Table
Gestures of love come in many forms. Gifting flowers, running errands for a sick loved one, wearing masks, or shoveling ou...
Read More >>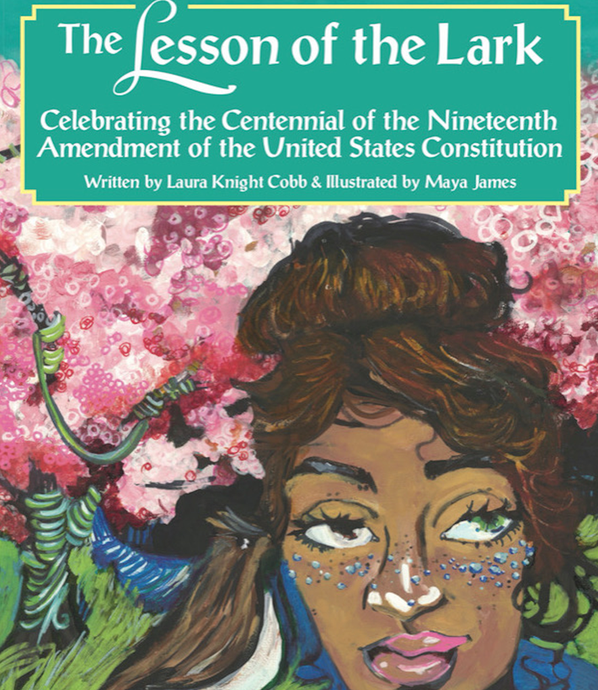 A Girl, a Bird, and a Gardener
An unlikely trio of characters from the pen of a local author has inspired a concert-length musical composition by the aut...
Read More >>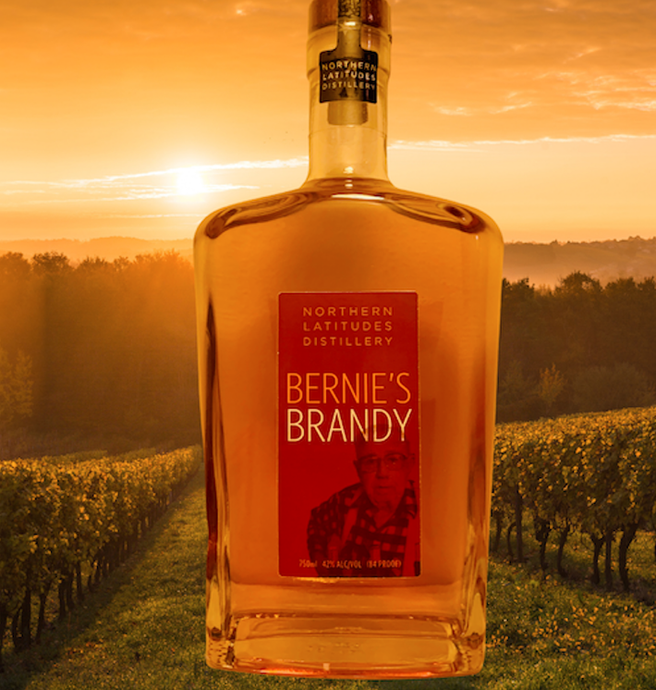 Northern Latitudes' Bernie's Brandy
The legendary spirit of Bernie Rink — aka The Godfather of Northern Michigan Wine — has been, you might say, b...
Read More >>
↑