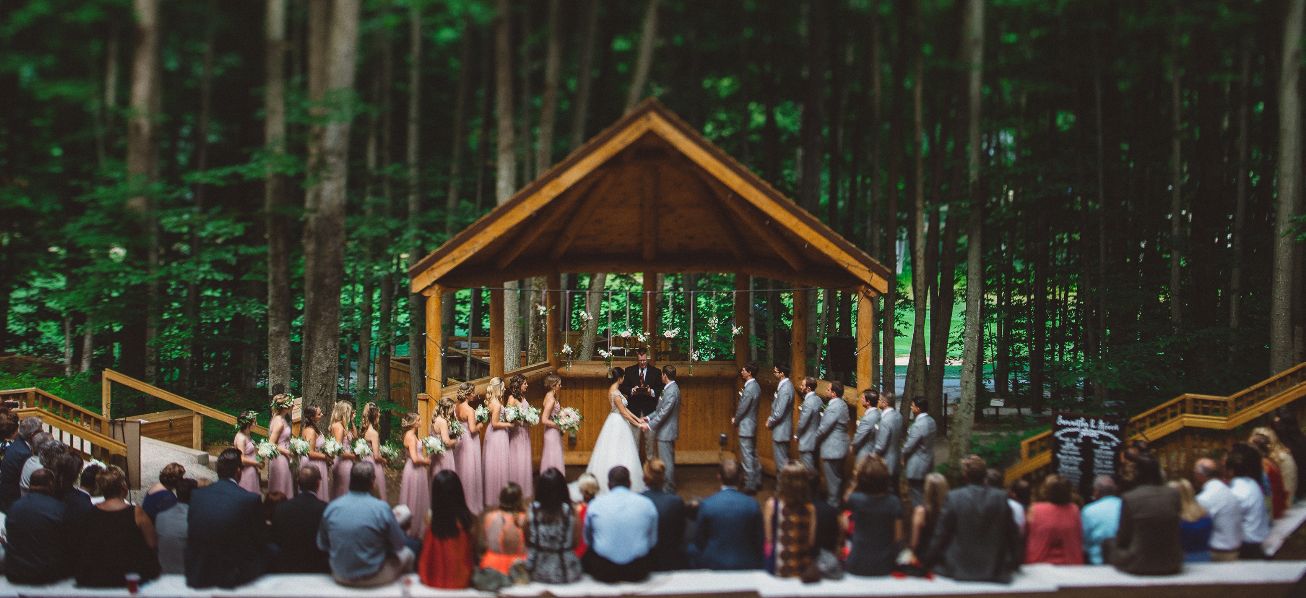 The 2018 Weddings & Bridal Issue
Not-so-traditional Up North wedding venues and ideas
Most wedding receptions follow the same format. It doesn't really matter where it's held or who the participants are. "You eat, drink, dance and go home," said Tracy Magoon, an events planner with Social Butterfly in Traverse City.
That doesn't mean there aren't ways to spice things up, to twist tradition a little bit, to think outside the box. Or to not use a box at all. Many couples celebrate their nuptials with beachside weddings featuring the Caribbean blue waters and sugar sand beaches of northern Michigan. At the Homestead Resort in Glen Arbor, you can use stunning views of Lake Michigan as a backdrop. "We have a lot of outdoor weddings and receptions on Bay Mountain, the top of the ski hill," said Lynzie Gotshall, one of the resort's wedding sales associates.
Crystal Mountain Resort in Thompsonville can't offer Lake Michigan, but it does provide some special surroundings. Meaghan Jameson of fox + fern events is working with a couple having their reception this summer at the Top of the Mountain at Crystal Mountain. They're doing a long table with al fresco dining and having the dance floor will overlook NoMi. Their guests will access the area via ski-lift, like at the Homestead.
Then there's The Field at Stone Road, which Carmen Kott described as a "blank canvas" that only a few wedding parties a year can use but can set up however they desire. "It's not your typical ballroom," said Kott, a wedding and special events sales manager at the resort. She describes the spot as being "in the middle of nowhere" at the resort, a field surrounded by woods. That allows the wedding party to set it up however they want. But it also means bringing in everything — as in tents, tables, chairs, generators, water, port-a-potties everthing.
Another option is Legacy Art Park. The 30-acre outdoor sculpture park offers trails and a natural amphitheater (pictured) that is perfect for wedding ceremonies. And Kott said a new option at the resort is the rooftop terrace at the Inn at the Mountain. Part of the resort's recent $11 million expansion, Kott said it's perfect for an intimate gathering.
Places like the Dhaseleer Events Barn outside Charlevoix, and Cherry Basket Farm of Omena offer actual barns, as well as outdoor locations for ceremonies. Another option is the Music House outside Acme. Tim Keaton, the executive director of the museum, said it is perfect for those looking to create a vintage-type atmosphere.
Stacy Horn of Juniper & Lace Events, who previously worked in Colorado before moving her operation to this region, has seen many a one-of-a-kind wedding. "Creating a memorable wedding experience could involve bringing in an elephant (one of my Denver colleagues did that), renting a mechanical bull for post-dinner entertainment, or taking guests on a sunset Nauti-cat tour in the Grand Traverse Bay," she said. You could even have a surprise fireworks show — with the proper permits, of course.
She said there are also ways to spice up the expected cakes and beverages, often without breaking the bank, such as bringing out a dessert cordial with the wedding cake at dinner. "Limoncello is a recent fave, but we also tried a raspberry cordial paired with chocolate at Black Star Farms recently that was divine," she said. "I had a couple surprise guests with mini-milkshakes passed through the crowd a couple hours into dancing, and they loved it. Since the couple's love story involved milkshakes, it had personal meaning as well."
Even the standard coffee can be complemented with some unexpected twists to craft a whole new, different and memorable experience. Horn said bringing in a Planetary Coffee truck or Mundos Roasting & Co. for some affogato (espresso over vanilla ice cream with chocolate shavings on top) takes coffee and dessert to a whole new level.
Magoon does offer at least one exception to her rule about the sameness of receptions. She worked with clients who met while performing in a play, and took that experience to heart. Rather than traditional toasts, their guests offered congratulations in a variety show format. "Some sang, some read poems they'd written, did parts from Our Town (the play where they'd met). I loved that," she said.
"I tell clients to change it up a little bit," Magoon continued. And they do. "One had a cereal bar. The groom loved to eat cereal. I see a ton of food trucks," often for a late-night snack, offering tacos, pizza, even a potato bar.
While outdoor weddings in barns and vineyards are becoming almost common, even there she said clients can put a twist on things. She pointed to one in the fall at Rocky Top Farms in Ellsworth. "The guests will all camp on-site."
Whether it's camping or a farm-to-table experience, hosted at the beach, a ski hill or winery, it is becoming more popular to look outside the box. Indeed, as the region's reputation continues to grow, resorts like the Homestead and Crystal Mountain, vineyards and wineries, and the area's beaches and forests are ever-more in demand for destination weddings. "Most (here) are from out of town," acknowledged the Homestead's Gotshall. "If you live in Detroit, this is a destination, one that's highly sought after."
Trending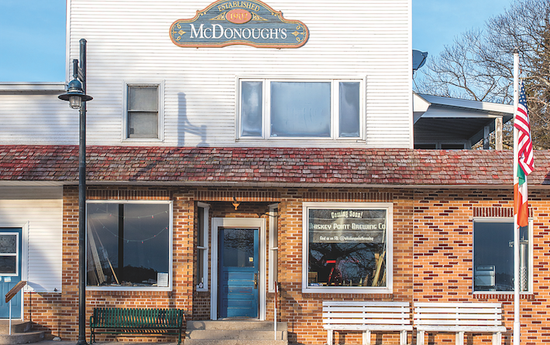 Welcome to Michigan's Most Remote Brewery
After years of planning and honing his beer-making skills, this spring, Patrick McGinnity plans to open Beaver Island's first microbrewery. Opening a craft brewery is challenging. Opening one on a remote island in Lake Michigan that's either a 15-minute plane ride or a two-and-a-half-hour ferry ride from ...
Read More >>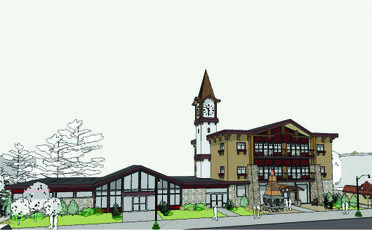 Gaylord: A boomtown Up North
Gaylord native Gary Scott had moved to Indiana, where he and some partners started a business to invest in distressed properties. He was talking to a banker in Detroit about real estate in Bloomington when he asked what kind of deals might be available in northern Michigan. ...
Read More >>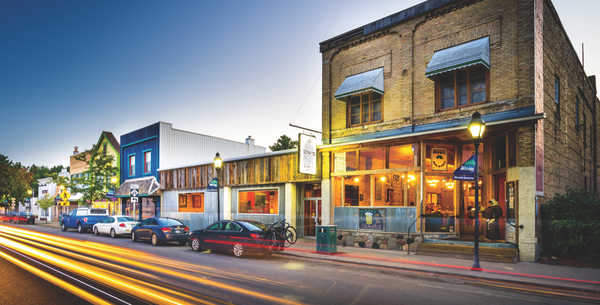 Small Up North Towns on the Rise
Spotlight on Bellaire (pictured)Seems Traverse City isn't the only place in the region making those "Best of" lists. The Antrim County hamlet of Bellaire was recently named to the list of Best Lakeside Towns in the U.S. by Country Living Magazine, alongside the likes of Vergennes, Vermont, Greenville, ...
Read More >>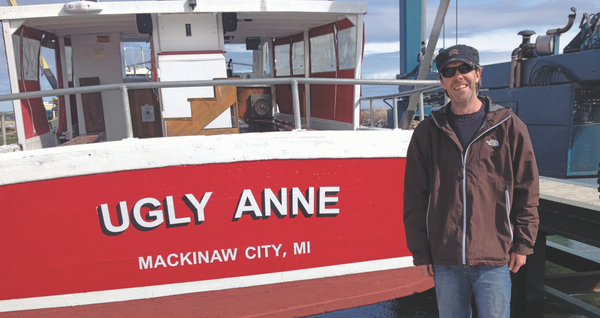 A Wicked Cool Ride Around the Straits
You expect to see boats around Mackinac Island in summer. Sailboats, power boats, cruisers, and the ubiquitous ferries that run residents and guests back and forth across the Straits of Mackinac, sure. But there's a more unusual vessel visible these days — an all-wooden Down East lobster ...
Read More >>
↑