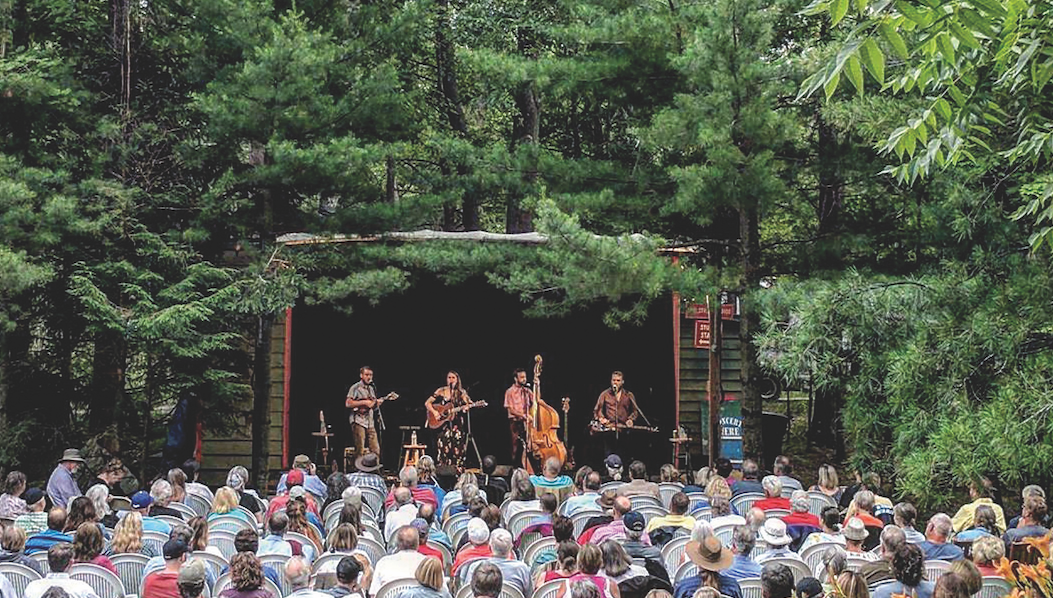 The Best Live-Music Venues You're Missing in Northern Michigan
Musicophiles might know about these intimate, under-the-radar gems in their own backyard — but do you?
So you know about the shows at Interlochen Center for the Arts. Ditto Traverse City's City Opera House, Manistee's Little River Casino, and Northwestern Michigan College's Milliken Auditorium. But what about Red Sky Stage, Dhaseleer Events Barn, Rotary Park Pavilion, or Studio Stage?
Though often well-known in their individual communities, a number of performing arts venues elsewhere in the region are afterthoughts at best. But that doesn't mean they don't attract high-end talent and aren't worth checking out. For example, Legacy Art Park at Crystal Mountain Resort in Thompsonville and Fountain Point Resort outside Lake Leelanau both host shows in the summer. The Historic Elk Rapids Town Hall has been refurbished and continues to showcase performers such as the Outside Track, who played on the heels of concerts by JigJam and Max and Ruth Blomquist. Even Pine Hill Nursery in Kewadin hosts music at its summer-only café.
Intrigued? Here's a list of exceptional listening spots to put on your must-visit list:
Music in the Park(s)
A number of towns host music in their downtowns during the summer, from Northport to Beulah to Cadillac. The shows attract regional artists like Glenn Wolff and Robin Lee Berry, the New Third Coast, and the Benzie Playboys, Michigan bands such as the Accidentals and Organissimo, and national artists such as Claudia Schmidt, Sally Rogers, Mulebone, even Igor and the Red Elvises. Cadillac's Rotary Park Pavilion has become a regular stop for blues rock guitarist Paul Nelson, previously Johnny Winter's musical director and producer. It recently hosted hometown hero Luke Winslow-King, who traded Cadillac for a decade-plus in New Orleans before moving back to his hometown.
Music on the Mountain, the Homestead Resort, Glen Arbor
Another summertime-only music series takes place atop one of the ski hills at the Homestead. The backdrop of Lake Michigan vistas makes for one of the most picturesque outdoor settings anywhere. The music's not an afterthought either. It runs the gamut from folk to rock, jazz to world music. Past shows have included the likes of Bugs Beddow's soulful mix of rock, pop and Motown, Celtic music from Blackthorn, Paul Keller's jazz, Levi Britton, Blue Water Ramblers and Jill Jack. You can even ride the lift to the top.
Ramsdell Theatre, Manistee
The Ramsdell has been a part of the community since opening in 1903, and like Manistee itself, it has thrived in good times and suffered in bad. In the 1990s, as the city began to emphasize its Victorian heritage, area residents banded together to guide a major restoration. Today Xavier Verna, the Ramsdell's new executive director, is for the first time bringing an entire season of shows to the stage: a performance by the Grand Rapids ballet Sept. 29; South American Sounds featuring the music of Argentina and Brazil by the Alberto Rojo Trio and Choro Das 3 on Oct. 6; Jeff Daniels and the Ben Daniels Band Nov. 7; and the Akropolis Reed Quintet Nov. 13 and 14. The Ramsdell also is home to the Manistee Civic Players and the week-long Festival of Trees, which runs Nov. 26 through Dec. 3.
Crooked Tree Arts Center, Petoskey
The auditorium at Crooked Tree Arts Center hosts a panoply of artists befitting its name. Pop music, chamber music, theatre, jazz and dance are all welcomed to the stage (though not at the same time). This year things get started with classical pianist Andreas Klein Oct. 7. Rodney Whitaker, head of the jazz department at Michigan State University, brings his group in on Jan. 6, and the vocal group Six Appeal performs March 10. Crooked Tree also hosts shows at other locations, such as the Harbor Springs Performing Arts Center and Petoskey Public Schools. Of course, its galleries always are showcasing art from around the region and around the world.
On the Porch, Sleder's, Traverse City
This series of shows kicked off in 1998. Typically concerts take place once a month, mostly on Sunday; one exception was last week's Tuesday performance by renowned French guitarist Pierre Bensusan. Performers have been from across the musical spectrum, though often with a folksy or Celtic slant. Claudia Schmidt and Sally Rogers did a Mother's Day show last year; other performers have included Louan Lechler, Pat Niemisto, Bill Staines, James Keelaghan, The RFD Boys, Fullset, the Outside Track and Josh White Jr. It typically runs during the non-summer season, with most shows scheduled between Labor Day and Memorial Day.
Red Sky Stage, Petoskey
The Red Sky Stage bills itself as "an informal, coffee house-style venue for the performing arts." But it's a safe bet that most coffee houses don't have an 18-piece house band. That would be the Up North Big Band, which hosts a monthly swing dance on the venue's 1,000-square-foot dance floor. It's also home to the Blissfest Folk and Roots Mini-Concert Series, with bands like Steel and Wood as well as Rustic Heart. Then there are the ukulele lessons, harmonica lessons, live comedy by the Petoskey Improv Troupe. Don't forget poetry readings, the Blissfest Old Time Country Dance series, and even hip-hop.
Lake Street Studios, Manitou Music Festival, Glen Arbor
When Susan Wilson and Ananda Bricker started Lake Street Studios in the late '80s, they realized there was a need for a place for performance. So they started inviting artists to play, first at New Year's parties in Center Gallery, then during art openings there, and then finally on the back porch. A permanent stage was built in the back around 1990.
It morphed into Music Around the Lakes, a mostly-chamber music series, and visited other venues, under the purview of violinist Richard Luby and cellist Crispin Campbell. In 2002 during a memorial concert for Susan Wilson, percussionist Pete Siers began reminiscing with Wilson's son-in-law Harry Fried about having played "out back" years earlier. The two went out and found the original stage grown over in the bushes. Siers said he would love to play there again, and the next year the stage came to life once more when Siers's band Los Gatos kicked off the new Manitou Music Festival. Since then it has hosted a number of traveling and local musicians from folk to blues to Celtic music.
Mills Community House, Benzonia
Originally constructed as a dormitory for Benzonia Academy in 1909, today the Mills Community House serves as the home of the Benzonia Public Library. But wait, there's more: It also has been commonly used for shows — everything from the Benzie County Community Chorus to performances by classical guitarist Daniel Quinn. It's also hosted the Benzie County Community Players, and is also used as a backup for Beulah's Music in the Park series.
Del Michel Studio, Traverse City
Retired college art instructor Del Michel has always been interested in marrying visual art and music, first at Hope College and now at his gallery in Traverse City. The intimate space only holds about 50 people, who can look at the art surrounding them while listening to music. "At Hope I taught a course called 'Encounter with the Arts,'" he said, which brought together visual art, dance, music, poetry and theatre. Since moving to Traverse City he's also painted during a performance by the Traverse Symphony Orchestra as well as showing at Otis Gallery in Charlevoix during a concert there. "I like it when arts collide," he said. Irish singer Aoife Scott was there last month, and Michel intends to bring in other performers to his space just off Front Street behind the Cook's House.
Aten Place/Lavender Hill Farm, Boyne Falls/Boyne City
If it's under the radar you're looking for, that is — or was — Aten Place. The neighborhood potluck with some music at Bill and Maxine Aten's barn in Boyne Falls turned into a 23-year series of shows. "Our endeavor was never intentionally to build a concert venue. We simply had some potluck dinners with friends and had a musician perform for donations," said Bill Aten. He said the continued and expanding success of those shows stimulated them to add seating, lighting, quality sound and a large picnic area. "At some point, the process took on a life of its own, and we went along for the ride. As it grew, we saw it as our way of giving back to our Northern Michigan community," Aten said.
All good things must come to an end, and after some 200 shows, last month's two shows by the Ragbirds wrapped things up for the Atens. "We had publicly stated that the concerts had always been a labor of love, but they were becoming more labor than love," said Aten. But not to worry: The concept is being picked up by Lavender Hill Farm, located outside Boyne City. Rita Robbins, who owns the farm with Bill and Erin Mansfield, says they are "thrilled and delighted" to be able to continue the tradition. "We expect that some things will change — for instance, our barn has a larger capacity," she says. "But it is our intention to have outstanding bands and performances we look forward to having attendees enjoy picnicking before each performance and sharing good times." Bill Mansfield says they are humbled to carry on the tradition.
Dhaseleer Events Barn, Charlevoix
Speaking of farms, Carl Dhaseleer grew up on his family farm south of Charlevoix. After stepping away from the family business for a while, when he and his wife Cornelia decided to revive the farm they embraced the then-nascent vision of agri-tourism. Turning their attention to their barn, built in 1874, they determined it was suitable for hosting events. They started with weddings and receptions and farm-to-table dinners, then musical performances. At first they booked the music themselves, featuring singer/songwriters from the Earthworks Music group, such as Seth Bernard, May Erlewine, Joshua Davis and other roots-based musicians. This year they partnered with Jamie-Sue Seal of Smokin' Sleddog Records and expanded the roster to include the likes of the Nashville husband-and-wife team of guitarist Pat Bergeson and vocalist Annie Sellick.
Cadillac Elks Lodge, Cadillac
This is (usually) the home of the Gopherwood Music Series. That's with the exception of house concerts, which are hosted at the home of series coordinator Paul Brown. The long-running series of monthly concerts is now in its 34th year of operation. This year it kicks off Sept. 30 with Rick West at Brown's home, then running through shows by Lindsay Lou, May Erlewine, and Luke Winslow-King among others, before concluding in May with another house concert by Jen Sygit.
Upstairs Lounge, Petoskey
There are any number of restaurants and bars that bring in entertainment. Located above Leo's Neighborhood Tavern at 432½ East Mitchell Street, the Upstairs Lounge is open only on the weekends when it hosts live music. Bands like the Galactic Sherpas, 3Hearted, even trippy jam band Ultraviolet Hippopotamus have been part of the fun. Stylistically, it embraces everything from metal to country, funk and reggae. Johnnie Walker, who heads it up, calls it an entertainment venue and concert lounge. "You can sit back and relax. It's not super loud," he said.
Trending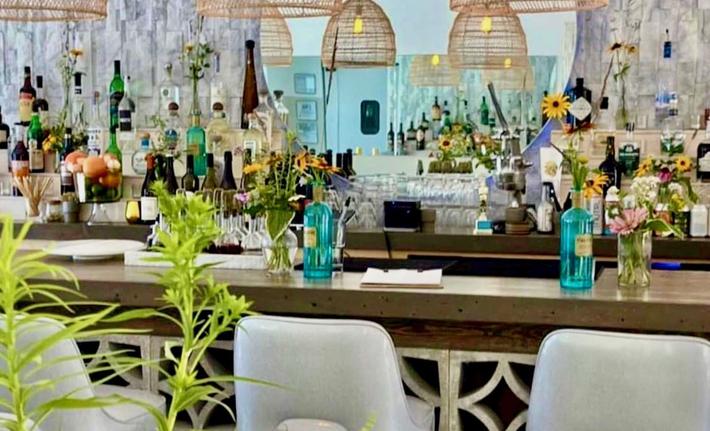 Your Fall Restaurant Guide: Six Spots to Stop for a Bite in Northern Michigan
The weather may be cooling down, but the culinary scene in northern Michigan is heating up. This summer, we explored six n...
Read More >>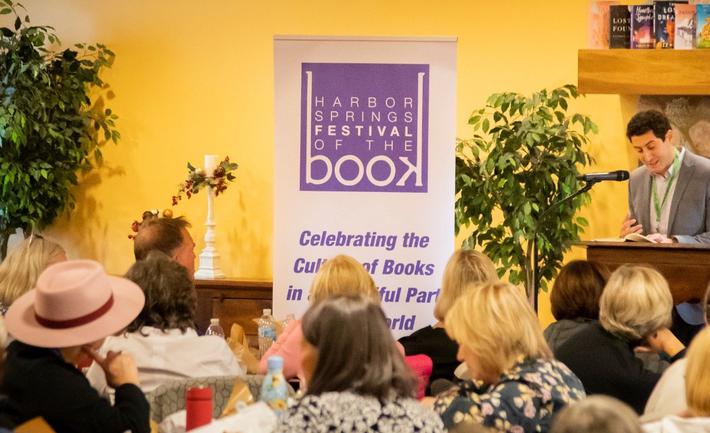 A Weekend of Books
It's a bookish weekend in Petoskey, Bay Harbor, and Harbor Springs! (Be still, our literary hearts!) First up is the...
Read More >>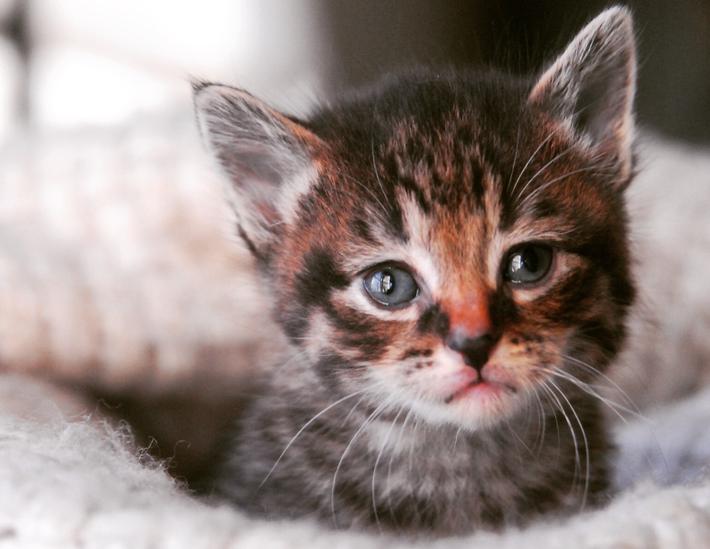 Make Your Pet Famous!
Every fall, Northern Express puts together our Pets Issue, which features stories about our beloved furry friends. As part...
Read More >>

Transformation on the Trail
It's no secret that the Boardman Lake Loop Trail in Traverse City is a popular spot for a stroll. And after a summer...
Read More >>