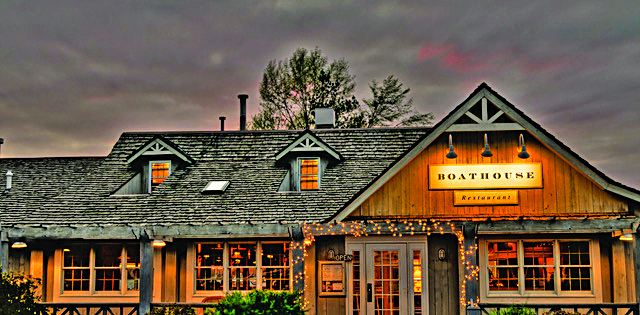 The Boathouse on Traverse City's Old Mission Peninsula
An experience for all seasons
Bowers Harbor Marina on Old Mission Peninsula is empty now. The summer tableau of boats, sailors, and fishermen outside its windows has moved out to make way for a new show: water that some days is as smooth as glass, and other days, when dramatic storms move in, whipping up whitecaps as winds send dry leaves — and soon snow — whirling through the air.
The Boathouse's sweeping views of the seasons' spectacles is certainly one factor that draws people to this upscale yet unpretentious restaurant just 10 minutes' drive north of Traverse City, but what keeps them coming back again and again — year round — is its outstanding food and highly personalized service. Owner Doug Kosch and executive chef Jim Morse are of one mind in wanting to give every guest a memorable dining experience.
"Whether you're coming in to celebrate a special occasion and looking forward to indulging in osetra caviar and Wagyu filet in the dining room, or capping off a day of wine tasting or cross-country skiing and feeling more in the mood for a Boathouse burger and poutine fries in our bar lounge, we want you to feel welcome and relaxed," said Kosch.
Morse, a graduate of the Great Lakes Culinary Institute and former chef-instructor there, came to the Boathouse right out of school and stayed for eight years, after which he spent five years working with acclaimed area chef Michael Peterson at fish- and seafood-centric Siren Hall in Elk Rapids.
"I wanted to work with him because I knew what he was doing and what he could teach me," said Morse. "I learned a lot from him about choosing seafood and fish and the variety of techniques that you can use to prepare them. He helped me expand and develop my repertoire, as well as refine the skills that I already had."
Having returned to the Boathouse four years ago, Morse now oversees a well-trained kitchen staff, including sous chef Oumar Sy, a native of Senegal. "He just moved here about a year ago from the Washington D.C. area, where he had worked with Michelin-starred chefs and later owned his own restaurant," said Morse. "He's great — he works harder than anybody, and he knows what it takes to do this job." Morse and Kosch also have high praise for the rest of their staff, front and back of the house. "They are a solid core group of individuals who have been with us for a long time," said Kosch. "They take their jobs seriously, and it shows in the body of their work. They are true professionals."
Kosch and his family live just a stone's throw from the Boathouse, and many of the vegetables, fruits, and herbs used in the restaurant are grown right on their 10-acre farm, using environmentally friendly practices. "In late fall we really try to harvest and preserve as much as we can," said Kosch. "We pickle and can beans and cauliflower, make a basic sauce with the ripe tomatoes that chef can turn into other things, and make a relish from the remaining green tomatoes." Apples are pressed for juice and then cooked down and frozen for future menu items.
When cooler weather dictates certain changes in the Boathouse menu, Morse's mind turns to ingredients like game, root vegetables, and foraged fare. "I'm looking forward to getting some elk short ribs and racks from a farm near Gaylord soon," he said. "Elk is so different from venison. There's less gaminess, more marbling, and it's more juicy and tender."
He braises the short ribs in red wine and serves them with celery root and potato purée. The elk racks are cold-smoked over juniper branches before being grilled to medium. To accompany them, Morse creates a chorizo hash and squash puree and makes a sauce out of autumn olive berries, which he said grow wild in open fields or by the side of the road, but are seldom harvested by anyone.
In addition to the Boathouse's signature Wagyu beef, lobster tail, and organic salmon entrées, its baked Leelanau Cheese truffled raclette (with white wine, shallot and garlic, served over rosemary ham, fingerling potatoes, cornichons and garlic toast) and morel-chanterelle bisque (chateau d'orignac, cream, white truffle oil) are two popular menu choices when the temperature drops. The combination of such serious comfort food and the cozy, cottage-style dining room, bathed in the warmth of flickering logs in its large stone fireplace, chases any thought of chills away.
The composition and presentation of Morse's creations are very intentional. "I have a vision for each dish and plating," he said. "Every entrée, for example, is composed of what, in my opinion, are complementary elements — flavor-wise, color-wise, and texture-wise. Take our lamb, for example. Right now the preparation is Mediterranean, with fava bean-mint purée, roasted cauliflower, eggplant caponata, and marinated feta. Last year, it was more Indian. We're able to appeal to a wide range of diners because, while we do the classics, we also try to push the envelope and do fun, new things. Whatever I cook, though, I focus on certain techniques and tastes. I want it to be grounded in some tradition or structure."
Tradition is one of the things that inspired Morse to pursue a culinary career. Growing up, he was very close to his great-grandmother. "She was very healthy and active right up until she died at age 95. She always had a big garden and loved to cook. It was simple food, but very good. She had that connection to fresh vegetables, and she passed it on to me. I would eat green beans and tomatoes right off the plants in her garden, and there's still nothing better than that to me. She always made chocolate cake and drank Earl Grey tea, too, and today I make a chocolate truffle that has Earl Grey tea in the ganache — it's a tribute to her."
The Boathouse is located at 14039 Peninsula Dr. in Traverse City. Open for dinner seven days a week. Reservations are suggested by calling (231) 223-4030. For more information, visit boathouseonwestbay.com. Rating $$$-$$$$
AW(ESOME) SHUCKS
(AND SUBLIME SLURPS)
Oysters are a big deal at the Boathouse — and not just during the winter holidays. The restaurant's in-house oyster bar offers an intriguing mix of Atlantic and Pacific varieties throughout the year. A recent sampling listed Raspberry Point from Prince Edward Island (clean, briny), Wellfleet from Massachusetts (rich, buttery), and Kumaiai from California (plump, creamy), among others. Connoisseurs of these bivalvian delicacies can enjoy them in either the lounge or the dining room and choose from three different preparations: on the half shell (with mignonette, cocktail sauce, lemon, and horseradish), Rockefeller style (with bacon, spinach, pernod, parmesan, and panko), or combined with poke (yellowfin tuna, wasabi avocado, yuzu, sesame, jalapeno, radish). And now, champagne, anyone?
SAVE THE DATE
FOR SANTA & CO.
"In our off-season, we really focus on events, including lots of wine dinners with local wineries and a few from California," said Kosch. November kicks it off with a wine- and beer-pairing dinner on Nov. 10, followed by "Date Night" on Nov. 18, and the ever-popular Boathouse Thanksgiving dinner on Nov. 23. December brings brunch with Santa and Christmas Eve dinner, and February reprises the popular wild game weekend, complete with "Crabbed Aggression" on Friday night (hint: Grab your wooden mallets and get cracking). See the Boathouse website for further details on these events and more.
Trending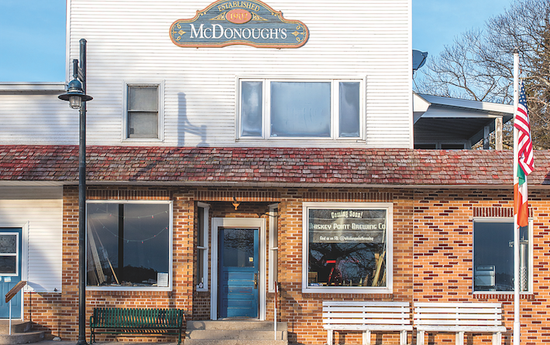 Welcome to Michigan's Most Remote Brewery
After years of planning and honing his beer-making skills, this spring, Patrick McGinnity plans to open Beaver Island's first microbrewery. Opening a craft brewery is challenging. Opening one on a remote island in Lake Michigan that's either a 15-minute plane ride or a two-and-a-half-hour ferry ride from ...
Read More >>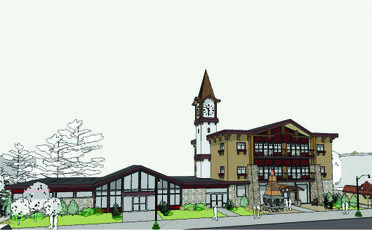 Gaylord: A boomtown Up North
Gaylord native Gary Scott had moved to Indiana, where he and some partners started a business to invest in distressed properties. He was talking to a banker in Detroit about real estate in Bloomington when he asked what kind of deals might be available in northern Michigan. ...
Read More >>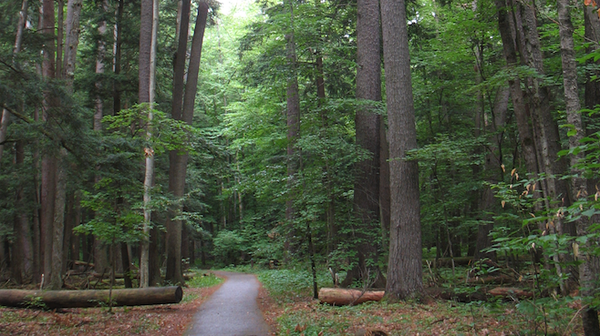 Lose Yourself Among Hartwick's Ancient Pines
Covering just a shade under 10,000 acres, sprawling Hartwick Pines State Park is one of the largest state parks in Michigan. Its rolling hills, formed by an ancient glacier deposit, overlook the verdant valley of the east branch of the AuSable River north of Grayling, four small ...
Read More >>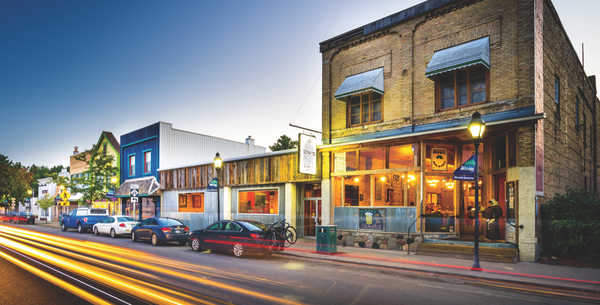 Small Up North Towns on the Rise
Spotlight on Bellaire (pictured)Seems Traverse City isn't the only place in the region making those "Best of" lists. The Antrim County hamlet of Bellaire was recently named to the list of Best Lakeside Towns in the U.S. by Country Living Magazine, alongside the likes of Vergennes, Vermont, Greenville, ...
Read More >>
↑