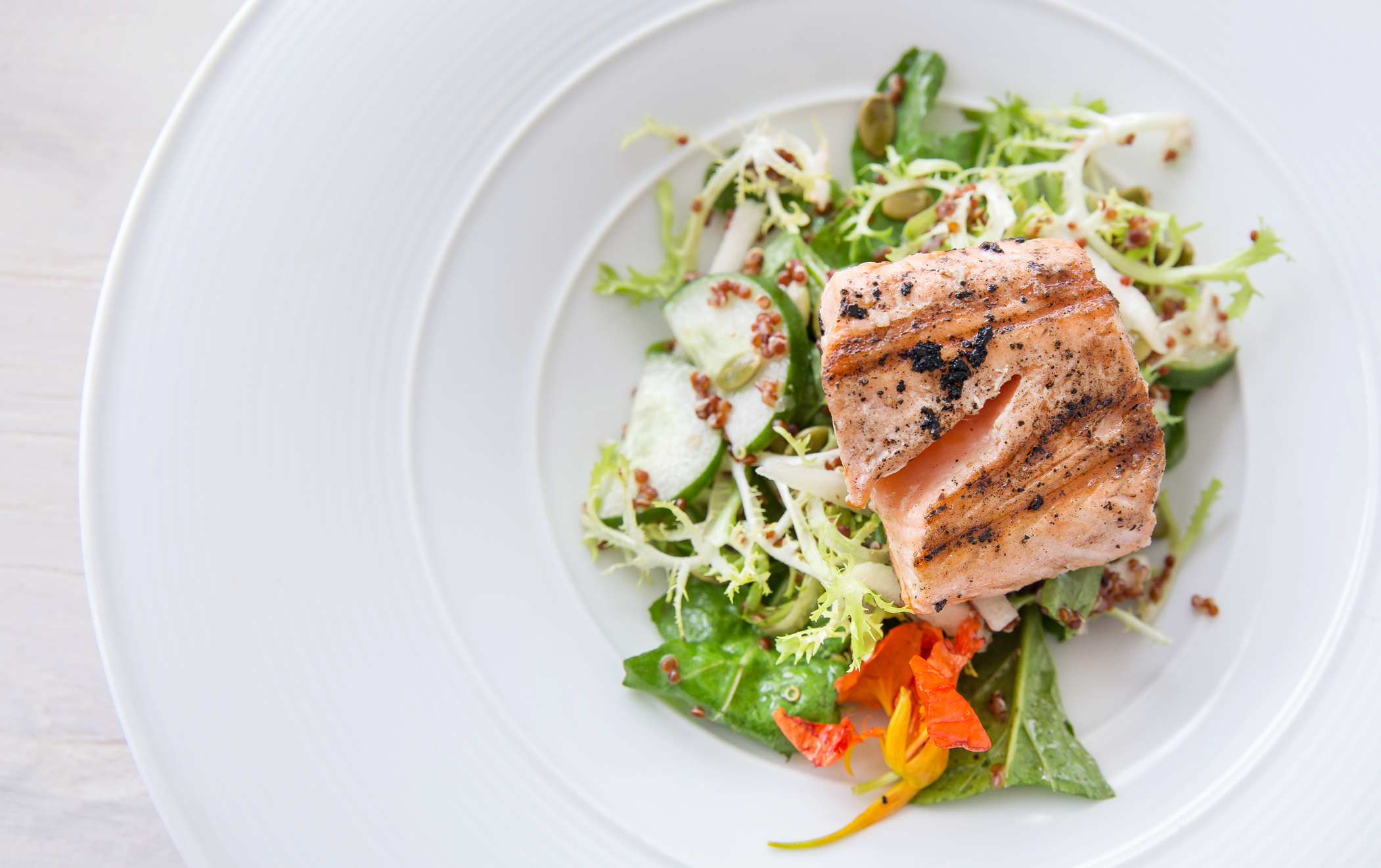 The Eat List
Where to Nosh Now
Sept. 16, 2017
Please be seated for these abbreviated versions of the restaurant reviews we've featured since our last RestauranTour issue. Bon Appetit!
(Compiled by Kristi Kates)
Blu
Glen Arbor
Now in year nine with Blu, Chef Randy Chamberlain said what he sees happening is exactly what he wanted to create from the start: a fine dining restaurant in which the ingredients dictate the menu, not the other way around. And that menu changes daily, depending on what's available and in season at this quietly elegant fine dining restaurant. Chamberlain's wife, Mari, is a certified sommelier who manages the front of the house, and their son Logan handles sous chef duties in the back of the house.

On the Menu:
A few of the things that landed on a recent menu included fried green tomatoes with tomato-rosemary cream, feta and capers; veal sweetbreads with green tomato jam, almond and mustard green salad; and Bouchon, a chocolate flourless cake with chocolate malt ice cream. With a menu this ambitious, it's not surprising that the beverage selection is also carefully curated, giving ample space to bubbly (local blanc de blanc, prosecco and champagne) as well as Michigan wines and Old World and New World reds and whites.

Find Them:
Blu is located at 5705 South Lake St., in Glen Arbor. For more information and hours, visit glenarborblu.com or call (231) 334-2530. $$$–$$$$
Rodrigo's
Harbor Springs
The husband and wife team of Sara Gaydan and Rodrigo Sandoval took the long route to northern Michigan, spending time in Brownsville, Texas, and Vero Beach, Florida, before making their way north and opening Rodrigo's. Rodrigo's goal is to serve "really authentic Mexican food, not American-Mexican food." To do so, they use as many local ingredients as they can, including organics foods and food from the farmers markets, making their own tortillas, guacamole, pico de gallo, and queso right in-house.
On the Menu:
Most popular are the tacos with Rodrigo's homemade corn tortilla shells, filled with your choice of sautéed chicken or shredded chicken, beef, or steak. Or you can choose the vegetarian option: a seasoned mix of carrots, green and red peppers, onions, mushrooms, cauliflower, and broccoli. They're served with chopped fresh onion and cilantro on top, a slice of lime, rice and refried beans, and a side of homemade guacamole made fresh daily. Burritos, street tacos, and fajitas offer similar ingredients, with the special Del Mar fajita mixing fish and shrimp together. Beverages include Coke products as well as Jarritos Mexican soft drinks like Piña (pineapple), Tamarindo (tamarind), and Fresa (strawberry).

Find Them:
Rodrigo's is located at 7593 S. State Rd., in Harbor Springs. For more information and hours, visit facebook.com/rodrigosharborsprings or call (231) 526-2980. $$

Black Star Farms' Hearth and Vine Cafe
Suttons Bay
Before it was renovated and transformed into the Hearth and Vine several years ago, the outbuilding nestled beside the gardens and hoop houses on the Black Star Farms property was a mare barn, and then a farm market. It is now a charming café that welcomes guests into a cozy dining room with a wood-fired pizza oven, a bar that serves Black Star Farms wines and craft cocktails, and a takeout pastry case with fresh-daily offerings from the kitchen's pastry chef. Guests of the café also can dine on the inviting outdoor patio (weather permitting), where the Friday night Great Lakes fish boils and Wednesday paella nights are held.

On the Menu:
Many of the ingredients used in the dishes on the Hearth and Vine menu are from the on-site farm, which means all of the menu items offer literal farm-fresh flavor. The vibe is "come as you are" — sit down and enjoy a glass of wine with an artisan pizza (the selection is extensive and ever-changing, including vegetarian options), a healthy salad with kale or other just-picked greens, a charcuterie board, or the cafe's own hand-cut parmesan-truffle fries. You can also sample and buy artisan food products made in-house, including granolas and crackers (sweet potato cashew crackers and lentil sea salt crackers are local favorites).

Find Them:
The Hearth and Vine Cafe is located within Black Star Farms at 10844 East Revold Rd., off of M-22, just south of Suttons Bay. For more information and hours, visit blackstarfarms.com/hearthandvine or call (231) 944-1297. $–$$
Red Top Pasteria
Lake Leelanau
Detroit-style pizza and Finnish pasties. In the classic words of Sesame Street, "One of these things is not like the other." But Lake Leelanau's Red Top Pasteria most definitely makes this Motor City-Finn merge work, thanks to owners Jill DeLeary and her husband, Ken. The couple found a location in Lake Leelanau and decorated it scrapbook-style, with a mix of décor from their Detroit roots (street signs from Woodward Avenue and Woodrow Wilson Street); some souvenirs and music from Hawaii; and a collection of old vintage photos of the Leland/Lake Leelanau area.
On the Menu:
The menu is anchored by Finnish pasties — three different types, starting with the classic original: a filling of ground 90/10 sirloin, cubed potatoes, carrots, onions, and salt and pepper, all baked in a crust that DeLeary makes from scratch. A vegetarian version is also available, as is a breakfast variety. The Motor City-inspired pizzas start with a thicker crust, with the cheese and toppings cooked onto the crust to caramelize the cheese and the red sauce on top (hence the restaurant's name). The most popular pizza is the flavorful "Mackinac Bridge," with pepperoni, sausage, and a dollop of ricotta cheese placed carefully on each slice. The Coney Dog pizza plays on another Detroit original, with ground sirloin Coney-chili sauce, sliced frankfurters, diced onions, mustard, and DeLeary's own cheese blend.
Find Them:
Red Top Pasteria is located at 112 E. Phillip St. (M-204), in Lake Leelanau. For more information and hours, visit facebook.com/redtop231 or call (231) 994-2733. $-$$

Robby's Taqueria TC Mexicana
Traverse City
Rosalba "Robby" Montes Leko and her husband, Michael, opened their space on Traverse City's East Front Street, close to the downtown district, on Labor Day 2015, where the central location and ample parking were big factors in choosing it. Today, nearly two years later, arriving customers are greeted by their hosts amid the sight of a cheerful interior adorned with art and artifacts from Mexico, the sound of lively Latin music playing in the background, and enticing aromas emanating from the kitchen.
On the Menu:
With a sharp focus on "food and flavors," Robby's offers authentic Mexican dishes like sopa de tortilla (tortilla soup), spit-roasted trompo pork for tacos pastor, and arrachera (pounded, marinated and grilled Mexican flank steak). The current menu is large and ambitious but also carefully curated, incorporating dishes from several different regions of Mexico; everything — including sauces, marinades, and seasonings — is made from scratch. Local favorites so far include the enmoladas (corn tortillas with a chicken filling and mole sauce and topped with crumbled queso fresco), tostones, chiles rellenos, and the homemade guacamole.
Find Them:
Robby's is located at 830 East Front St., in Traverse City. For more information and hours, visit robbystaqueriatc.com or call (231) 486-6991. $–$$

Nada's Gourmet Deli
Traverse City
Opened in May of 2016, Nada's is truly a multicultural experience. The owner, Nada Saco, was born in Iraq and later spent time in Turkey and Greece with her family to escape political turmoil in her home country. Later, she'd move to Detroit and then north. When her father-in-law, who owned a small gas station and grocery in Kalkaska, wanted to introduce some Middle Eastern take-out food to the business, Saco and her husband took on the task. They focused on quality and authenticity and carefully choosing their ingredients, many of which are sourced from local farms. Nada's is also a quintessential family business; her son, daughters, and nephew all work there part-time when they're not in school, with other relatives also lending a hand when needed.
On the Menu:
The deli started by offering simpler items like hummus and tabbouleh, which Saco knew were already familiar to most customers, and then gradually added salads, appetizers, sandwiches and desserts. Her menu emphasizes healthy choices like grains, greens, pickled items like the unique condiment Turshi, and fresh vegetables and fruits. The deli case is an astonishingly diverse and artfully displayed palette of colors and textures that first delights the eyes and then the palate. Sandwiches are made with bread freshly baked in house, all salads are available by the pound, and many vegetarian, gluten-free and vegan choices are available.
Find Them: Nada's Gourmet Deli is located at 542 West Front St., in Traverse City. For more information and hours, find them on Facebook or call (231) 947-6779. $

West End Tavern
Traverse City
Traverse City restaurateurs Mike and Sheila Connors purchased the vacant property overlooking Harbor West Marina on West Grand Traverse Bay with a name and a concept already in mind: They wanted to infuse the place with a sense of community, like the original taverns where people came to hold town hall meetings, get together with friends, and to celebrate life events. Now, a little more than one year after the tavern's grand opening, it seems their classic vision has become a vibrant reality. The tavern also aims to be a "crafted experience," from the interiors to the food. The décor includes a large stone-hearth pizza oven, plus warm wood-design elements including a black walnut and African mahogany bar, cedar beams across the ceiling, and canopies over the dining room booths.
On the Menu:
Handcrafted pizza creations abound, from their fennel sausage pizza with confit garlic and sweety drop peppers, to the white pizza with whipped goat cheese, prosciutto, fig preserves, arugula, and a balsamic reduction. West End also offers lake perch fish and chips, a walleye sandwich, and a weekly market fish selection, plus a range of hearty home-style options: a classic tomato soup with half a bacon-grilled cheese sandwich; lobster mac and cheese; wood-grilled BBQ ribs; and a 24-ounce Tomahawk bone-in ribeye steak with all the fixings.
Find Them:
West End Tavern is located at 12719 West Bayshore Dr., in Traverse City. For more information and hours, visit westendtaverntc.com or call (231) 943-2922. $$–$$$
Chestnut Valley Restaurant
Harbor Springs
Opened in 2005 as a combination golf course and restaurant, Chestnut Valley sits north of Harbor Springs in a wooded setting that surrounds meticulously groomed greens and gently rolling fairways. Its current owner, Mike Wilson, bought the facility in 2011. New general manager, Mark Sanche, started at Chestnut Valley this past April, and has been part of a restaurant relaunch at the club that's aiming to take the menu back closer to its roots, with a goal of showing guests that you can "eat local, reasonably," i.e., have a nice dinner and a round of golf without spending a lot of money.
On the Menu:
The burgers bring a local, tasty connection to the table via grass-fed beef from Jurek's Meats and Grocery in Pellston. One standout is The Chestnut Burger, which boasts bacon, cheddar cheese, barbecue sauce, and a hand-battered onion ring. The restaurant's menu of salads (wittily dubbed "In the Weeds"), includes a Caesar and a chicken Caesar, plus a classic vintage wedge salad with iceberg lettuce, chopped bacon, blue cheese crumbles, and diced tomatoes. Entrees include grilled pork chops, with a special apple and crème sauce infused with Left Foot Charley Cinnamon Girl hard cider; steaks; pasta dishes; and a bluegill fish fry on Friday nights.
Find Them: Chestnut Valley Golf Club and Restaurant is located at 1875 Club House Dr., northeast of Harbor Springs. For more information and hours, visit chestnutvalleygolf.com or call (231) 526-9100. $$

Stiggs Brewery and Kitchen
Boyne City
During the heyday of Boyne City's logging industry, a stately two-story, red-brick structure erected on Park Street in 1899 served as the bustling general office for the Boyne City, Gaylord, and Alpena Railroad. But on January 27, 2017, after two years of intense renovation that carefully preserved its original interior and exterior, this historic Northern Michigan landmark came to life again as Stiggs Brewery and Kitchen. Beverages might seem to be the main event here — not food — but owner Mike Castiglione emphasized that each is essential to the other, saying that the food is meant to complement the beer and vice-versa.

On the Menu:
A few choice selections on the current menu include the Michigan cherry-chicken salad sandwich, served on a croissant made right around the corner at the Boyne City Bakery; the original Stiggs burger on a brioche bun, topped with a sunny-side-up egg, bacon jam, and cheddar cheese; and the ultimate pickle plate, a seasonal array of "all things pickled" (one version featured pickled beets, asparagus, jalapeños, and eggs, plus bread and butter pickles, and dill pickles). Recent new entrees include a roasted half game hen with fresh herb butter and leeks; bourbon barrel-planked whitefish with lemon beurre blanc; and a Stiggs stout-marinated flank steak.

Find Them:
Stiggs Brewery and Kitchen is located at 112 South Park St., in Boyne City. For more information and hours, visit stiggsbrewingcompany.com or call (231) 497-6200. $–$$

Oryana Cafe
Traverse City
If you're looking for a restaurant that serves not only Indian specialties but also Greek dishes and Moroccan fare, try the newly remodeled and expanded Oryana Cafe on East 10th Street, just a stone's throw from downtown's Front Street district. Here, those and other international flavors appear in myriad guises alongside a plethora of more familiar, but no less interesting, foods. Want a juicy burger, a crunchy vegetable or grain salad, or bowl of two-alarm chili? Oryana has those too. Practically everything is made from scratch, with the focus on fresh, fair trade, local and organic ingredients, and there are options for everyone — meat eaters, vegan, vegetarian, and gluten-free.
On the Menu:
In addition to a large grab-and-go deli case, the cafe offers an expanded hot bar, a separate soup bar, a section for fresh baked goods, and made-to-order items from salads and sandwiches to juices and smoothies. The deli case offers premade selections as diverse as Mexican lasagna, sweet and sour chicken, roasted beets with lemon and ginger, Gruyere mac 'n' cheese with bacon, and peanut-tofu spring rolls. The hot entrees change daily, including such offerings as Mediterranean stuffed red peppers, chicken Merlot with mushroom-leek sauce, parmesan smashed red potatoes, Italian meatballs with marinara sauce, cider-glazed root vegetables, roasted butternut squash lasagna, and a range of popular soups.

Find Them:
Oryana Cafe is located at 260 East 10th St., in Traverse City. For more information and hours, visit oryana.coop/lake-street-cafe or call (231) 947-0191. $
Blue Smoke
East Jordan
If you spend any time in the Carolinas, you're likely to come away with a renewed appreciation for barbecued food of several different varieties. In Adam Kline's case, he also wanted to bring that style of cuisine Up North, where he lives. He opened Blue Smoke in East Jordan as a more complex companion restaurant to his other local barbecue joint, Pigs Eatin' Ribs, in Charlevoix, all in a bid to expand northern Michigan's barbecue horizons. Blue Smoke features an interior color palette of turquoise blue, taupe, and black highlighted by locally harvested barn wood, steel beams, chalkboard menus, and three big garage doors that open up to a patio in the warmer months.
On the Menu:
As you might have guessed, Blue Smoke's menu is heavy on the barbecue (several different kinds) as well as additional Southern dishes like beer–battered catfish, po' boy sandwiches and fried green tomatoes; the restaurant works hard to capture what dining in the South is really like, right down to the loaf of white bread on each table that's used as a napkin. Menu highlights include the Low Country boil — a mix of house–made sausage, shrimp and redskin potatoes in a broth made of corn, Old Bay seasoning and PBR (beer); plus shrimp and grits, and classic chicken and biscuit dinners with "sawmill gravy," a milk–based gravy that incorporates bits of house–cured bacon.
Find Them:
Blue Smoke is located at 101 Main St., in downtown East Jordan. For more information and hours, visit bluesmokeej.com or call (231) 222-2583. $$
Trending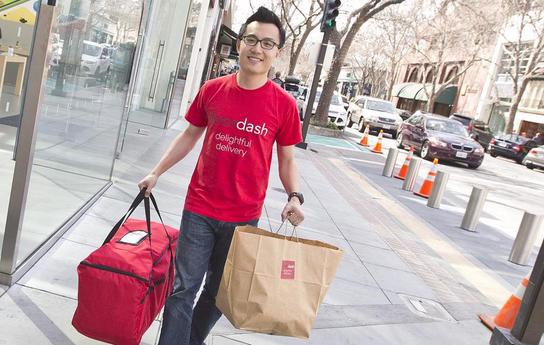 Could Delivery Save NoMi Eateries?
What was once the exclusive province of pizza and sandwich joints has become a means for some restaurants to thrive. But e...
Read More >>
What You Are Voting For?
After voting straight Republican for 36 years, from 1971 through 2007, I have been an Independent since 2008, studying and...
Read More >>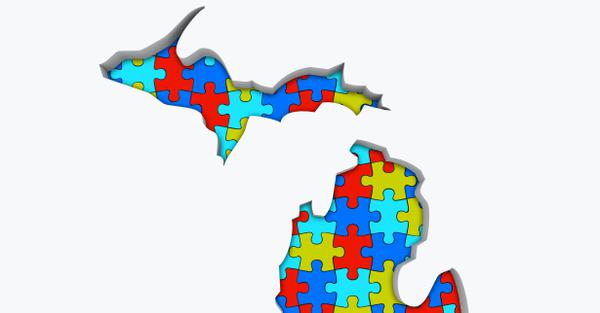 The Democracy Lottery
Mary Burget, a retired Northwest Michigan College math instructor, thought her math skills might be useful in redrawing Mi...
Read More >>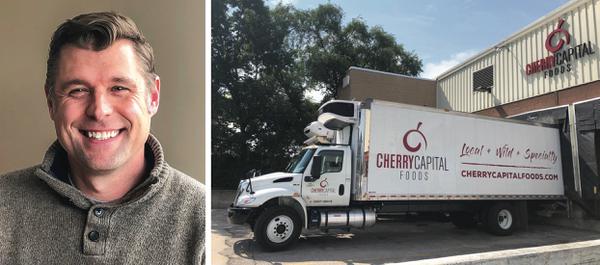 Forged In Fire
As the new managing director for Traverse City's Tamarack Holdings, Michael Lahti is helping to lead a company that ...
Read More >>
↑