Cherry Republic's Grand Cafe´& Bakery
Hail to the Cherry
The culture and philosophy of Cherry Republic, founded by Glen Arbor native Bob Sutherland in 1989 in his hometown and now comprising six stores throughout Michigan, is summed up in its intentionally lighthearted mantra: "Life, Liberty, Beaches and Pie." By extension, the Grand Café & Bakery, which opened in 2015 at Cherry Republic's Traverse City location, operates under a similarly whimsical motto: "Eat, Drink and Be Cherry." Come inside, and the familiar red hue that permeates the logo, décor, packaging and signage throughout the space makes it quickly obvious: This is basically a year-round cherry fest!
"Our goal is to promote the cherry and promote northern Michigan," said Kaylena Mausolf, Traverse City store manager, "and the Café is another way to do that." Its menu — which features snacks, soups, salads, sandwiches, pizzas, and desserts — showcases a wide array of products from the retail section, so that people can see how the items can be used and how versatile they are. "That was part of the idea behind establishing the Café," said Mausolf. "Almost everything on the menu incorporates cherries in some way."
FUN WITH FLAVORS
Another reason for adding the Café to the Traverse City retail store (which opened in 2007), Mausolf said, was simply to have another fun venue for customers to experience. "Our ice cream, which is all homemade, is a perfect example of that. We feature up to 16 different cherry-themed flavors at a time, and we invite customers to try any of them. After all, sampling — trying before you buy — is one of the hallmarks of Cherry Republic."
Talk about fun — check out some of these smile-inducing scoopables: Cherry Cuckoo-Nut (cherry ice cream with toasted coconut, honey-roasted almond slivers, chocolate pieces), My Life is a Circus (cotton candy ice cream, black cherries, sprinkles), Pie in the Sky (cherry-almond ice cream, pie bites, cherry ribbonettes), or Pucker Up (tart cherry sorbet).

And for the most intrepid of ice cream lovers, there's the Monster Sundae in two sizes (both large; it's just a matter of degree), the base of which is formed by one or two "audaciously large" Boomchunka cookies (fresh from the in-house bakery), four or five scoops of the ice cream of your choice (mix and match to your heart's content), cherry fudge or cherry caramel sauce, whipped cream, and — of course — a cherry on top. Presiding over this lively scene is Boomer the Bear, Cherry Republic's lovable but mischievous mascot, who is said to have an insatiable sweet tooth. (Ask about "Boomer's Blunder.")
The Grand Café & Bakery occupies the back third of the Traverse City Cherry Republic store, where a
curved wooden half-wall defines the space. Wire-caged filament bulbs and strings of small, garden-inspired globe lights hang from exposed wooden ceiling beams, casting a warm glow over the sturdy, dark-wood tables and chairs (with cherry-red upholstered seats) below. Rustic wide-plank pine floors, white subway-tile walls, colorful chalkboard menus, and whimsical retro signs complete the charmingly eclectic décor. It all adds up to a casual, comfortable atmosphere where everyone is welcome — singles, couples, groups, or families with kids (the latter of whom will flock immediately to the adjacent enclosed tree house play area).
WHAT'S YOUR PLEASURE?
So settle into those inviting surroundings, and let's take a look at that menu. Kitchen supervisor/chef Corey Thiel is happy to guide you through it with a few suggestions: "The cherry chicken salad (mixed greens, romaine, cherry tomatoes, dried Montmorency cherries, toasted almonds) is probably our best seller, and you can also have it as a sandwich or as a wrap," he said. "Another standout is the Parmesan-crusted grilled cheese (Parmesan-coated cherry bread, Michigan cheddar and Muenster cheese, cherry fig jam). "It's just cheese upon cheese upon cheese. And the signature beef or chicken chili (your call), which uses roasted tomatoes, fresh garlic, roasted red peppers, our original cherry salsa, is very popular, year-round. We garnish it with cheddar cheese and sour cream and serve it with tortilla chips."
Mausolf can't resist recommending a customer favorite that is, incidentally, her own top pick as well — the Cuban sandwich. "It's a combination of shaved ham, shredded pork, melted Swiss cheese, house-made pickles, and our cherry artisan mustard pressed between two slices of Cuban bread, which is made for us locally by the Bay Bread Company. I can tell you that I've been to restaurants in the Cuban Quarter of Tampa, Florida, where my mom lives, and tried theirs, but I think ours is as good or better. We've heard similar testimonials from customers, too."
Other global flavors on the menu are the cherryaki chicken lettuce wraps (lettuce, roasted chicken, Cherry Republic cherryaki sauce, shredded carrots, edamame, toasted almonds) and the Greek salad (roasted golden beets, cucumbers, dried Montmorency cherries, kalamata olives, red onions, feta, mixed greens, Greek dressing).
Pizzas, available as 7-inch or 12-inch pies and by the slice (gluten-free upon request), might seem a surprising menu item amid this flurry of cherries, but customers love them, said Mausolf. And though there are seven varieties to choose from, apparently, most swoon over the bacon and blue fig jam pizza in particular (homemade blue cheese cream sauce, mozzarella and provolone cheeses, cherrywood-smoked bacon, fresh basil, and a few dollops of cherry fig jam).
BE A KID AGAIN
Any Cherry Republic products highlighted in red on the menu are available for purchase in the store, and there is at least one in nearly every listing. Even the hot dog on the kids' menu manages to incorporate cherries in its accompanying cherry ketchup and cherry mustard. Speaking of that menu — it's labeled "The Tall and the Small" for a reason. The message below it: "Whatever your age … you can order them all." So teenagers and grownups, if you want the kid-sized hot dog, mac and cheese, PB&J, taco, go right ahead and order it!
Need something to quench your thirst? Cherries are here, too, in the coffee, tea (iced and hot), lemonade and cherry wine, as well as on tap in the seven Boom Chugga Lugga sodas, made for the Café by the Northwoods Soda Company in these flavors: original cherry, true cherry cola, cherry root bear (yes, that's bear, not beer), cherry ginger bear, cherry ginger ale, and black cherry cream soda.
And last but definitely not least — in fact it was the first thing Sutherland offered at the original Glen Arbor Cherry Republic – we come to cherry pie, in three varieties: true cherry (a traditional two-crust pie), cherry crumb and cherry-blueberry. A few times a year, there are also seasonal flavors, such as cherry-rhubarb for summer and cherry-apple in the fall. Sold whole, by the slice (pie à la mode upon request) and as portable hand pies, they are the heart of the café.
"Lots of people come in just for our pie, whether they want to sit and have it with a cup of coffee, take it home with them, or just grab a hand pie and be on their way," said Mausolf. "After all, what's more 'northern Michigan' than a cherry pie?"
The Grand Café & Bakery is located inside Cherry Republic at 154 East Front Street, Traverse City. Open seven days a week (extended hours during Cherry Festival). For more information, call (231) 932-9205 or visit cherry republic.com.$


NEWS FROM THE REPUBLIC
CHERRY PUBLIC HOUSE
The latest development in the Cherry Republic organization is the establishment this spring of the Cherry Public House at the original Glen Arbor location of Cherry Republic. The new year-round, full-service restaurant and brewery specializes in smoked and grilled foods (steaks, chops, ribs, whitefish, pasta) and offers nine hand-crafted beers on tap, made especially for the Cherry Public House by Short's Brewing Company in Bellaire (four riffs on the cherry and five classics — IPA, light lager, brown ale, fruity ale, seasonal), as well as three hard ciders (two cherry infused). Besides indoor seating, a large outdoor patio accommodates many more guests in warm weather.
Trending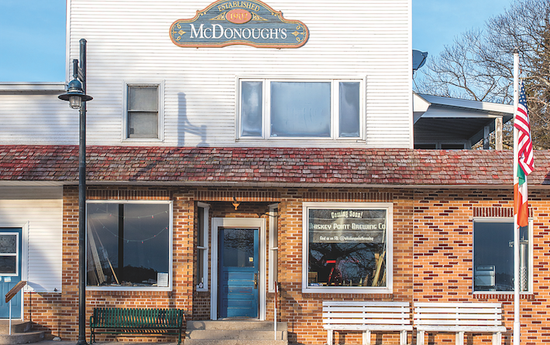 Welcome to Michigan's Most Remote Brewery
After years of planning and honing his beer-making skills, this spring, Patrick McGinnity plans to open Beaver Island&rsqu...
Read More >>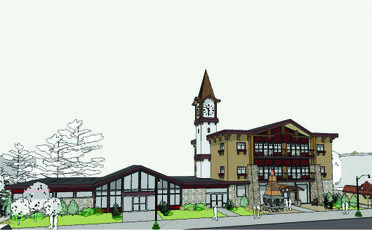 Gaylord: A boomtown Up North
Gaylord native Gary Scott had moved to Indiana, where he and some partners started a business to invest in distressed prop...
Read More >>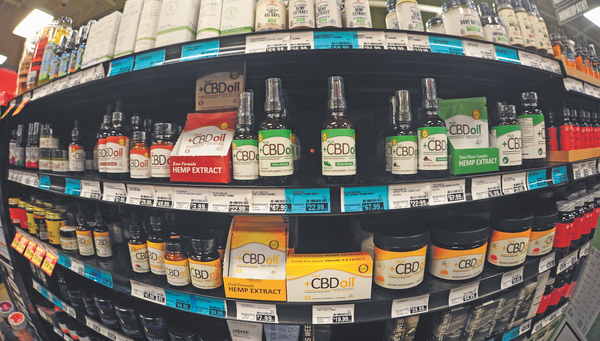 CBD Laws: Dazed and Confused
The sign outside of Family Video in Kalkaska lets drivers know the store has more than just movies. The sign reads: &...
Read More >>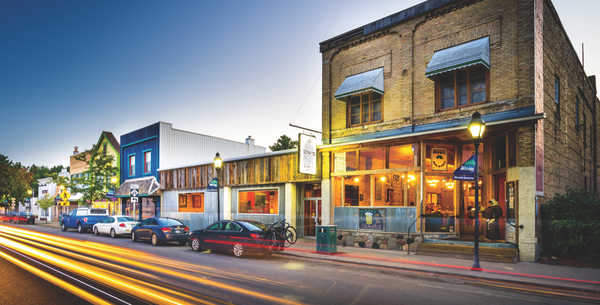 Small Up North Towns on the Rise
Spotlight on Bellaire (pictured)Seems Traverse City isn't the only place in the region making those "Best...
Read More >>
↑