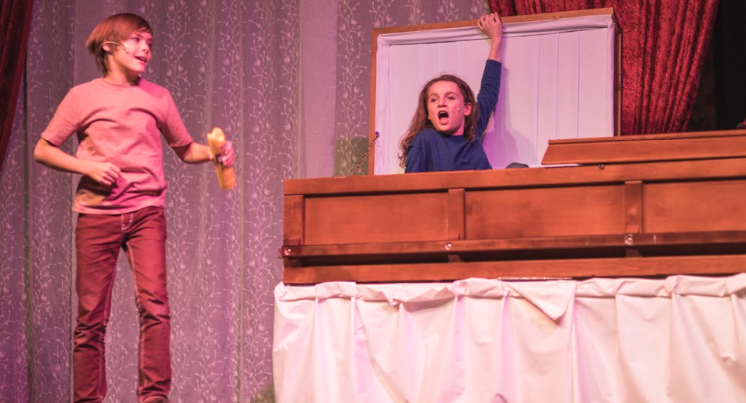 The Great-White North Way
Forget Broadway — auditions and audience opportunities abound Up North.
If the play's the thing, as Hamlet said, then audiences around the region are in luck. A host of local community groups stage dramas, comedies, and musicals throughout the year, in venues from high schools and churches to dedicated theaters and even restaurants. Whether you want to strut your stuff or watch your neighbors showcase theirs, there's a play — and place — for you somewhere. Check out:

Benzie County Players
The Benzie County Players were founded in 1980, an offshoot of two plays put on to benefit Paul Oliver Memorial Hospital. The amateur performers were so pleased with their success they decided to form an organization dedicated to play production and open to all people interested in any aspect of the theatre.

The group has been ongoing since that time, though membership fluctuates. It currently puts on one show per year, though member Rachel Stoltz said they'd like to do two or three. This April brings Boeing Boeing, and Stoltz is hopeful for another one in the fall. Shows are typically held at either Grow Benzie or the Mills Community House.

Stoltz said the group's income comes from ticket sales, though it is looking into acquiring sponsors and becoming a nonprofit. Stoltz said she and the other members of the troupe are hoping to bring in more people and revive the group. Anyone interested in finding out more about the group can go to its Facebook page.

Cadillac Footliters
The Cadillac Footliters are a hardy group, having lost one home and sold another. They hope the third time is the charm, as they look to raise $1.6 million for a new theater. Joe Baumann, president of the Footliters, said a new and permanent space has long been a dream, and the group is working toward that goal.

The Footliters began in 1964, when a group of theatre enthusiasts purchased the Old Center Theatre building downtown. An electrical fire destroyed the building in November 1990, and despite the loss of all sets, props, costumes, and memorabilia, the members soldiered on, meeting in homes, churches, and schools. Currently there are 48 paid members of the organization, though many others contribute toward the productions.

In 1992, the Footliters purchased and renovated the First Christian Church. In the summer of 2004, the group sold the property to another church congregation. The organization purchased property a block north of its original location and is now working to raise funds for a new building similar to the original.

In the meantime, the Footliters continue to present offerings at Cadillac High School and other locations. It has five productions slated for 2019, including one for the Footliters Junior Players. Over 3,000 people attended the adult shows, and more than 1,500 attended its juniors production in its last full season.The Footliters budget is less than $40,000 a year, derived from community underwriters of productions (which includes program advertising), memberships, grants, ticket revenue, and other sources.

Elk Rapids Players
The Elk Rapids Players was formed by Rob Ford and Karen Haspas in 2009 as a fundraising support arm for the Historic Elk Rapids Town Hall Association (HERTHA), where the plays are staged. The organization's first production was The Odd Coupleand it has produced two plays per year since, typically in May and November.

The core of the Elk Rapids Players is a group of about 10 people, but there are open auditions for every show. In addition to stage productions, the organization hosts a Community Trivia Night on the second Friday of each winter month to provide entertainment and raise more money for the hall. To date, its shows and games have raised well over $50,000 for HERTHA.

Gaylord Community Productions
Gaylord Community Productions began in1995 when theatre enthusiasts Sandy Gartelman and Sandy Glasby decided to put on a show to benefit the new Gornick Auditorium at Gaylord High School. The Music Man raised $17,000 toward the auditorium fund for air conditioning.

GCP offers one stage production each year in the summer (the only time the group can use Gornick Auditorium). Approximately 100 volunteers play a part in the productions, including actors, the musical director, choreographer, set designer, lighting designer, sound technician, stage managers, and carpenters. The group's next show is Peter Pan in August 2019.

GCP also serves as a resource for costumes and related advice for area schools and organizations. GCP supports participation in many area children's programs.One of the goals of GCP is to provide scholarships for individuals who plan to study the performing arts and expand their knowledge of the many facets of live theatre.

In addition to ticket sales for its annual show, the group raises money from a variety of activities, including a murder mystery show, a community stroll, and even a tea party.

Glen Arbor Players
The Glen Arbor Players began life in 2011 as the Readers' Theatre, part of the Glen Arbor Arts Center. In a readers theatre, the actors read from the scripts, with minimal lighting, costuming, and sound effects adding to the atmosphere of an old-time radio show being performed live, rather than an actual theatrical play.

While that was the group's original modus operandi, it has broadened its approach to include full theatrical performances as well. It has also split off from the Glen Arbor Arts Center, according to Pete LaPlaca, the head of the Glen Arbor Players Steering Committee. That was due in large part to the renovation of the GAAC facility, which prompted the group to find a new home: It now performs at the Glen Lake Community Reformed Church.

LaPlaca said the troupe, which now draws from Frankfort, Empire, and Traverse City, as well as Glen Arbor, is working toward nonprofit status. The group performs at least four times per year, with two performances scheduled for this coming summer, plus one in October and one in December. Tickets are free, though the Players take donations at performances, with additional funding coming through donations or advertising. LaPlaca said the group owns its own light and sound equipment and is financially sound.

Leelanau Players
In 1976, several Leelanau County residents got together at the Bay Theatre in Suttons Bay to perform the bicentennial play In Pursuit Of Liberty by local author and playwright Greg Kelsch. The Leelanau Players formally organized the following year.

Throughout its 40-plus years, the theatrical group has performed at numerous locales in the area, including the Bay Theatre, the Northport Community Arts Center, Old Art Building, the Leland Library, and Glen Lake and Leelanau Schools. It has done dinner theatre shows at Samuel's Restaurant, the Leland Lodge, the Bluebird in Leland, the VI Grill in Suttons Bay and the Manor on Glen Lake.Tickets are free, though the group accepts donations at performances.

The Players generally present two shows a year, one in the spring and another near Christmas. It is a non-profit organization governed by a board, with a president, treasurer, secretary and members-at-large. Those interested can contact the group through its Facebook page, or come to meetings or auditions; those are posted on the Facebook page.

Little Traverse Civic Theatre
Little Traverse Civic Theatre was born in 1945 when a group of volunteers organized an acting troupe under the name Petoskey Little Theatre. In January 1946, the troupe presented its first play, You Can't Take it With You. The group went on to present an average of three plays a year. The name was changed to Little Traverse Civic Theatre during a 1960-62 reorganization, when it was chartered as a Michigan non-profit corporation and later as a federal 501(c)3 corporation.

In May 1981, LTCT became a tenant of the newly opened Crooked Tree Arts Center. The relationship with Crooked Tree Arts Center continues today with a lease that runs until 2020. LTCT Performs there four times a year (spring, summer, fall and winter) and at other Petoskey area venues from time to time.

To become a voting member one must pay for a membership. Currently there are 63 voting members and many more volunteers. Dues and ticket sales are the main source of income, along with program advertising, corporate sponsors and donations.

Manistee Civic Players
The Manistee Civic Players organized in 1939 and produced several plays before a wartime hiatus in 1941, which continued until 1952. In 1964 it ended the summer stock program, which used outside professional talent, and began a year-round season of locally produced shows.

In 1974 the MCP leased the theatre portion of the Ramsdell Theatre from the City of Manistee and took on the management of the entire structure until 2007. During the restoration period of the early 1990s thru 2007, the Civic Players oversaw and organized restoration efforts, securing funding for them, as well as organizing volunteers and management of the day-to-day operations, events, and shows.

Four productions are scheduled for each season of 2019. These productions are typically presented at the Manistee High School Auditorium. The group also conducts workshops, studio productions, children's plays and student drama classes.

Northport Players
Karen Cross proposed the idea of dinner theatre to the Northport Community Arts Center and directed its first four productions in 2015–2018. The group performs one show each year in February at Tucker's of Northport. This year's presentation is Neil Simon's comedy Last of the Red Hot Lovers on Feb. 1–3 and 8–10. There are only 70 seats per performance, so folks need to get their tickets early: (231) 386-5001 to buy tickets.

Joe Thatcher, president of the Northport Players, said the group is also working to build up the human resources to produce a larger-scale play or musical in the summer. That will involve both more on-stage and off-stage talent, and he said the company is always looking for people who enjoy working as stagehands, directors, stage managers, costumers, prop people, and the like.

Most of its funding comes from ticket sales, from donations by patrons to our Performing Artists' Fund, from individual and business sponsors of specific events, and from ad sales in our playbill. It also receives funding from the Leelanau Township Community Foundation, both through their Northport Community Arts Center Endowment Fund and through grants for specific projects.

Old Town Playhouse
The Traverse City Civic Players, formed in April 1960 when Elnora Milliken, who had earlier founded the Traverse Symphony Orchestra, gathered Interlochen faculty and 40 local theatre buffs to stage the play You Can't Take It with You at a local school.The Players' home stage moved from the high school to the Park Place Dome, then home to the now-defunct Cherry County Playhouse, then shared space at the First Christian Church before purchasing it in 1975.

Old Town Playhouse, as it's now known, has been home to community theatre ever since. has been home to community theatre ever since — though not without challenges. In 1998, new fire code restrictions forced the theatre to close while it faced more than $350,000 in required improvements. A major capital campaign in 1999 allowed it to undergo renovations to meet safety codes.

Today the Old Town Playhouse season runs annually from September through May, with a variety of productions and a seasonal attendance ranging from 20,000 to 23,000 patrons. Performance areas include a 277-seat mainstage auditorium and an 80-seat studio theatre. The Young Company (formerly known as the Traverse City Children's Theatre) provides performance and educational activities for youth from preschool through college.

GET YOUR LIVE THEATER FIX
You can take a trip to Lansing, Detroit, or Chicago to see the latest plays or musicals — or you can save a bundle of time and money and take in a great performance minutes from home. The North's calendar is stacked with opportunities:
Arts Academy Theatre Co.
The Children's Hour, Apr. 12 & 13
Phoenix Theatre, Interlochen
Tartuffe, Apr. 19 & 20
Harvey Theatre, Interlochen

The Hunchback of Notre Dame, May 10–12
Corson Auditorium, Interlochen
Benzie County Players
Boeing Boeing, May 3–5
Mills House, Benzonia

Cadillac Footliters
The Curious Incident of the Dog in the Nighttime, Jan. 25, 26; Feb. 1, 2
Cadillac Elks Club

Elk Rapids Players
Neil Simon's Rumors, May 3–5, 10–12
Historic Elk Rapids Town Hall

Glen Arbor Players
Born Yesterday, June 14–15
Glen Lake Community Reformed Church.

Interlochen Center for the Arts
Peg + Cat Live! Feb. 22
Corson Auditorium
Little Traverse Civic Players
Pride and Prejudice, April 25–28 and May 2–4
Ross Stoakes Theatre at Crooked Tree Art Center, Petoskey

Northport Players
The Last of the Red Hot Lovers, Feb. 1–3, 8–10
Tucker's of Northport

Old Town Playhouse (pictured above)
Fun Home, Jan. 11–13, 17–20, 24–26
Moon Over Buffalo, March 1–3, 7–10, 14–16
The Who's Tommy, Apr. 26–28; May 2–5, 9–12, 16–18
Old Town Playhouse mainstage

Sylvia, Feb. 1–3, 7–10, 14–16
Marjorie Prime, March 29–31; Apr. 4–7, Apr. 11–13
Studio Theatre

West Shore Community College
Little Shop of Horrors, Feb. 22–24, March 1–3
Center Stage Theatre
Ramsdell Theatre
WWII Tribute: The Ernie Pyle Show, May 18

Know of a play or musical (happening before June) that we missed? Email info@northernexpress.com, and we'll add it to this list.
Trending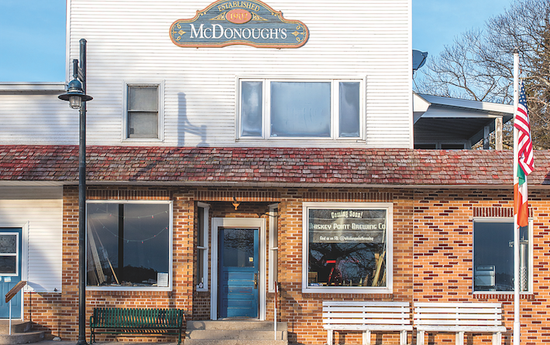 Welcome to Michigan's Most Remote Brewery
After years of planning and honing his beer-making skills, this spring, Patrick McGinnity plans to open Beaver Island&rsqu...
Read More >>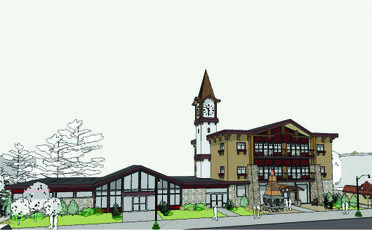 Gaylord: A boomtown Up North
Gaylord native Gary Scott had moved to Indiana, where he and some partners started a business to invest in distressed prop...
Read More >>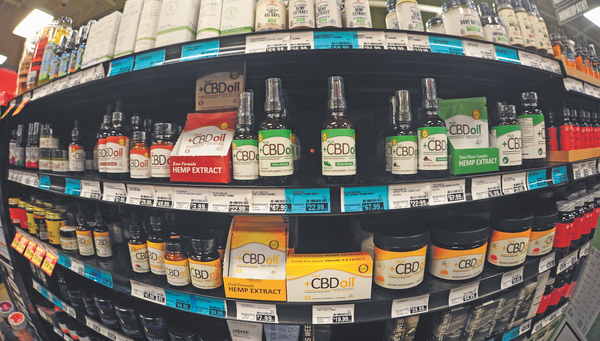 CBD Laws: Dazed and Confused
The sign outside of Family Video in Kalkaska lets drivers know the store has more than just movies. The sign reads: &...
Read More >>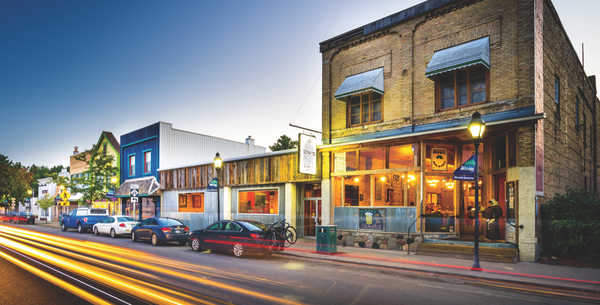 Small Up North Towns on the Rise
Spotlight on Bellaire (pictured)Seems Traverse City isn't the only place in the region making those "Best...
Read More >>
↑