The Hit List
Area DJs weigh in on the music that can make a wedding reception rock — or flop
A good DJ is the lifeblood of any wedding reception. They serve as master of ceremonies, keep the spotlight on the bride and groom, encourage the timid to dance, and keep the dance floor jamming all night long. Because they've quite literally heard — and seen — it all, we tapped several area DJs for their insights on the good, the bad, the cheesy, and those that will. not. die. (Hint: If it flaps like a chicken and claps like a chicken … )
SCOTT PERRY OF 2BAYS DJS (pictured above):
2baysdjs.com or (231) 715-6544

Best First Dance Song: "Perfect" by Ed Sheeran and Beyonce
"I also really like 'Feeling Good' by Michael Buble; both give the couple a chance to really dance if they want, or if they're more reserved, they can do that too."
DJ's Choice: "September" by Earth, Wind and Fire
"It's season-less, so you can use it for a wedding any time of year, and it really helps me get into the DJ zone."
Wedding Party Favorite: "Can't Stop the Feeling" by Justin Timberlake
"That one's an easy pick — it's just a really, really fun song."
Most Fun: "Mambo #5 (A Little Bit of…)" by Lou Bega
"It's from the late '90s, a real surprise throwback that really keeps people on their toes."
Most Underrated: "You Sexy Thing" by Hot Chocolate
"We use that all the time as a bridal party entry song; people don't think of it right away, but it really works."
Most Unexpected Request: "Piano Man" by Billy Joel
"I played that when an uncle came out at a reception wearing a full Billy Joel outfit, and he wanted to lip-sync it as a special thing for the bride."
Most Overplayed: "Love Shack" by The B-52s
"This. This is the song that I'm the most tired of."
Please Just Don't: "The Chicken Dance"
"Just don't even go there."

PAUL WIDLUND OF NORTHERN MICHIGAN DJ
northernmichigandj.com or (231) 269-3636

Best First Dance Song: "Perfect" by Ed Sheeran and Beyonce
"That's the big one this year. It's trending and very popular."
DJ's Choice: "Despacito" by Luis Fonsi
"I actually really like the Latin sounds, and I also like to boogie. I just love to dance. And this song definitely boogies."
Wedding Party Favorite: "Unchained Melody" by The Righteous Brothers
"An old standard that always gets most everybody onto the dance floor."
Most Fun: "Despacito" by Luis Fonsi
"Seriously. That's the fun one right now."
Most Underrated: "Hold Me, Thrill Me, Kiss Me" by Mel Carter
"I hardly ever play it, but whenever I do, it totally works and gets everyone moving."
Most Unexpected Request: "A Tisket, A Tasket"
"It's an old '40s or '50s song — I think the version I have is by Doris Day. Grandparents or great-grandparents request it, but today's people don't know it at all."
Most Overplayed: "Love Shack" by The B-52s.
"I hate that song."
Please Just Don't: "Crank That" by Soulja Boy
"It's the worst song ever recorded, and you can quote me on that. It sounds like you're getting your head cut off right next to road construction. It's just all distorted and sounds like hell."
SHAWN PETERSON OF DJS NORTH
djsnorth.net or (231) 881-0324

Best First Dance Song: "Thinking Out Loud" by Ed Sheeran
"I hate to be cliché, but that's just such a beautiful piece of music."
DJ's Choice: "Signed, Sealed, Delivered" by Stevie Wonder
"Growing up in Detroit and coming from that area, I'm a huge Motown fanatic, so it's gotta be Stevie for me."
Wedding Party Favorite: "Uptown Funk" by Bruno Mars
"The younger people love it, but it also has a lot of late '70s influences with the horns and all, so those elements together make it a great multigenerational song."
Most Fun: "Sweet Caroline" by Neil Diamond
"Everyone likes to get in a big circle and sing along to that one."
Most Underrated: "Land of a Thousand Dances" by Wilson Pickett
"It's one of those songs where you don't know that you know it until you hear it, and then you go crazy."
Most Unexpected Request: "Humble" by Kendrick Lamar
"It always throws me off when I get a request like this … from an older guest — people in their 60s or 70s requesting a contemporary rap song!"
Most Overplayed: "The Cupid Shuffle" by Cupid
"It's like a late 2000s group-participation song. And it's just … yeah, no."
Please Just Don't: "Old Time Rock and Roll" by Bob Seger
"It's so overplayed."
THOMAS HEATH OF A+ EVENT ENTERTAINMENT
aplusentertains.com or (231) 622-2275

Best First Dance Song: "Thinking Out Loud" by Ed Sheeran
"It really strikes a chord lyrically with a lot of people. It references music, personal struggles, dancing, and growing old together."
DJ's Choice: "The Cupid Shuffle" by Cupid
"I love so many different kinds of music, but I really do like this one a lot. I'll even get out on the dance floor and teach the Cupid Shuffle dance to guests."
Wedding Party Favorite: Mashup of "Can't Stop the Feeling by Justin Timberlake, "Uptown Funk" by Bruno Mars, and "Billie Jean" by Michael Jackson
"Mashups in general are hugely popular, and this is a great one."
Most Fun: "Sweet Caroline" by Neil Diamond
"It's timeless, and gets people singing at the top of their lungs."
Most Underrated: "Your Love" by The Outfield
"It's the song that starts, 'Josie's on a vacation far away … .' It was played at a lot of Red Wings hockey games, so people know it, but they don't realize they know it until they hear it again."
Most Unexpected Request: "Before He Cheats" by Carrie Underwood
"That was a terrible request. I said, 'You do realize you're at a wedding, right?' And the person requesting it said, 'Oh, it's fine. They'll think it's funny.' I didn't play it."
Most Overplayed: "Despacito" by Luis Fonsi
"I was in the middle of playing it at a wedding, and someone came up and asked me if I could play it again. While it was still playing!"
Please Just Don't: "Butterfly Kisses" by Bob Carlisle
"It's really, really overplayed, because it's one of the few tunes that counts as a 'father-daughter' dance, and it also starts with a weird recording of little kids playing in a playground, which makes it sound kinda creepy."
Trending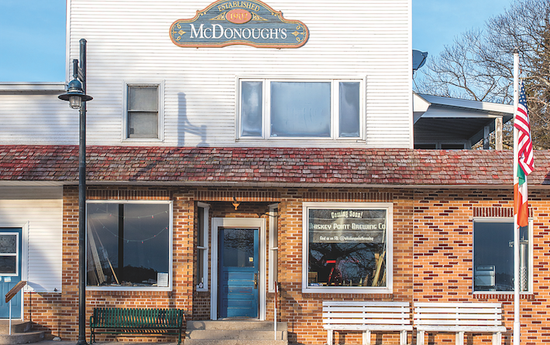 Welcome to Michigan's Most Remote Brewery
After years of planning and honing his beer-making skills, this spring, Patrick McGinnity plans to open Beaver Island&rsqu...
Read More >>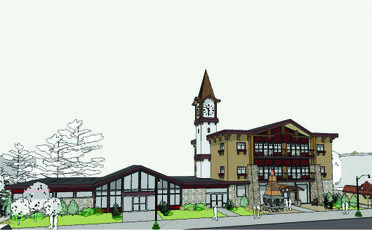 Gaylord: A boomtown Up North
Gaylord native Gary Scott had moved to Indiana, where he and some partners started a business to invest in distressed prop...
Read More >>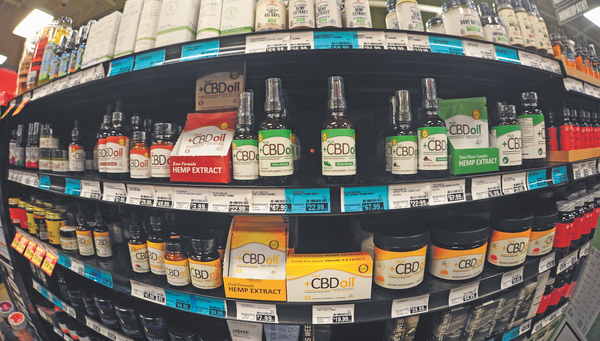 CBD Laws: Dazed and Confused
The sign outside of Family Video in Kalkaska lets drivers know the store has more than just movies. The sign reads: &...
Read More >>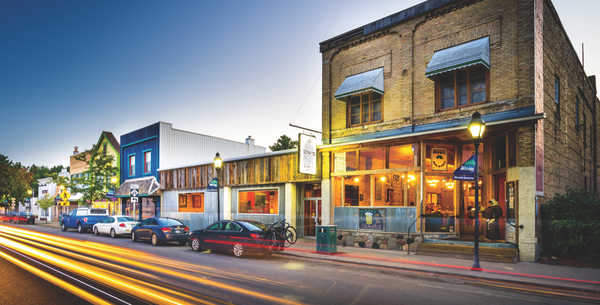 Small Up North Towns on the Rise
Spotlight on Bellaire (pictured)Seems Traverse City isn't the only place in the region making those "Best...
Read More >>
↑