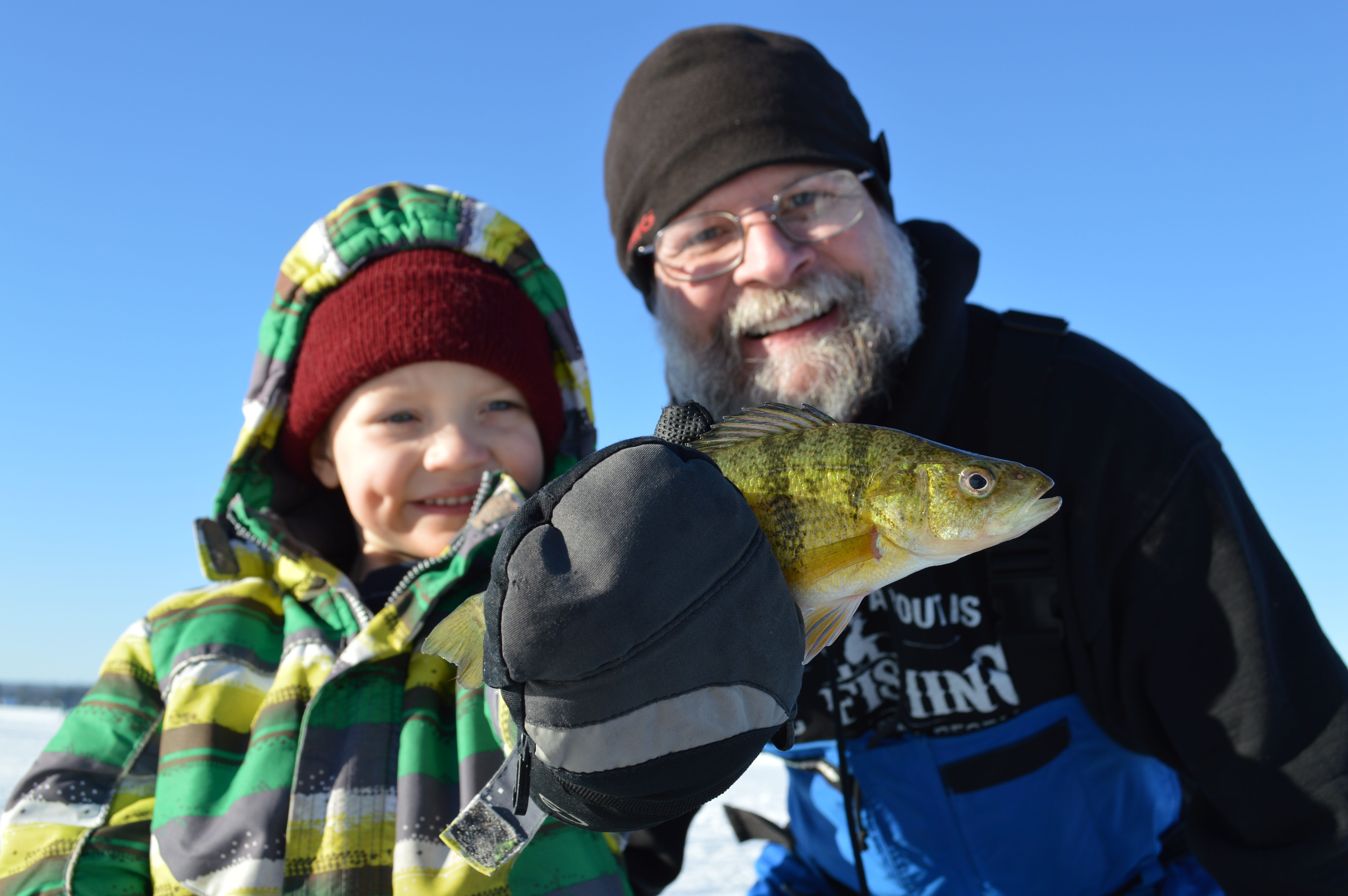 The Lazy Novice's Guide to Ice Fishing
Cheap, easy, and immediate outdoor fun
When's the best time to fish? Some will say a calm day. Some will suggest early morning; others, evening.

But many will tell you one of the North's sweetest secrets: The best time to wet a line is in the dead of winter. No waves, no boats, and little to no noise to scare the fish away. Ice fishing makes all those problems irrelevant.

True, it requires different equipment. You're not going to stand on the end of the dock clad in shorts and T-shirt and cast 20 or 30 feet into the open waters. But the investment is typically less than what you'd spend in the summer — certainly less than a boat, motor, and trailer would run. And much less hassle.

"You don't need much. You can go sit on a pickle bucket if it's not too cold," said Ken Fosmore of Glen Arbor. Fosmore has been fishing the Glen Lakes for most of his life.

Other basic equipment, besides a pickle bucket, of course, would include a fishing license, a pole and reel, maybe some tip-ups. Bait or lures. And a means to chop a hole in the ice. If you want to get fancy, a soup ladle or handled sieve makes it easy to clear the icy shards from your ice hole. And if you want some shelter, a shanty.

Chris Knaisel, owner of Pilgrim Village in Cadillac, gets into some specifics: "An 18- to 36-inch rod with two- to four-pound test line. You should always have a spud [a potato-shaped weight used to break a hole into the ice]; an hand augur will run $50 to $100," he said.

He said winter means the fish are less active, hence the lighter line (and more ease for kids interested in angling). "Fish aren't as aggressive. They're more lethargic."

Knaisel also touts the advantages of a power augur. They can run $400 to $500, though he said gas-powered augurs are becoming less common with the advent of conversion kits that allow one to use a cordless drill. "That's becoming more and more popular," he said.

While not a requirement — sitting on a lawn chair on a sunny or windless day is common — staying warm and dry makes shanties appealing. "A shanty is really nice to have," agreed Knaisel. They run the gamut, from permanent home-built structures that are typically towed out onto the lake, to lightweight and compact, tent-like pop-ups that are easily assembled on the ice. "A lot of people like the pop-up style. They're big enough for four people," said Knaisel, adding that they run around $250.

Being able to sit around and fish with others adds to the camaraderie. Oft times that's as much of the appeal as the fishing itself. "It's communal. We all help each other and mentor others," said Fosmore.

"It's a really special thing. It's a community, they all know each other," agreed Chris Engle. The longtime fishing enthusiast has contributed to various newspapers and the Gaylord Chamber of Commerce website. He said Otsego Lake draws the lion's share of fishing enthusiasts in that area.

Digging in the ground for worms won't work in the winter, so what for bait? Fosmore suggests jigs, Knaisel wax worms, or live bait, such as maggots or minnows, which you can buy at many area markets and gas stations (look for "Live Bait" or "Walt's Crawlers" signs out front) or your local bait shop.

Dave Stepanovich of Young's Bait Shop in Alanson said his shop's artesian well used for holding the minnows is an advantage. "It's not city water. Some guys [who use the well water] keep them in buckets for five, seven days," he said.

Then there's technology: Lights, cameras, and hopefully action. Fish flashers use sonar to "see" fish and let the angler know what depth to fish at. Cameras give you a picture. GPS devices can work with sonar, and can also guide you to the same exact location the next day or week.

"GPS is one of the biggest game-changers," Knaisel said. "You can have a full contour map, know the depth, even if you've never been to the lake before. Cameras are fun, but I don't know if they really help. Flashers are easier."

So are they catching fish? And if so, what kind? "It's been a good year for ice fishing. There was no snow at first and lots of ice," said Stepanovich. He said Crooked Lake, Burt Lake and Pickerel Lake are typically the best lakes for fishing around his area, though Black Lake and Mullet Lake also are popular. "Harbor Springs has been good. They've been getting a lot of perch out there." Among his personal favorites: "I love burbot and pike. There's a nice backstrap of meat" on burbot.

While bass and sturgeon season are closed, most anything else is fair game right now, as long as it meets the species' size requirement. Stepanovich said in addition to those mentioned above, people are catching rainbow and German brown trout. Fosmore said perch and other panfish are the big draws on the two Glen Lakes. Engle said Otsego Lake is full of walleye, pike, perch and bass. Smaller lakes in the southern part of the county have been stocked with trout, while Thumb Lake east of Boyne Falls has been stocked with splake by the DNR, a cross between brook and lake trout. "They're pretty and fun to catch," Engle said.

Knaisel said Lake Cadillac offers crappie in the middle of the lake. "Best of all, there's never a small one," he said. Across the road in Lake Mitchell, anglers may find some smaller crappie, but there's plenty of bluegill, sunfish and pike.

In addition to the integration of technology, another recent change came in the form of a reduction in the number of fish that could be taken in a day. Fosmore said the change in limit from 50 fish to 25 was long overdue. "My feeling is that it's wonderful. Nobody needs more than 25. Four guys fishing, 200 perch — that's ridiculous. That's depleting the stock."

So all that to get ready to fish. But — why? "If you don't ski or snowboard, snowshoe or snowmobile, what will you do?" asked Engle. "I was ice fishing before I could walk. My mom tells of my sleeping in a shanty. It was blown across the ice with my head poking out as she chased it."

"You've got to get outdoors," agreed Knaisel. "You live here, you might as well make the most of it."
Pictured above: Christian Goldsmith and his dad, Terry Couch, of Gaylord, hold up a perch caught during the youth ice fishing derby held every year at Otsego Lake State Park in Gaylord. Photo by Chris Engle.
Trending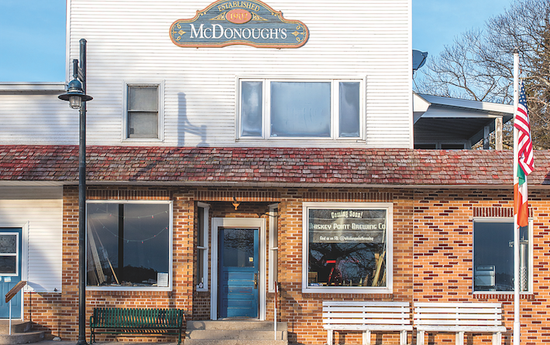 Welcome to Michigan's Most Remote Brewery
After years of planning and honing his beer-making skills, this spring, Patrick McGinnity plans to open Beaver Island&rsqu...
Read More >>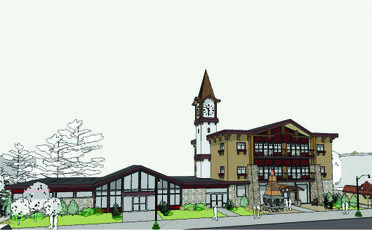 Gaylord: A boomtown Up North
Gaylord native Gary Scott had moved to Indiana, where he and some partners started a business to invest in distressed prop...
Read More >>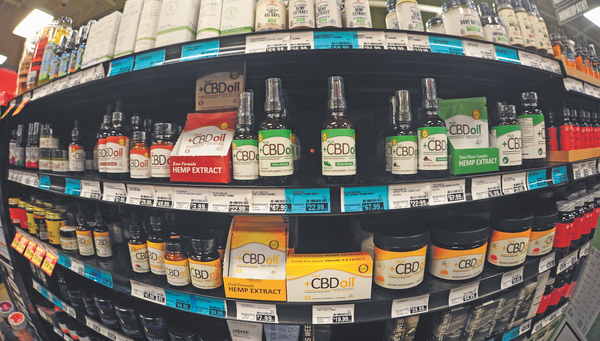 CBD Laws: Dazed and Confused
The sign outside of Family Video in Kalkaska lets drivers know the store has more than just movies. The sign reads: &...
Read More >>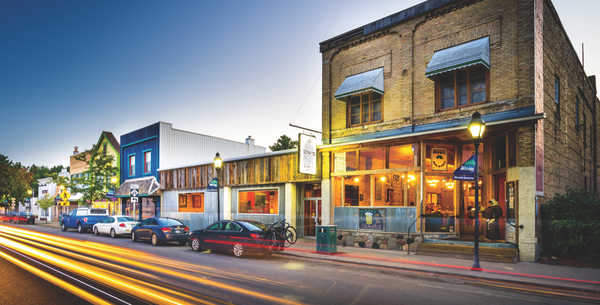 Small Up North Towns on the Rise
Spotlight on Bellaire (pictured)Seems Traverse City isn't the only place in the region making those "Best...
Read More >>
↑